Esports Ecosystem
Kini Arslan Ash menjadi seorang "Red Bull Athlete", bersama dengan nama besar lain seperti Bonchan dan Daigo Umehara.
Nama Arslan Siddique alias Arslan Ash belakangan ini tentu sudah tidak asing lagi di kalangan penggemar fighting game, khususnya Tekken. Tidak seperti kebanyakan atlet esports lain yang mendaki tangga karier secara perlahan-lahan, Arslan muncul secara tiba-tiba dan langsung membuat kegemparan setelah ia mengalahkan Knee di tahun 2018.
Pencapaiannya menjadi pemenang EVO Japan dan EVO Las Vegas di tahun yang sama tidak hanya membuat sejarah, tapi juga mengangkat nama Pakistan jadi negara yang disegani di dunia esports. Seolah mengendarai ombak yang diciptakan Arslan, pemain-pemain Tekken hebat dari Pakistan kini semakin bermunculan di panggung internasional, seperti Imran Khan, Awais Honey, dan Atif Butt.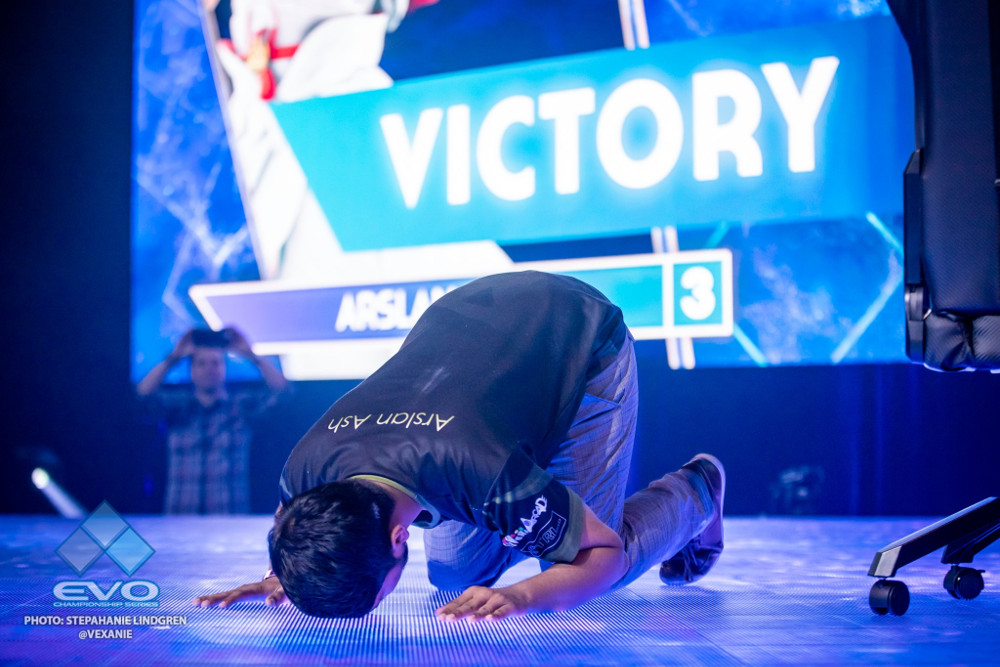 Arslan Ash sebetulnya sudah memiliki sponsor dari tim esports lokal yang bernama vSlash eSports. Tim ini tidak hanya menaungi atlet-atlet dari Pakistan, tapi juga negara-negara MENA (Middle East and North Africa) lainnya. Di samping Tekken, vSlash eSports memiliki atlet yang bertanding di cabang Street Fighter, The King of Fighters, Samurai Shodown, hingga Counter-Strike: Global Offensive.
Namun baru-baru ini ia mengumumkan kabar yang cukup menggembirakan. Arslan telah dikontrak oleh Red Bull untuk menjadi salah satu bagian dari roster Red Bull Gaming. Ia menjadi pemain asal Pakistan pertama yang bergabung dengan jajaran atlet Red Bull, bersama dengan pemain-pemain hebat lainnya termasuk Bonchan (Masato Takahashi) sang juara EVO 2019, Big Bird (Adel Anouche) sang juara Eropa CPT 2019, serta Gachikun (Tsunehiro Kanamori) yang menjuarai Capcom Cup 2018.
Humbled to be amongst the elite athletes, first one to represent Pakistan in the global @redbullgamimg roster. Alhamdulillah! Thank you @redbull for giving me wings and of course, my community for supporting! 🙏🏻#redbullathlete#redbullpk#givesyouwingspic.twitter.com/8FfT1qwAko

— vSlash | RB | Arslan Ash (@ArslanAsh95) November 12, 2019
Ini bukan berarti Arslan Ash akan keluar dari tim vSlash eSports. Sponsor yang diberikan Red Bull Gaming sifatnya adalah sponsor pribadi, jadi ia bisa terus bermain dengan tim lamanya namun sambil juga menyandang atribut Red Bull. Sponsorship personal seperti ini memang hal yang lumrah di dunia esports fighting game. Daigo Umehara contohnya, bahkan memiliki empat sponsor berbeda, yaitu dari Red Bull, Twitch, HyperX, dan Cygames.
Penampilan terakhir Arslan Ash baru-baru ini adalah turnamen Tekken 7 bernama ROXnROLL Dubai. Sayangnya di turnamen tersebut ia tidak menjadi juara, dan harus puas finis di peringkat 5. Arslan Ash juga menggelar acara fighting game di kampung halamannya, kota Lahore, Pakistan. Di sana Arslan memberi kesempatan pada beberapa pemain Tekken lokal untuk melakukan sparring melawan dirinya di atas panggung.
Perjalanan Arslan Ash di dunia esports Tekken baru saja dimulai, dan selain berjuang untuk dirinya sendiri, Arslan Ash juga akan terus berusaha mengembangkan komunitas kompetitif di negara asalnya. Bisakah Arslan Ash menjuarai Tekken World Tour 2019 Finals di Bangkok pada bulan Desember nanti?
Sumber: Arslan Ash, Mehak Majid
From Our Network