Esports Ecosystem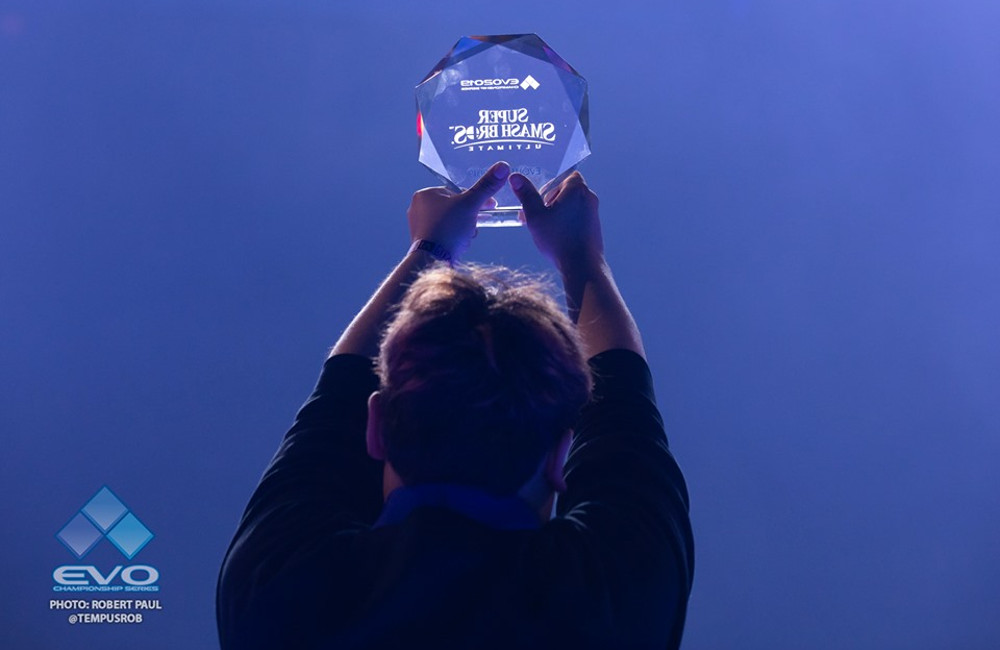 Akhir pekan yang baru saja berlalu menyisakan sejuta drama dan air mata di Las Vegas.
Festival dan kompetisi fighting game terbesar di dunia tahun ini, EVO 2019, baru saja selesai. Berbagai pertarungan seru dan drama menghiasi Mandalay Bay, Las Vegas, pada tanggal 2 – 4 Agustus (5 Agustus waktu Indonesia) kemarin, menjadikannya akhir pekan yang tak terlupakan bagi banyak orang. Bila Anda penggemar genre fighting game yang sempat menonton siaran pertandingan tersebut, tentu Anda tahu bagaimana hebohnya acara ini, terutama di beberapa cabang pertandingan yang memang sangat hype.
Kini para juara dunia telah ditetapkan, masing-masing pulang membawa hadiah tersendiri serta kebanggaan. Siapa saja mereka, dan bagaimana perjuangan mereka mendaki tangga kejuaraan EVO yang sangat kompetitif? Langsung saja simak di bawah.
Tekken 7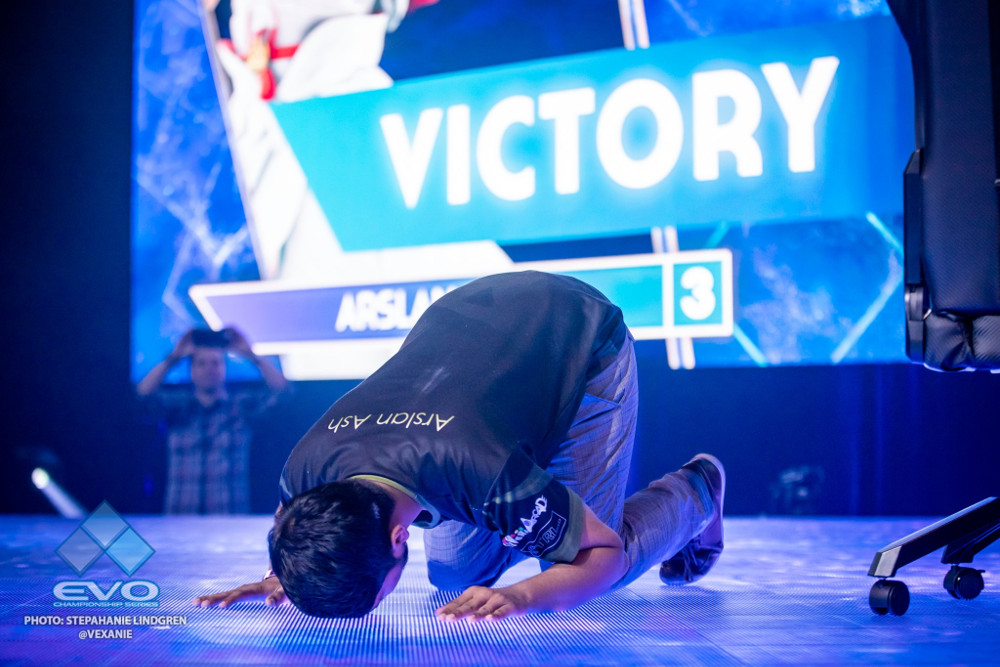 EVO cabang Tekken tahun ini mempertontonkan rivalitas antara dua "dewa" Tekken dunia, yaitu Knee dari Korea Selatan dan Arslan Ash dari Pakistan. Arslan Ash yang awal 2019 lalu menjadi juara EVO Japan 2019, melawan Knee yang merupakan juara EVO 2018. Hasilnya adalah pertarungan epik, diakhiri dengan Arslan Ash yang melakukan sujud syukur di panggung EVO setelah menumbangkan Knee. Arslan Ash jadi pemain pertama dunia yang memegang gelar EVO dan EVO Japan sekaligus!
Peringkat Top 8 EVO 2019 Tekken 7:
Juara 1: Team vSlash | Arslan Ash
Juara 2: ROX Dragons | Knee
Juara 3: Red Bull | Anakin
Juara 4: Yamasa | Take
Juara 5: Yamasa | Nobi
Juara 5: COOASGAMES | Noroma
Juara 7: THY | Chikurin
Juara 7: UYU | LowHigh
Street Fighter V: Arcade Edition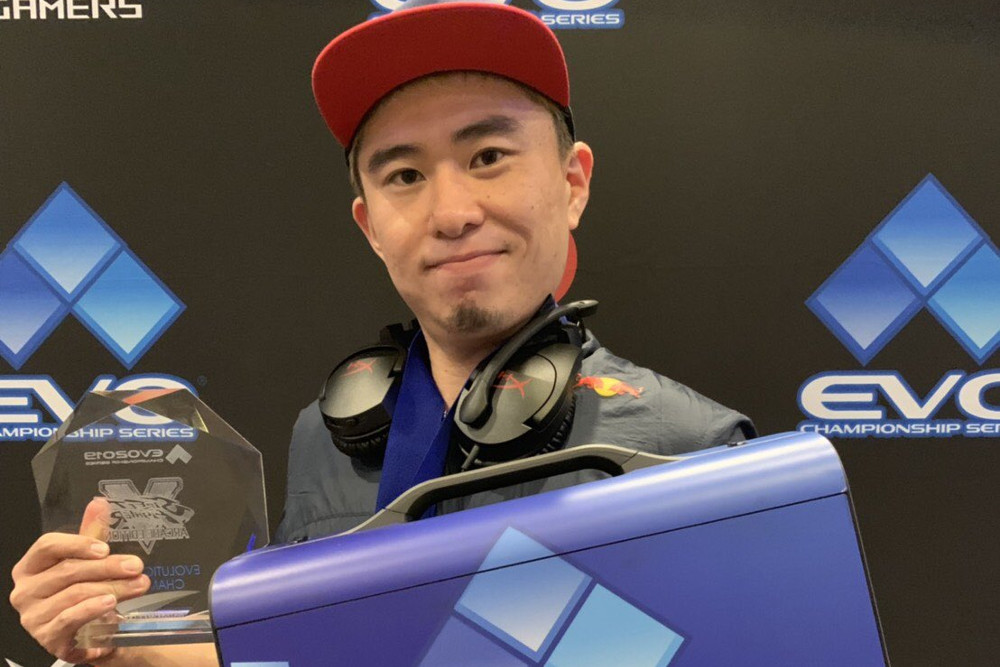 Setelah menjuarai CEO 2019 dan VSFighting 2019 kemarin, nama Bonchan langsung melejit jadi pemain yang difavoritkan untuk menjuarain EVO. Ekspektasi tersebut dijawab kontan oleh Bonchan dengan permainan Sagat dan Karin yang luar biasa. Pemain bernama asli Masato Takahashi ini sudah lama dipandang sebagai salah satu pemain Street Fighter terkuat di Jepang, namun baru kali ini ia membuktikannya dengan meraih trofi juara dunia EVO.
Peringkat Top 8 EVO 2019 Street Fighter V: Arcade Edition:
Juara 1: Red Bull | Bonchan
Juara 2: Nasr eSports | BigBird
Juara 3: Cygames | Infexious
Juara 4: Fudoh | Fujimura
Juara 5: iDom
Juara 5: Yoshimoto Gaming | Machabo
Juara 7: AZ | Kichipa-mu
Juara 7: ALUS | YangMian
Dragon Ball FighterZ
Kazunoko yang jadi juara Dragon Ball FighterZ World Tour 2018/2019 ternyata harus puas terhenti di peringkat Top 8. Sebagai gantinya, babak Grand Final kali ini adalah runback (tanding ulang) dari EVO 2018 antara GO1 melawan SonicFox. Tahun lalu SonicFox jadi juaranya, tapi tahun ini GO1 berhasil membalas kekalahan tersebut dan meraih gelar EVO untuk pertama kalinya. Begitu seru dan penuh emosi pertandingan ini sampai-sampai setelahnya GO1 langsung tak kuasa menahan air mata.
Peringkat Top 8 EVO 2019 Dragon Ball FighterZ:
Juara 1: Cyclops Athlete Gaming | GO1
Juara 2: Echo Fox | SonicFox
Juara 3: Cyclops Athlete Gaming | Fenritti
Juara 4: Vodafone Giants | Shanks
Juara 5: HiroHiro
Juara 5: Jumper7b
Juara 7: Evil Geniuses | NYChrisG
Juara 7: Burning Core | Kazunoko
Samurai Shodown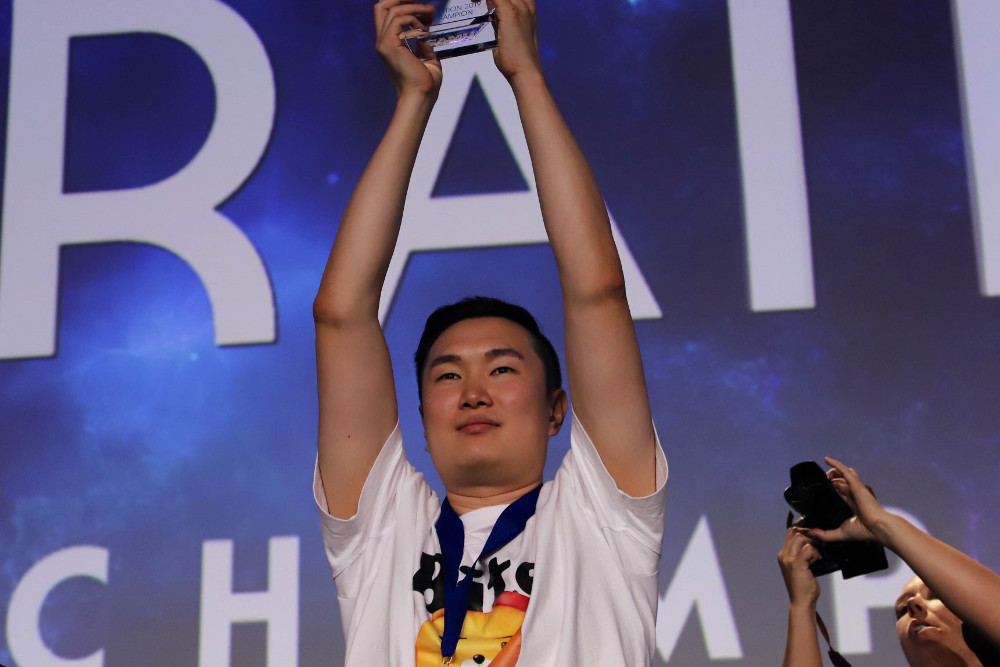 Cabang Samurai Shodown di EVO 2019 benar-benar terasa seperti sebuah nostalgia. Bukan hanya karena franchise Samurai Shodown itu sendiri yang akhirnya bangkit setelah "tidur" sekian lama, kompetisinya di level Top 8 pun penuh dengan performa hebat dari nama-nama veteran, termasuk Infiltration, Justin Wong, Kazunoko, dan Alex Valle. Infiltration sudah pernah meraih gelar EVO di cabang Super Street Fighter IV: Arcade Edition (2012), Street Fighter x Tekken (2013), Street Fighter V (2016), dan kini Samurai Shodown (2019). Berikutnya gelar apa yang diincarnya?
Peringkat Top 8 EVO 2019 Samurai Shodown:
Juara 1: Infiltration
Juara 2: Burning Core | Kazunoko
Juara 3: Justin Wong
Juara 4: HB | Reinald
Juara 5: LU | Alex Valle/CaliPower
Juara 5: RB
Juara 7: TF | DidimoKOF
Juara 7: Brook | ZJZ
Super Smash Bros. Ultimate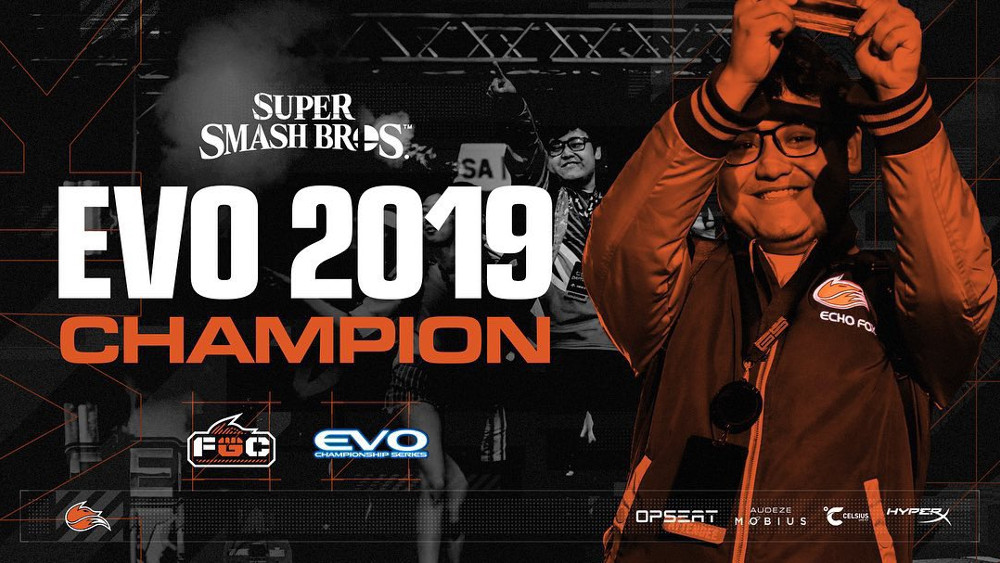 Super Smash Bros. Ultimate (SSBU) membuktikan bahwa game ini memang layak menjadi cabang EVO dengan jumlah partisipan terbanyak. Bermain mengandalkan Joker dari Persona 5, MKLeo sempat nyaris tereliminasi tapi ia melakukan bracket reset di Grand Final dengan skor 3-2. Momentum tidak berhenti sampai di situ, karena kemudian MKLeo meraih angka sempurna dan mengalahkan Tweek dengan skor 3-0. Pemuda berusia 18 tahun ini pun menjadi juara perdana EVO untuk cabang Super Smash Bros. Ultimate.
Peringkat Top 8 EVO 2019 Super Smash Bros. Ultimate:
Juara 1: Echo Fox | MKLeo
Juara 2: Team SoloMid | Tweek
Juara 3: Solary | Gluttony
Juara 4: eUnited | Samsora
Juara 5: ProtoBanham
Juara 5: Raito
Juara 7: GameWith | Zackray
Juara 7: Rogue | Light
Mortal Kombat 11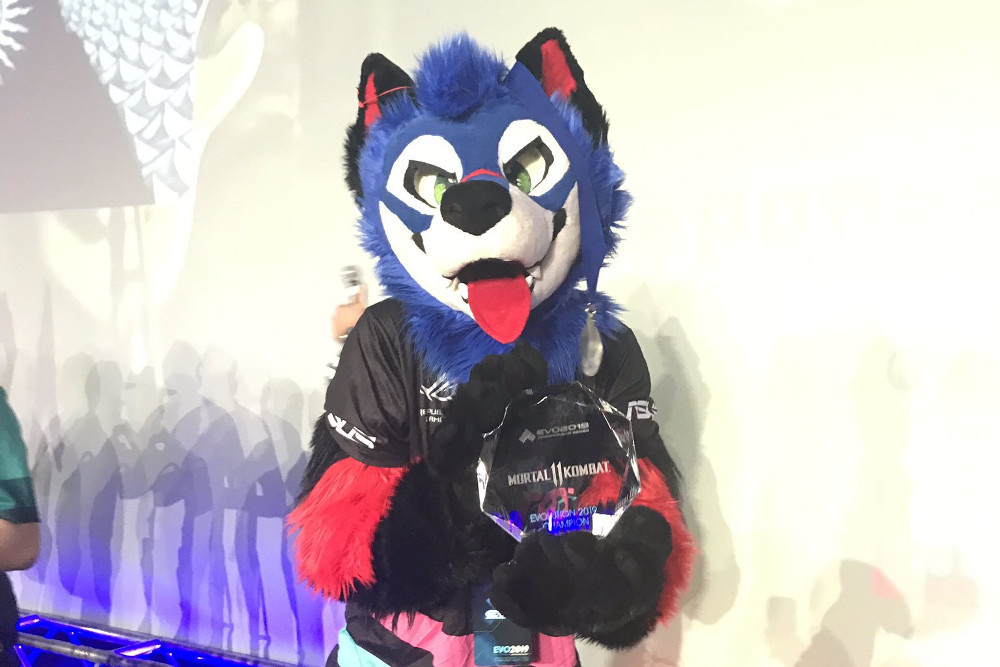 Keistimewaan SonicFox alias Dominique McLean bukan hanya karena dia ahli bermain fighting game, tapi karena ia mampu berkompetisi di lebih dari satu cabang sekaligus. Setelah runner-up di Dragon Ball FighterZ, SonicFox langsung beraksi di Mortal Kombat 11 dan membawa pulang gelar juara. Tampaknya posisi pemain yang satu ini sebagai raja game buatan NetherRealm Studios masih sulit untuk diingkari.
Peringkat Top 8 EVO 2019 Mortal Kombat 11:
Juara 1: Echo Fox | SonicFox
Juara 2: Burning Core | Dragon
Juara 3: Nasr Esports | TekkenMaster
Juara 4: UYU | Deoxys
Juara 5: PxP | A Foxy Grampa
Juara 5: Panda Global | Tweedy
Juara 7: Panda Global | Hayatei
Juara 7: Noble | Semiij
Soulcalibur VI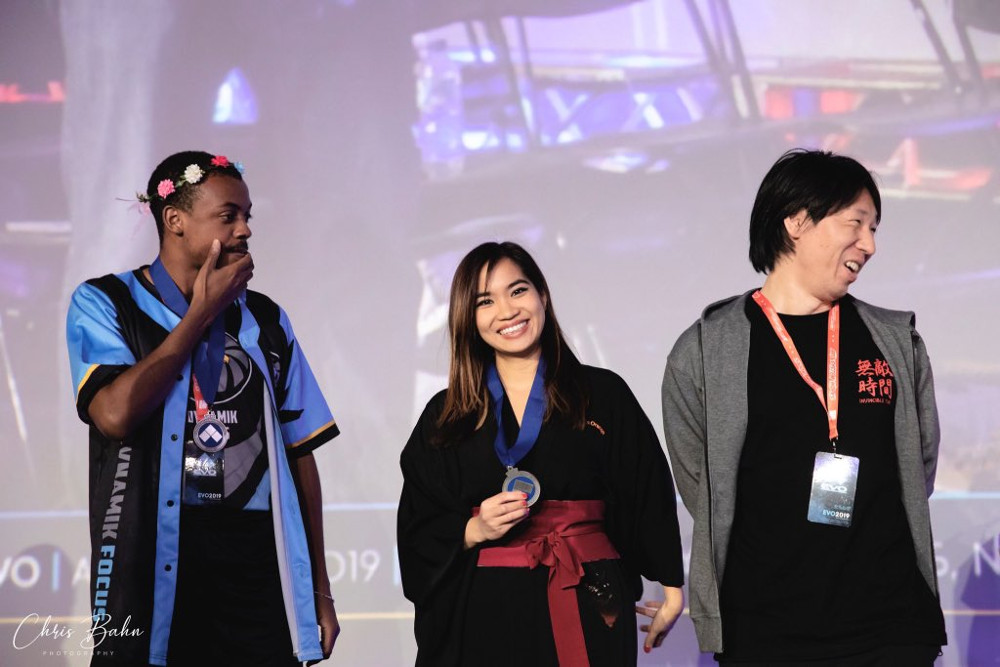 Cabang Soulcalibur VI tahun ini cukup spesial karena prestasi yang diraih Kayane, satu-satunya pemain perempuan yang mencapai peringkat Top 8 di EVO. Apalagi EVO juga untuk pertama kalinya mengadakan panel berjudul "The Women of the FGC" yang mendiskusikan peran perempuan di komunitas fighting game. Performa Yuttoto yang memenangkan kejuaraan dengan Voldo pun sangat mengesankan. Siapa bilang Voldo di Soulcalibur hanya joke character?
Peringkat Top 8 EVO 2019 Soulcalibur VI:
Juara 1: BNE | Yuttoto
Juara 2: BlueGod
Juara 3: Oplon | SkyII
Juara 4: Woahhzz
Juara 5: Tamonegi
Juara 5: Panda Global | Shen Chan
Juara 7: Orange | Kayane
Juara 7: DF | Saiyne
Under Night In-Birth Exe:Late[st]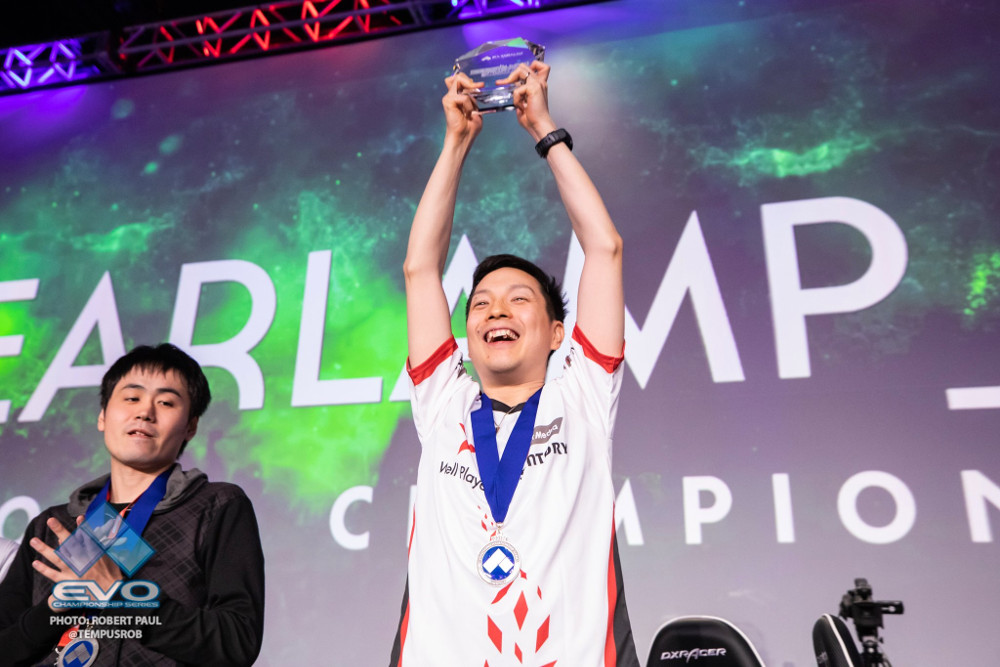 Popularitas Under Night In-Birth pelan tapi pasti semakin tumbuh, dan tahun ini di EVO berhasil menjadi salah satu game kategori anime fighters dengan partisipan terbanyak—lebih tinggi dari BlazBlue dan hampir sama dengan Dragon Ball FighterZ. French Bread selaku developer seri ini pun menjawab dedikasi para penggemar dengan mengumumkan game baru setelah turnamen berakhir, yaitu Under Night In-Birth Exe:Late[cl-r].
Peringkat Top 8 EVO 2019 Under Night In-Birth Exe:Late[st]:
Juara 1: WP | ClearLampO
Juara 2: Ouhuu-Hittou
Juara 3: Hishigata
Juara 4: Kure
Juara 5: Neji
Juara 5: PUB | Rikir
Juara 7: Libekichi
Juara 7: Senaru
BlazBlue: Cross Tag Battle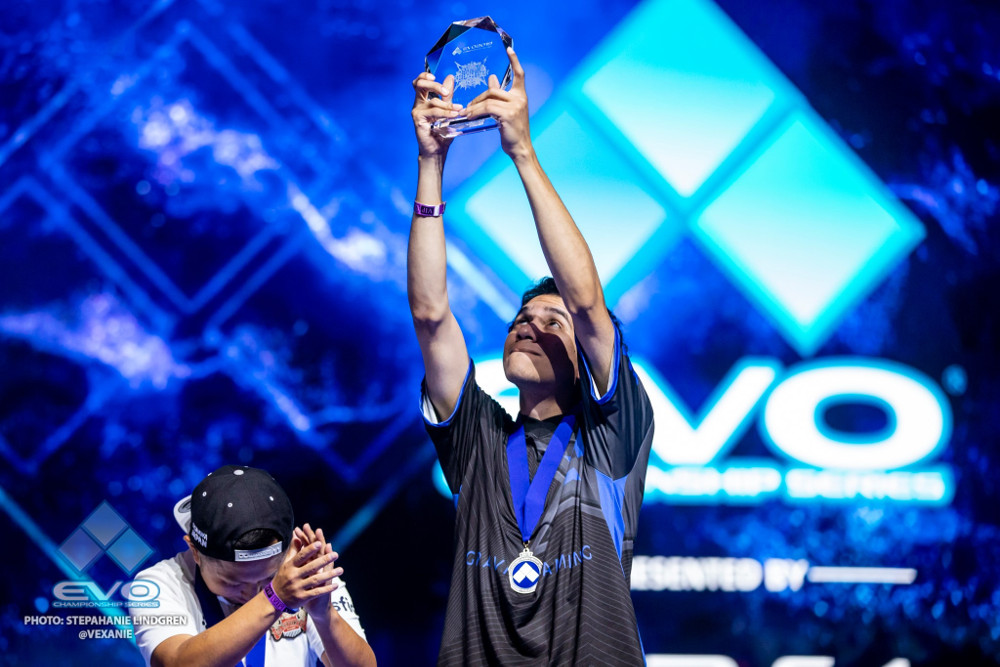 Sama seperti Super Smash Bros. Ultimate, cabang BlazBlue: Cross Tag Battle juga dihadiri oleh penampilan karakter dari seri Persona. Bila juara SSBU menang menggunakan Joker, di sini Kyamei berhasil sampai ke Grand Final mengandalkan Akihiko Sanada dan Mitsuru Kirijo dari Persona 3. Tapi sayangnya ia harus menyerah terhadap duet Ruby Rose dan Yang Xiao Long dari RWBY, yang dimainkan oleh Shinku.
Peringkat Top 8 EVO 2019 BlazBlue: Cross Tag Battle:
Juara 1: Gravity Gaming | Shinku
Juara 2: FCRYUKYU | Kyamei
Juara 3: Domi
Juara 4: Mekasue
Juara 5: CYCLOPS Athlete Gaming | Fenritti
Juara 5: Bace
Juara 7: JonaKim
Juara 7: Susano'o | KojiKOG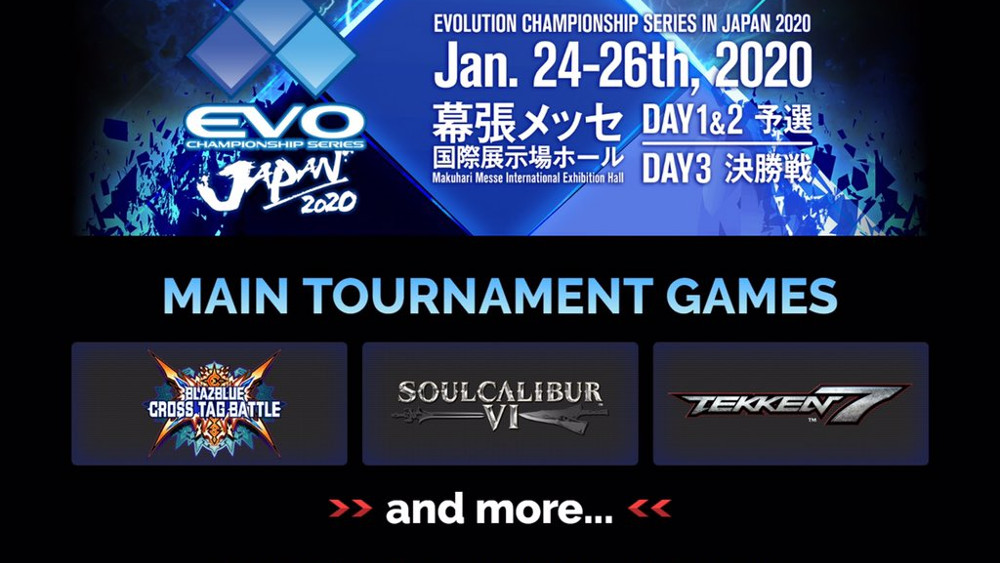 Itulah deretan peraih prestasi di ajang Evolution Championship Series 2019. Setelah semua pertandingan berakhir, pihak EVO rupanya sudah menyiapkan panggung kompetisi berikutnya: EVO Japan 2020! Tiga game utama sudah diumumkan yaitu BlazBlue: Cross Tag Battle, Soulcalibur VI, dan Tekken 7, tapi ini masih akan terus bertambah. Sementara waktu dan lokasinya telah ditetapkan pada 24 – 26 Januari 2020, di Makuhari Messe International Exhibition Mall, Chiba, Jepang. Kita tunggu saja akan seseru apa kompetisi itu nantinya.