Gaming News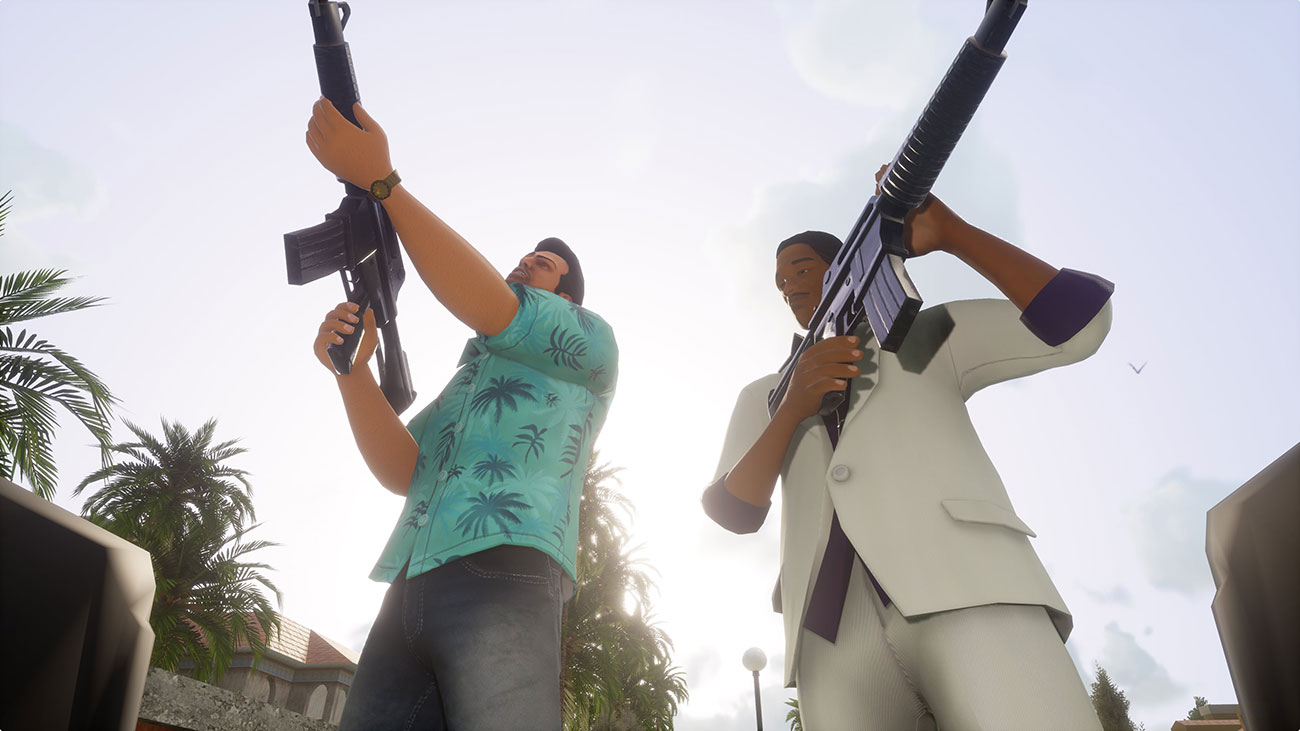 Dari yang sangat mengganggu seperti efek hujan yang super-jelek, sampai yang sepele seperti sejumlah typo, GTA Trilogy Definitive Edition perlahan mulai membaik kondisinya
Grand Theft Auto: The Trilogy – The Definitive Edition yang dirilis pada 11 November 2021 kemarin benar-benar dilanda segudang masalah. Saking parahnya, Rockstar sampai memutuskan untuk meminta maaf secara terbuka, dan mereka berjanji untuk memperbaiki versi remastered dari tiga game legendaris tersebut secara bertahap.
Kabar baiknya, janji tersebut sudah mulai ditepati oleh Rockstar. Mereka baru saja merilis update anyar (versi 1.03) untuk GTA Trilogy Definitive Edition yang membenahi banyak problem sekaligus; dari yang paling mengganggu seperti efek hujan yang super-jelek dan bermasalah, sampai yang sepele seperti typo pada beberapa objek yang memiliki teks di dalam game.
Rain across all #GTATrilogy games has received major tweaks. https://t.co/kutHVKDoGD

— GTANet (@GTANet) November 30, 2021
Versi 1.03 ini juga mengembalikan efek kabut yang tampak di kejauhan. Seperti diketahui, salah satu penyempurnaan visual yang ditawarkan versi remastered ini adalah peningkatan draw distance sehingga pemain bisa melihat lebih banyak di kejauhan. Masalahnya, hal ini justru membuat dunia di dalam ketiga game jadi terasa begitu kecil (karena bagian ujungnya bisa kelihatan dengan jelas dari kejauhan).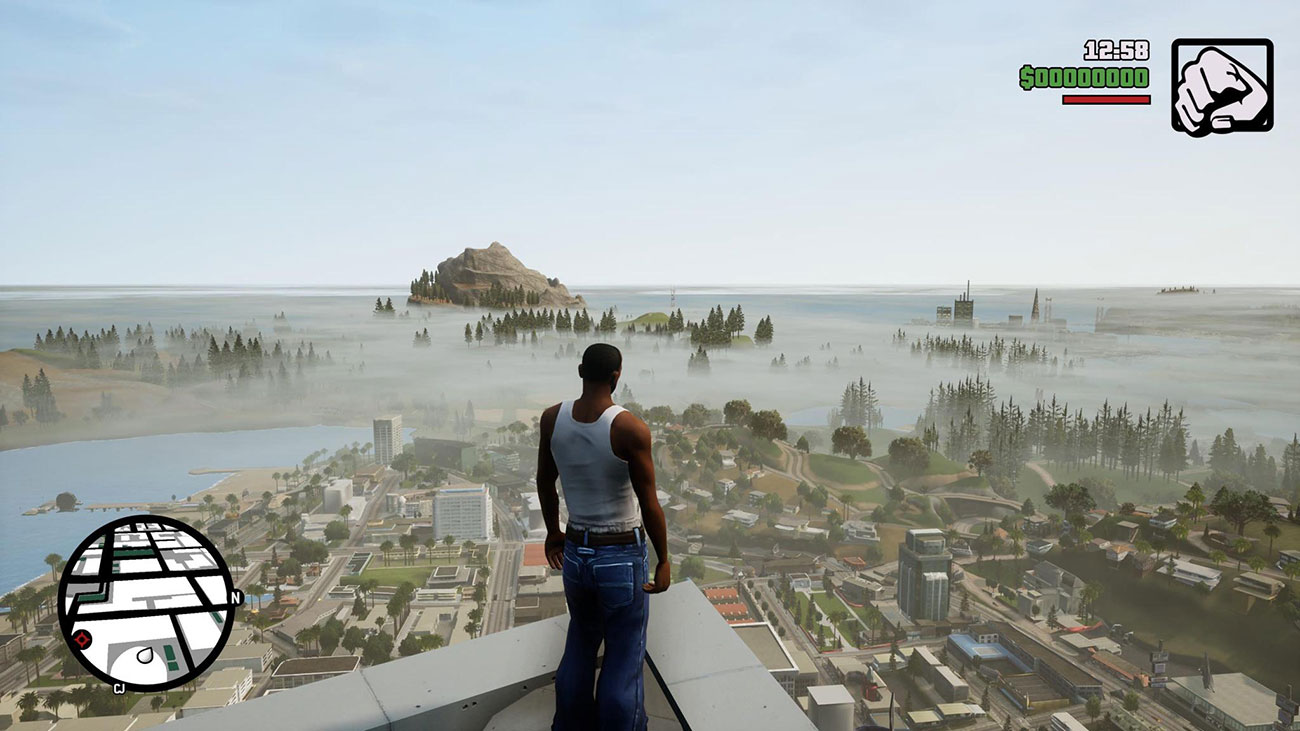 Pada versi orisinalnya di PlayStation 2, efek kabut ini diterapkan demi mengakali keterbatasan performa hardware terkait draw distance, tapi di saat yang sama itu juga memberikan efek artistik yang membuat dunia di dalam game jadi terasa masif.
Salah satu keluhan terbesar lain dari para pemain GTA Trilogy Definitive Edition adalah terkait penampilan sejumlah karakter yang jadi sangat berbeda dari versi aslinya. Rockstar diam-diam rupanya mendengarkan masukan-masukan semacam itu, terbukti dari kembalinya penampilan asli seorang karakter minor di GTA: San Andreas bernama Old Reece. Saat versi remastered-nya pertama dirilis, wajah karakter tersebut tampak jauh berbeda dari yang ada di versi aslinya.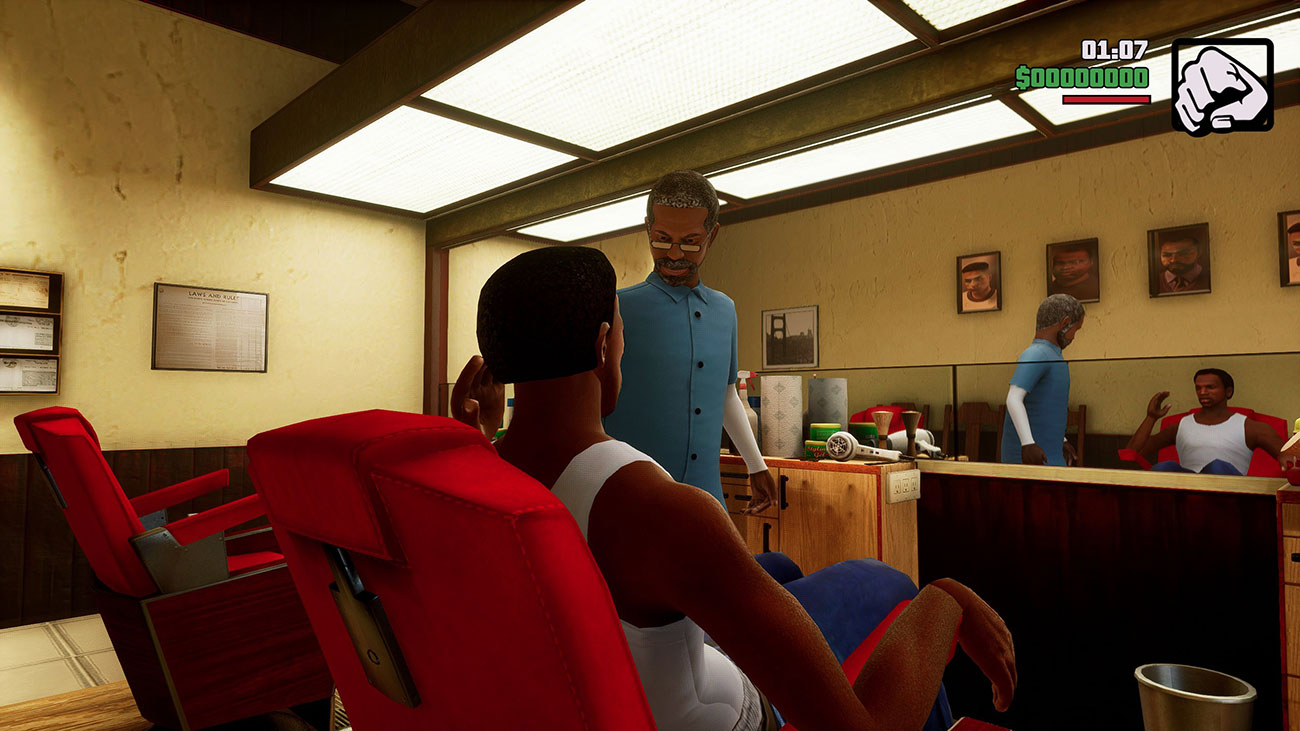 Tak hanya problem yang terlihat secara kasatmata, Rockstar rupanya juga memperbaiki isu-isu lain yang mungkin tidak begitu mengganggu buat para pemain yang baru pertama kali menikmati trilogi GTA ini, seperti misalnya perkara sound effect saat mengakses menu.
Saat pertama diluncurkan, ketiga game dari GTA Trilogy Definitive Edition menggunakan sound effect yang sama yang diambil dari GTA: San Andreas. Berkat update baru ini, tiap game kini telah dilengkapi sound effect-nya masing-masing seperti versi orisinalnya. Sepele, tapi krusial bagi mereka yang sempat menikmati versi aslinya dua dekade silam.
GTA III & Vice City now use the correct menu SFX, instead of the ones from San Andreas. Fantastic update. #GTATrilogypic.twitter.com/TFeU1VOpc7

— Paul Lennon (@Lenlfc) November 30, 2021
PR yang harus dikerjakan Rockstar memang masih banyak, dan kondisi GTA Trilogy Definitive Edition pasca update versi 1.03 pun masih jauh dari apa yang diharapkan banyak penggemarnya. Kendati demikian, ini tetap merupakan awal yang baik sekaligus menunjukkan komitmen Rockstar dalam menepati janjinya.
Saya sendiri masih akan terus menunggu sampai game-nya benar-benar dalam kondisi 'sehat' sebelum membelinya, sama halnya seperti saya menunggu expansion pack Cyberpunk 2077 sebelum memainkannya kembali. Kalau ingin tahu daftar lengkap problem yang diperbaiki di versi 1.03 ini, silakan langsung berkunjung ke laman support Rockstar.
Sumber: Game Informer dan IGN.