Esports Ecosystem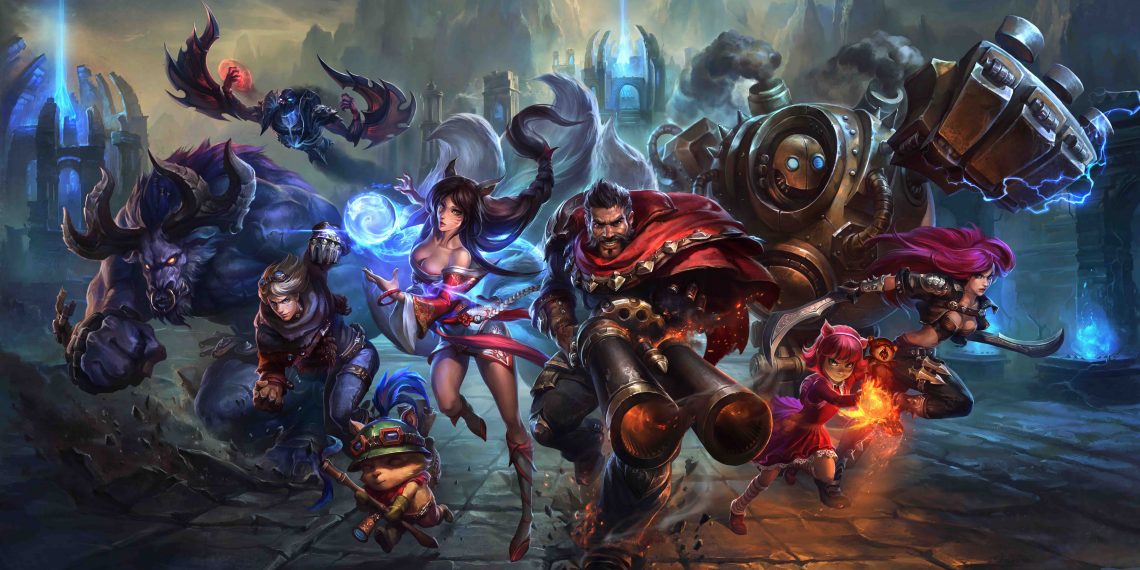 League of Legends berhasil mempertahankan posisinya di peringkat satu selama satu tahun berturut-turut
Pada Q1 2020, League of Legends masih menjadi game PC dengan dampak paling besar pada ekosistem esports, menurut PC Games Impact Index buatan The Esport Observer. Dengan ini, League of Legends duduk di peringkat satu selama satu tahun berturut-turut.
Salah satu alasan mengapa game buatan Riot Games ini bisa bertahan di peringkat satu adalah karena jumlah pemainnya yang lebih banyak dari game-game esports PC lain. Jumlah pemain League of Legends hampir tiga kali lipat dari Counter-Strike: Global Offensive, yang duduk di peringkat 2. Tak hanya itu, League of Legends juga menjadi game yang paling sering ditonton di Twitch. Kebanyakan liga regional League of Legends dimulai pada pertengahan Januari. Memang, sejumlah liga sempat tertunda karena pandemik virus corona. Namun, empat liga besar — di Amerika Utara, Eropa, Korea Selatan, dan Tiongkok — berhasil kembali diselenggarakan dengan format online.
Sementara itu, CS:GO masih menduduki peringkat kedua berkat musim turnamen yang dimulai pada awal tahun. BLAST Premier Spring Series mulai diadakan pada 31 Desember 2019. Dalam turnamen yang diadakan di London tersebut, FaZe Clan, Natus Vincere, dan G2 Esports lolos babak kualifikasi untuk berlaga di Spring Finals yang diadakan di Moscow. Sayangnya, turnamen tersebut harus dibatalkan karena COVID-19. Turnamen CS:GO lain yang terpengaruh pandemik adalah Intel Extreme Masters Katowice, yang harus diadakan tanpa penonton. Kabar baiknya, tiga siaran dari IEM Katowice 2020 berhasil mendapatkan concurrent viewer sebanyak 745,6 ribu orang.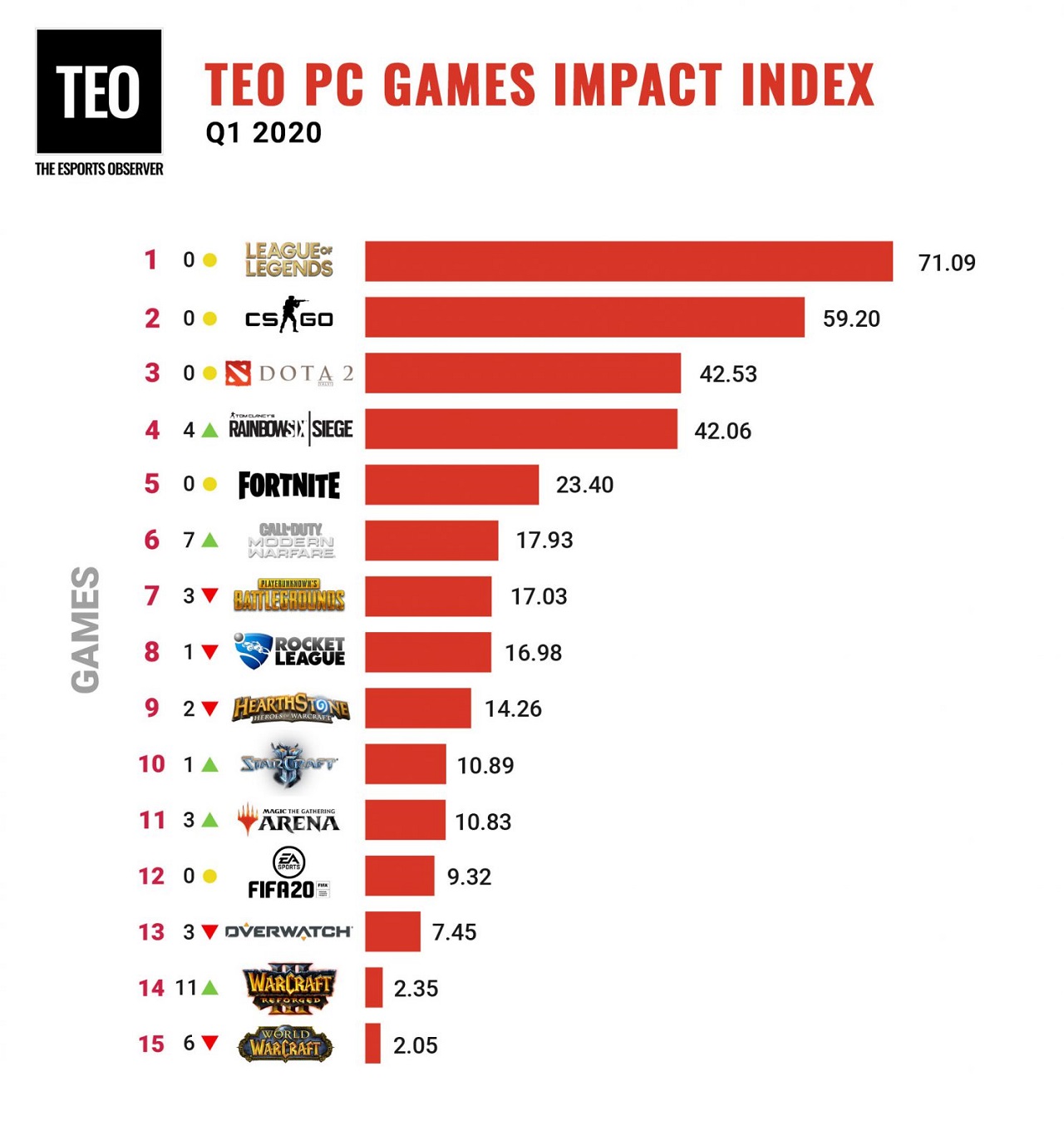 Posisi ketiga diisi oleh Dota 2. DreamLeague Season 13: The Leipzig Major, salah satu dari lima turnamen Major untuk 2020, telah diadakan pada Januari. Turnamen tersebut dimenangkan oleh Team Secret, yang membawa pulang hadiah sebesar US$1 juta.
Di channel Twitch berbahasa Inggris, Leipzig Major mendapatkan viewership sebanyak 4,88 juta. Sementara channel berbahasa Rusia mendapatkan 5,48 juta jam. Jika dibandingkan dengan League of Legends, CS:GO, dan Rainbow Six — yang ada di peringkat 4 — Dota 2 memiliki jumlah pemain yang paling sedikit. Meskipun begitu, game dari Valve ini bisa duduk di peringkat 3 karena berkat banyaknya orang yang menonton serta besarnya total hadiah turnamen. Sayangnya, karena pandemik virus corona, ada turnamen Dota 2 yang harus dibatalkan, yaitu ESL One Los Angeles dan EPICENTER Major 2020 di Moscow.
Rainbow Six Siege kini ada di peringkat 4, naik dari peringkat 8 pada Q4 2019. Six Invitational 2020, yang diadakan di Montreal, menawarkan total hadiah sebesar US$3 juta. Ini menjadikan Rainbow Six Siege sebagai game esports dengan hadiah turnamen terbesar sepanjang Q1 2020. Beberapa tahun belakangan, popularitas Rainbow Six Siege sebagai game esports memang terus naik. Pada 2019, jumlah viewership Six Invitational naik 300 persen. Selain itu, viewership dari Six Invitational 2020 juga naik pesat dari tahun lalu. Jumlah total durasi video ditonton naik menjadi 5,37 juta jam dari 3,01 juta jam. Tak hanya itu, jumlah pemain Rainbow Six Siege juga terus bertambah. Kini, game itu memiliki 55 juta orang pemain.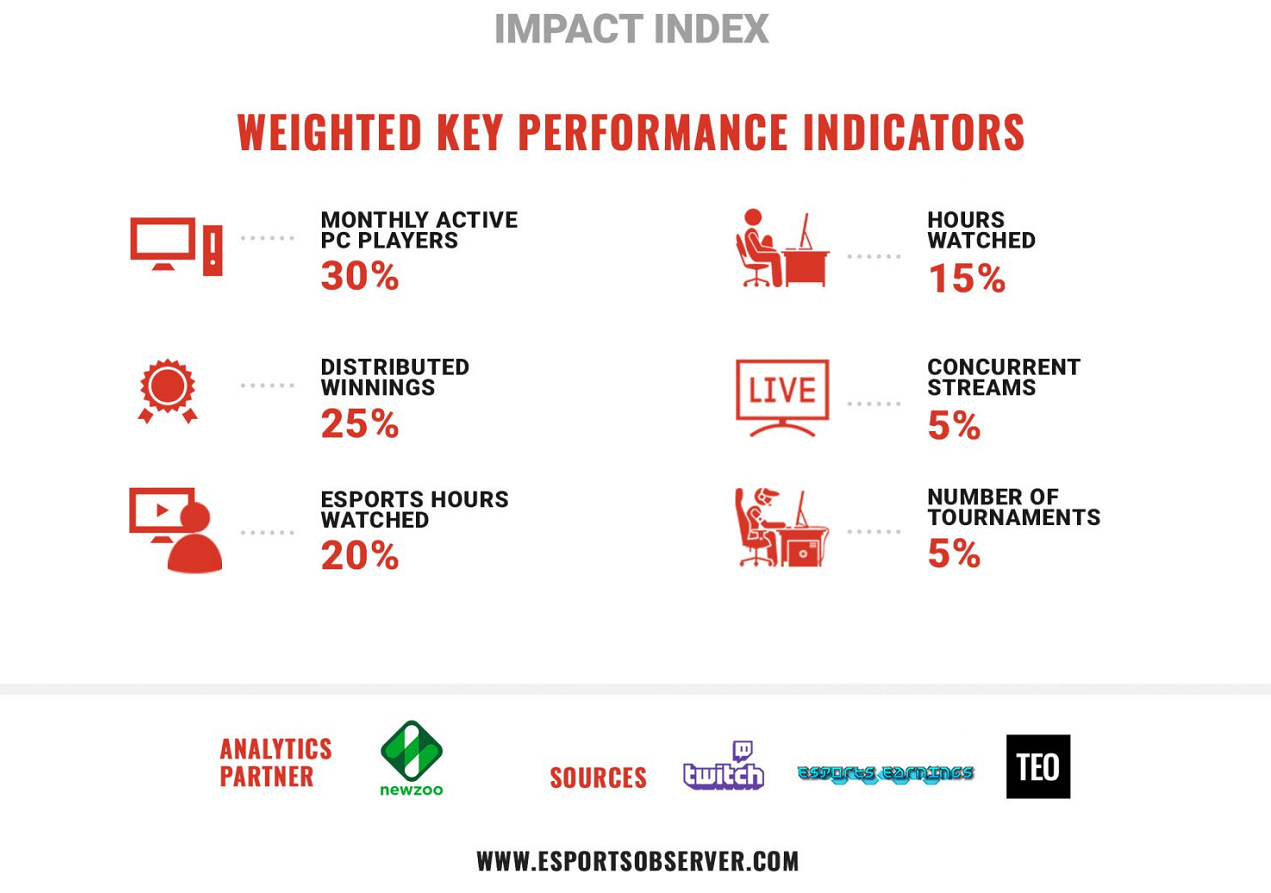 Fortnite dari Epic Games dapat mempertahankan posisinya di peringkat 5. Memang, pada Q1 2020, tidak ada turnamen besar dari game battle royale tersebut. Meskipun begitu, game itu tetap relevan karena memiliki jumlah pemain dan penonton yang cukup banyak. Sementara posisi ke-6 diduduki oleh Call of Duty: Modern Warfare. Pertandingan pertama dari Call of Duty League digelar pada 24 Januari 2020 lalu. Jumlah pemain menjadi salah satu faktor mengapa game ini bisa naik ke peringkat 6. Dari 15 game yang masuk dalam daftar game-game PC paling berpengaruh. Modern Warfare menjadi game ke-4 dengan jumlah pemain terbanyak.
Di bawah Modern Warfare, Player Unknown's Battleground duduk di peringkat 7, turun 3 peringkat dari kuartal lalu. Sepanjang Q1 2020, PUBG memang mengadakan sejumlah turnamen regional. Sayangnya, tidak ada kompetisi di tingkat global.
Rocket League masuk ke peringkat 8 berkat viewership dan total hadiah yang ditawarkan oleh Rocket League Championship Series Season 9 serat Rocket League Spring Series. Sementara Hearthstone, yang ada di peringkat 9, hanya mengadakan satu turnamen Major, yaitu Masters Tour di Arlington. Walau popularitas StarCraft II mulai memudar, game ini tetap masuk ke dalam 10 besar berkat ekosistemnya yang memang besar. World Championship dari StarCraft II, yang diadakan di Intel Extreme Masters, mendapatkan total jam ditonton selama 1,14 juta jam. Sementara turnamen terbesar dari Magic: The Gathering Arena, Magic World Championship, mendapatkan 1,49 total jam ditonton.
FIFA 20 masuk ke dalam daftar game PC paling berdampak pada Q4 2019. Ketika itu, game buatan EA ini duduk di peringkat 12. Kali ini, FIFA 20 berhasil mempertahankan posisinya. Salah satu alasannya adalah jumlah viewership dari game tersebut. Selain itu, program esports EA — seperti FIFA eClub World Cup2020 dan FUT 20 Champions Cup Stage — juga terbilang sukses. Overwatch kini harus puas dengan peringkat 13, turun dari peringkat 10. Tidak heran, mengingat musim Overwatch League memang belum dimulai pada Q1. Jadi, jumlah penonton dari game ini juga tidak banyak. Terakhir, posisi ke-14 dan ke-15 diisi oleh game buatan Activision Blizzard, yaitu Warcraft III dan World of Warcraft.
From Our Network