Esports Ecosystem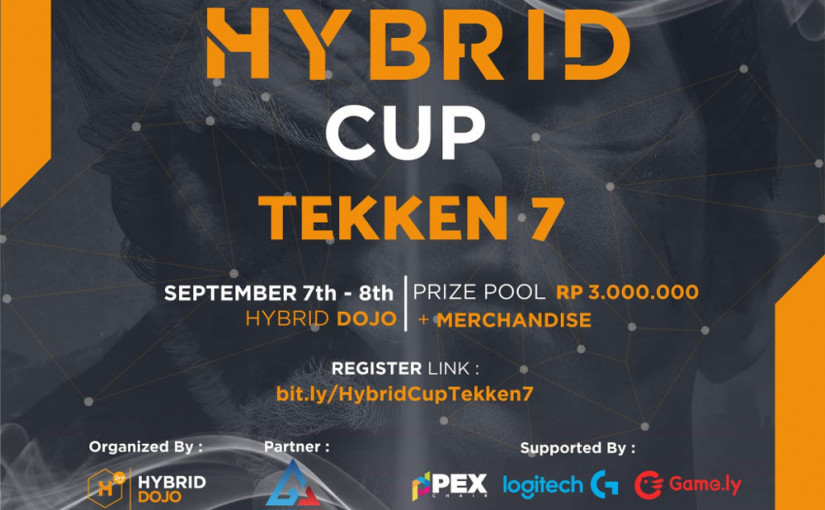 Catat pembagian Pool dan jadwal pertandingannya agar tak ketinggalan aksi pemain kesayangan Anda.
Wahai petarung-petarung Tekken di Indonesia, apakah Anda semua sudah siap? Tinggal satu hari lagi, tepatnya pada tanggal 7 – 8 September 2019, kejuaraan Hybrid Cup – Tekken 7 akan digelar! Turnamen perdana persembahan Hybrid.co.id ini mengajak Anda untuk bertemu, berkumpul, dan bersaing dengan para penggemar Tekken lainnya dan memperebutkan hadiah senilai Rp3.000.000.
Sebagaimana telah diberitakan sebelumnya, Hybrid Cup – Tekken 7 akan digelar di Hybrid Dojo – DailySocial HQ, Jl. Kemang Selatan 1D No. 2, Mampang Prapatan, Jakarta Selatan. Saat ini pendaftaran telah ditutup, namun Anda tetap dapat hadir untuk menonton pertandingan dan menyemangati pemain-pemain favorit Anda. Hybrid juga menyediakan ruang dan setup untuk bermain game secara kasual bersama pengunjung lainnya.
Perlu Anda ketahui bahwa pertandingan Hybrid Cup terbagi ke dalam dua babak, yaitu babak penyisihan (Pool) di hari pertama dan babak Top 16 Final di hari kedua. Pool itu sendiri terdiri dari delapan Pool, dari Pool A hingga Pool H. Pertandingan untuk Pool A – B – C – D akan berlangsung pada hari Sabtu (7 September) pukul 13.30 – 15.00 WIB. Sementara untuk Pool E – F – G – H berlangsung pada pukul 15.00 – 16.30 WIB. Para peserta diharapkan untuk standby di lokasi satu jam sebelum pertandingan dimulai.
Babak Top 16 Final akan dilaksanakan pada hari Minggu (8 September), pada pukul 12.00 – 17.00 WIB dan langsung dilanjutkan dengan prosesi penyerahan hadiah.
Hybrid Cup merupakan kesempatan bagi Anda untuk menonton aksi para veteran Tekken Indonesia langsung dari dekat. Beberapa nama yang telah terdaftar meliputi R-TecH (pemain profesional dari tim Alter Ego), TJ (anggota kontingen SEA Games Tekken 7 Indonesia), Nodrop dan Jackbosstin (founder tim DRivals), dan masih banyak lagi. Anda dapat melihat daftar peserta serta pembagian Pool dalam tabel di bawah.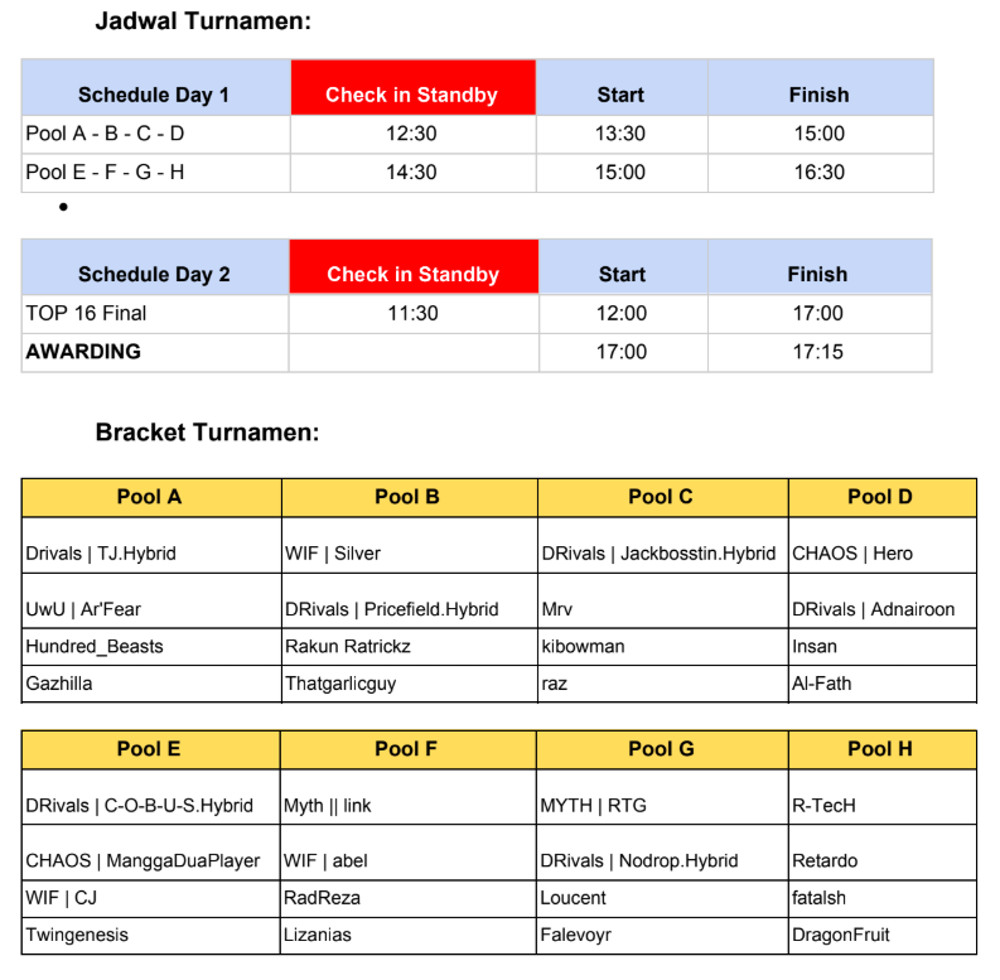 Babak penyisihan Hybrid Cup akan dilaksanakan dengan sistem Round Robin Best of 3. Kemudian, 2 pemain dengan performa terbaik dari masing-masing Pool akan maju ke babak Top 16. Peraih peringkat 1 Pool maju ke Top 16 lewat jalur Winners Bracket, sementara peringkat 2 maju lewat jalur Losers Bracket. Di babak final nanti, para juara akan mendapat hadiah dengan rincian sebagai berikut:
Juara 1: Rp2.000.000 + voucher dan merchandise dari sponsor
Juara 2: Rp700.000 + voucher dan merchandise dari sponsor
Juara 3: Rp300.000 + voucher dan merchandise dari sponsor
Hybrid Cup – Tekken 7 kali ini merupakan hasil kerja sama dengan Advance Guard sebagai strategic partner. Acara ini disponsori oleh Game.ly, Logitech, PEX Chair, dan Imajin. Sampai ketemu esok hari, dan jangan lupa untuk terus memantau Hybrid.co.id untuk berita terkini seputar ekosistem esports fighting game Indonesia. Good luck, have fun!
From Our Network