Esports Ecosystem
Pemain yang keluar sebagai pemenang bisa memilih badan amal yang mendapatkan sumbangan sebesar Rp1,65 miliar
Pandemi virus Corona membuat banyak pertandingan olahraga dibatalkan, termasuk NBA. Untuk mengisi kekosongan yang ada, 2K, NBA, dan National Basketball Players Association (NBPA) menyelenggarakan NBA 2K Players Tournament, sebuah kompetisi yang akan mengadu 16 pemain NBA dalam game NBA 2K20. Pertandingan pertama dari turnamen itu akan diadakan pada Jumat, 3 April 2020 waktu setempat dan akan disiarkan di ESPN dan ESPN2.
NBA 2K Players Tournament akan menggunakan platform Xbox One. Dua pertandingan pertama dari turnamen ini akan menggunakan format single elimination sementara babak semi-final dan final akan menggunakan format best-of-three. Pemain yang keluar sebagai juara akan berhak untuk memilih badan amal penanganan virus corona yang akan mendapatkan sumbangan sebesar US$100 ribu (sekitar Rp1,65 miliar).
"Kami sangat senang bisa bekerja sama dengan NBA dan NBPA untuk membawa basket kembali ke penggemar di seluruh dunia sekaligus membantu mereka yang membutuhkan selama masa penuh ketidakpastian ini," kata Jason Argent, Senior Vice President, Sports Strategy and Licensing, 2K, dalam pernyataan resmi yang diterima oleh Hybrid.co.id. "Hiburan, terutama olahraga, memiliki kemampuan menyatukan masyarakat, termasuk atlet, penggemar, dan keluarga, dan kami berharap semua orang menikmati kejuaraan ini."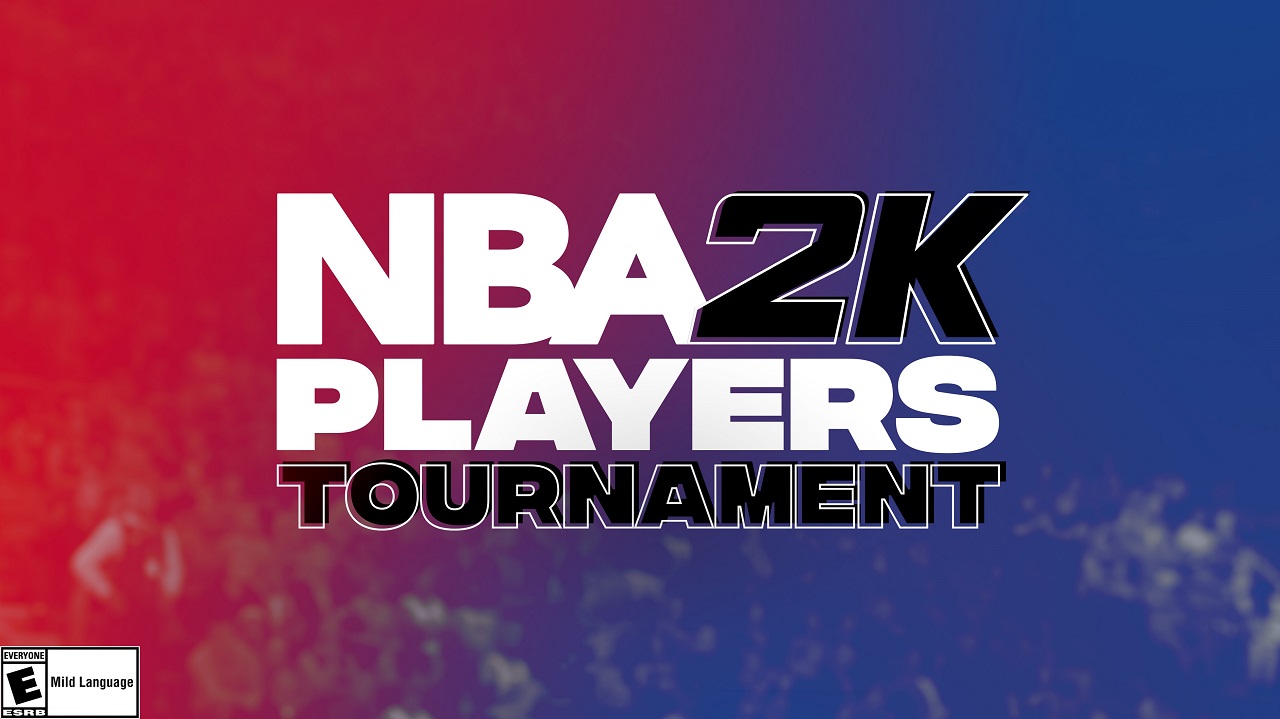 Enam belas atlet basket yang ikut serta dalam NBA 2K Players Tournament akan diurutkan berdasar peringkat mereka di NBA 2K dan masa aktif. Setelah itu, para pemain akan diadu berdasarkan nomor urut mereka. Pertandingan pertama akan mempertemukan Kevint Durant dari Brooklyn Nets dengan Derrick Jones Jr. dari Miami Heat.
Inilah daftar pemain yang akan ikut serta dalam NBA 2K Players Tournament, diurutkan berdasar skor mereka di game NBA 2K.
1. Kevin Durant, Brooklyn Nets (96)
2. Trae Young, Atlanta Hawks (90)
3. Hassan Whiteside, Portland Trail Blazers (87)
4. Donovan Mitchell, Utah Jazz (87)
5. Devin Booker, Phoenix Suns (86)
6. Andre Drummond, Cleveland Cavaliers (85)
7. Zach LaVine, Chicago Bulls (85)
8. Montrezl Harrell, LA Clippers (85)
9. Domantas Sabonis, Indiana Pacers (85)
10. Deandre Ayton, Phoenix Suns (85)
11. DeMarcus Cousins (81)
12. Michael Porter Jr., Denver Nuggets (81)
13. Rui Hachimura, Washington Wizards (79)
14. Patrick Beverley, LA Clippers (78)
15. Harrison Barnes, Sacramento Kings (78)
16. Derrick Jones Jr., Miami Heat (78)
Para pemain dapat menentukan delapan tim NBA aktif sebelum turnamen dimulai. Dalam setiap pertandingan, pemain akan memilih satu tim yang akan mereka gunakan. Jika kedua pemain yang bertanding memilih tim yang sama, tim tamu boleh memilih terlebih dulu. Setiap tim hanya bisa digunakan dalam satu pertandingan oleh para pemain.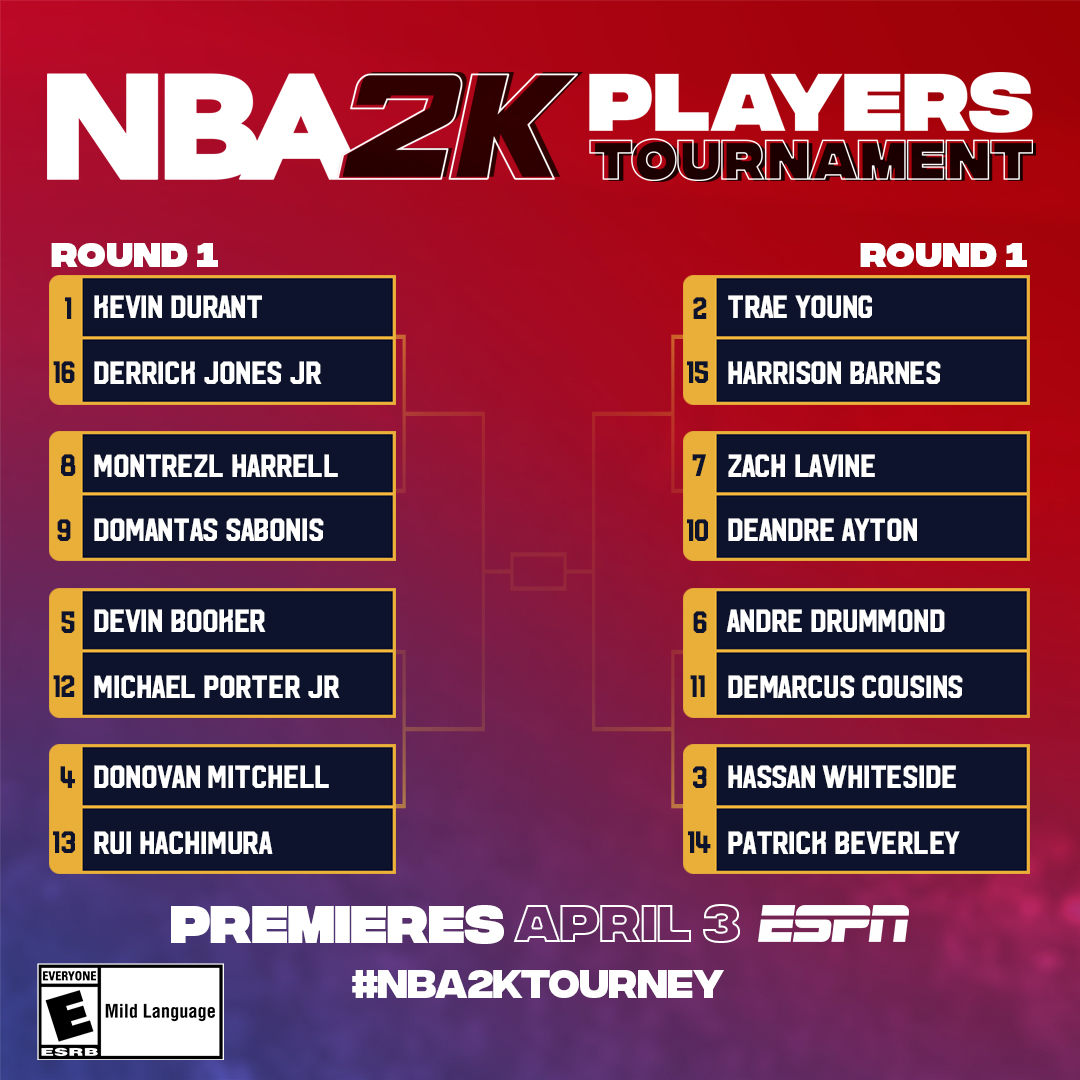 "Turnamen ini menawarkan kesempatan langka bagi pemain kami untuk bertanding dengan satu sama lain, mendukung aksi sosial, dan mendekatkan mereka dengan para penggemar," kata Josh Goodstadt, EVP of Licensing THINK450, divisi komersial NBPA, "Kami sangat senang karena bisa bekerja sama dengan 2K dan NBA dalam menghadirkan pengalaman ini untuk seluruh komunitas NBA."
Selain NBA, ada beberapa kompetisi olahraga tradisional yang digantikan dengan esports, seperti Formula 1 dan NASCAR. Sama seperti NBA, NASCAR memutuskan untuk mengundang para pembalap profesional untuk ikut serta dalam eNASCAR iRacing Pro Invitational Series. Turnamen balapan virtual itu terbukti cukup diminati, membuat FOX Sports tertarik untuk menyiarkan keseluruhan turnamen.