Esports Ecosystem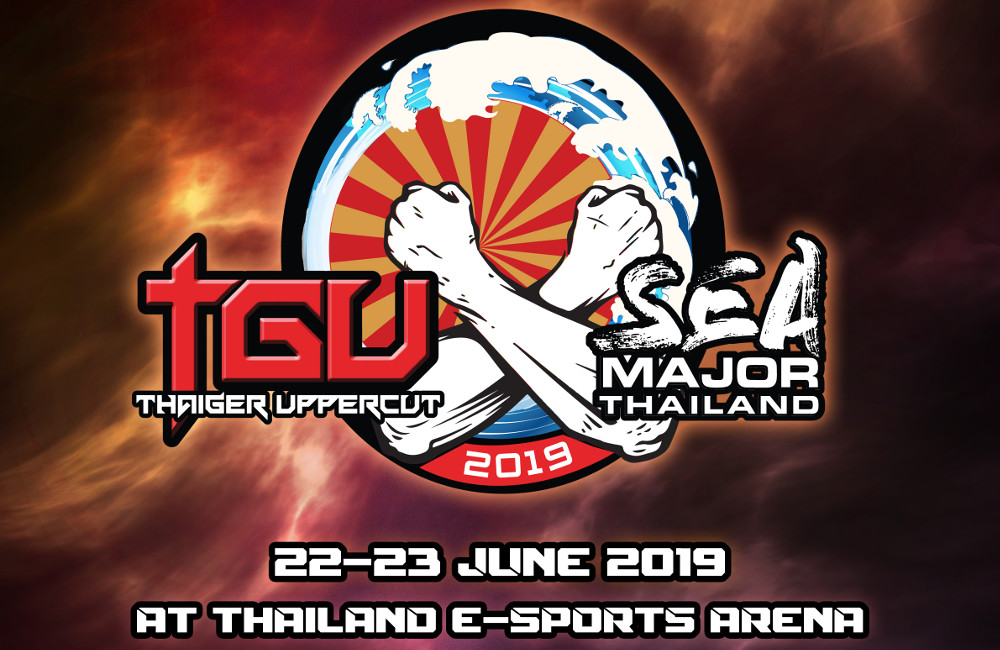 Ada empat pemain Tekken 7 asal Indonesia yang akan mengadu ilmu di TGUXSEAM2019.
Apa yang terpikir di benak Anda ketika mendengar kata "Thaiger Uppercut"? Bila Anda familier dengan seri Street Fighter, kemungkinan akan langsung mengingat sebuah jurus ikonik milik karakter Sagat. Thaiger Uppercut adalah nama ajang kompetisi fighting game terbesar di negara Thailand yang sudah lama digelar secara tahunan. Bisa ditebak bahwa nama acara ini memang terinspirasi dari Street Fighter, karena karakter Sagat pun diceritakan merupakan seorang ahli bela diri Muay Thai.
Mirip seperti turnamen FV Cup yang sudah digelar pada bulan Maret lalu, di tahun 2019 ini Thaiger Uppercut pun bekerja sama dengan BEast of the East yang merupakan organizer turnamen akbar SEA Major 2019. Karena itulah kali ini nama turnamennya menjadi Thaiger Uppercut x SEA Major Thailand 2019. Ada sembilan cabang fighting game yang ditandingkan dalam kompetisi ini, namun tidak semuanya merupakan bagian dari sirkuit turnamen resmi. Berikut daftar lengkapnya:
Street Fighter V: Arcade Edition (Capcom Pro Tour Ranking Event)
Tekken 7 (Tekken World Tour Challenger Event)
The King of Fighters XIV (Neo Geo World Tour)
The King of Fighters 98 (Neo Geo World Tour)
Soulcalibur VI (Soulcalibur Asia League Bangkok Battle Stage)
Super Smash Bros. Ultimate
BlazBlue Cross Tag Battle
Dragon Ball FighterZ
Mortal Kombat 11 (khusus peserta 18 tahun ke atas)
https://twitter.com/neogeoworldtour/status/1133429726557552640
Menariknya, turnamen Thaiger Uppercut x SEA Major Thailand 2019 (disingkat TGUXSEAM2019) juga dihadiri oleh beberapa petarung Indonesia untuk cabang Tekken 7. Mereka terdiri dari:
Alter Ego|R-Tech alias Christian, atlet Tekken yang langganan juara dan namanya pasti tak asing lagi di kalangan penggemar esports Tekken di Indonesia.
Chaos|SbyRazor alias Sean, salah satu veteran Tekken Jakarta, R-Tech dan SbyRazor sebelumnya juga bertanding di ajang Versus Masters 2019 Singapore dan meraih prestasi Top 4.
WIF|Abel alias Abel, top player Indonesia yang juga sering meraih Top 8 di turnamen lokal. Bagi Abel, TGUXSEAM2019 ini adalah turnamen pertamanya di luar Indonesia.
CHAOS|What's My Name??/backonefour alias Valerie, player sekaligus shoutcaster Tekken 7 profesional yang sudah sering memandu jalannya turnamen-turnamen luar negeri, termasuk salah satunya FV Cup x SEA Major Malaysia 2018.
Shout out to Valerie @backonefour the Indonesian Tekken commentator streaming with @jiyunaJP at #FVXSEAM2018pic.twitter.com/YfBvOQTnNP

— ↓↘→+P = #ABUGET (@abugetdotcom) July 14, 2018
"Kalau menurut saya pribadi jauh lebih berat daripada yang di Singapura. Karena ini Challenger Event, top player banyak yang join. Di Singapura kemarin Tekken-nya turnamen Dojo, jadi kebanyakan pemain lokal," demikian ujar Bram Arman dari Advance Guard ketika ditanya soal prediksinya mengenai TGUXSEAM2019. Challenger adalah kasta tertinggi ketiga dalam sistem kompetisi Tekken World Tour, di atas kasta Dojo. Memang benar, banyak pemain terkenal yang ikut berpartisipasi dalam turnamen ini. Termasuk di antaranya Rangchu, Knee, LowHigh, Dimeback, hingga Arslan Ash yang merupakan juara EVO Japan 2019 beberapa waktu lalu.
"Kalau saya hanya berharap semua player Indo bermain sebaik-baiknya aja, itung-itung pemanasan sebelum SEA Games nanti," lanjut Bram. Selamat bertanding bagi Christian, Sean, Abel, dan Valerie! Semoga mendapat pengalaman terbaik dan prestasi yang bisa mengharumkan nama FGC Indonesia di kancah internasional!
Sumber: BEast of the East
–
Disclosure: Hybrid adalah media partner dari Advance Guard.