Esports Ecosystem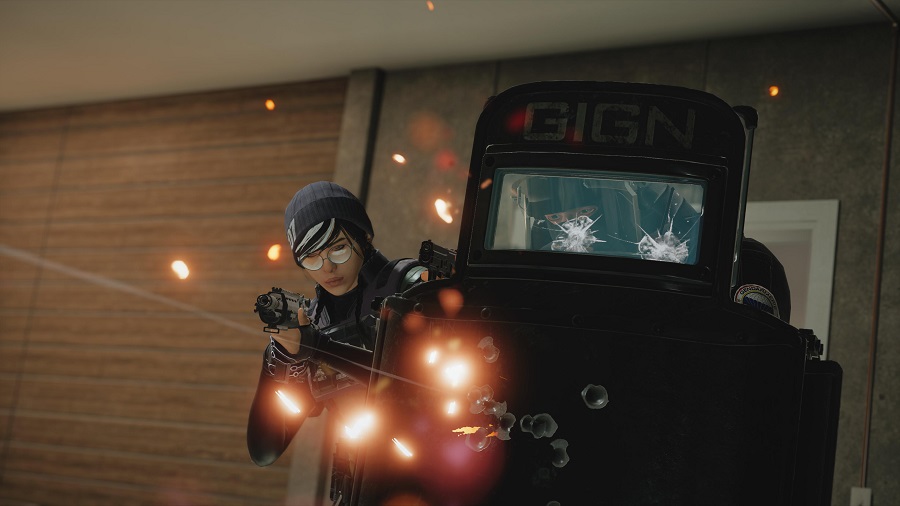 Rainbow Six: Siege menjadi game shooter paling populer
Pandemik virus corona membuat banyak orang tak boleh keluar rumah. Bermain game menjadi salah satu kegiatan pengisi waktu luang. Newzoo lalu mengumpulkan data tentang genre game yang menjadi populer di tengah pandemik. Menurut studi yang dilakukan sejak Desember 2019 sampai Maret 2020 itu, terlihat bahwa semua genre game — kecuali MOBA dan fighting — mengalami kenaikan jumlah pemain yang signifikan. Namun, genre yang mengalami pertumbuhan jumlah pemain tertinggi adalah shooters. Jumlah pemain game shooter naik hingga 40 persen.
Genre game lain yang jumlah pemainnya bertumbuh pesat (34 persen) adalah deck-building games. Legends of Runeterra, game terbaru Riot Games, merupakan salah satu alasan mengapa deck-building game menjadi populer. Sementara itu, kenaikan jumlah pemain arcade game mencapai 28 persen, genre platformers 25 persen, dan battle royale 17 persen.
Pada Maret 2020, 46 persen pemain PC memainkan game shooter. Dengan ini, shooter menjadi genre terpopuler kedua setelah MOBA. Di antara game-game shooter, Rainbow Six: Siege menjadi game dengan jumlah pemain paling banyak. Meskipun begitu, game-game shooter lain, seperti Counter-Strike: Global Offensivve dan Call of Duty: Modern Warfare, juga memiliki jumlah pemain yang tak kalah banyak.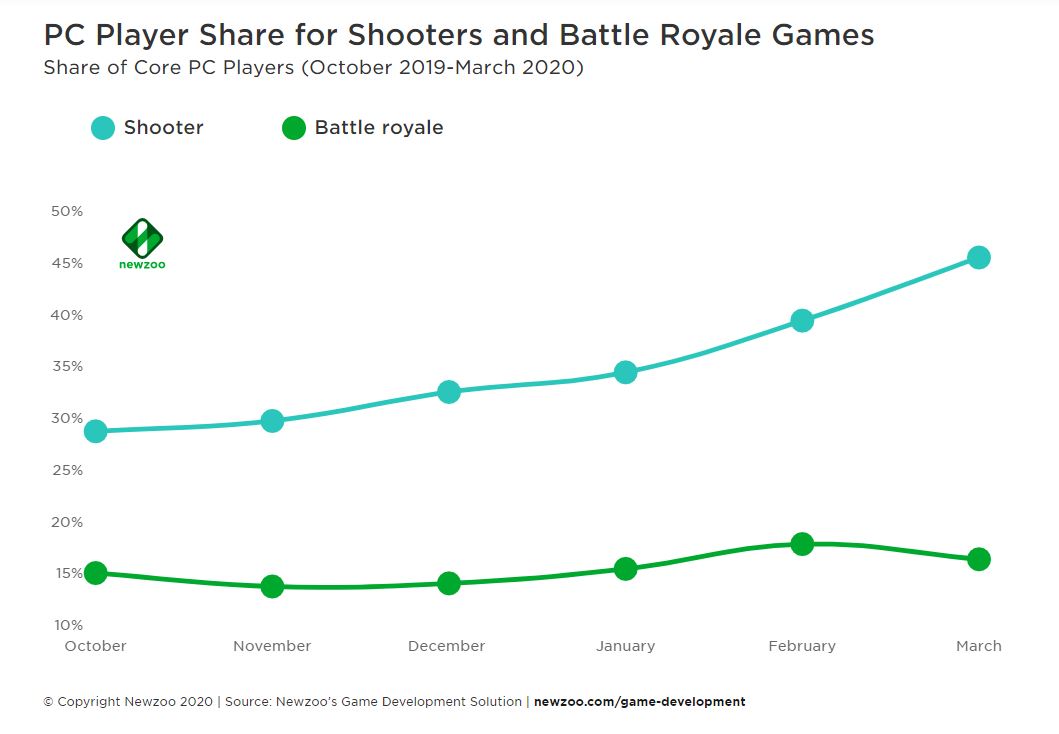 Pandemik bukan satu-satunya alasan mengapa semakin banyak orang memainkan game shooter. Pada Januari 2020, game tactical shooter Escape from Tarkov mendapatkan update. Ini membuat para gamer kembali tertarik dengan game ber-genre shooter. Sementara itu, jumlah pemain Rainbow Six memang terus naik sejak 2019. Game buatan Ubisoft ini banyak mendapatkan pemain baru dari Tiongkok. Peluncuran battle royale mode, Warzone, dari Call of Duty: Modern Warfare juga menjadi alasan lain mengapa genre shooter kembali digemari.
Game ber-genre shooter tidak hanya mengalami pertumbuhan jumlah pemain, tapi juga durasi bermain. Pada Desember 2019, rata-rata lama waktu bermain per hari adalah 38 menit. Angka ini naik menjadi 60 menit pada Maret 2020. Memang, karena karantina, para gamer menjadi memiliki waktu luang yang lebih banyak. Alasan lainnya adalah karena game-game shooter yang populer — seperti Rainbow Six dan Escape from Tarkov — memang memiliki sesi permainan yang lama. Setiap pertandingan dari game tersebut bisa berlangsung selama sampai 1 jam.
Setelah MOBA dan shooter, genre yang memiliki jumlah pemain paling banyak adalah adventure. Alasannya adalah karena game adventure memungkinkan pemain untuk menjelajah di dunia yang sama sekali baru dan melupakan dunia nyata. Minecraft dari Microsoft adalah adventure game dengan jumlah pemain PC paling banyak.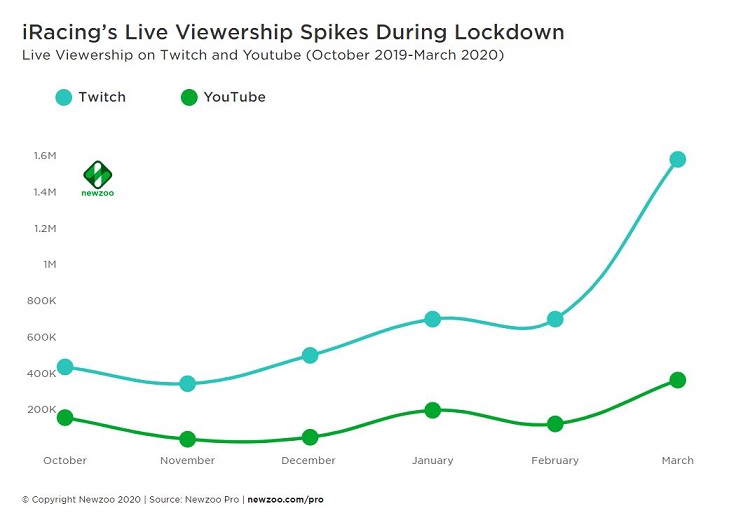 Genre lain yang menjadi populer adalah game dan simulasi balapan. Memang, sejumlah balapan harus dibatalkan karena virus corona. Sebaga gantinya, diadakan balapan virtual berupa menggunakan simulasi balapan. Beberapa balapan yang menggelar kompetisi esports sebagai pengganti balapan di dunia nyata adalah Formula 1, Formula E, dan NASCAR.
Jumlah penonton konten game balapan di platform streaming game juga naik. Di Twitch dan YouTube, total durasi konten ditonton dari siaran langsung balapan virtual naik 117 persen pada April 2020 jika dibandingkan dengan Februari di tahun yang sama.
From Our Network