Esports Ecosystem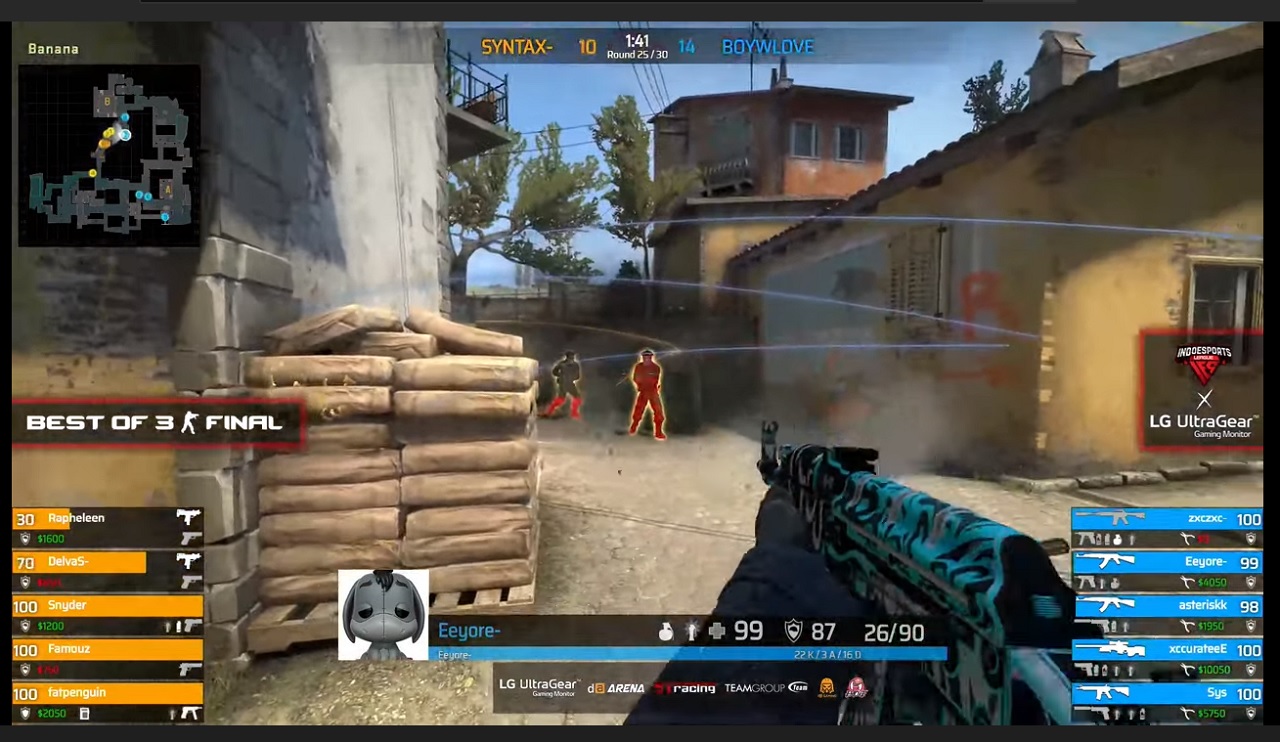 Di babak final INDOESPORTS League CS:GO x LG ULtraGear Gaming Monitor Season 3, Boy with Love harus melawan Syntax
Babak final INDOESPORTS League CS:GO x LG ULtraGear Gaming Monitor Season 3 diadakan pada Jumat, 25 Oktober 2019. Dalam babak final yang diadakan secara online di DA Arena iCafes ini, tim Boy with Love harus melawan tim Syntax. Untuk menentukan tim yang keluar sebagai juara, keduanya bertanding dalam format Best of Three. Pada babak pertama, Boy with Love berhasil menang dengan skor 15-13. Keadaan berbalik pada ronde kedua. Syntax berhasil mengalahkan Boy with Love dengan nilai akhir 16-12. Namun, pada akhirnya, Syntax harus mengaku kalah. Pada babak terakhir, Boy with Love kembali mendapatkan kemenangan dengan skor 13-16, menjadikan tim ini sebagai juara.
Sebagai juara, tim Boy with Love dapat membawa pulang hadiah sebesar Rp6 juta. Sementara sebagai runner up, tim Syntax mendapatkan Rp2,5 juta. Untuk memperebutkan posisi juara tiga, TEAMnxl> harus bertanding dengan Victim Esports. Meski pada awal pertandingan Victim Esports sempat menguasai pertandingan, TEAMnxl> berhasil menyusul dan bahkan mengungguli mereka pada akhir pertandingan. TEAMnxl> keluar sebagai juara tiga dan memenangkan hadiah Rp1,5 juta setelah menang dengan skor 16-11 dari Victim Esports.
Ini bukan pertama kalinya Indoesports mengadakan turnamen Counter-Strike: Global Offensive. Indoesports juga mengadakan liga CS:GO pada Juli lalu. Ketika itu, EVOS Esports berhasil menjadi juara setelah mengalahkan TEAMnxl> di babak final. Sama seperti liga kali ini, liga tersebut juga menggunakan format Best of One di semua pertandingan kecuali pada babak final, yang menggunakan format Best of Three.
Keputusan Indoesports untuk mengadakan turnamen CS:GO menarik karena di Indonesia, saat ini, game esports mobile lebih populer. Sebut saja Mobile Legends, yang liga profesionalnya baru berakhir dengan kemenangan EVOS Esports. Dari segi total hadiah, turnamen game esports mobile juga menawarkan hadiah yang tidak kalah dari turnamen game esports untuk PC. Faktanya, Mobile Legends Professional League Season 4 adalah turnamen esports dengan hadiah terbesar pada tahun 2019. Meskipun begitu, tampaknya esports untuk game PC seperti CS:GO dan Dota 2 tidak akan mati. Masih ada sejumlah turnamen besar yang mengadu game esports PC, seperti ESL Indonesia Championship.
From Our Network