Esports Ecosystem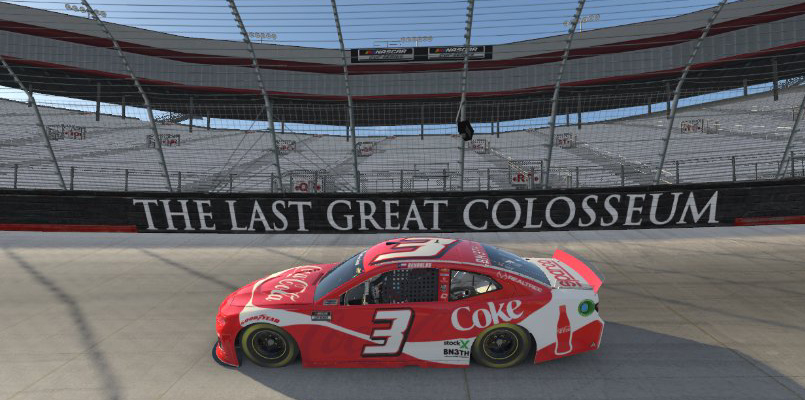 Balapan virtual yang FOX Sports tayangkan adalah balapan di dirt track
Di tengah pandemik virus Corona, NASCAR memutuskan untuk menyelenggarakan eNASCAR iRacing Pro Invitational Series sebagai ganti dari balapan yang dibatalkan. Balapan virtual pertama dari turnamen itu disiarkan di FOX Sports dan berhasil menarik lebih dari 903 ribu penonton. Ini membuat FOX Sports memutuskan untuk menyiarkan keseluruhan turnamen balapan virtual tersebut. Pada hari Minggu lalu, balapan dari eNASCAR kembali diadakan. Kali ini, balapan tersebut disiarkan di Fox serta Fox Sports 1 (FS1) dan berhasil menarik 1,3 juta penonton, menjadikannya sebagai acara esports dengan penonton paling banyak yang pernah disiarkan di televisi.
NASCAR memulai eNASCAR iRacing Pro Invitational Series pada dua minggu lalu. Dalam balapan yang diadakan pada hari Minggu lalu, para pembalap saling beradu di sirkuit Texas Motor Speedway. Balapan tersebut dimenangkan oleh pembalap NASCAR Cup, Timmy Hill. Menurut Nielsen, pada hari balapan itu ditayangkan, balapan tersebut menjadi tayangan olahraga yang paling banyak ditonton. Sementara sepanjang minggu, balapan virtual itu mendapatkan penonton paling banyak kedua setelah WWE Smackdown. Sayangnya, jumlah penonton eNASCAR tidak ada apa-apanya jika dibandingkan dengan jumlah penonton dari balapan NASCAR konvensional. Balapan NASCAR terakhir mendapatkan 3,65 juta penonton.
Turnamen eNASCAR iRacing Pro Invitational Series masih akan berlanjut sampai balapan NASCAR bisa kembali diselenggarakan. Balapan berikutnya akan diselenggarakan pada Minggu, 5 April 2020, menggunakan sirkuit Brisol Motor Speedway. Menurut Fox News, balapan NASCAR konvensional baru akan kembali diadakan pada 9 Mei 2020.
RETWEET TO CONGRATULATE @TimmyHillRacer ON HIS #PROINVITATIONALSERIES WIN AT VIRTUAL TEXAS!!! pic.twitter.com/AbbF19DB4t

— FOX: NASCAR (@NASCARONFOX) March 29, 2020
Melihat kesuksesan eNASCAR iRacing Pro Invitational Series, FOX Sports mengumumkan bahwa mereka juga akan menayangkan World of Outlaws iRacing di channel FS1, lapor The Esports Observer. Tayangan yang akan berlangsung selama 1 jam itu akan menunjukkan balapan 35 putaran dari World of Outlaws NOS Energy Drink Sprint Car Series.
"Di tengah waktu yang sulit sepert ini, platform simulasi iRacing menawarkan balapan virtual yang sangat menyerupai balapan yang sebenarnya," kata Brad Zagger, FOX Sports Executive Producer, EVP/Head of Productions & Operations, seperti dikutip dari FOX Sports. "Balapan ini mungkin hanyalah balapan virtual, tapi persaingan dan semangat yang ditunjukkan para peserta tetap nyata."
Sementara itu, Ben Geisler, Chief Marketing Officer, World of Outlaws berkata bahwa para pembalap yang akan ikut dalam World of Outlaws telah berusaha keras untuk mendapatkan perangkat simulasi balapan untuk ikut serta. Selain itu, mereka juga mengadakan sesi latihan selama 10 jam untuk memastikan mereka memahami cara kerja dari perangkat simulasi yang mereka gunakan.
Wabah COVID-19 membuat berbagai acara olahraga dibatalkan. Ini membuka kesempatan bagi esports untuk menjadi konten alternatif yang bisa ditonton oleh fans olahraga. Selain eNASCAR, Formula 1 juga mengadakan balapan virtual sebagai ganti dari balapan yang dibatalkan.
From Our Network