Esports Ecosystem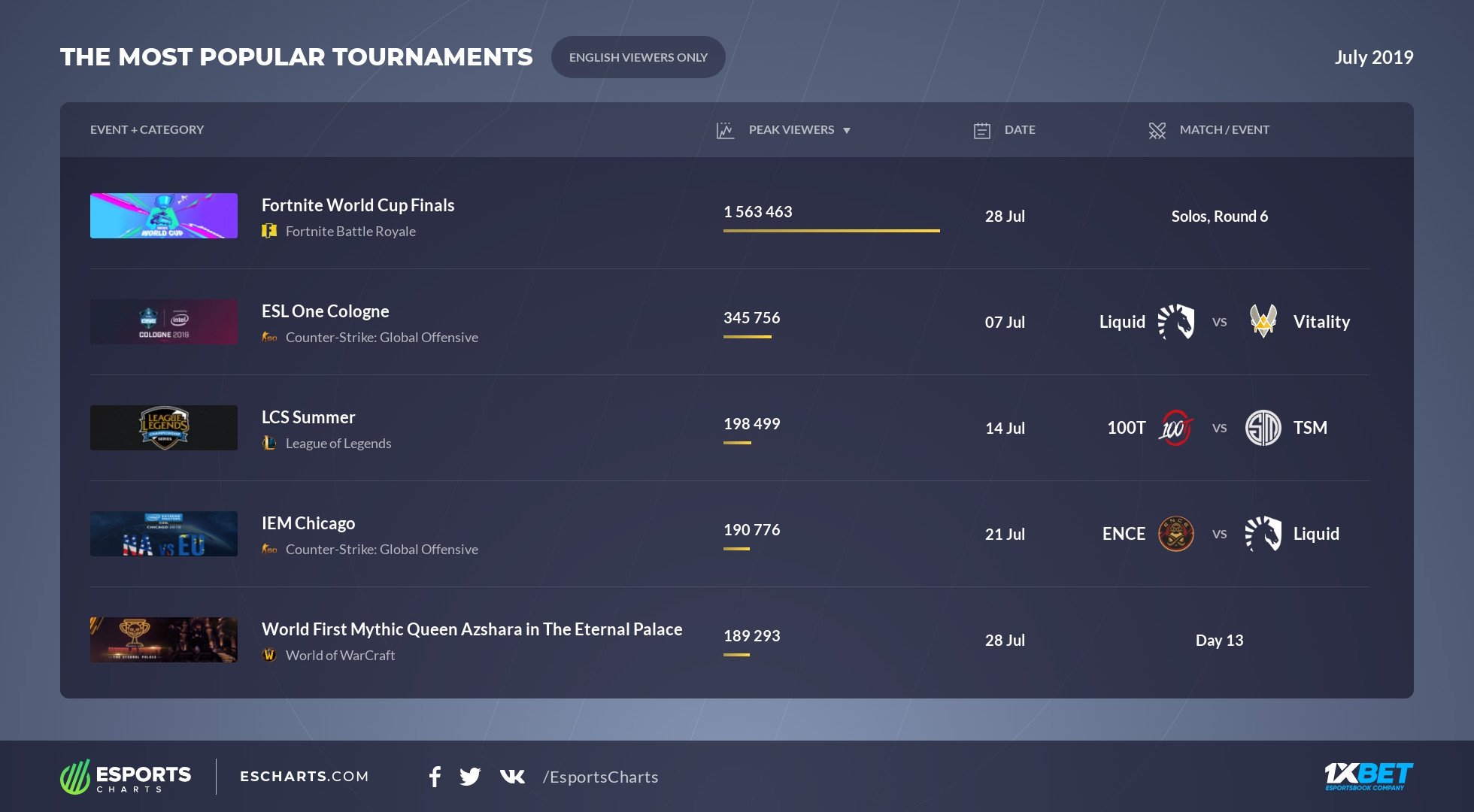 Arena of Valor, Free Fire, dan PUBG Mobile masuk ke lima besar turnamen esports paling populer
Esports kini tengah berkembang pesat. Selain pendapatan di industri yang diperkirakan mencapai US$1,1 miliar, laporan Kepios juga menyebutkan jumlah penonton esportshampir menembus angka satu miliar. Hal ini bisa dibilang tidak aneh, mengingat esports kini sangat beragam, baik berdasarkan platform — PC, konsol, atau mobile — maupun genre — FPS, MOBA, battle royale, fighting, racing, dan lain sebagainya.
Namun, masing-masing negara atau kawasan biasanya memiliki turnamen esports favoritnya sendiri. Karena itulah Esports Charts, layanan analitik yang memerhatikan tren esports dan streaming, membuat daftar turnamen esports paling populer dalam tujuh bulan pertama 2019.
Di level global, dengan pengecualian Tiongkok, turnamen esports yang paling banyak ditonton adalah Fortnite World Cup. Dengan total hadiah US$30 juta, turnamen ini juga menjadi turnamen esports dengan hadiah terbesar kedua setelah The International. Pemenang FWC, Kyle "Bugha" Giersdorf, seorang pemuda berumur 16 tahun, membawa pulang hadiah uang sebesar US$3 juta. Di posisi kedua, ada liga Free Fire di Brasil, diikuti oleh Arena of Valor World Cup, PUBG Mobile Club Open (PMCO), dan ESL One Cologne, yang mempertandingkan CS:GO. Satu hal yang menarik, tiga dari lima turnamen esports paling populer di dunia merupakan turnamen esports mobile.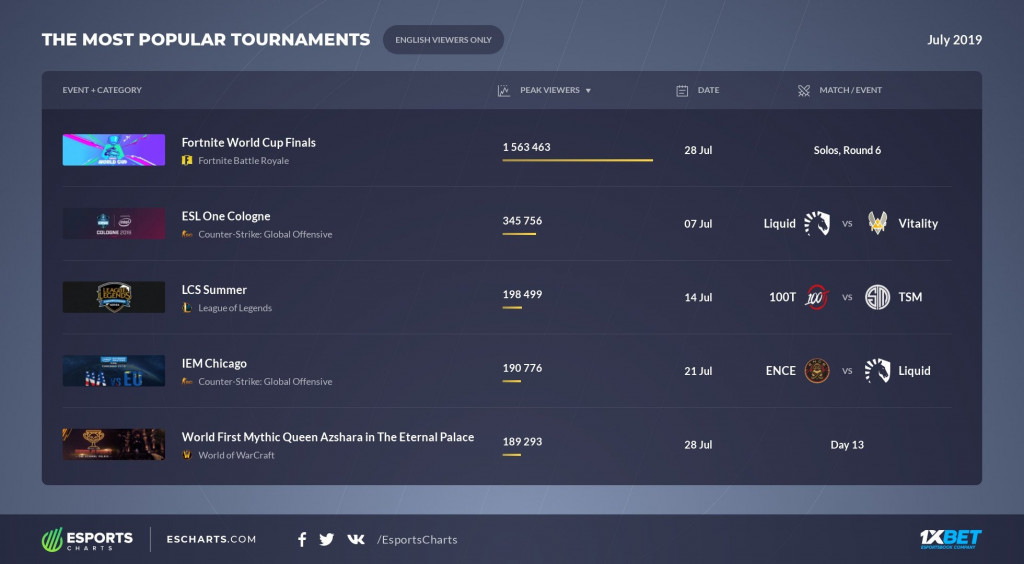 Sementara jika Anda melihat trafik penonton di negara-negara yang menggunakan Bahasa Inggris, FWC masih menjadi turnamen populer. Hanya saja, posisi kedua diisi oleh ESL One Cologne. Tiga turnamen paling populer lainnya adalah League of Legends Championship Series (LCS), liga LoL di Amerika Serikat, turnamen CS:GO IEM Chicago, dan World of Warcraft Tournament. Dari ini, Anda tak lagi melihat game-game mobile seperti Free Fire, Arena of Valor, atau PUBG Mobile. Ini menunjukkan bahwa di negara-negara berbahasa Inggris, kebanyakan gamer masih bermain menggunakan PC. Tren di negara-negara berkembang, seperti Indonesia, biasanya berbeda.
Secara global, liga Free Fire di Brasil merupakan turnamen paling banyak ditonton kedua setelah FWC. Sama seperti Indonesia, Brasil merupakan negara mobile first. Artinya, sebagian besar pengguna internetnya mengenal internet dari perangkat mobile.
Berdasarkan data dari eMarketer, dikutip dari PagBrasil, ada 150 juta pengguna internet di Brasil. Sebanyak 80 persen, atau sekitar 120 juta orang, menggunakan internet via perangkat mobile. Indonesia juga mirip dengan Brasil. Menurut data dari ComScore pada 2017, jumlah pengguna perangkat mobile di Indonesia hampir 2,5 kali lipat dari pengguna desktop. Karena itu, jangan heran jika di negara mobile first seperti Indonesia dan Brasil, esports mobile lebih populer dari esports untuk konsol dan PC.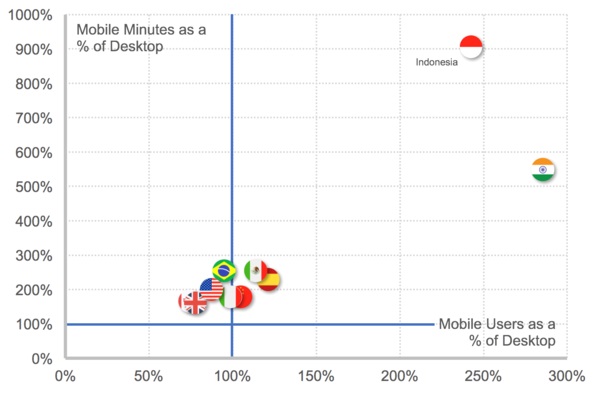 Data Newzoo menyebutkan, pada 2012, mobile gaming memberikan kontribusi paling sedikit pada industri gaming secara keseluruhan. Namun, pada 2021, industri gaming mobile diperkirakan akan meroket sehingga bernilai US$100 miliar. Menariknya, semakin populernya game mobile bukan berarti popularitas game PC atau konsol akan menurun. Industri game konsol dan PC diperkirakan akan tetap stabil meski pertumbuhan pendapatan game mobile akan mengalahkan game konsol dan PC.
From Our Network