Esports Ecosystem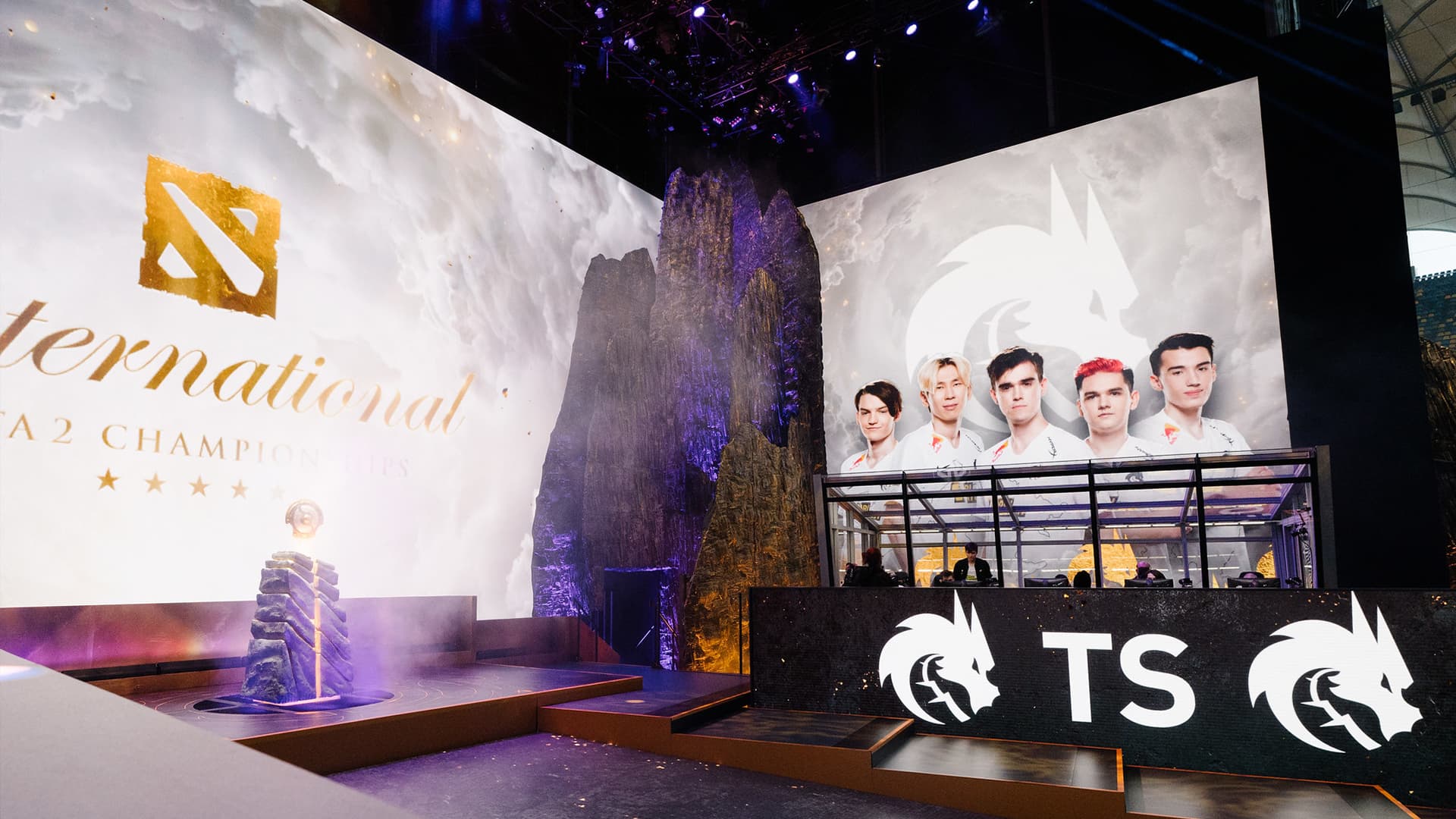 The International 10 resmi menjadi turnamen yang paling banyak ditonton dalam sejarah Dota 2.
Turnamen terakbar di dunia untuk Dota 2, The International selalu membuat rekor baru pada setiap perhelatannya. Meskipun turnamen ini sempat ditunda dan vakum pada tahun 2020 lalu, ternyata turnamen ini tetap menarik animo yang besar dari para fans di seluruh dunia.
Dalam statistik penonton yang diunggah oleh Esports Charts ditunjukkan bahwa gelaran The Internation 10 (TI10) berhasil memecahkan beberapa rekor. Salah satunya adalah pertandingan Grand Final antara PSG.LGD dan Team Spirit yang ditonton hingga 2,7 juta penonton secara bersamaan.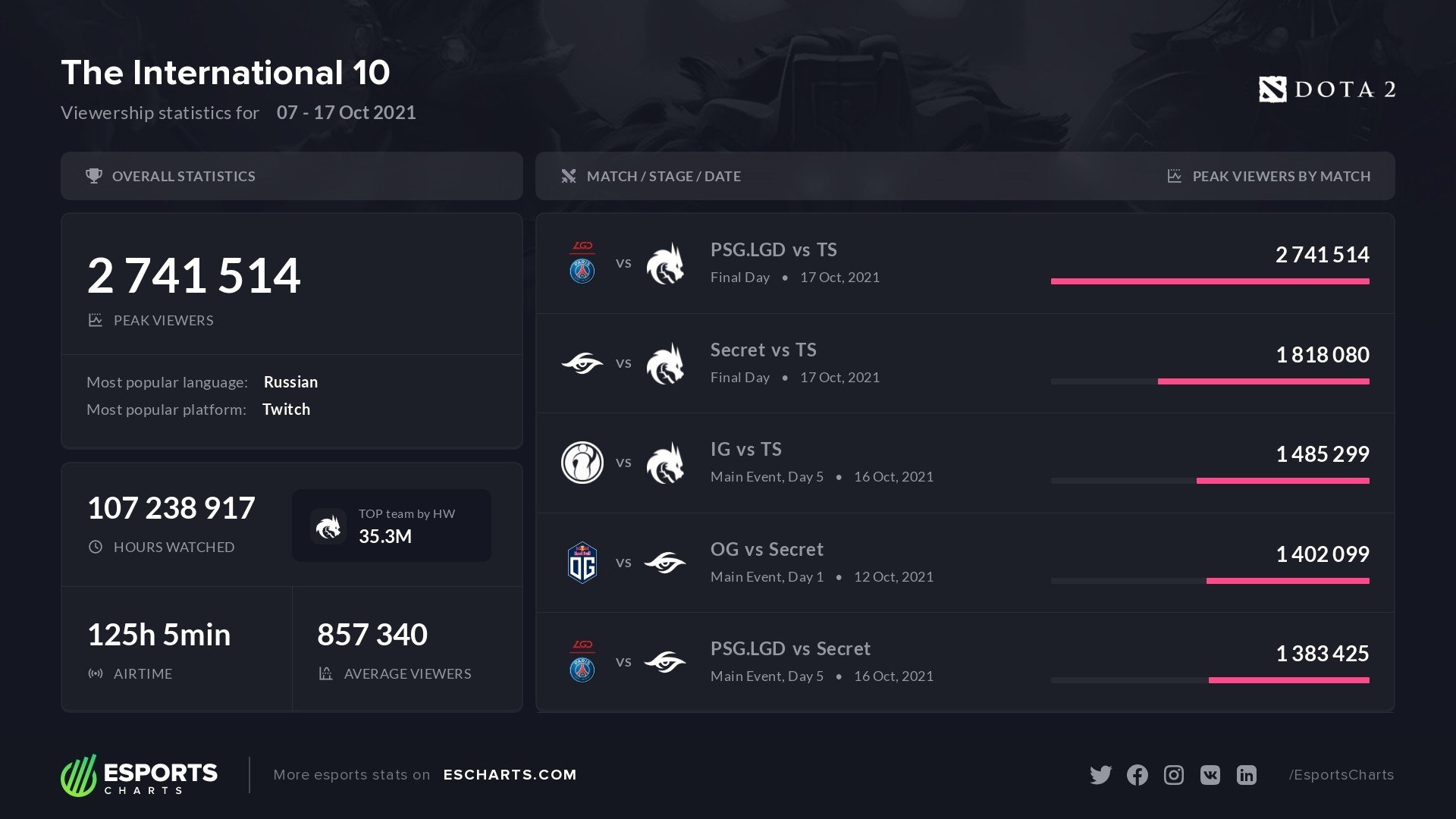 Esports Charts bahkan memberikan keterangan bahwa statistik yang mereka sampaikan tidak termasuk dengan data penonton di berbagai platform streaming di Tiongkok karena ketidaktersediaan data. Namun statistik yang mereka tampilkan tersebut sudah termasuk dengan berbagai broadcast di berbagai channel dan caster dari komunitas.
Secara total, para penonton di seluruh dunia berhasil mengakumulasikan 107 juta jam dalam gelaran The International 10. Angka tersebut menjadikan siaran TI10 menempati posisi ke-4 dalam turnamen esports dengan penonton tertinggi. Sedangkan rata-rata pertandingan TI10 ditonton sebanyak 857,3 ribu orang yang membuat TI10 menempati posisi 8 dalam turnamen dengan penonton rata-rata tertinggi.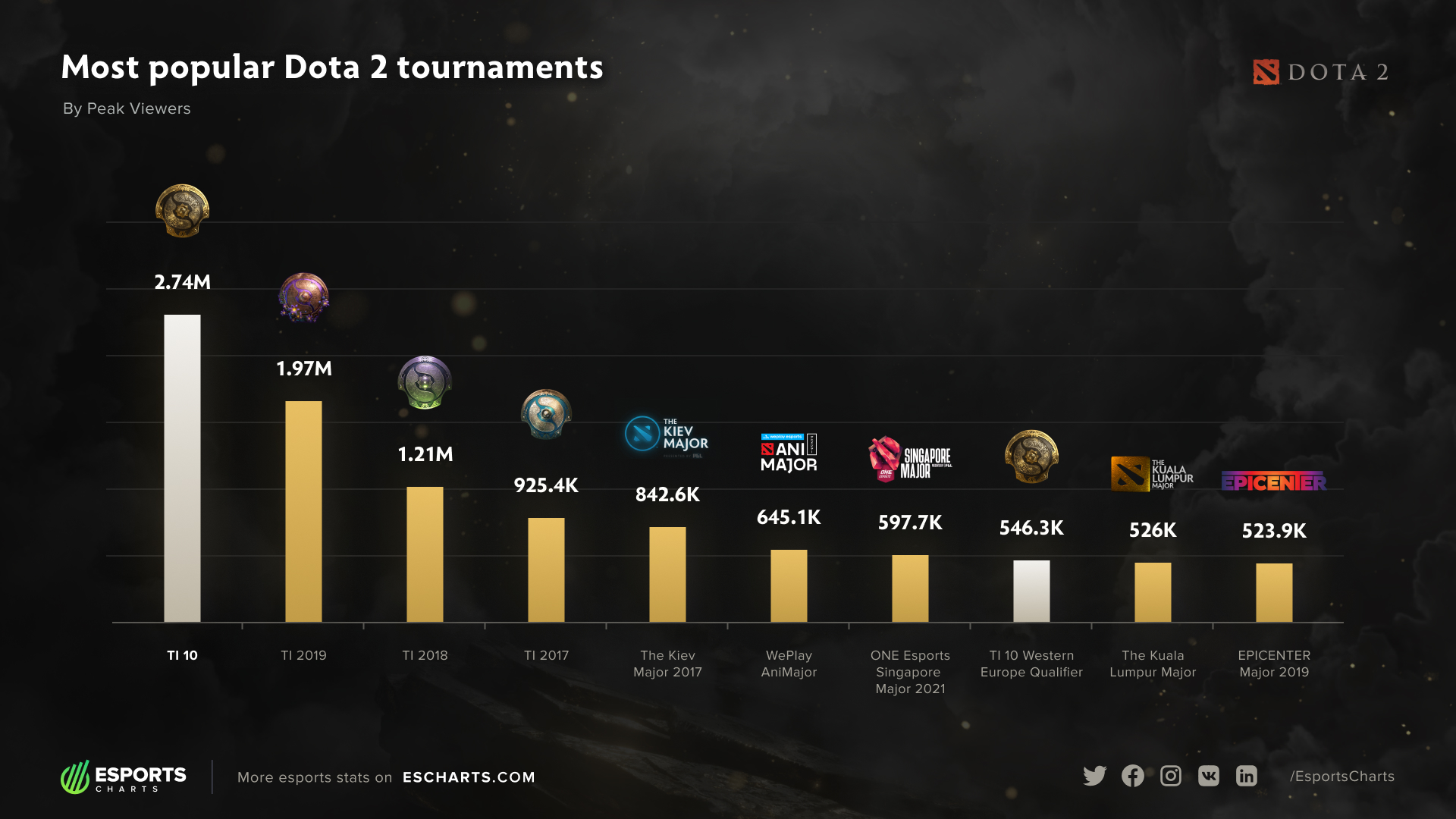 Sebagai perbandingan, dalam sejarah turnamen DOTA 2, hanya ada tiga turnamen yang berhasil menembus 1 juta penonton bersamaan yaitu The International 8, The International 9, dan The International 10. Lebih menakjubkannya lagi, penonton The International 10 mengalami peningkatan hampir 40% dibanding turnamen sebelumnya dua tahun lalu.
Dari rekor 2,7 juta penonton tersebut, ternyata 1,2 jutanya didominasi oleh para penonton dari Rusia dan negara-negara di sekitarnya. Hal ini berarti hampir separuh dari penonton TI10 berasal dari wilayah tersebut. Angka tersebut bahkan tercatat naik dua kali lipat dibandingkan TI9 yang berada di angka 670 ribu penonton.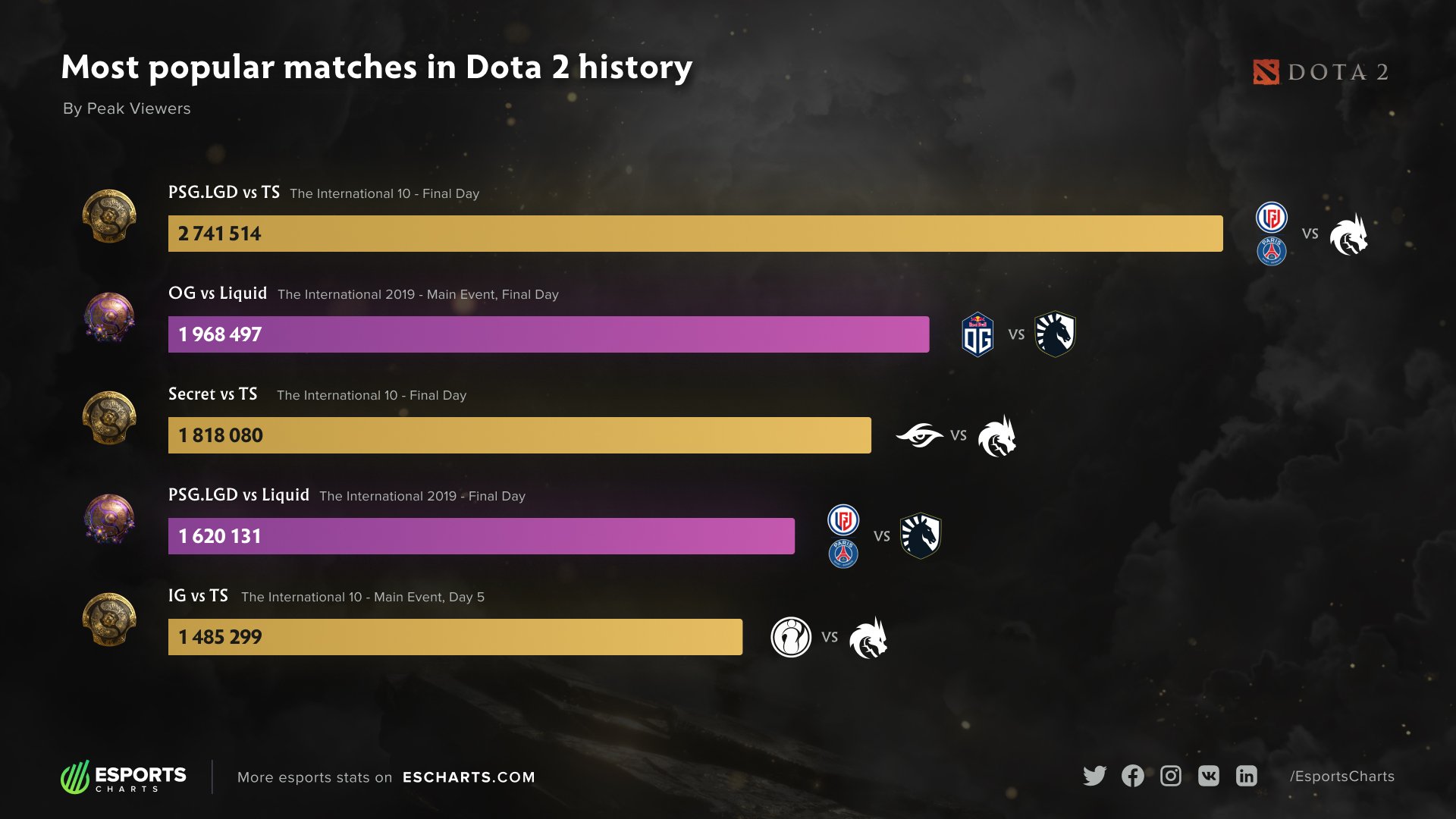 Statistik menarik lain dari TI10 berada pada tim dengan jumlah penonton paling tinggi. Esport Chart mencatat bahwa pada permulaan turnamen, OG merupakan tim yang paling populer ditonton. Namun ketika turnamennya memasuki babak Playoff, para penonton beralih kepada Team Spirit yang memang menjadi kuda hitam dalam turnamen ini.
Tidak tanggung-tanggung, tiga pertandingan terakhir Team Spirit di TI 10 berhasil menempati posisi 1, 3, dan 5 pertandingan The International paling populer di dalam sejarah Dota 2. Team Spirit juga menjadi tim dengan rata-rata dan total waktu tonton tertinggi selama TI10.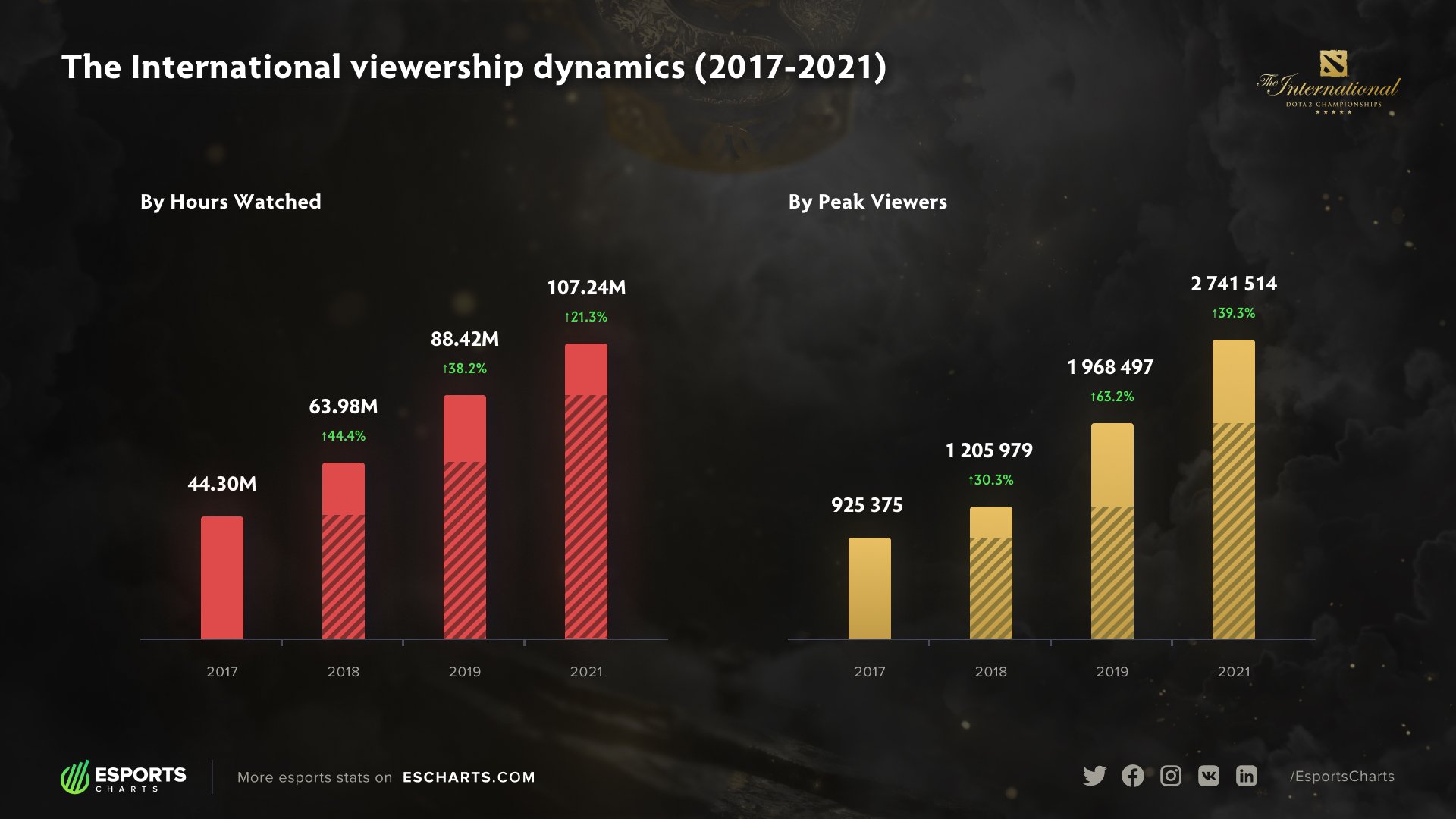 Terakhir, secara keseluruhan turnamen The International Dota 2 mengalami peningkatan sebanyak 21,3% untuk jumlah durasi tonton dari TI9 dan bahkan meningkat 39,3% dari sisi jumlah puncak penonton tertinggi ketimbang TI9.