Esports Ecosystem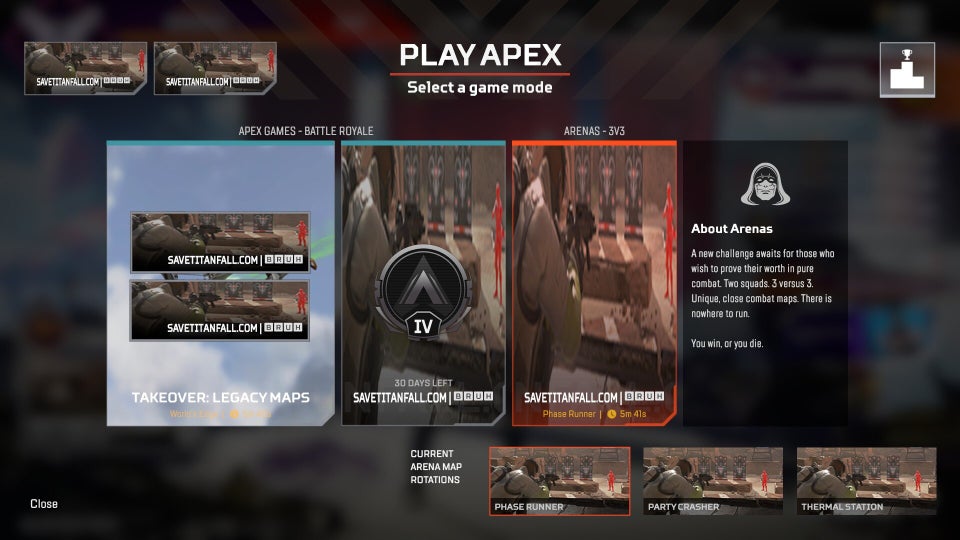 Pengembang Respawn diminta untuk segera menangani para hacker di Titanfall.
Baru-baru ini para pemain Apex Legends banyak yang mengeluhkan bahwa mereka tidak dapat memainkan game-nya karena game-nya diretas oleh para hacker yang meninggalkan pesan "TF1 (Titanfall 1) sedang diserang, jadi begitu juga Apex" serta alamat website "SAVETITANFALL.COM".
Pesan ini muncul menutupi tombol "Play" yang membuat para pemain Apex Legends tidak dapat bermain. Seperti yang tertulis, serangan para hacker ini merupakan bentuk protes kepada EA dan juga Respawn terhadap game Titanfall pertama.
Breaking: It appears a hacker is taking over Apex playlists with a message about 'Saving Titanfall'. pic.twitter.com/XpMzfRNQZB

— Apex Legends News (@alphaINTEL) July 4, 2021
Hal tersebut disebabkan karena game Titanfall pertama hampir tidak dapat diakses para pemainnya karena serangan para hacker. Saking parahnya, banyak pemain yang tidak dapat mengakses server game-nya sama sekali karena eksploitasi kode di dalam game-nya.
Para hacker membuat para pemain tidak dapat mengakses server karena membanjirinya dengan bot. Respawn sempat mengatakan bahwa mereka akan memperbaiki masalah server Titanfall tersebut pada bulan April lalu. Namun sayangnya hingga sekarang belum ada tindakan lanjutan.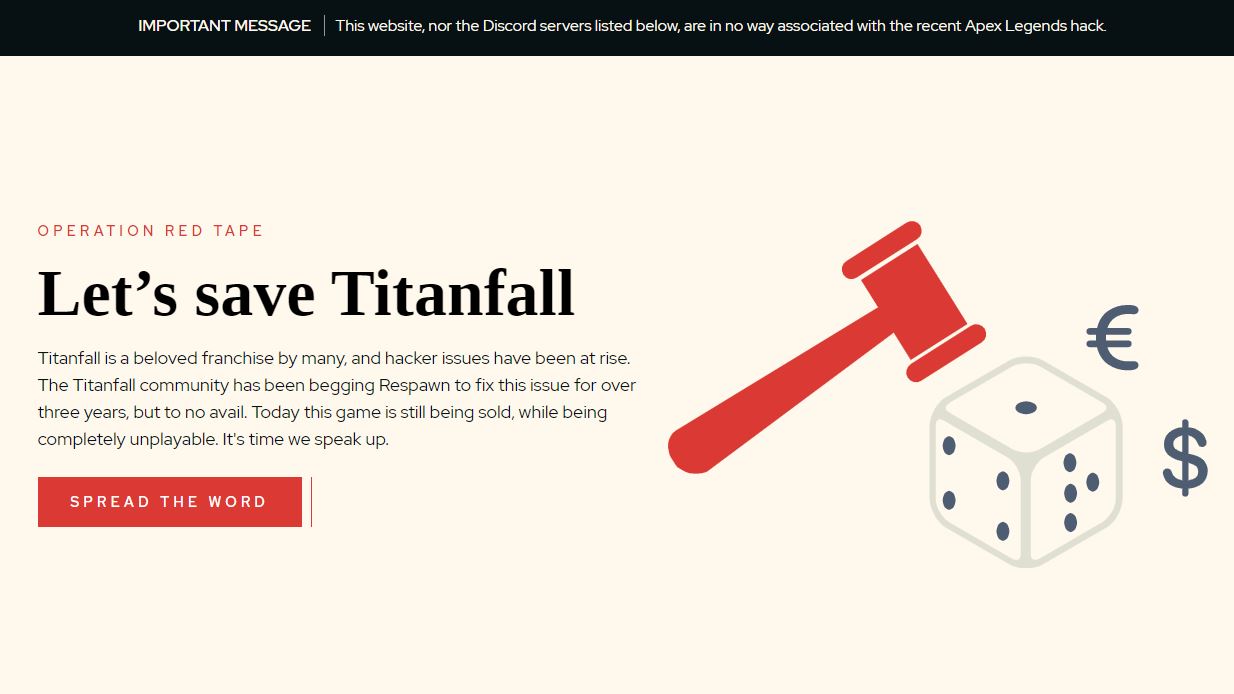 Website SaveTitanfall dibuat beberapa bulan lalu untuk menarik perhatian para gamer kepada game Titanfall pertama. Game yang dirilis pada 2014 lalu ini memang mengenaskan karena para pemain tidak bisa memainkan game-nya sama sekali sekarang.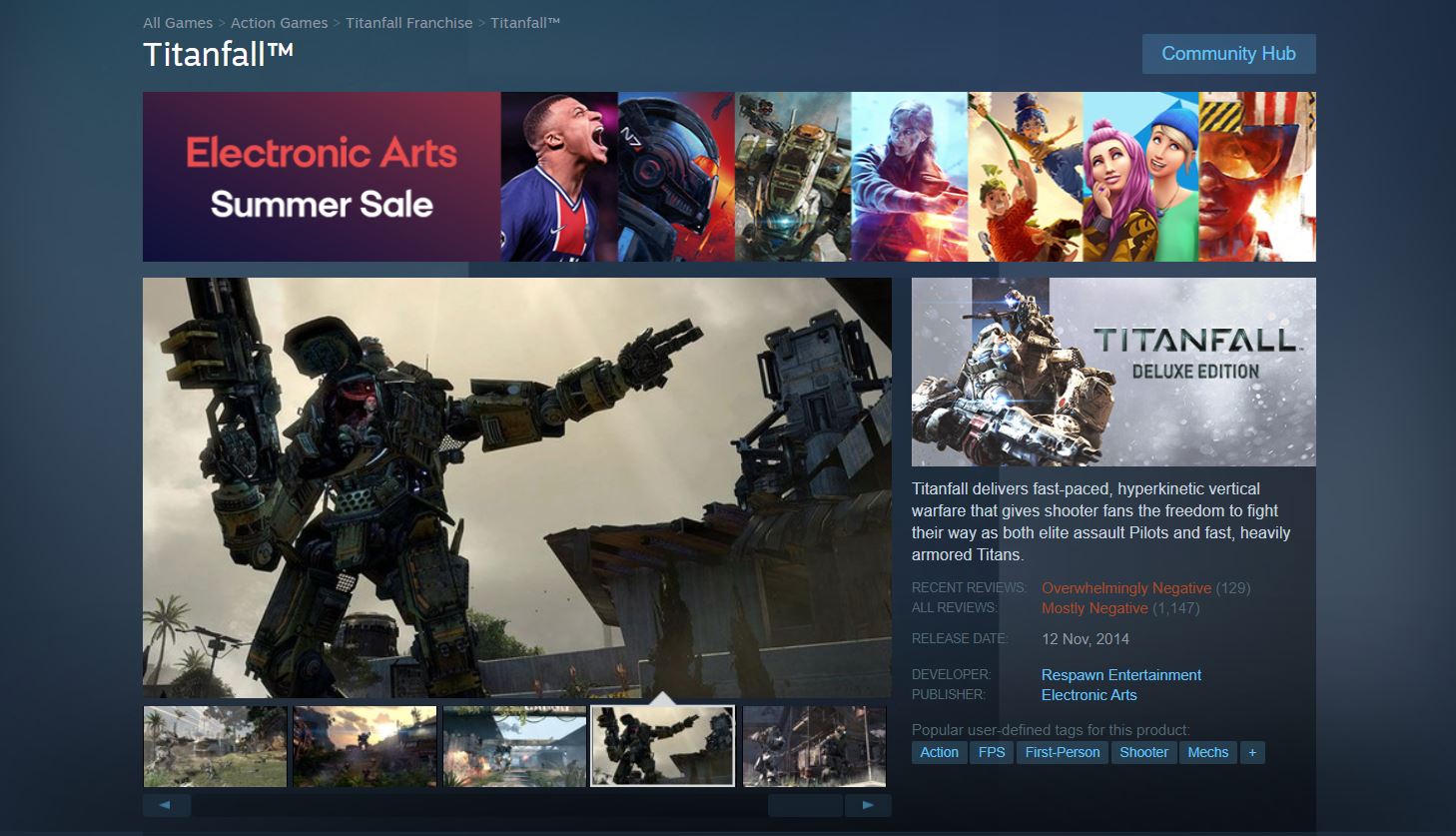 Ironisnya, EA masih menjual game ini secara digital dan bahkan memasukkannya ke dalam Steam tahun lalu. Meskipun pada akhirnya game ini mendapat penilaian negatif dari para pengguna Steam.
Sebenarnya, kejadian penyerangan ini bukanlah yang pertama kali dialami oleh Apex Legends. Awal tahun ini, Respawn juga sempat berjanji untuk menghentikan para hacker yang melakukan serangan DDoS pada server-nya yang membuat pemain tertendang keluar di tengah pertandingan.
We are aware of and actively investigating issues impacting @PlayApex playlists that are preventing players from getting into matches.

— Respawn (@Respawn) July 4, 2021
Mengenai penyerangan ini, pihak dari Respawn kembali mengatakan bahwa mereka telah menginvestigasi hal tersebut dan sudah berhasil mengembalikan sistem matchmaking di Apex Legends setelah 5 jam perbaikan. Sayangnya tidak adak indikasi atau informasi apapun dari Respawn mengenai perbaikan terhadap game Titanfall 1 hingga berita ini dibuat.
From Our Network