Esports Ecosystem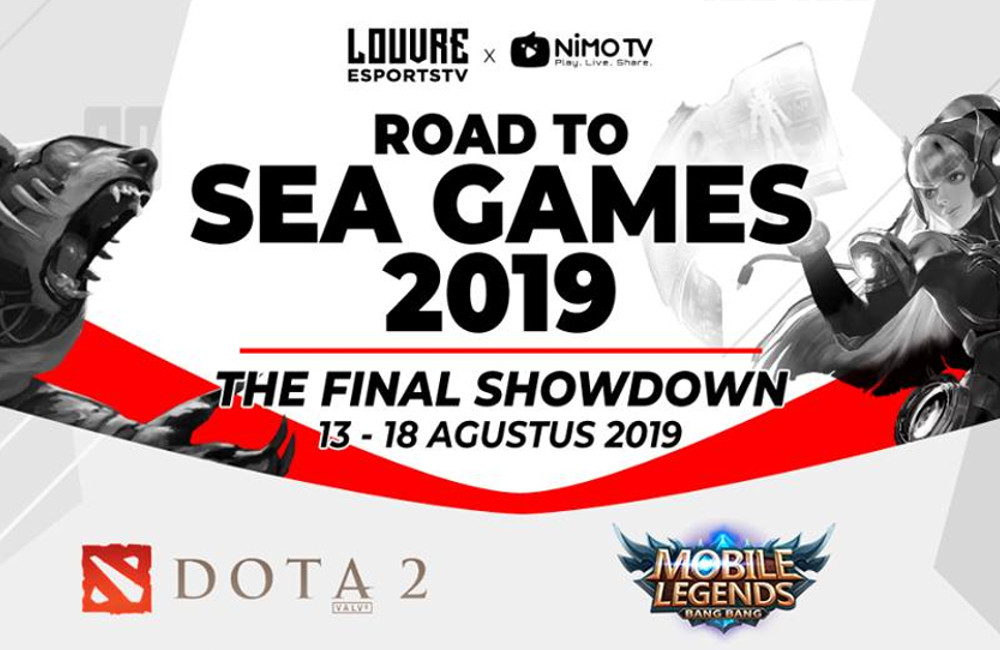 Proses seleksi akhir yang disebut Final Showdown ini berjalan dari tanggal 13 - 18 Agustus 2019.
Ajang SEA Games 2019 yang akan digelar pada bulan November nanti sudah semakin dekat saja. Berbagai langkah untuk menyiapkan delegasi Indonesia untuk cabang kompetisi esports pun telah digelar. Beberapa di antaranya sudah ditetapkan untuk masuk pelatnas, seperti cabang Tekken 7 yang diwakili oleh Meat dan TJ. Namun untuk cabang Dota 2 dan Mobile Legends: Bang-Bang masih ada proses yang harus dilalui.
Sesuai informasi yang telah disampaikan oleh Indonesia Esports Association (IESPA), slot pelatnas Dota 2 dan MLBB masing-masing diisi oleh 4 tim. Mereka terdiri dari tim-tim sebagai berikut.
Slot pelatnas Dota 2:
Team Binus University (Juara IEL 2019)
Freak Esports (Juara Region/Putra Daerah IENC 2019)
EVOS Esports (Juara 1 IENC 2019)
PG.BarracX (Juara 2 IENC 2019)
Slot pelatnas MLBB:
Team Binus University (Juara IEL 2019)
Team Pecah Utak (Juara Region/Putra Daerah IENC 2019)
EVOS Esports (Juara 1 IENC 2019)
Victim Esports (Juara 2 IENC 2019)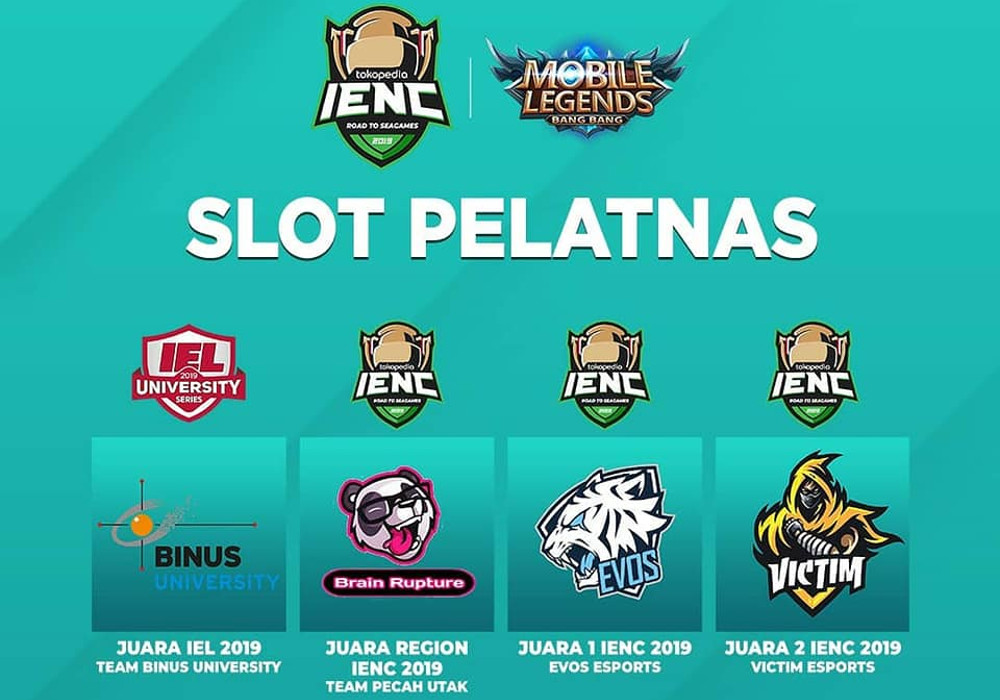 Dari sekian banyak pemain yang masuk ke dalam pelatnas, hanya akan diambil sebagian untuk menjadi timnas. Proses penyaringan ini dilakukan dalam proses yang disebut Road to SEA Games 2019: The Final Showdown. Terdapat perbedaan sistem penyaringan antara cabang Dota 2 dan MLBB.
Untuk Dota 2, tim-tim yang telah terpilih akan saling bertarung pada tanggal 13 – 15 Agustus. Kemudian, tim yang keluar sebagai juara akan maju mewakili Indonesia ke SEA Games 2019.
Sementara untuk MLBB, kontingen SEA Games bukanlah pemain-pemain yang berasal dari satu tim yang sama. Panitia akan memilih 7 orang terbaik dari sekian banyak pemain untuk membentuk sebuah tim "All Stars". Tim inilah yang akan menjadi timnas MLBB Indonesia nantinya. Proses pemilihan tim All Stars MLBB akan dilakukan pada tanggal 15 – 16 Agustus 2019.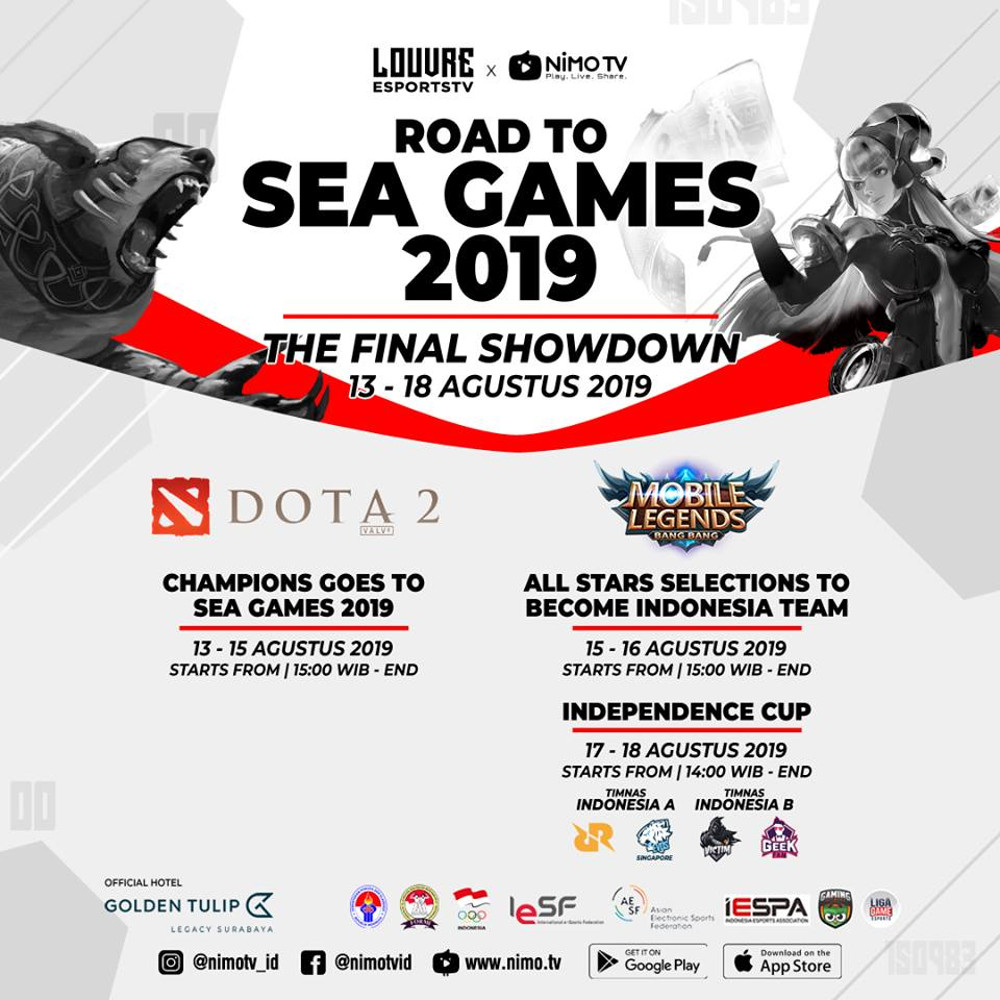 Road to SEA Games 2019 juga mencakup sebuah turnamen dalam rangka merayakan kemerdekaan Republik Indonesia, dengan nama Independence Cup. Turnamen ini digelar pada tanggal 17 – 18 Agustus. Seluruh rangkaian acara Road to SEA Games 2019 dapat Anda saksikan melalui platform streaming Nimo TV, di channel milik Louvre Esports TV sesuai waktu tayang yang tertera dalam poster di atas.
Pemilihan timnas yang menggunakan format All Stars bisa dibilang memiliki unsur positif dan negatif tersendiri. Di satu sisi, sistem pemilihan ini memang bagus untuk memastikan bahwa Indonesia mengirim kontingen terbaik di setiap role. Akan tetapi itu juga berarti timnas akan berisi pemain-pemain yang tidak terbiasa bermain bersama. Apalagi bila para pemain juga harus menjalankan perannya dalam liga atau turnamen di luar persiapan SEA Games. Kita tunggu saja bagaimana perkembangannya, dan tetap dukung kontingen esports Indonesia agar memberikan hasil terbaik.
Sumber: IESPA, Louvre Esports
From Our Network