Esports Ecosystem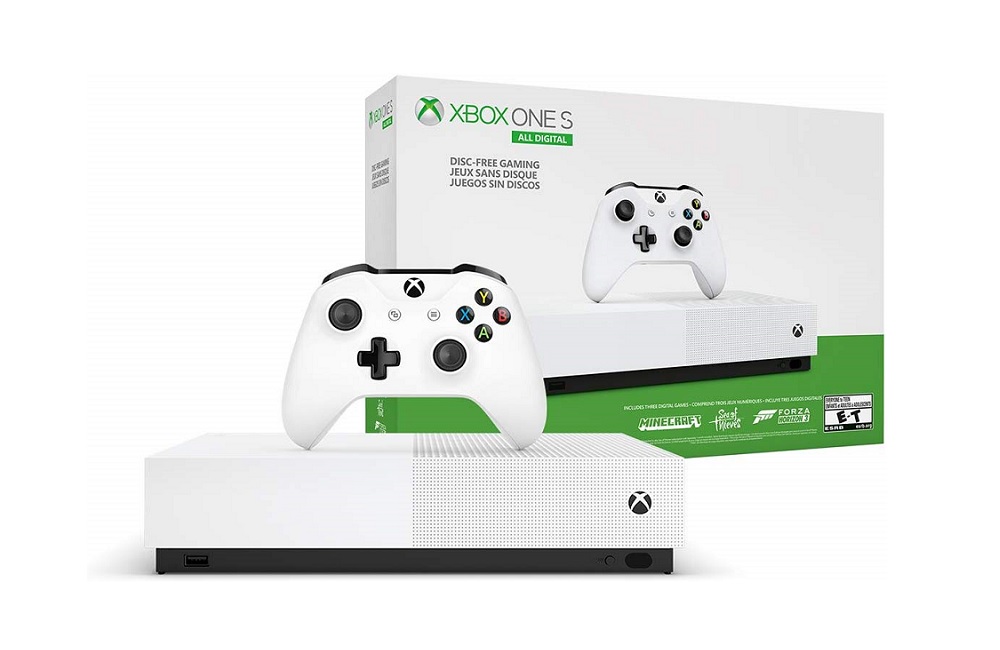 Absennya optical disc drive membuat harganya US$ 50 lebih murah dari versi standar.
Setelah jadi cara utama distribusi konten di platform PC, metode digital mulai dimanfaatkan pula oleh produsen console dalam menyajikan produknya. Kita memang tak bisa memajang koleksi game digital di rak, tapi karena kepraktisan prosesnya, cara tersebut bertambah populer di kalangan konsumen. Dan pada akhirnya, tren ini mendorong Microsoft untuk mengenalkan Xbox One model baru.
Eksistensinya pertama kali tersingkap dalam laporan Thurrott soal rencana Microsoft memangkas kehadiran optical disc drive di console current-gen mereka. Kemudian di bulan Februari kemarin, terdengar kabar yang menyatakan bahwa hardware anyar ber-codename Lockhart (dan Anaconda) akan dipamerkan di E3 2019. Detail mengenainya sempat bocor di bulan Maret lalu, namun perusahaan baru mengumumkannya secara resmi minggu ini.
Sesuai ekspektasi sebelumnya, Xbox One S All-Digital Edition diracik secara eksklusif untuk menangani game tanpa medium fisik berupa disc. Perancangannya didorong oleh tingginya peningkatan konsumsi konten digital serta kesuksesan program Xbox Game Pass yang memberikan pelanggannya lebih dari 100 judul permainan. Perusahaan bilang, kondisi industri hiburan saat ini sudah sangat berbeda dari ketika Xbox pertama kali dirilis di 2001, dan mereka perlu beradaptasi dengan keadaan tersebut.
"Xbox One S All-Digital sengaja diciptakan bagi mereka yang lebih memilih untuk mendapatkan serta bermain game Xbox secara digital dengan mengeluarkan modal seekonomis mungkin," tutur general manager platform and devices marketing Jeff Gattis.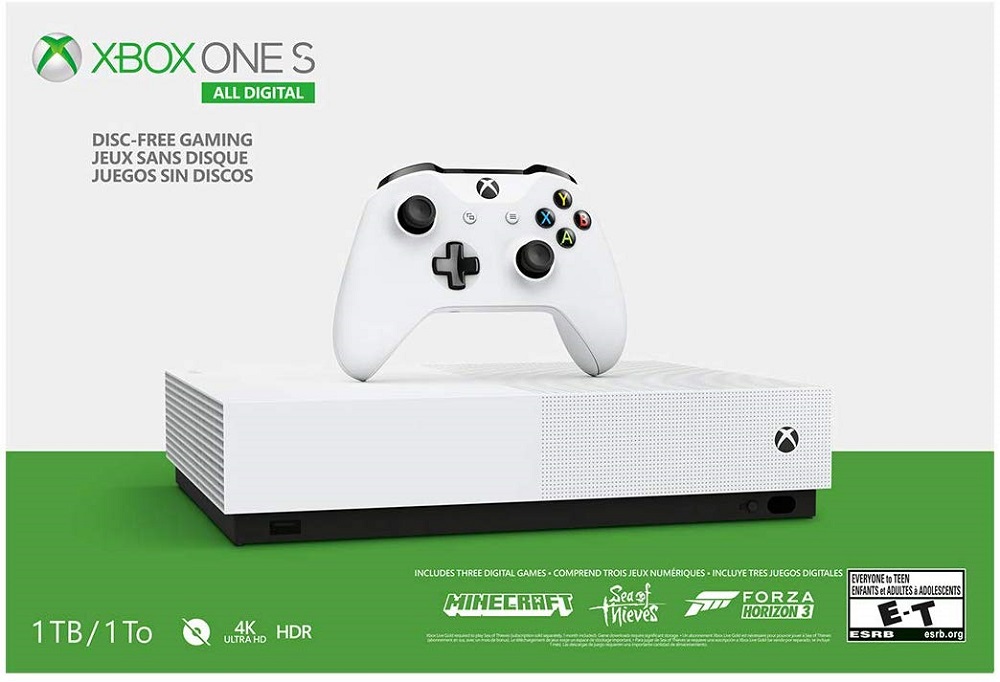 Demi membuatnya terlihat atraktif, produk dibundel bersama tiga game, yaitu Minecraft, Forza Horizon 3 dan Sea of Thieves (jika dijumlahnya, harganya bisa mencapai US$ 120); dan kesempatan berlangganan Xbox Game Pass selama tiga bulan hanya dengan mengeluarkan uang US$ 1. Nama serta desainnya juga mengindikasikan penggunaan susunan hardware serupa Xbox One S, yang berarti siap menghidangkan video-video 4K HDR, didukung pula oleh penyimpanan berbasisi hard drive sebesar 1TB.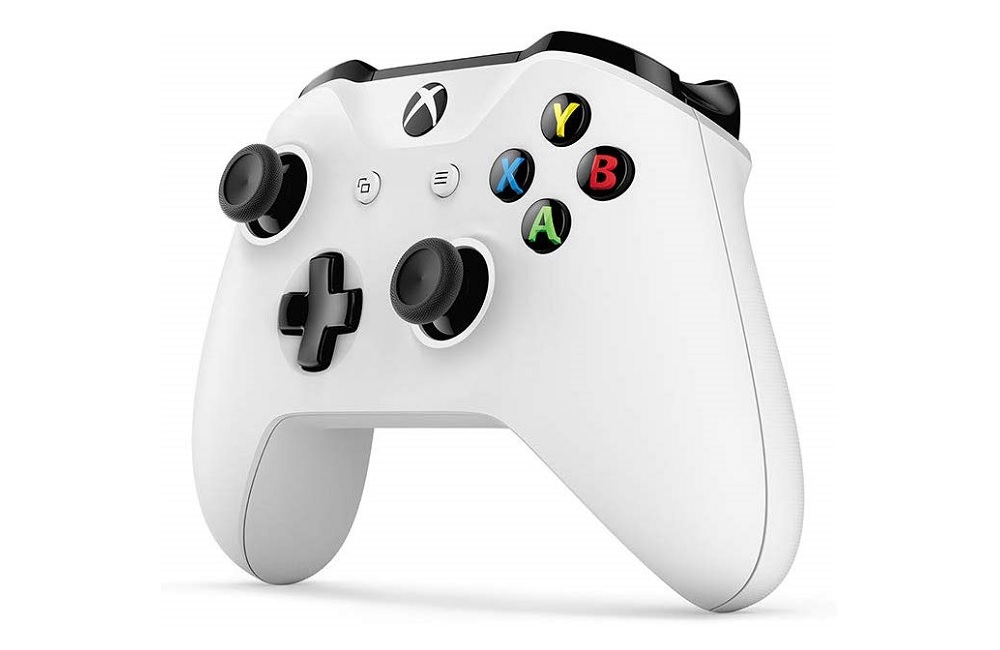 Pengumuman Microsoft itu juga menandai dibukanya gerbang pre-order Xbox One S All-Digital. Perangkat  telah mulai dijajakan di Microsoft Store, Amazon sesrta Best Buy, dan rencananya akan dipasarkan pada tanggal 7 Mei 2019.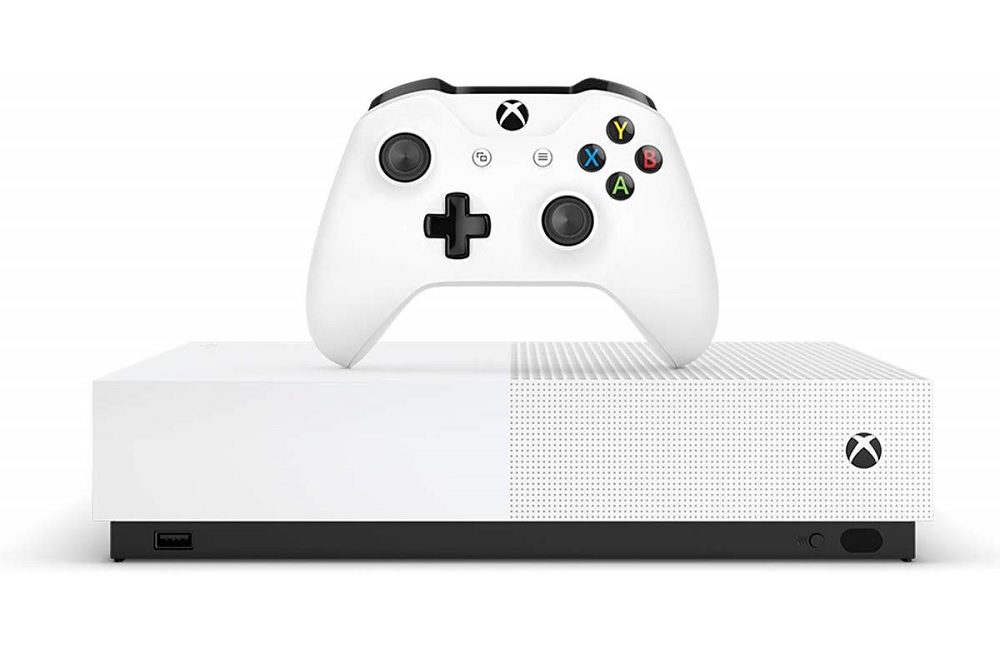 Sebagai kompensasi absennya optical disc drive, console dijual seharga US$ 50 lebih murah dari Xbox One S standar, menjadi US$ 250. Dengan mengonversi jumlah tersebut ke rupiah, kita mendapatkan angka Rp 3,5 jutaan. Tapi seperti barang impor lain, penentuan harganya di Indonesia tidak sesederhana ini, apalagi Xbox One pada dasarnya belum pernah meluncur resmi di tanah air.
Satu hal menarik dari pengungkapan Xbox One S All-Digital adalah, tak semua orang puas terhadap penawaran Microsoft ini. Banyak dari mereka yang merasa US$ 250 masih terlalu mahal.
From Our Network