Esports Ecosystem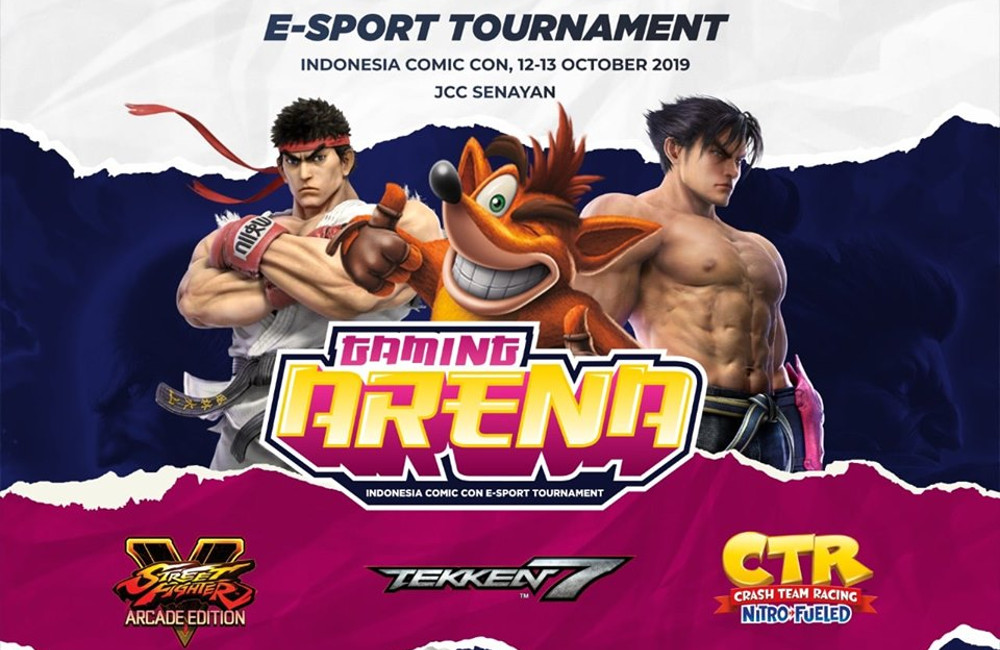 Selain turnamen, ada juga hiburan berupa board game, arcade game, airsoft, dan banyak lagi.
Indonesia Comic Con (ICC) adalah festival yang digelar sejak tahun 2015 untuk memberi ruang pada masyarakat Indonesia agar dapat merayakan kecintaan mereka pada budaya pop. Selama empat tahun berjalan, festival ini terus tumbuh menjadi salah satu festival pop terbesar di Indonesia. Dari tadinya dihadiri 80 exhibitor dan 16.000 pengunjung menjadi 300 exhibitor dan 100.000 pengunjung.
Acara ini juga kerap menghadirkan bintang tamu tokoh penting di dunia kultur pop dari dalam dan luar negeri. Termasuk di antaranya Is Yuniarto (komikus Garudayana), Kristian Nairn (pemeran Hodor di Game of Thrones), Ario Anindito (komikus di Marvel dan DC), dan lain-lain.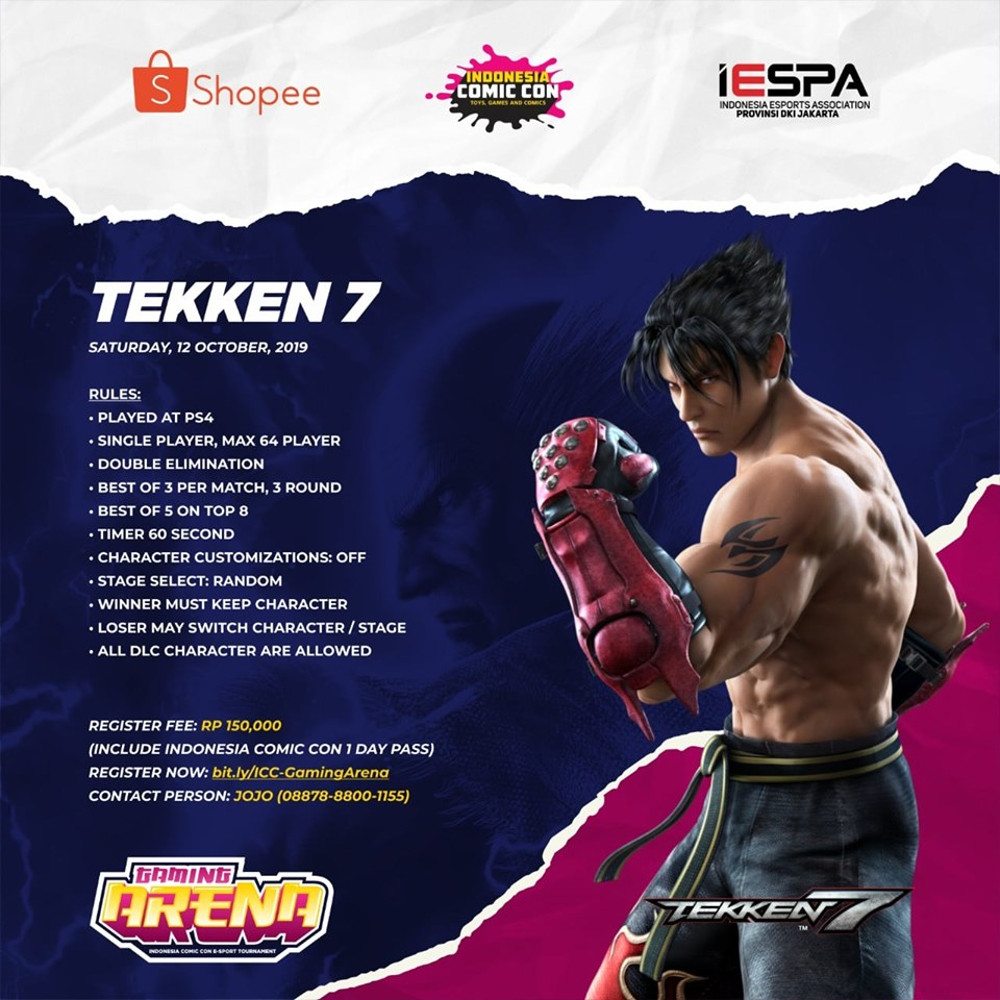 Tahun 2019 ini Indonesia Comic Con hadir kembali, dengan acara yang akan digelar pada tanggal 12 – 13 Oktober nanti di Jakarta Convention Center. Tahun ini Indonesia Comic Con digelar sebagai hasil kerja sama dengan Shopee, dan salah satu isi acaranya adalah berbagai macam aktivitas menarik untuk para gamer. Salah satu pengisi booth ICC 2019 adalah Konami, yang pastinya sudah kita kenal sebagai penerbit franchise Pro Evolution Soccer dan Yu-Gi-Oh. Tersedia juga hiburan arcade game, board game, trading card game, hingga permainan airsoft gun yang didukung oleh komunitas Jakarta Reenactor.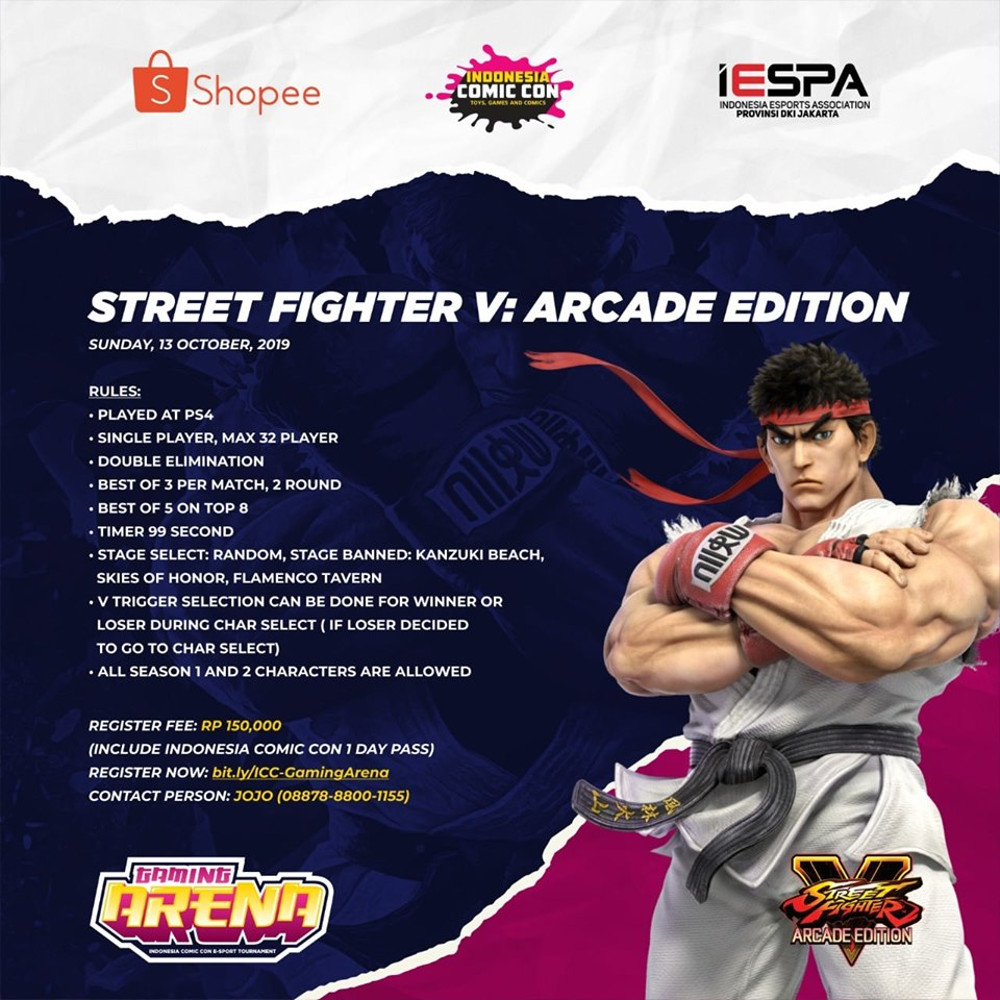 Bagi penggemar game kompetitif, ICC 2019 juga menyediakan turnamen untuk tiga game berbeda, yaitu Street Fighter V: Arcade Edition, Tekken 7, dan Crash Team Racing: Nitro-Fueled. Tapi ada beberapa hal yang perlu Anda perhatikan bila ingin mengikuti turnamen tersebut. Pertama, Anda diharuskan membayar biaya pendaftaran senilai Rp150.000 yang sudah termasuk tiket masuk ICC 2019 selama 1 hari.
Kedua, setiap cabang game memiliki jumlah slot kompetisi terbatas. Turnamen Tekken 7 digelar pada tanggal 12 Oktober dengan batasan 64 peserta. Sedangkan untuk Street Fighter V: Arcade Edition dan Crash Team Racing: Nitro-Fueled diadakan pada tanggal 13 Oktober dengan batasan 32 peserta. Seluruh pertandingan dilakukan menggunakan console PS4.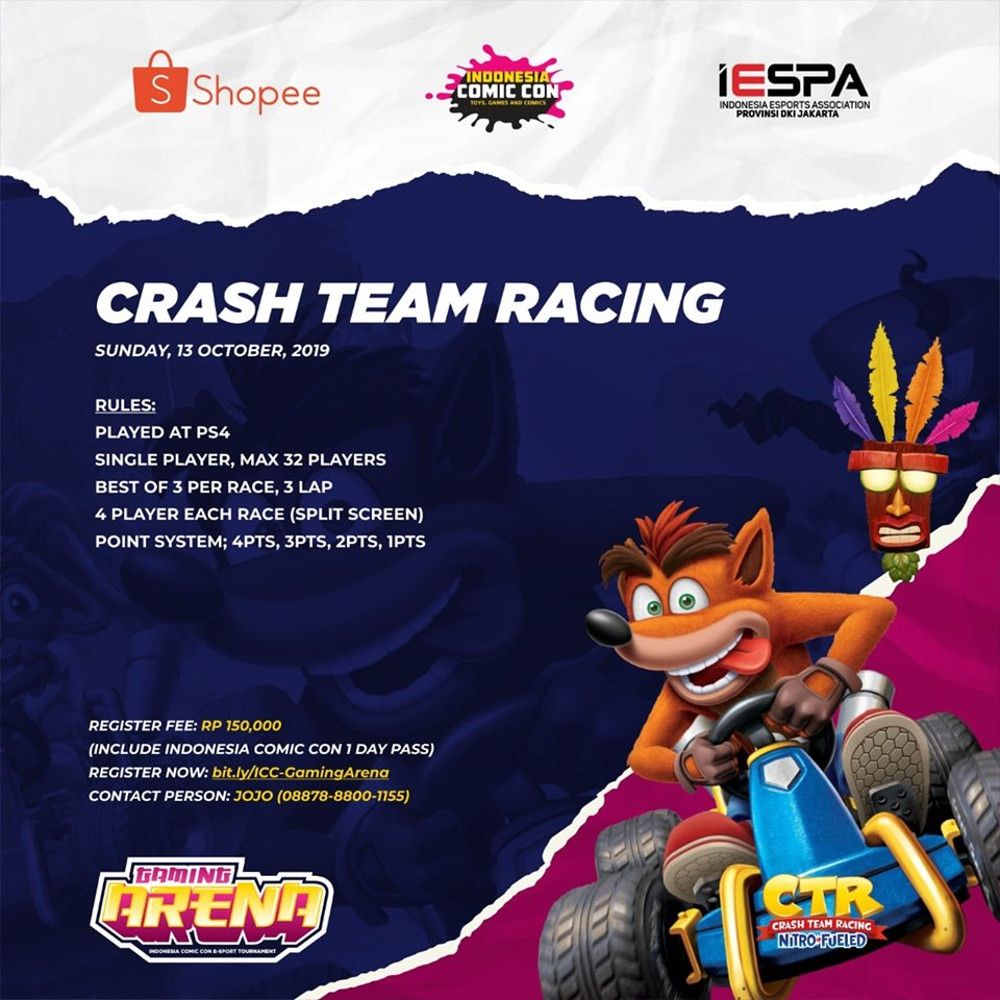 Ketiga, ada perbedaan aturan antara pertandingan Tekken 7 dengan Street Fighter V: Arcade Edition. Di turnamen Tekken 7, Anda boleh menggunakan semua karakter termasuk karakter DLC, dan boleh menggunakan semua stage (dipilih secara random). Sementara di turnamen Street Fighter V: Arcade Edition, karakter DLC hanya diperbolehkan dari Season 1 dan Season 2 saja. Artinya Anda tidak bisa memainkan karakter seperti Kage, Lucia, Poison, dan E. Honda. Ada 3 pilihan stage yang dilarang, yaitu Kanzuki Beach, Skies of Honor, dan Flamenco Tavern.
Untuk melakukan pendaftaran, Anda bisa langsung mengisi formulir lewat tautan berikut. Atau bila ada pertanyaan lebih lanjut, Anda dapat menghubungi contact person yaitu Jojo lewat nomor 0878-8800-1155. Bagaimana, Apakah Anda berminat menghadiri Indonesia Comic Con 2019 dan bertanding di sana?
Sumber: Indonesia Comic Con
From Our Network