Gaming News
GTA V masuk dalam daftar lima game konsol favorit di tiga negara
Pada 2023, jumlah gamer di dunia diperkirakan akan mencapai 3 miliar orang. Mobile game menjadi salah satu pendorong meroketnya jumlah gamer. Namun, platform game favorit setiap negara biasanya berbeda-beda. Misalnya, di Indonesia, kebanyakan gamer bermain mobile game. Sementara di Amerika Serikat dan Inggris, banyak gamer yang lebih senang bermain PC atau konsol.
Setiap negara juga biasanya memiliki game favorit yang berbeda-beda. Newzoo lalu membuat laporan berjudul Global yet Local: July 2020's Top Console Games in the U.K., U.S. & Japan (by MAUs). Laporan tersebut membahas tentang game-game konsol favorit di tiga negara, yaitu Amerika Serikat, Inggris, dan Jepang.
Di Amerika Serikat, lima game favorit gamer konsol adalah Call of Duty: Modern Warfare, Grand Theft Auto V, Fortnite, Minecraft, dan NBA 2K20. Secara total, Modern Warfare memliiki 12,1 juta pemain aktif bulanan (MAU) dengan 6,23 juta pemain bermain di Xbox dan 5,92 juta sisanya di PlayStation.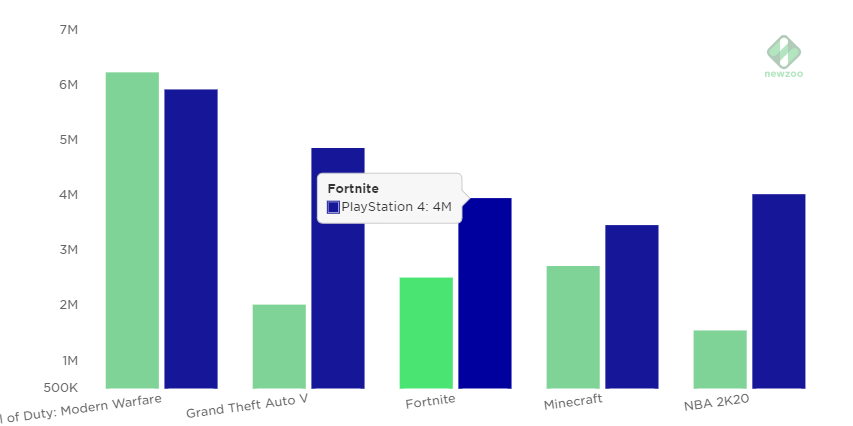 Menariknya, ada lebih banyak gamer yang memainkan Modern Warfare di Xbox. Padahal, kebanyakan pemain dari empat game lainnya menggunakan PlayStation. Menurut Newzoo, salah satu alasan mengapa ada lebih banyak gamer Xbox yang memainkan Modern Warfare adalah karena franchise Call of Duty sering diidentikkan dengan Xbox di Amerika Serikat.
Sementara itu, di Inggris, lima game favorit para gamer konsol adalah Modern Warfare, Fortnite, GTA V, Minecraft, dan FIFA 20. Berbeda dengan AS, di Inggris, Fortnite berhasil mengalahkan GTA V. Satu hal lain yang membedakan gamer Inggris dengan gamer AS adalah game olahraga favorit mereka. Jika di AS game bola basket menjadi game olahraga favorit, gamer Inggris lebih menyukai game sepak bola. Hal ini terlihat dari populernya FIFA 20 dan bukannya NBA 2K20.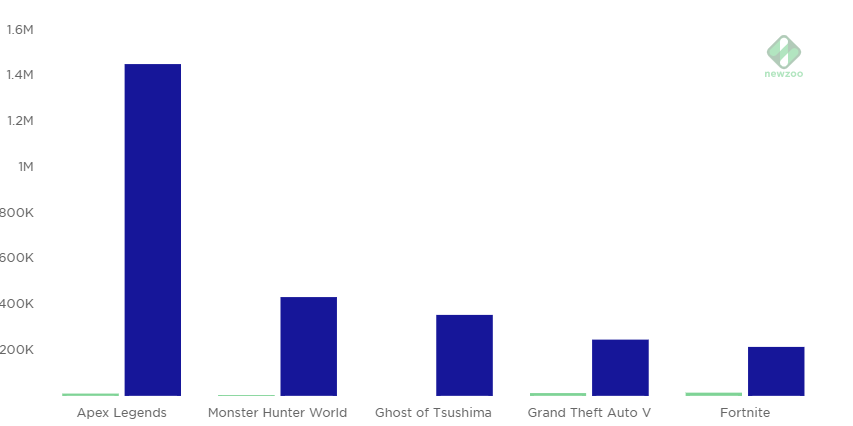 Lima game favorit gamer di Jepang jauh berbeda dari game-game favorit di AS dan Inggris. Game favorit di Jepang adalah Apex Legends, diikuti oleh Monster Hunter World, Ghost of Tsushima, GTA V, dan Fortnite. Di Jepang, kebanyakan gamer juga menggunakan PlayStation dan bukannya Xbox. Salah satu alasannya adalah karena Microsoft baru merilis Xbox One satu tahun setelah peluncuran konsol tersebut di pasar lain.
Di Jepang, franchise Monster Hunter memang sangat populer. Jadi, tidak heran jika Monster Hunter World jadi game konsol favorit kedua sepanjang Juli 2020. Ghost of Tsushima, yang baru diluncurkan pada Juli 2020, menjadi salah satu game favorit gamer konsol Jepang dengan 345 ribu MAU. Dari semua game yang masuk dalam daftar game konsol favorit, Ghost of Tsushima merupakan satu-satunya game yang tidak memiliki fitur multiplayer.