Accenture Report: 84% of Gamers Use Gaming as a Socializing Tool
Today, many gamers use games as a medium to socialize with their friends or people with similar interests
Gamers are often seen by the public as antisocial, which may be true to a certain degree. However, today, games are not simply used as a means of personal entertainment but also as a medium of communication. Especially in midst of a lockdown due to the COVID-19 pandemic, games have become the bridge that connects friends and people alike around the world.
The Growth of the Gaming Industry
According to Accenture, the gaming industry is estimated to be worth $200 billion. Today, approximately 2.7 billion people in the world play games. China, the United States, and Japan are the three countries with the largest gaming industries. China is estimated to have a population of 929 million gamers, and its gaming industry is valued over $51 billion USD. On the other hand, the US gaming industry is worth around $48 billion USD while housing over 219 million gamers.
In terms of population size, Japan will never come close to China or the United States. However, pound for pound, the game industry in Japan is incredibly massive. Despite its minuscule population, there are around 75 million gamers in Japan. Its gaming industry is also estimated to be worth over $24 billion USD. Apart from China, the US, and Japan, there are 17 other countries with gaming industries valued at over $1 billion USD. UK, Italy, Germany, Canada, South Korea, France, and Spain are some examples.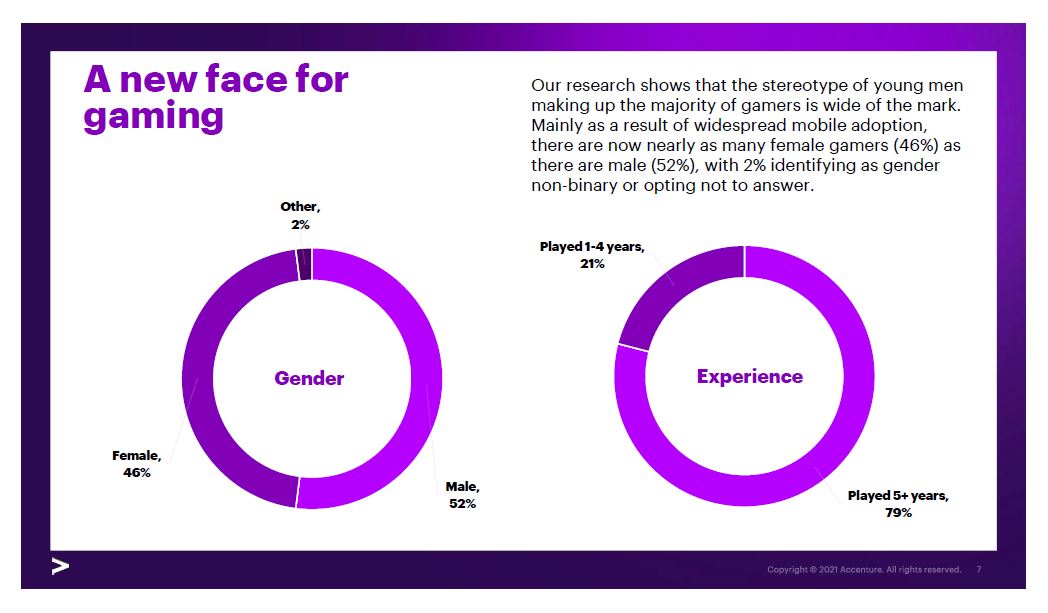 There is a strong belief within the gaming community that the gamer population is dominated by males. This assumption, however, is totally wrong. According to Accenture, 46% of the gamer population are female, 52% are male, and the remaining 2% fall into the non-binary category or people who do not want to mention their gender. Indeed, there are almost as many female gamers as there are male gamers. The rise in the number of females playing games is assumed to be the product of mobile gaming, which makes games far more accessible in general. 
In terms of experience at gaming, Accenture divides its four thousand respondents into two categories: gamers with more than five years of playing experience and gamers who have only played for the past one to four years. Interestingly, newer gamers have different characteristics from the more experienced gamers. In terms of age, new gamers are, of course, generally younger. The average age of less experienced gamers is 32 years old, while the average age of the more experienced gamers is 35 years old. The percentage of new and experienced gamers below the age of 25 is 30% and 25%, respectively. Most of the new gamers, 60% to be exact, are also women. On the other hand, females only populate around 39% of the experienced gamers group.
Industries That Have Benefitted from the Gaming Industry
The rapid growth of the gaming industry has also catalyzed the emergence of other related industries such as esports. Currently, these newborn industries are estimated to have a value of $100 billion USD. Here some examples of these industries and their respective net worth:
Esports, $1.3 billion USD

Gaming accessories for PC, $12 billion USD

PC gaming hardware, $39.3 billion USD

Mobile devices, $39.7 billion USD

Gaming content creation, $9.3 billion USD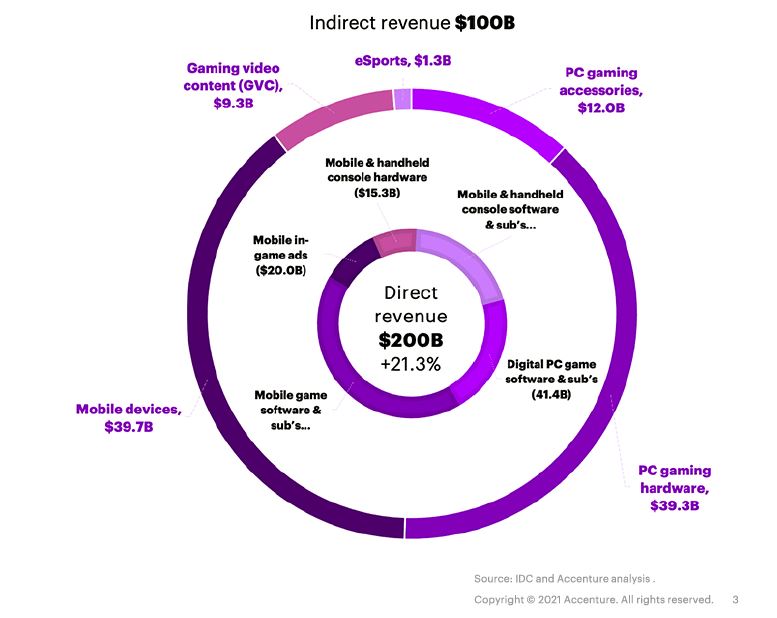 The rising popularity of gaming has also undoubtedly impacted mainstream culture. In the film industry, for example, there are a number of films that were based on video games, such as Angry Birds and War of Warcraft. Unfortunately, I must admit that most of these video game adaptation movies have drawn more criticism than praise from its fanbase. In addition to the film industry, gaming also had an impact on the toy and esports industry. Innovations in the gaming industry have also been translated into other fields ranging from education, health, and even the military. For example, education is one of the fastest-growing categories on Roblox.
The concept of gamification is also widely used by people outside gaming. As an illustration, many teachers today implement a point or ranking system in their classes to introduce competitive spirits between students. Games, nowadays, are also used as a place to hang out or socialize instead of just being a tool of personal entertainment. As proof, Travis Scott's virtual concert at Fortnite was "attended" by 12 million players around the world. Due to the current pandemic lockdown, people also celebrate important moments, such as birthdays and weddings, in video games.
The Social Aspects of Gaming Drives the Growth of Its Industry
One of the driving factors behind the growth of the gaming industry is the development of mobile devices. For one, smartphones are usually much cheaper and accessible than gaming PCs or consoles. Furthermore, a majority of mobile games are free-to-play. Interestingly, however, the emergence of mobile games does not cannibalize the console and PC game market and instead encourages game developers to focus more on the social aspects of gaming. Therefore, don't be surprised that more and more people today use gaming as a socializing tool.
According to data from Accenture, 84% of gamers say that they use games as a means of socializing with people with similar interests. Many gamers also play to find new friends online. This trend is further reinforced by the current COVID-19 pandemic. 74% of the respondents admitted that the pandemic has pushed them to socialize more through games. Furthermore, as many as 75% of gamers mentioned that a majority of their social interactions occur in games or gaming-related platforms such as Discord.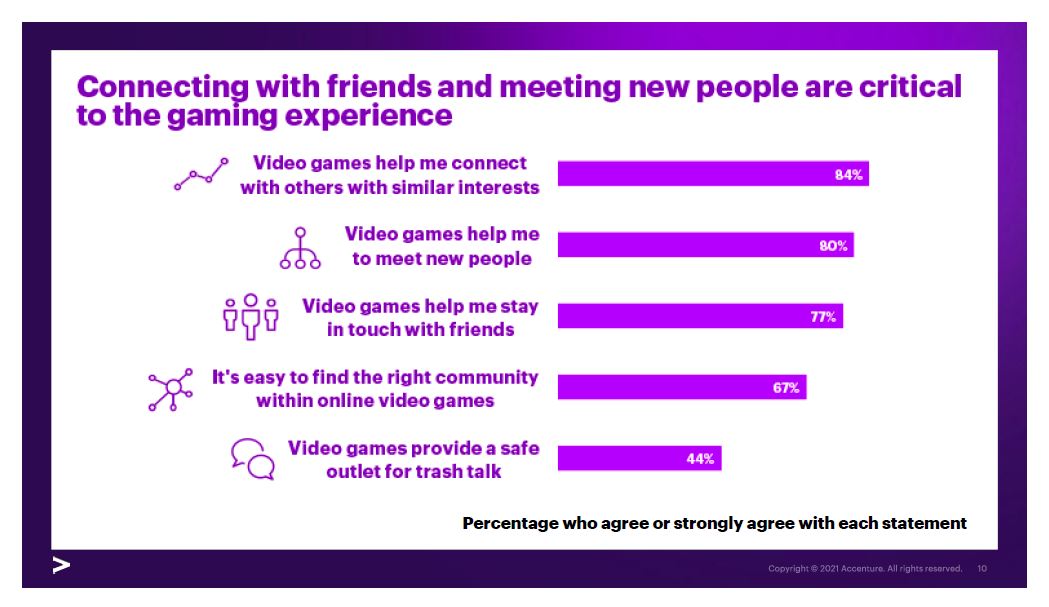 For most gamers, the gaming world plays an important role in their social life. Accenture's data also shows that gamers spend about 16 hours every week playing games. On average, gamers also spend 8 hours a week watching gaming content and 6 hours on socializing in gaming communities or forums.
Unfortunately, the gaming community is also often known for its bizarre toxicity. Therefore, it is imperative that gamers always try to find suitable friends or communities that can mesh well with their personality. In fact, 84% of the respondents in Accenture's survey admitted that having the right group of friends is key to an enjoyable online gaming experience.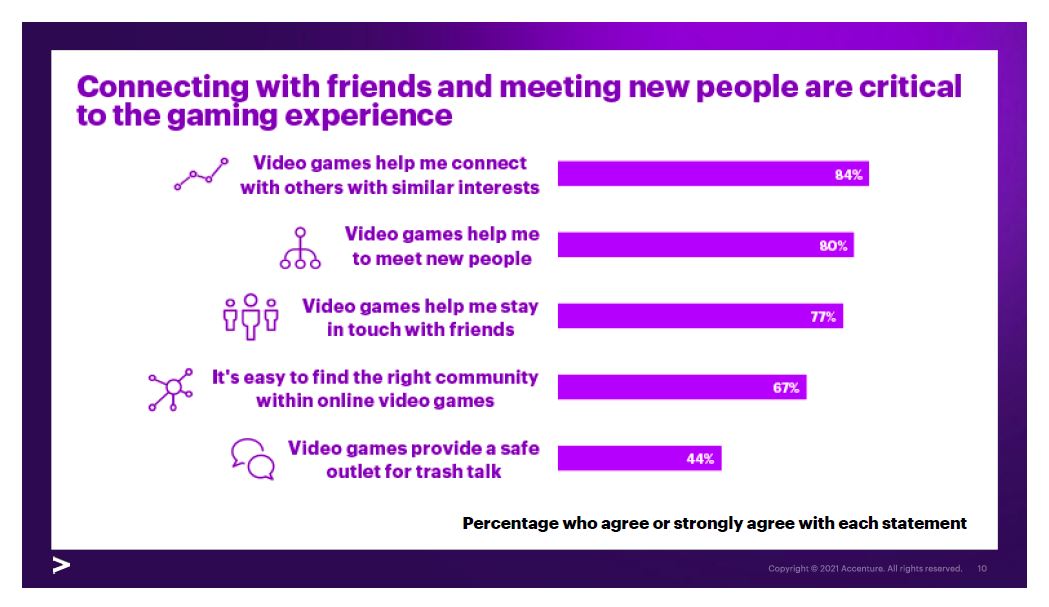 All these data above show that the social aspects of gaming are becoming the main attraction for many gamers today. Thus, creating interesting games from popular franchises will simply no longer cut it. Instead, game developers must always think out of the box to innovate and optimize the social interactions and experiences between the players.
Featured Image: Team17. Translated by: Ananto Joyoadikusumo