Esports Ecosystem
Persaingan tim-tim peserta FFML Season 4 Divisi 1 untuk mengamankan 2 posisi puncak klasemen setiap grup semakin ketat dengan tim bergantian mendapatkan Booyah!
Turnamen Free Fire Master League (FFML) Season 4 Divisi 1 saat ini sudah memasuki paruh musim. 3 Minggu jalannya turnamen dilalui dengan pertempuran yang seru. Pada minggu ketiga ini pertandingan terjadi antara grup A dan C (matchday 5) serta grup B dan C (matchday 6).
Pada matchday 5 yang mempertemukan tim dari grup A dan C, tim dari grup C mendominasi 3 round awal. KINGS Esports, Island of Gods, dan RRQ Hades masing-masing mendapatkan 1 Booyah. Namun dalam 3 round berikutnya permainan tim grup A mulai membaik. BONAFIDE Esports berhasil mencuri 1 Booyah! Sementara NXL Ligagame berhasil mengamankan 2 Booyah! di 2 round terakhir.
Pada matchday 6 yang mempertemukan tim dari grup B dan C, terjadi kebalikan dari minggu lalu. Minggu lalu tim grup B berhasil tampil perkasa dan mendominasi tim dari grup C. Kini giliran tim grup C yang melakukannya. Dari 6 round yang dipertandingkan, 5 di antaranya berhasil dimenangi oleh tim grup C. Island of Gods, Siren GPX, dan KINGS Esports berhasil mendapatkan 1 Booyah. Kemudian The Prime Esports berhasil membawa 2 Booyah di hari itu. Sementara itu 1 Booyah lainnya berhasil dicuri oleh ONIC Olympus dari grup B.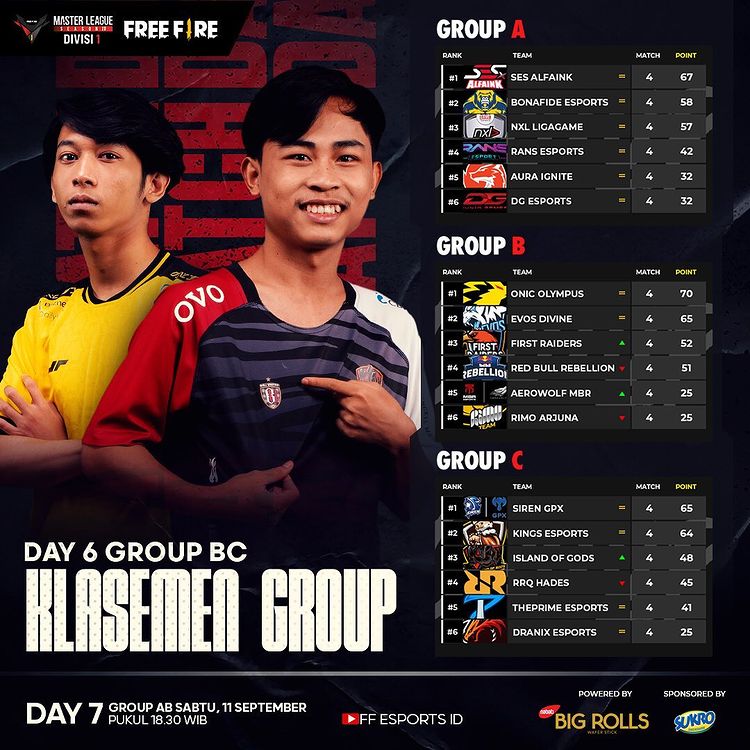 Dengan hasil itu, peta persaingan FFML Season 4 Divisi 1 semakin sengit lagi. Tim-tim masih mempunyai peluang yang sama untuk mengamankan posisi puncak masing-masing grup. Di grup A posisi pertama klasemen paruh musim berhasil diduduki oleh SES Alfaink dengan 67 poin. Di bawahnya ada BONAFIDE Esports dan NXL Ligagame dengan poin 58 dan 57 poin.
Kemudian di grup B posisi puncak sementara berhasil diamankan oleh ONIC Olympus dengan 70 poin. EVOS Divine membuntuti di posisi kedua dengan 65 poin. Sementara di grup C Siren GPX dan KINGS Esports masih mengamankan 2 posisi atas klasemen dengan 65 dan 64 poin.
Pertandingan minggu keempat yang akan dilaksanakan pada 11 dan 12 September 2021 mendatang sepertinya akan semakin sengit lagi. Tim-tim peserta FFML Season 4 ini akan mengerahkan kekuatannya di paruh akhir turnamen. Mereka berusaha untuk mengamankan 2 posisi atas klasemen tiap grup untuk mendapatkan slot otomatis menuju turnamen Free Fire Indonesia Master (FFIM) Fall 2021.
From Our Network