Esports Ecosystem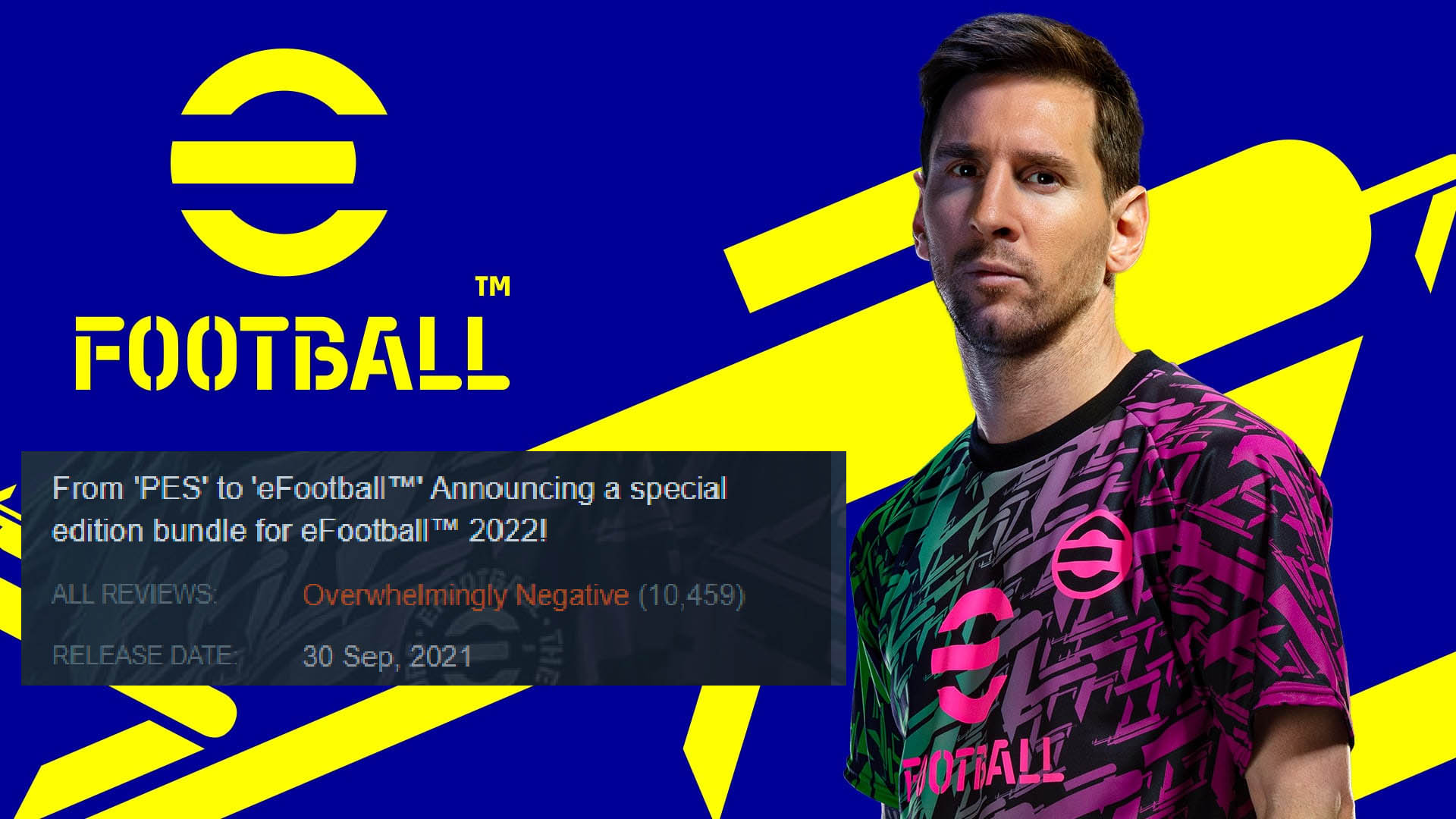 Beralih menjadi game free-to-play ternyata membawa dampak buruk bagi Konami.
Keputusan besar Konami untuk membawa seri game sepak bola populernya Pro Evolution Soccer (PES) jadi game free-to-play memang telah diragukan oleh banyak fans. Apalagi Konami juga mengubah nama PES yang telah melekat kepada para fans menjadi eFootball.
Mimpi buruk pun menjadi kenyataan saat eFootball 2022 ini akhirnya dirilis di Steam. Hanya dalam 24 jam saja, para fans langsung menghujani laman Steam game ini dengan review negatif. Saat berita ini diangkat, game ini mendapat status Overwhelmingly Negative dengan sekitar 9.000 lebih pemain menilai game ini negatif dari total 10.000 review.
Bahkan di situs Steam250, eFootball 2022 diproklamirkan sebagai game nomor satu yang masuk ke dalam "Hall of Shame" alias game dengan persentase review negatif terbesar. Dengan sekitar 92% review negatif, eFootball 2022 langsung masuk menempati peringkat pertama.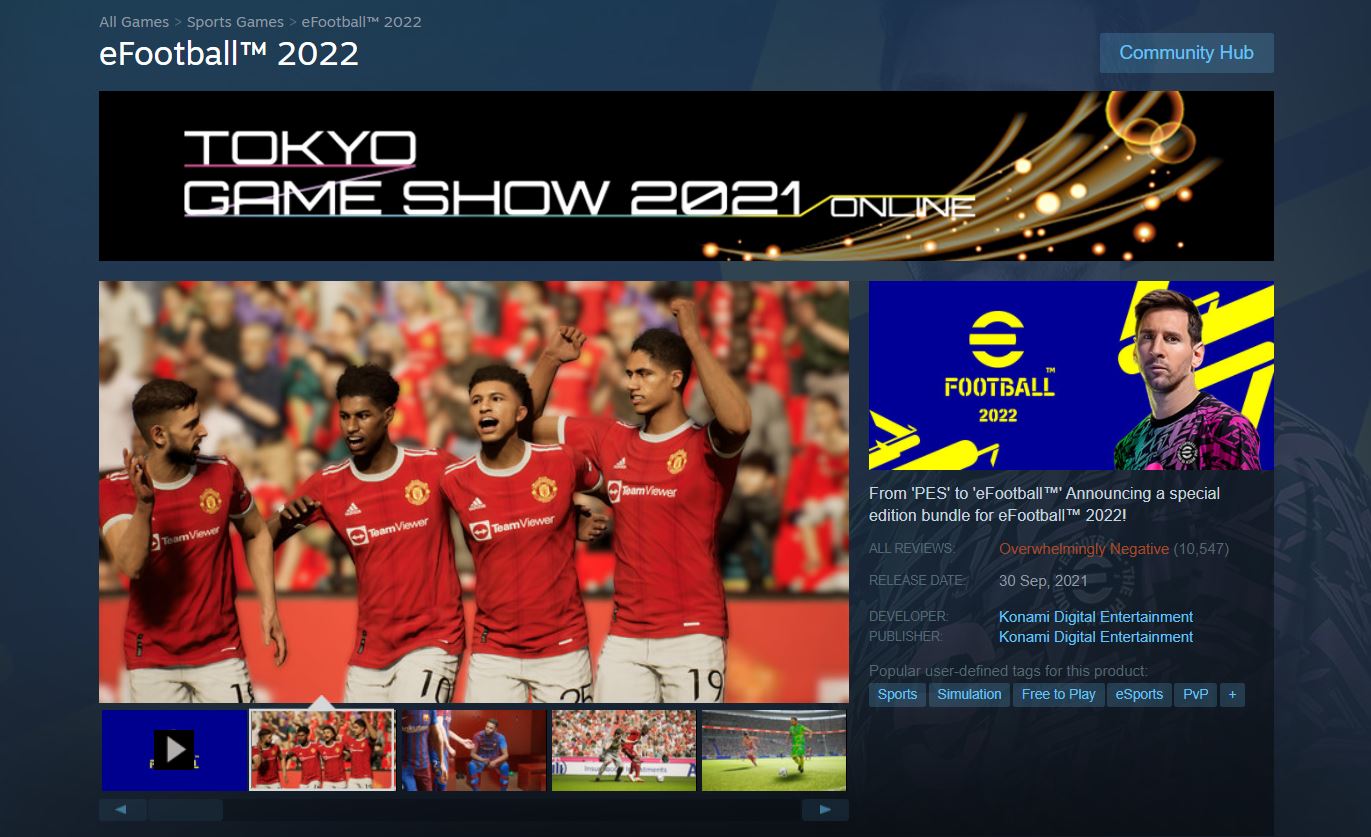 Lalu aspek apa yang sebenarnya membuat para fans marah hingga menghujani game-nya dengan review negatif? Jawabannya ternyata adalah semua aspek. Bila kita melihat ke review negatif yang ada di halaman Steam maka para pemain mengkritisi banyak aspek mulai dari performa yang buruk, bug dan glitch yang sering terjadi, gameplay yang berantakan, hingga konten yang sangat minim.
Para pemain juga membagikan berbagai screenshot dan video dari eFootball 2022 yang menunjukkan animasi game-nya yang cukup menggelikan di berbagai media sosial. Bahkan beberapa fans menyamakan bug yang terjadi di eFootball 2022 ini dengan Cyberpunk 2077 dan WWE 2K20.
Pada akhirnya, para pemain baru yang mengunduh eFootball 2022 sekarang memang bertujuan untuk mencari bug/glitch yang ada pada game-nya untuk nantinya ikut membagikannya di media sosial.
This really makes it hard not to love #FIFA22 😔..#eFootball2022#efootball#pes2022
I love you FIFA22 . pic.twitter.com/I7lEIlC84T

— Epic Player (@EpicPlyer) September 30, 2021

eFootball 2022 memang merupakan proyek jangka panjang dari Konami yang memang membawa serinya ke arah yang baru. Perubahan drastis lainnya adalah implementasi Unreal Engine 4 menggantikan Fox engine. Berbagai fitur dan mekanik baru juga sempat diumumkan dan digadang-gadang akan jadi daya tarik utama dari eFootball 2022 ini. Konami juga telah memperlihatkan roadmap yang menunjukkan berbagai update yang akan diberikan oleh game ini ke depannya.
Terkait kekecewaan para pemainnya, Konami pun mengeluarkan pernyataan dan permintaan maafnya. Lewat akun Twitternya, Konami mengakui bahwa memang banyak laporan dari pengguna terkait cut-scenes, facial expressions, pergerakan pemain, dan pergerakan bolanya. Mereka pun merencanakan update di bulan ini (Oktober 2021) untuk meningkatkan kualitas game secara keseluruhan, termasuk memperbaiki sejumlah bug.
"Kami akan berusaha sekuat tenaga untuk memuaskan sebanyak mungkin pengguna dan kami terus membutuhkan dukungan Anda semua untuk eFootball 2022." Tulis Konami.
Important info for #eFootball fans pic.twitter.com/Tp9RFhmXp9

— eFootball (@play_eFootball) October 1, 2021
---
Hybrid.co.id hadir juga di berbagai media sosial. Temukan konten yang menarik di Instagram atau follow akun Twitter kami. Jangan lupa juga untuk Likes Fanpage Facebook Hybrid.
From Our Network