Esports Ecosystem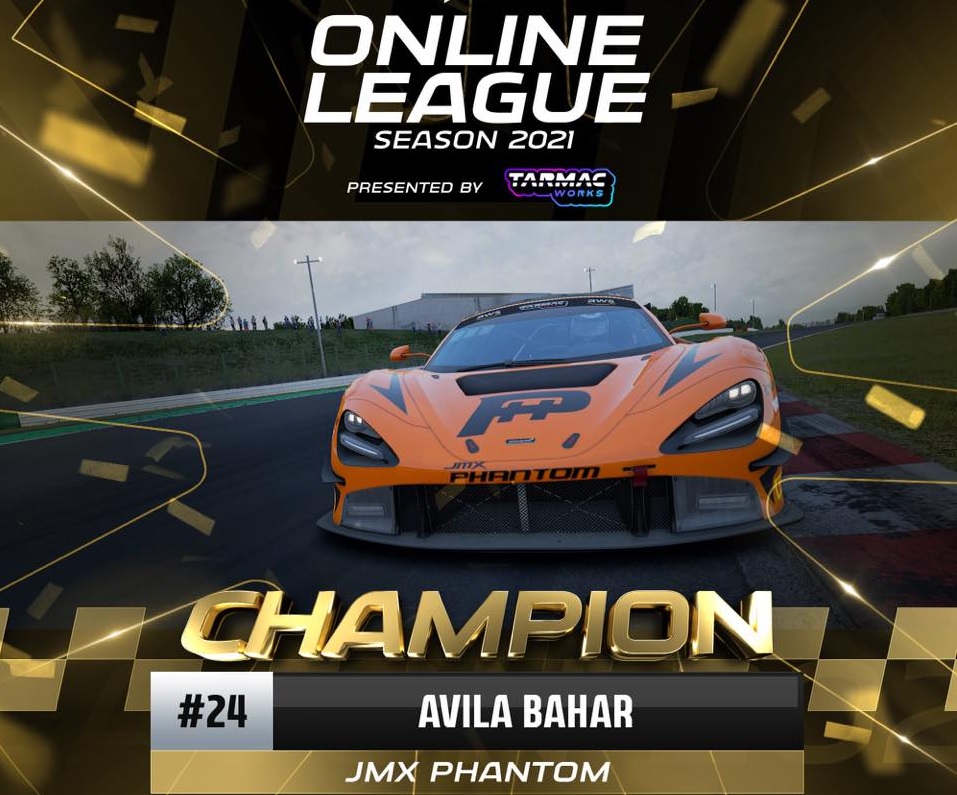 Avila Bahar berhasil memenangi LOR Online League Season 2021 setelah mengungguli teman satu timnya yakni Fadhli Rachmat.
Pembalap virtual asal Indonesia, Avila Bahar, baru saja menjuarai Legion of Racers (LOR) Online League Season 2021 Presented by Tarmac Works. Avilia Bahar yang berada di tim JMX Phantom menjuarai turnamen tersebut setelah memenangi seri round 5 pada 18 Agustus 2021 kemarin.
Sebelumnya, Avilia Bahar sudah unggul selisih 11 poin dengan pesaing terdekatnya yakni Fadhli Rachmat. Avilia Bahar hanya butuh finis di belakang Fadhli Rachmat untuk memenangi gelaran Legion of Racers Online League Season 2021.
Avilia Bahar memulai balapan di sirkuit Suzuka ini di posisi kedua di belakang Fadhli Rachmat. Namun setelah bendera start dikibarkan, Fadhli Rachmat tidak mampu mempertahankan posisi pertama setelah harus bersenggolan dengan Arwin Taruna dan harus keluar lintasan di lap pertama. Selanjutnya Avilia Bahar berhasil mempertahankan posisi terdepan selama 30 menit balapan sekaligus mengunci kemenangannya di balapan terakhir.
Dikategori AM (amatir), persaingan terjadi cukup ketat. Gugun Wiranto dari Javasim merebut gelar juara dengan hanya terpaut 10 poin disusul oleh Fikri Azka dan Gerald Lim dari Singapura. Gugun Wiranto tidak menjalani balapan dengan mudah karena sempat mendapatkan insiden di lap 1. Namun dia bisa bangkit dan finis di urutan 7. Sementara pesaing terberatnya yakni Fikri Azka hanya mampu finis di urutan 6.
Penampilan gemilang pembalap-pembalap Tanah Air tadi membuat Indonesia berhasil memenangkan penghargaan Nations Cup di Legion of Racers Online League Season 2021. Hal ini sekaligus menandakan bahwa Indonesia mempunyai banyak talenta-talenta berbakat di Simulation Racing.
Avila Bahar dari JMX Phantom berhak membawa pulang hadiah uang tunai sebesar SGD800 atau sekitar Rp8,5 juta dan hadiah dari Logitech. Ia mengatakan, "Adalah sebuah perjalanan yang luar biasa untuk berkompetisi di Legion of Racers Online League Races dan kami sangat bangga memenangkan National Cup. Liga ini menunjukkan persaingan yang hebat dari banyak negara dan hal itu membuat saya lebih termotivasi untuk tampil lebih konsisten. Bagi saya kompetisi yang hebat, rival yang hebat, mentalitas, dan sikap sportif akan membuat kita menjadi pembalap yang lebih baik."
Sementara itu Melvin Moh, co-founder dari Legion of Racers mengatakan, "Sangat menyenangkan melihat begitu banyak pembalap di Legion of Racers dari berbagai negara dan saya ingin berterima kasih kepada mereka semua atas partisipasinya. Dari tahun ke tahun, kualitas para pesaing dan balapan semakin bagus. Legion of Racers telah menyatukan banyak pembalap top di seluruh wilayah dan kami sudah tidak sabar untuk musim depan! Saya juga ingin menggunakan kesempatan ini untuk berterima kasih kepada semua sponsor dan mitra yang telah mendukung jalannya turnamen, karena kami tidak dapat melakukannya tanpa mereka."
Legion of Racers Online League Season 2021 merupakan gelaran seri yang kelima setelah pertama kali diselenggarakan pada tahun 2018 silam. Turnamen ini diikuti oleh 24 pembalap SIM racing dari berbagai negara seperti Indonesia, Malaysia, Thailand, Singapura, Hongkong, Filipina, Inggris Raya, Brunei, dan India di kategori PRO. Legion of Racer juga merencanakan turnamen baru lagi ke depannya yang akan digelar pada bulan Oktober 2021 mendatang.