Esports Ecosystem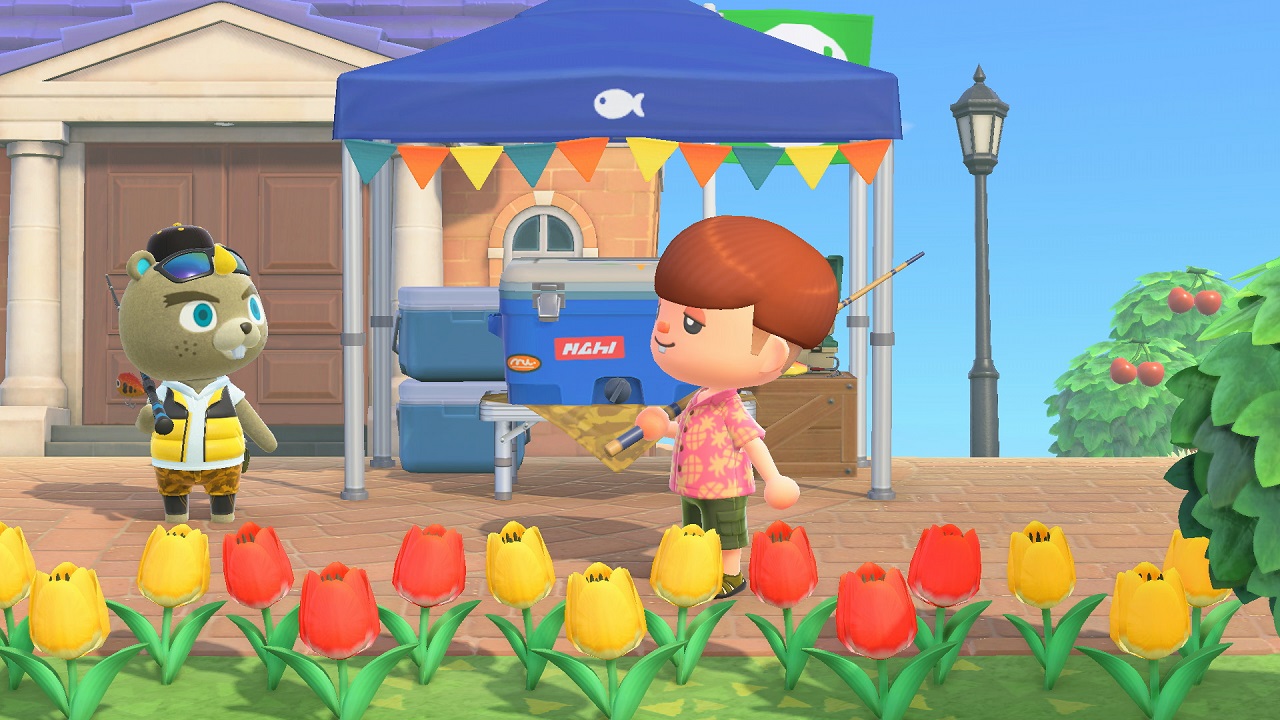 Sepanjang Maret 2020, penjualan digital Animal Crossing: New Horizons mencapai 5 juta unit
Sepanjang Maret 2020, total spending untuk game digital mencapai US$10 miliar, naik 11 persen jika dibandingkan dengan total pengeluaran pada Maret tahun lalu, menurut data dari Superdata. Sementara itu, total penjualan digital game konsol naik 64 persen jika dibandingkan dengan bulan sebelumnya, dari US$883 juta menjadi US$1,5 miliar. Penjualan digital game PC dan mobile game juga mengalami kenaikan. Game PC naik 56 persen, dari US$363 juta menjadi US$567 juta, sementara mobile game naik 15 persen, menjadi US$5,7 miliar.
Dari semua game yang diluncurkan pada bulan lalu, Animal Crossing: New Horizons menjadi game konsol dengan total penjualan digital tertinggi. Hanya dalam waktu satu bulan, angka penjualan Animal Crossing: New Horizons mencapai lebih dari lima juta unit. Game dari Nintendo tersebut juga memecahkan rekor jumlah penjualan digital tertinggi dari game konsol. Sebelum ini, pemegang rekor tersebut adalah Call of Duty: Black Ops III.
"Kombinasi dari fitur sosial dan gameplay yang santai, ini membuat New Horizons sangat diminati bagi orang-orang yang harus tinggal di rumah karena karantina," kata Superdata dalam blog-nya. Mereka menyebutkan, alasan lain mengapa angka penjualan digital Animal Crossing sangat tinggi adalah karena banyak toko game offline yang tutup akibat pandemik virus corona. Banyaknya orang yang tertarik memainkan Animal Crossing: New Horizons membuat permintaan akan Switch meroket. Nintendo bahkan berencana untuk meningkatkan produksi Switch karena kesulitan memenuhi permintaan akan konsol tersebut.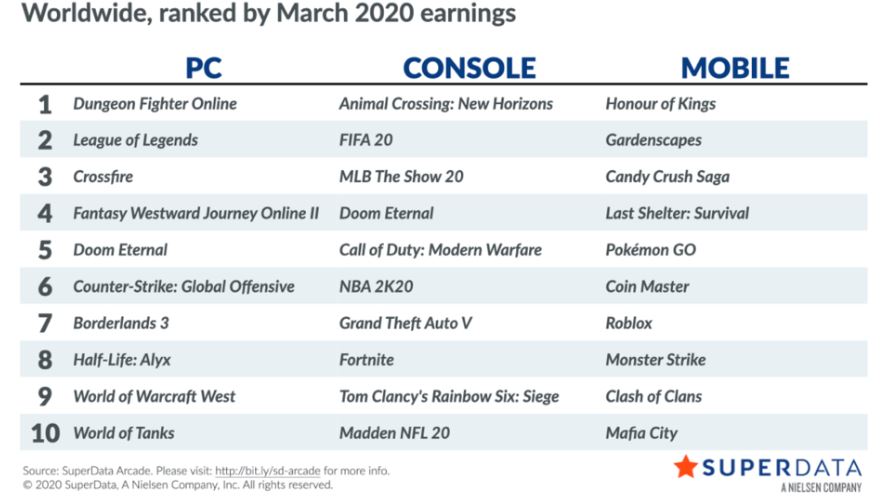 Selain Animal Crossing: New Horizons, Doom Eternal juga diluncurkan pada bulan lalu. Game tersebut duduk di peringkat ke-4 dalam daftar game konsol dengan pemasukan terbesar pada Maret 2020. Doom Eternal juga sama larisnya di PC. Hal ini terlihat dari fakta bahwa game tersebut ada di peringkat lima dalam daftar game PC dengan pemasukan terbanyak. Sepanjang bulan Maret, total penjualan Doom Eternal mencapai tiga juta unit, mengalahkan penjualan Doom 2016, yang hanya terjual 957 ribu unit sepanjang bulan peluncurannya.
Pada bulan lalu, Activision juga merilis mode baru untuk Call of Duty: Modern Warfare, yaitu Warzone. Mode tersebut bisa dimainkan dengan gratis. Ini membuat jumlah pemain aktif bulanan (MAU) naik 159 persen. Jumlah total pemain Call of Duty: Modern Warfare — baik yang membeli game tersebut maupun hanya mengunduh mode Warzone — mencapai 62,7 juta orang, menurut laporan Games Industry.
Sementara itu, Valve juga merilis Half-Life: Alyx pada bulan lalu. Sepanjang Maret, game itu dimainkan oleh 869 ribu orang, termasuk oleh orang-orang yang bisa memainkan game tersebut secara gratis melalui Valve Index. Alyx mendapatkan pemasukan US$40,7 juta, menjadikannya sebagai game PC dengan penjualan digital terbaik ke-8.
Sumber header: Twitter
From Our Network