Esports Ecosystem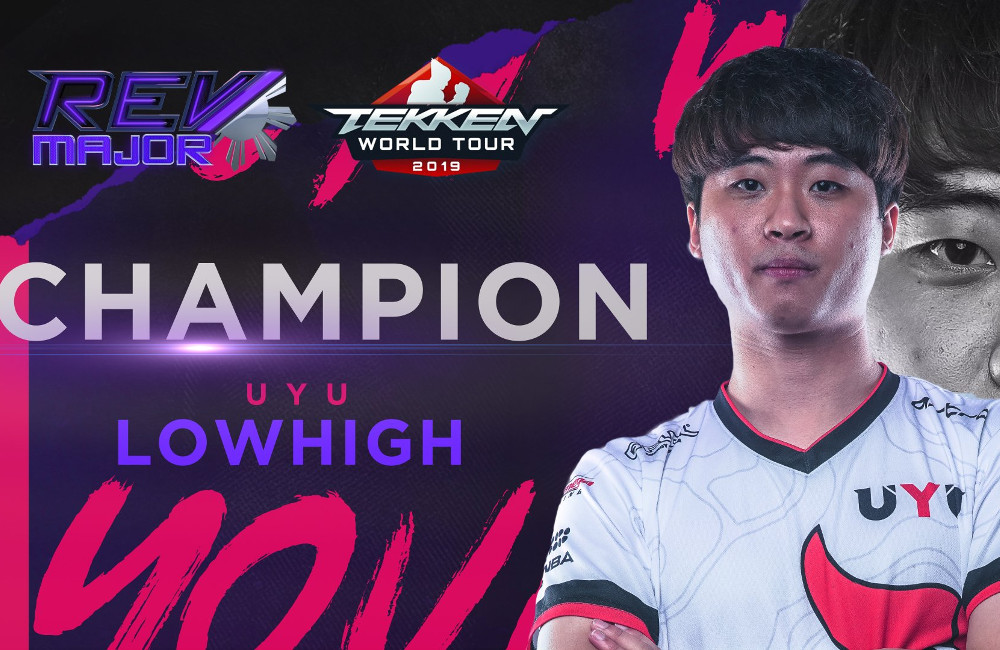 Buff besar Dragunov dan dukungan para penonton belum cukup menurunkan LowHigh dari takhtanya.
Akhir pekan lalu (28 – 29 September), dua atlet esports yang tergabung dalam kontingen SEA Games 2019 Indonesia untuk cabang Tekken 7 telah menghadapi tantangan besar. Mereka harus bertarung dalam sebuah turnamen fighting game di luar negeri, yaitu REV Major 2019 di Filipina. Turnamen ini bukan main-main, sebab merupakan bagian dari Tekken World Tour dengan tingkatan Master.
Sejumlah pemain veteran internasional juga hadir dalam acara ini. Dari Korea Selatan misalnya, ada pemain seperti LowHigh, Knee, Rangchu, dan JDCR. Dari Jepang, ada pemain seperti Nobi, Tanukana, Mimi, dan YUYU. Ini belum ditambah tokoh komunitas fighting game di luar Tekken, seperti Filipino Champ, Fenritti, JJRockets, dan masih banyak lagi.
Sayangnya, Awais Honey dari Pakistan batal mengikuti ajang ini, padahal tentu banyak pemain yang penasaran ingin menonton permainannya setelah mengalahkan Knee di ajang FV Cup Malaysia beberapa waktu lalu. Awais Honey beserta rekan satu timnya yaitu Atif Butt tidak bisa berangkat karena visa mereka ditolak.
Sad news: We have been defeated by the first Boss. Visa rejected for both @awaishoney94 and @AtifButt540.

They will not be present at Rev.

I was so excited to show the world what these two can do in a Master event but it just wasn't meant to be. Apologies Tekken community.

— GG | Royce ▶️ REV Major (@anroyce) September 24, 2019
Atlet SEA Games kita yaitu Meat (Muhammad Adriansyah) dan TJ (Anthony) masuk ke turnamen REV Major 2019 lewat jalur Pool yang berbeda. Meat masuk di Pool 8, satu Pool dengan pemain luar negeri seperti Take, Chanel, dan (seharusnya) Atif Butt. TJ mendapatkan Pool 7, bersama dengan Qudans, Ulsan, serta (seharusnya) Awais Honey.
Meat sempat meraih satu kemenangan di Winners Round, namun ia terlempar ke Losers Round setelah kalah dari PBE | Doujin. Tapi ia tak menyerah, dan berhasil mendapatkan empat kali kemenangan di Losers Round. Meat akhirnya tereliminasi di Losers Round 5 setelah kalah dari Nexplay | Haji.
TJ juga demikian, sempat meraih kemenangan di Winners Round tapi kemudian terlempar ke Losers Round setelah kalah oleh Suha XCTN | Prime. Di Losers Round ia berhasil mendapat satu kemenangan lagi, sebelum tereliminasi oleh pemain bernama NameLess di Losers Round 4.
Cukup disayangkan atlet-atlet kita belum berhasil menembus babak Top 16 ataupun Top 8, tapi partisipasi mereka di turnamen ini tetap merupakan sebuah pengalaman berharga. "Harapan saya ya mereka bisa lebih kuat dari yang sebelumnya. Yang penting mereka sudah memberikan yang terbaik," demikian komentar Bram saat berbincang dengan Hybrid.
Juara REV Major 2019 sendiri untuk cabang Tekken 7 akhirnya diraih oleh UYU | LowHigh, setelah mengalahkan Yamasa | Nobi di Grand Final. LowHigh, yang merupakan juara REV Major tahun sebelumnya, menjadi juara dengan karakter Shaheen sebagai andalannya. Nobi di lain pihak mengandalkan Dragunov, yang dalam Season 3 ini baru mendapat buff besar-besaran. Tapi rupanya buff itu, ditambah dukungan dari penonton yang membahana, masih belum cukup juga untuk menurunkan LowHigh dari takhtanya. Anda dapat menonton pertandingan Grand Final lewat video di bawah.
Berikut ini daftar peringkat Top 8 REV Major 2019 Tekken 7:
Juara 1: UYU | LowHigh
Juara 2: Yamasa | Nobi
Juara 3: Liquid | Gen
Juara 4: AMPLFY | Rangchu
Juara 5: ROX | Chanel
Juara 5: JDCR
Juara 7: THY | Chikurin
Juara 7: ROX | Eyemusician
Sumber: EventHubs
From Our Network