Esports Ecosystem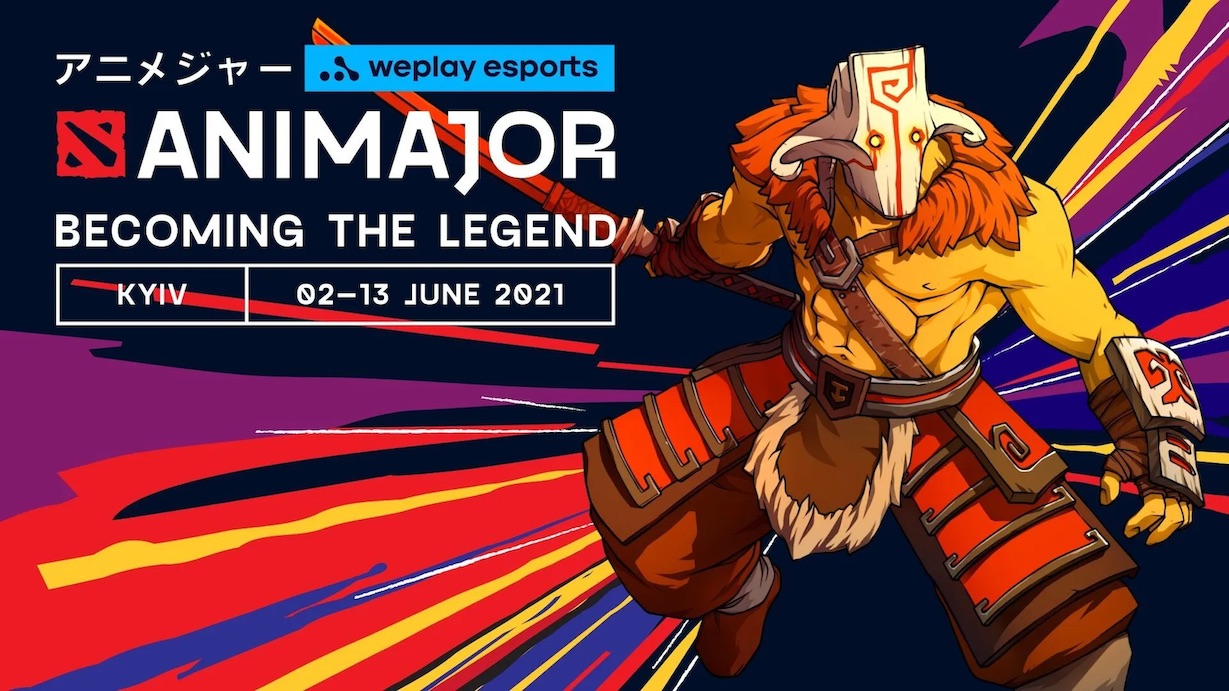 To be hosted in Kyiv, Ukraine, starting June 2, 2021.
With the Dota Pro Circuit 2021 Season 2 concluding soon, a Valve Major event is expected to be announced soon. It is thus unveiled on May 17 that this DPC season's second Major is to be held in Kyiv, Ukraine, namely the WePlay AniMajor.
Tournament organizers WePlay Esports is yet again entrusted to conduct this year's second offline Major event, after previous successful runs in both WePlay Bukovel Minor and WePlay Mad Moon. This year's theme, as its name suggests, revolves around the world of anime. WePlay Esports is known for their story-telling capabilities in the tournaments they host, so it shall be interesting to unearth what they have up their sleeves this time around.
The event is set to take place starting June 2 to June 13 at WePlay Esports Arena Kyiv, with all 18 teams from the top regional DPC leaderboards joining the fray. It doesn't only pride itself with a total prize pool of $500,000, but it shall also distribute a total of 2700 DPC points. Now that TI10 has been confirmed by Valve, teams are surely eager to rack up the remaining DPC points and secure their flight to Stockholm later this August.
Furthermore, the official list of participating DPC slots has been provided beforehand. The 18 teams will consist of the top 4 teams each from Western Europe and China, the top 3 teams each from Southeast Asia and Eastern Europe, and the top 2 teams each from North America and South America. As of the time of writing, only Alliance and Virtus.pro have secured the Playoffs seed, together with Team Spirit receiving the Group Stage seed.
As WePlay Esports has explained in their Reddit AMA, the tournament's format will be identical to that of the Singapore Major, with the exception of a slight change in the event schedule. That is, the event will run for a total of 12 days compared to 9 days in the previous Major. Likewise, although the event will be hosted offline, the tournament will be closed to spectators given the current situation in Kyiv.
Regarding the choice of hosting an anime-themed Major event, organizers of WePlay Esports explained that "Dota 2 and Anime worlds have been connected in the audience's interests for a long time already. […] Think about the fast SOLD OUT of Team Liquid Naruto merchandise series or the recent Dota 2 anime "Dragon's Blood" on Netflix. And the most interesting is that the community loves and hates anime simultaneously. The same as the game itself."
And like their previous events, general producer and chief visionary officer at WePlay Esports Maksym Bilonogov states, in a report by European Gaming, that his team hopes to "create a show that the fans will remember and want to rewatch for many years to come" in the upcoming WePlay AniMajor.
Featured Image by WePlay Esports.
From Our Network