Esports Ecosystem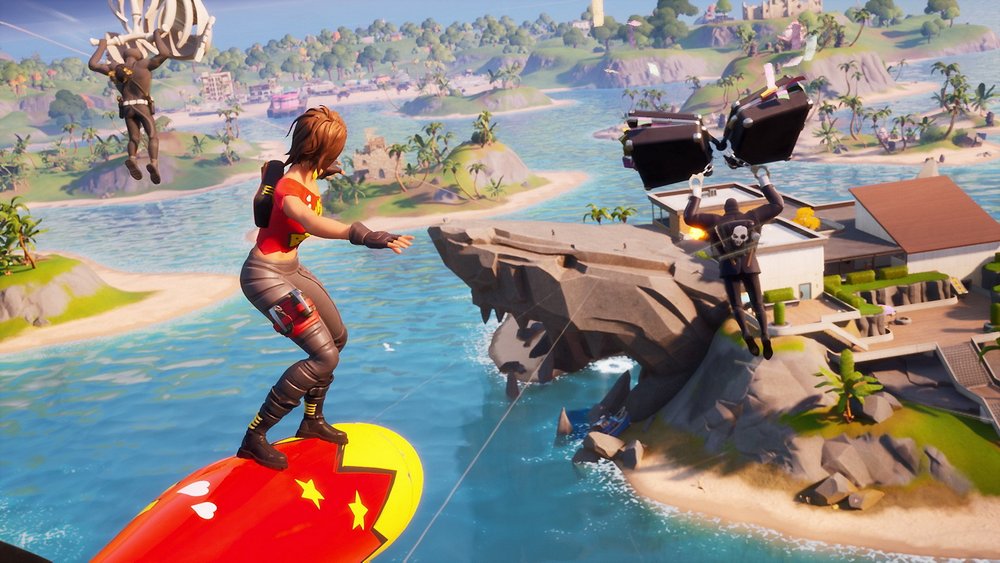 Sebagai salah satu game terpopuler dan game dengan pendapatan terbesar, tak heran jika Fortnite menjalar ke berbagai belahan dunia, tak terkecuali Tiongkok. Sebagai negara yang cukup ketat dalam hal peraturan, tak heran jika beberapa game kadang punya versi yang berbeda jika rilis di Tiongkok, demi meminimalisir 'dampak buruk' terhadap pemain. Salah satu contohnya seperti PUBG Mobile, yang kehilangan izin rilisnya dari pemerintah, sehingga terpaksa berganti nama menjadi Elite Force for Peace untuk rilisan Tiongkok.
Bukan hanya PUBG Mobile saja, hal tersebut juga terjadi kepada Fortnite. Tidak, Fortnite tidak kehilangan izin rilisnya, namun kabarnya akan ada limitasi di dalam game-nya. Mengutip dari seorang data miner bernama Fire Monkey, ia menemukan data string yang mengatakan bahwa di Tiongkok waktu main Fortnite akan dibatasi hanya jadi 3 jam per hari pada update Fortnite 12.10.
Tencent, yang memiliki sebagian besar saham Fortnite, melakukan penambahan ini sebagai cara mereka untuk melawan masalah kecanduan bermain game, terutama untuk pemain yang berusia muda. Nantinya peringatan akan muncul dalam bentuk teks kepada pemain yang sudah bermain setelah tiga jam. Kabarnya, jika ia masih terus bermain, maka proggress challenge akan menurun, serat berbagai pengurangan pengalaman bermain lainnya.
https://twitter.com/iFireMonkey/status/1234788226159857664?ref_src=twsrc%5Etfw%7Ctwcamp%5Etweetembed%7Ctwterm%5E1234788226159857664&ref_url=https%3A%2F%2Fdotesports.com%2Ffortnite%2Fnews%2Fepic-and-tencent-reportedly-introduce-3-hour-limit-for-fortnite-players-in-china
"You have been online for three hours accumulatively," tulisan pesan yang akan diberikan kepada pemain. "The in-game gainings will be lowered by 50 percent from now on and challenge progress has been disabled. For your own health please log-off and get some rest. Appropriate physical exercise is good for your body."
Tiongkok memang sedang gencar melawan efek kecanduan bermain game, apalagi setelah kecanduan bermain game dianggap sebagai penyakit sungguhan oleh badan kesehatan dunia, World Health Organization (WHO). Tiongkok melakukan ini dengan berbagai cara, salah satunya adalah dengan melakukan jam malam. Mengutip engadget peraturan jam malam berlaku bagi mereka yang berusia di bawah 18 tahun, mereka akan dilarang bermain mulai pukul 22:00 sampai 08:00.
Ada juga peraturan pembatasan jam main. Para pemain hanya diperkenankan bermain 90 menit per pekan dan tiga jam per hari termasuk pada akhir pekan dan hari libur. Peraturan lain termasuk mengharuskan pemain menggunakan nama asli di dalam game, serta membatasi jumlah belanja in-game mereka jadi hanya US$28 (sekitar Rp398 ribu) sampai US$57 (sekitar Rp804 ribu), tergantung dari usia sang pemain.
Akankah kebijakan ini menurunkan budaya gaming masyarakat Tiongkok? Sepertinya hal itu tidak terlalu jadi masalah, karena akhir tahun lalu Tiongkok bahkan memiliki 300 juta gamers perempuan yang merupakan peningkatan 3,5% dari tahun lalu. Semoga saja kebijakan ini menyasar target yang tepat, dan membantu anak-anak di bawah 18 tahun mengenal budaya bermain game secara lebih positif.
From Our Network