Esports Ecosystem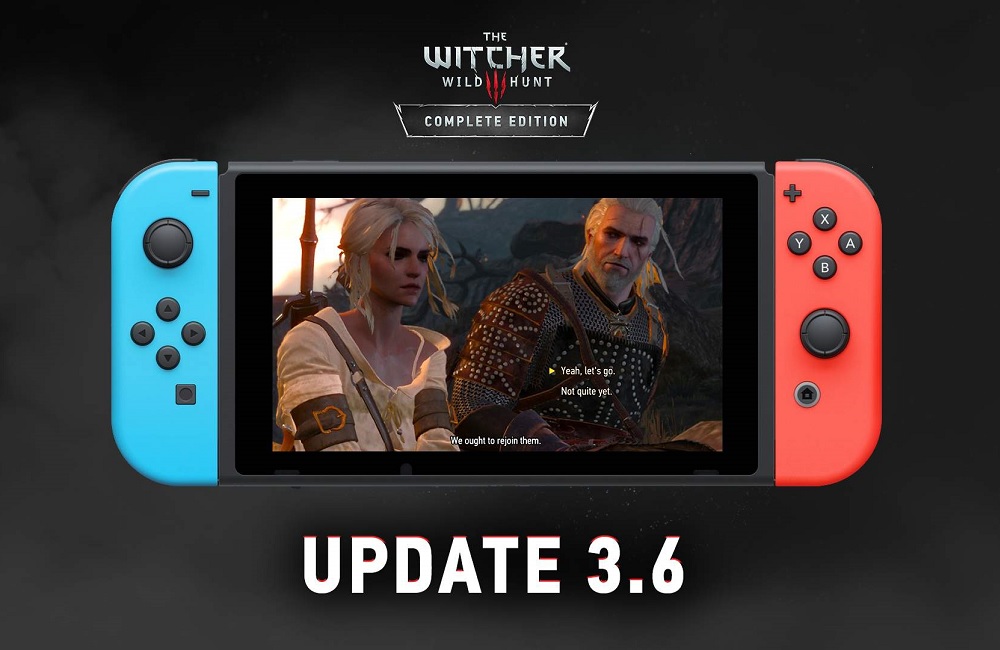 Selain integrasi file save, update juga membawa perbaikan grafis serta lebih banyak pilihan bahasa.
Seiring bertambahnya usia, bertambah banyak pula tanggung jawab seseorang. Untuk sebagian gamer, itu berarti waktu bermain jadi semakin berkurang, dan ini alasannya mengapa banyak orang beralih ke Switch. Console berkonsep hybrid ini memberikan kita keleluasaan dalam bermain. Dan tak seperti produk Nintendo sebelumnya, Switch mendapatkan dukungan penuh dari developer third-party ternama.
Ada sejumlah permainan multi-platform baru yang akan mendarat di Switch, misalnya Doom Eternal, The Outer Worlds dan Gods & Monsters. Di antara judul-judul besar itu, The Witcher 3: Wild Hunt sudah tersedia sejak bulan Oktober 2019. Meski visualnya tak sebaik di PC, PS4 atau Xbox One, kehadirannya di Switch dianggap sebagai pencapaian teknis mengesankan. Dibantu tim Saber Interactive, CD Projekt Red berhasil mengemas game berskala raksasa itu sehingga dapat dimainkan secara portable.
Kemarin, CD Projekt Red mengumumkan kabar gembira bagi Anda yang menikmati The Witcher 3 di PC dan Switch. Melalui update terbaru ke versi 3.6, petualangan Anda bersama Geralt of Rivia di komputer bisa dilanjutkan di Switch berkat integrasi file save. Itu berarti, mereka yang baru membeli game versi Switch tak perlu mengulang dari awal (dan tak perlu lagi mati-matian bertempur melawan griffin dan The Toad Prince).
Kini The Witcher 3 Switch mempunyai menu Cloud Save. Menariknya lagi, file save di Switch kabarnya juga bisa diunggah ke Steam cloud, memungkinkan game dinikmati secara bergantian di dua platform itu. Tapi ada beberapa syarat agar fitur ini bekerja optimal: Agar save dapat dibaca, kita tidak boleh mengubah nama file-nya; kemudian pastikan The Witcher 3 yang Anda miliki di PC merupakan versi Complete Edition seperti di Switch. CD Projekt Red turut mengingatkan bahwa pemakaian mod di PC berpeluang memicu eror dan menimbulkan bug.
Selain integrasi file save, update juga menghadirkan dukungan input touch, memperluas opsi bahasa serta setting grafis, memungkinkan kita mengutak-atik aspek visual lebih jauh. Saber Interactive tak lupa memoles performa game lebih jauh, menumpas sejumlah bug serta crash. Transfer file penyimpanan berlaku bagi The Witcher 3 PC yang Anda beli di Steam maupun GOG.
Lewat forum resmi, gamer Switch menyambut antusias kehadiran integrasi file save tersebut. Namun hal ini juga membuat pemain penasaran, mungkinkah kemampuan transfer file penyimpanan berlaku antar-console, misalnya dari PlayStation 4 ke Switch? Melihat dari perspektif pengguna, peluangnya mungkin sangat kecil karena baik Sony dan Microsoft tidak memberikan kesempatan bagi gamer untuk mengunduh ataupun mengunggah data save.
The Witcher 3: Wild Hunt – Complete Edition di Switch telah beredar di Indonesia (walaupun seperti console-nya, belum secara resmi), dijajakan di kisaran harga Rp 720 ribuan. Game bisa Anda temukan di situs eCommerce lokal.
Via PC Gamer.
From Our Network