Gaming News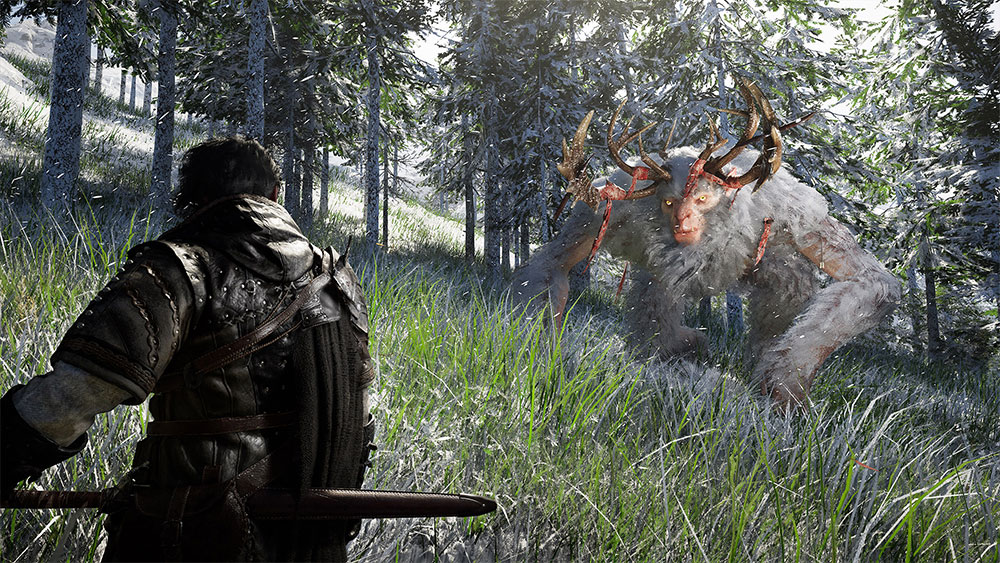 Bukan MMORPG, melainkan permainan open-world action-adventure yang dibumbui sejumlah fitur multiplayer
Pengembang Black Desert Online, Pearl Abyss, sedang sibuk menyiapkan game terbarunya, Crimson Desert. Rumor mengenai game ini memang sudah cukup lama beredar, akan tetapi trailer gameplay resminya baru saja ditayangkan pada ajang The Game Awards 2020, dan sejauh ini Crimson Desert terlihat cukup mengesankan.
Developer asal Korea Selatan itu mendeskripsikan Crimson Desert sebagai permainan open-world action-adventure, dan kalau melihat trailer-nya, ia memang tampak lebih mirip seperti The Witcher 3 ketimbang MMORPG. Kendati demikian, Pearl Abyss juga tidak lupa menambahkan bahwa Crimson Desert bakal memadukan elemen-elemen dari permainan single-player yang menitikberatkan pada kekuatan narasi dengan sejumlah fungsionalitas dari permainan multiplayer.
Kalau boleh menebak, hasil akhirnya mungkin bakal lebih mirip seperti Genshin Impact ketimbang Black Desert Online yang merupakan MMORPG murni. Genshin Impact, seperti yang kita tahu, bisa saja dimainkan sendirian, dan multiplayer di sana lebih pantas dianggap sebagai bonus ketimbang suatu keharusan.
Dalam Crimson Desert, pemain bakal menjalankan protagonis bernama Macduff, seorang prajurit bayaran yang sedang berjuang untuk merebut kembali kampung halamannya bersama para krunya. Menariknya, meski narasinya terpusat pada satu protagonis, Crimson Desert bakal masih menawarkan opsi kustomisasi karakter yang mendalam.
Crimson Desert digarap menggunakan engine rancangan Pearl Abyss sendiri. Buat yang pernah memainkan Black Desert, Anda pasti akan cukup familier dengan sistem combat di Crimson Desert, yang mencakup gaya bertarung yang bervariasi berdasarkan jenis senjata yang digunakan; apakah itu pedang, belati, kapak, perisai, atau malah tangan kosong.
Deretan musuh yang akan dijumpai juga sangat beragam, mulai dari prajurit biasa sampai monster-monster dari cerita mitologi – sekali lagi mengingatkan saya pada The Witcher 3, akan tetapi dengan nuansa Nordic yang jauh lebih kental. Trailer-nya bahkan juga sempat mempertontonkan adegan Macduff yang sedang menunggangi seekor naga berukuran masif.
Sejauh ini memang belum ada detail mengenai elemen multiplayer dalam Crimson Desert, tapi Pearl Abyss memastikan bahwa bakal ada fitur PvP di sana. Jadi meskipun tidak dideskripsikan sebagai MMO, Crimson Desert masih akan menempatkan seluruh pemainnya di satu server berskala besar.
Kalau boleh menyimpulkan, anggap saja Crimson Desert ini sebagai sekuel dari Black Desert, tapi yang lebih berfokus pada kekuatan narasi ala game single-player. Seandainya semua berjalan sesuai rencana, Crimson Desert bakal dirilis di PC sekaligus console pada musim dingin 2021.