Esports Ecosystem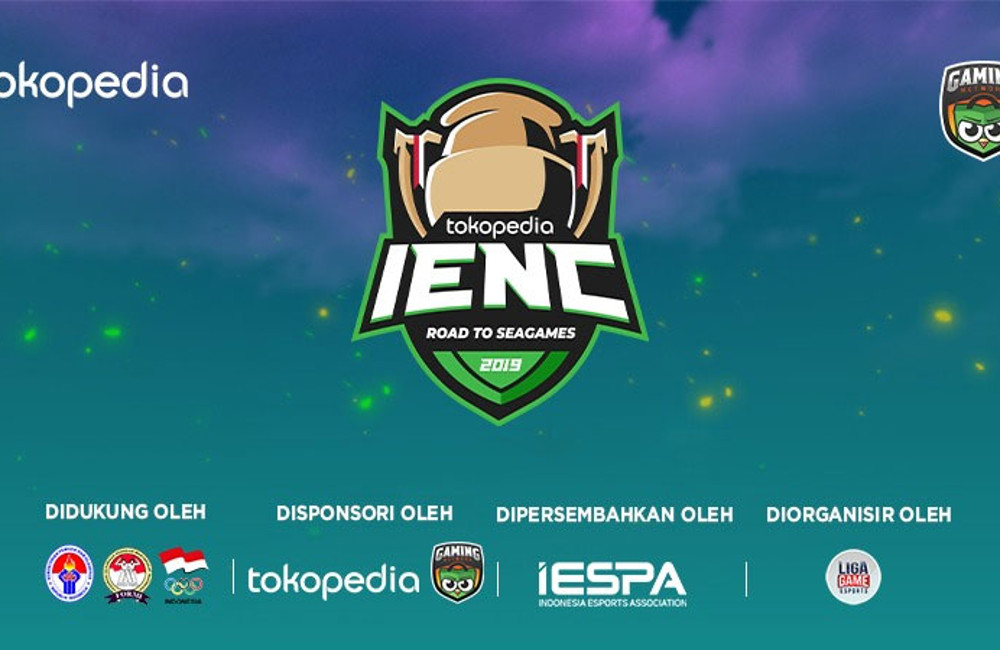 Kualifikasi daerah ini tersedia untuk cabang MLBB serta Dota 2, dan digelar di 12 kota berbeda Indonesia.
Waktu menjelang ajang SEA Games 2019 tersisa lima bulan lagi, dan para pegiat olahraga di masing-masing cabang sudah mulai aktif menunjukkan persiapannya. Begitu pula dengan esports yang akan menempati enam slot cabang pertandingan resmi. IESPA, selaku asosiasi yang menaungi esport di Indonesia, kini menggelar acara dengan nama Tokopedia Indonesia Esports National Championship (IENC) Road to SEA Games 2019.
Tokopedia IENC Road to SEA Games 2019 adalah ajang kompetisi yang digelar untuk menjaring talenta-talenta esports dari daerah-daerah seluruh Indonesia, dan sesuai namanya merupakan salah satu jalur kualifikasi esports untuk SEA Games 2019. Ada dua cabang yang dilombakan yaitu Mobile Legends: Bang Bang dan Dota 2, sementara kualifikasi daerahnya terbagi ke dalam 12 wilayah yang jadwalnya dapat Anda lihat dalam tabel di bawah.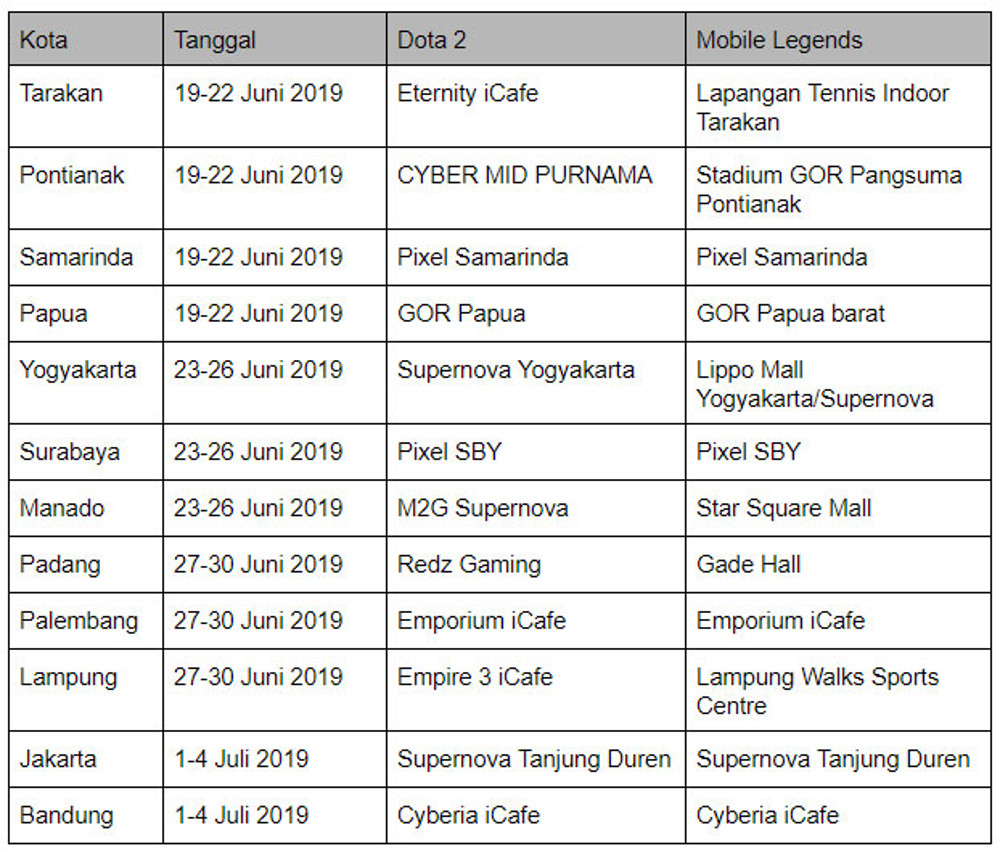 Setelah melalui seluruh kualifikasi daerah, Tokopedia IENC akan masuk ke babak Grand Final yang digelar di Jakarta pada tanggal 13 – 14 Juli 2019. Untuk cabang MLBB, tersedia 16 slot tim untuk bertanding di Grand Final ini, terdiri dari:
2 slot undangan khusus
4 slot dari kualifikasi daerah
4 slot dari kualifikasi online terbuka
6 slot dari undangan Mobile Legends Professional League (MPL)
Slot undangan khusus yang ada di awal saat ini sudah diisi oleh ONIC Esports dan Louvre. Sementara itu untuk cabang Dota 2, tersedia 8 slot di Grand Final yang terdiri dari:
1 slot undangan khusus
4 slot dari kualifikasi daerah
3 slot dari kualifikasi online terbuka
Slot undangan khusus Dota 2 ini sekarang sudah diisi oleh BOOM.ID. Tiga tim undangan tersebut bisa dibilang merupakan tim-tim esports paling berprestasi di Indonesia belakangan ini. ONIC Esports dan Louvre sama-sama merupakan juara dan runner-up di Piala Presiden Esports 2019 dan MPL ID Season 3, juga merupakan perwakilan Indonesia di ajang MLBB Southeast Asia Cup (MSC) 2019. Sedangkan BOOM.ID merupakan juara ESL Indonesia Championship 2019, juga sudah memiliki banyak pengalaman bertanding di sirkuit turnamen Dota 2 internasional.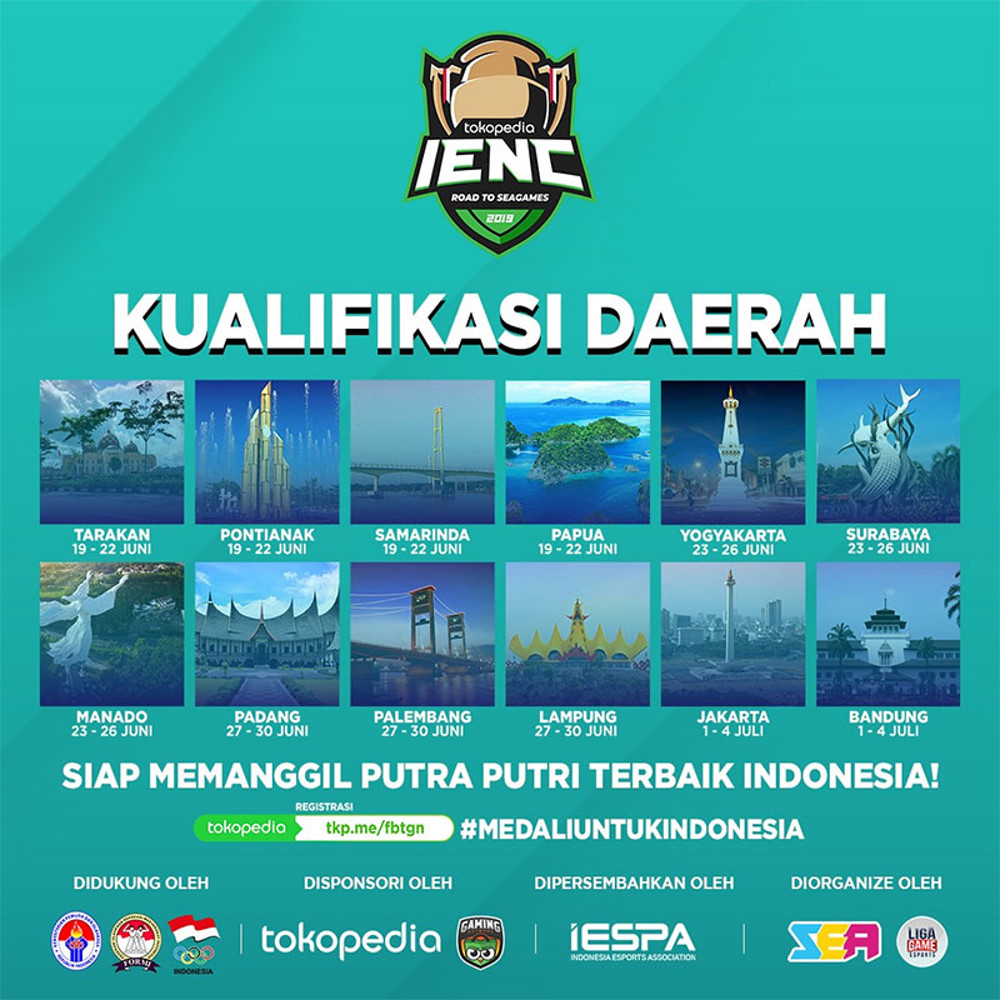 Sebetulnya ada satu game lagi yang dipertandingkan di IENC, yaitu Tekken 7. Akan tetapi Tekken 7 tidak memiliki babak kualifikasi daerah. Para pemain Tekken 7 yang ingin ikut berpartisipasi dapat langsung menghadiri babak kualifikasi di Jakarta saat acara Grand Final IENC pada bulan Juli mendatang.
Selain disponsori oleh Tokopedia dan didukung oleh IESPA, turnamen IENC juga didukung oleh Kementerian Pemuda dan Olahraga (Kemenpora), Federasi Olahraga Rekreasi Masyarakat Indonesia (FORMI), dan Komite Olimpiade Indonesia (KOI). Nantinya, para juara IENC akan langsung diundang untuk menghadiri pemusatan latihan nasional (pelatnas) esports pertama di Indonesia sebagai persiapan SEA Games 2019.
Pendaftaran IENC dapat disimak melalui tautan berikut. Siapakah yang akan menjadi juara IENC dan mengharumkan nama bangsa di SEA Games 2019 mendatang?
From Our Network