Esports Ecosystem
Aksi inYourdreaM dan kawan-kawan mengantar BOOM Esports ke Grand Final, tapi mereka mendapat lawan kuat di sana.
Bagi para penggemar esports Indonesia, akhir pekan lalu mungkin akan dikenang sebagai hari jatuhnya babak playoff untuk Mobile Legends: Bang Bang Professional League alias MPL ID Season 4. Tapi sebetulnya ada satu kompetisi yang tak kalah penting yang berlangsung pada hari yang sama, bahkan merupakan turnamen kelas internasional. Turnamen yang dimaksud adalah ESL Clash of Nations Bangkok 2019, yang berlangsung selama tiga hari pada tanggal 25 – 27 Oktober kemarin.
Sebagaimana halnya ESL Clash of Nations yang digelar di Jakarta bulan Maret lalu, ESL Clash of Nations Bangkok 2019 mempertemukan sejumlah tim dari berbagai negara/wilayah. Namun kali ini tidak hanya Asia Tenggara, melainkan juga mencakup beberapa negara lain di sekitarnya. Mereka terdiri dari:
BOOM Esports (Indonesia)
RRQ.Trust (Thailand)
496 Gaming (Vietnam)
Reality Rift (Malaysia/Singapura)
Athletico Esports (Australia/Selandia Baru)
Team Oracle (Australia/Selandia Baru)
Team Adroit (Filipina)
Global Esports (India)
Game yang dipertandingkan adalah Dota 2, dan ESL menawarkan hadiah sebesar US$50.000 (sekitar Rp700 juta) dalam turnamen ini. Setiap tim yang maju ke ESL Clash of Nations Bangkok 2019 melalui proses kualifikasi masing-masing tergantung dari negaranya. BOOM Esports, yang mewakili Indonesia, mendapat tiket tanding setelah jadi juara di ajang ESL Indonesia Championship Season 2, bulan September lalu.
Ajang ini merupakan tantangan tersendiri bagi BOOM Esports, sebab di ajang Clash of Nations pertama Indonesia berhasil keluar sebagai juara. Saat itu, EVOS menunjukkan keahlian mereka sebagai tim Arena of Valor terkuat di Asia Tenggara. Tentu BOOM Esports ingin meraih prestasi yang sama, apalagi tim tersebut sudah menjadi juara ESL Indonesia Championship sebanyak dua musim berturut-turut.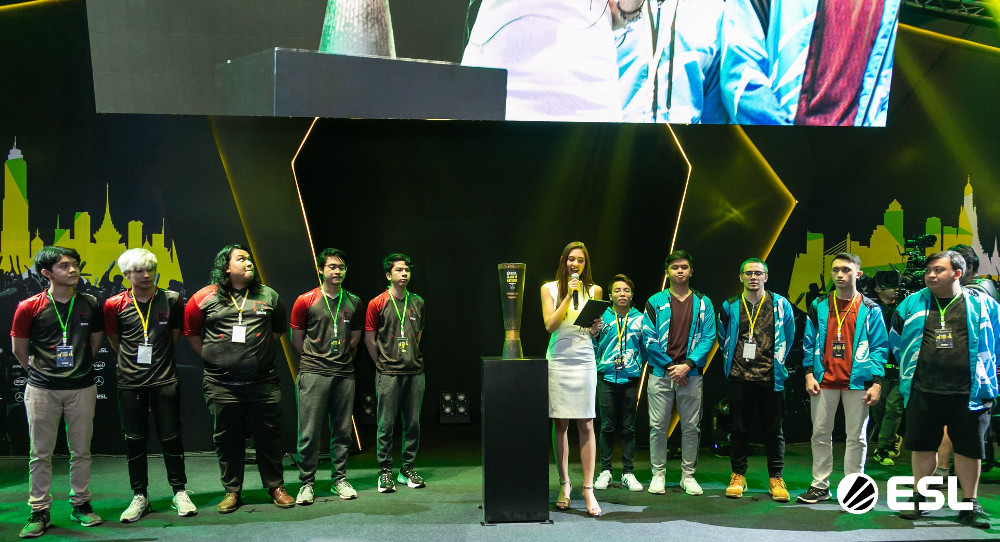 Aksi inYourdreaM, Mikoto, Fbz, Dreamocel, seta Khezcute berhasil mengantarkan BOOM Esports hingga ke babak Grand Final. Di sana mereka berhadapan dengan wakil Filipina, Team Adroit yang maju ke babak utama lewat jalur play-in (main langsung di tempat). Sayangnya, meski BOOM Esports sempat menunjukkan perlawanan yang sengit, akhirnya mereka terpaksa menyerah kalah dengan skor 2-1.
Meski tidak berhasil menjadi juara pertama, prestasi sebagai runner-up di ajang ESL Clash of Nations Bangkok 2019 tetap merupakan sesuatu yang patut dibanggakan karena mereka melawan tim-tim kuat dari berbagai negara. BOOM Esports pulang membawa hadiah sebesar US$10.000 (sekitar Rp140 juta), dan tekad untuk bertanding lebih baik lagi di ajang kompetisi berikutnya. Anda dapat menonton pertandingan antara BOOM Esports melawan Team Adroit dalam video di bawah.
Selamat kepada BOOM Esports, semoga ke depannya bisa terus berprestasi lagi dan semakin mengharumkan nama Indonesia di kancah esports dunia!
Sumber: BOOM Esports, ESL Indonesia
From Our Network