AMD Introduces RX 6600 XT for Your 1080p Gaming Needs
At US$379, RX 6600 XT has 32 Compute Units and 8GB of RAM.
AMD just launched a new GPU: RX 6600 XT. Based on RDNA 2 architecture, it has 32 Compute Units (CUs). For comparison, RX 6700 XT, sold at US$479, has 40 CUs and PlayStation 5 has 36CUs. With 8GB of GDDR6, RX 6600 XT will need 160W of power. Just like other graphic cards with RDNA 2 architecture, RX 6600 XT also has Infinity Cache. But the newest GPU from AMD only has 32MB Infinity Cache while other RX-6000 series can have 96MB or 128MB Infinity Cache.
Inside the RX 6600 XT, AMD puts 32 Ray Accelerators. These dedicated ray-tracing cores are meant to handle the ray tracing workload. That way, the cores of RX 6600 XT can handle other workloads. These ray-tracing cores are powerful enough that you can use ray tracing with compatible games in low or medium settings. With 1080p settings, AMD says that RX 6600 XT can run AAA games at high frame rates. As you can see on the graphic below, with 1080p settings, you can play the likes of Assassin's Creed Valhalla and Battlefield 5 at 90 fps.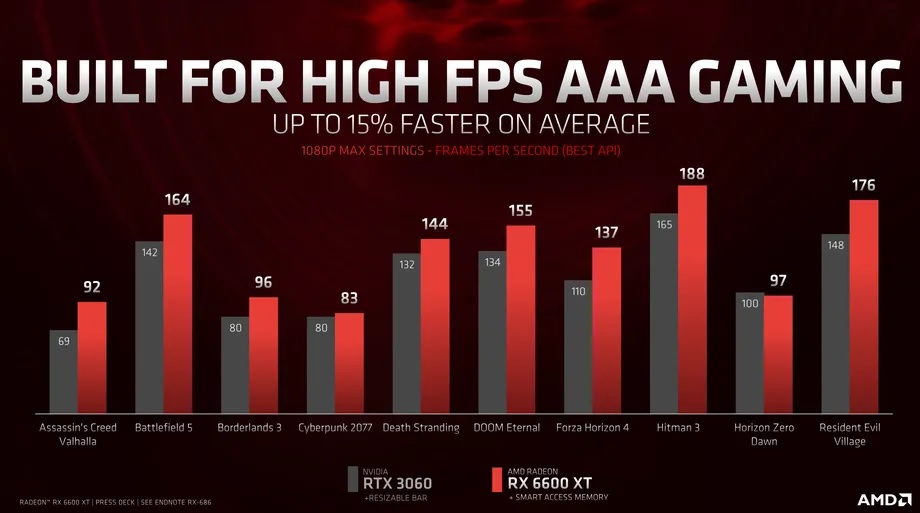 When it comes to building a gaming PC, gamers usually want to have the best specs. Alas, not everyone can afford to get a 4K gaming rig. Some gamers have no choice but to settle with 1080p gaming rigs. And those gamers are AMD's target market for RX 6600 XT, as pointed out by The Verge. Citing research from IDC, AMD says that around two-thirds of gaming displays that were sold had 1080p resolution last year. It shows that there is a market for graphic cards meant for 1080p settings.
Unfortunately, AMD is aware that RX 6600 XT might also face a scarcity problem. In July 2021, AMD said that the GPUs scarcity problem might persist throughout this year. There are two possible reasons behind the GPUs scarcity: the unnaturally high demand for GPUs and the supply constraints due to the pandemic. Even so, AMD also says that it will do its best to make sure its GPUs can go to the hands of the consumers. That said, RX 6600 XT will be available on August 11 2021 from AMD board partners, such as ASRock, ASUS, Biostar, Gigabyte, MSI, Powercolor, XFX, and Yeston.