Opinion Regarding Exclusivity Deal for MPL Team and Dropping Wild Rift Team
Hypothetically, let's say if the rumour is true. 
A while ago, Team Secret's CEO, John Yao calls out an alleged exclusivity contract for an esports organization with Mobile Legends teams to release their Wild Rift division. He also criticizes that an esports organization could have more than a team competing against each other in the same tournament in Mobile Legends competitive scene. I do agree with his remark on the same organization that could compete in the same tournament. However, I may have a different opinion regarding the exclusivity deal.
Before that, the rumour started from a player from ONIC Esports, Govher "Gov" Tallulembang Madethen. In a live stream on Wild Rift YouTuber Kurohiko's channel (that has been deleted), he said that Moonton is trying to monopolize esports by forcing the exclusivity deal. 
Even though I've been involved with Moonton and Mobile Legends for several projects in Indonesia (as a 3rd party) since the first season of MPL (Mobile Legends Professional League) Indonesia, I can't say if the rumour is true or false. However, I am intrigued to express my opinion on this matter. 
Hypothetically, let's say if the rumour is true. 
I think some esports organizations may feel cornered with the exclusivity deal. I do agree with John that said investing in multiple games is a strategy to survive for esports organizations. Forbidding an esports organization to enter a particular esports title means sealing off its future in that scene. People who have been working in the esports industry know that it's too dynamic to rely on one game.
Furthermore, for Indonesian teams participating in MPL ID, they already paid investment money to join MPL since MPL ID is the only one using the franchise model -- for the time being. I don't think there is a refund button for the team which wants to withdraw from the MPL if they choose Wild Rift over MLBB. Let's just say, we do know how a game publisher has absolute power over its esports scene that we discussed a while ago.
However, for non-Indonesians, they might not have the same perspective as we do. 
First, in the most popular MOBA esports scenes in the global market, Dota 2 and LoL, there is no such thing as an exclusivity deal. As far as I know, the closest thing to such an exclusivity arrangement in the global esports market is from Overwatch League which forces the participating teams to have an exclusive name. So, the exclusivity seems weird or even harmful.
However, Indonesian esports and Mobile Legends have a unique relationship. We have written a more in-depth story about that. But, in short, both need each other. 
I have been working in the Indonesian's game and esports industry since 2008. I saw how Counter-Strike 1.6 became the most popular competitive scene here for a while. Then, it moved on to DotA and Dota 2. Garena, with their League of Legends, also created some history in the Indonesian esports scene. Although LoL could never surpass Dota 2 in terms of popularity in Indonesia. There is also Point Blank that made some noises for some time here. Those games couldn't break the Indonesian's esports scene into the mainstream market. It's Mobile Legends that introduces gaming and esports markets to the non-endemic brands in Indonesia.
It's also the case with most MPL ID teams, except for Geek Fam since they are originally from Malaysia. ONIC and Alter Ego, for example, could reach their current popularity solely because of MLBB. Even for EVOS and RRQ, the most popular esports organizations in Indonesia, I'm pretty sure their biggest fans come from MLBB and MPL. The only MPL ID team that doesn't depend on MLBB is Bigetron since their PUBG Mobile team is so much better, even on the world stage.
Meanwhile, even though Riot Games could be said as the biggest and most popular esports publisher and developer globally, it is not that important for the Indonesian esports scene -- at least not currently -- compared to Moonton. Tencent (with PUBG Mobile) and Garena (with Free Fire) are also so much more important than Riot Games here. 
So, why do Indonesian teams wants to gamble their future with Wild Rift and Riot Games when they already have a sure thing here with MLBB? If they have to choose...
Like I mentioned previously, I have done projects for Moonton and Mobile Legends as a third party on several occasions. It means I make money because of Moonton and Mobile Legends. I couldn't say the same for Riot Games. I think this is also the case with most esports organizations in Indonesia.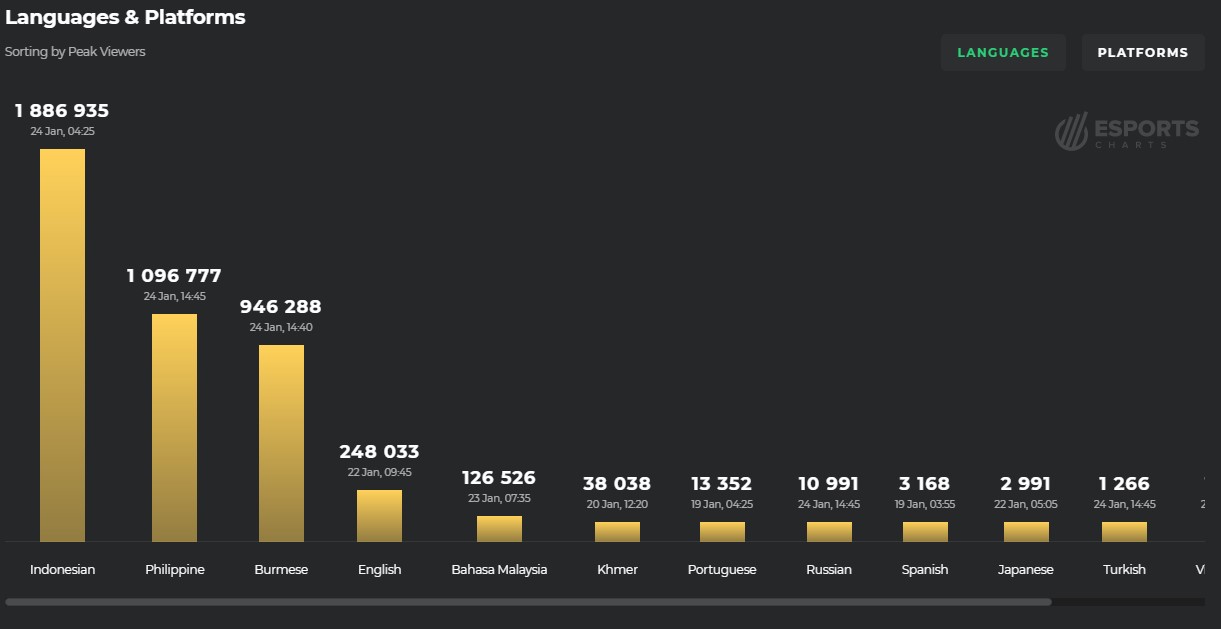 On the other side, I think Moonton also knows that it makes so much money because many other publishers put the Indonesian market in the back seat or ignore it completely. If I'm not mistaken, most of the active MLBB players globally are from Indonesia. If you look at the esports scene, you could also find Indonesian viewers are the biggest number for MLBB. If Moonton knows better, and I'd like to think so, it will put its biggest care and attention to the Indonesian market.
So, in the end, even if the rumour is true, I don't think it's a hard choice for Indonesian esports organizations to choose MLBB or Wild Rift -- more so for the MPL ID teams who have invested in the franchise league. Unless, let's say Riot Games have bigger care for Indonesia's esports ecosystem (which is one of the reasons why I wrote this...) than Moonton, then it will be a tougher decision to make.
Update: I do know some media write that the rumour is confirmed but Moonton is giving a choice for the esports organization to get revenue sharing in return for exclusivity. However, I can't say it's confirmed if there is no clear identity who's claiming the answer.
Also, I think my conclusion is still the same if we are talking about Indonesian esports organizations. As far as I know, MPL ID teams already have revenue sharing because of the franchise league. So, it doesn't change anything even if you want to consider the "confirmation".