Gaming News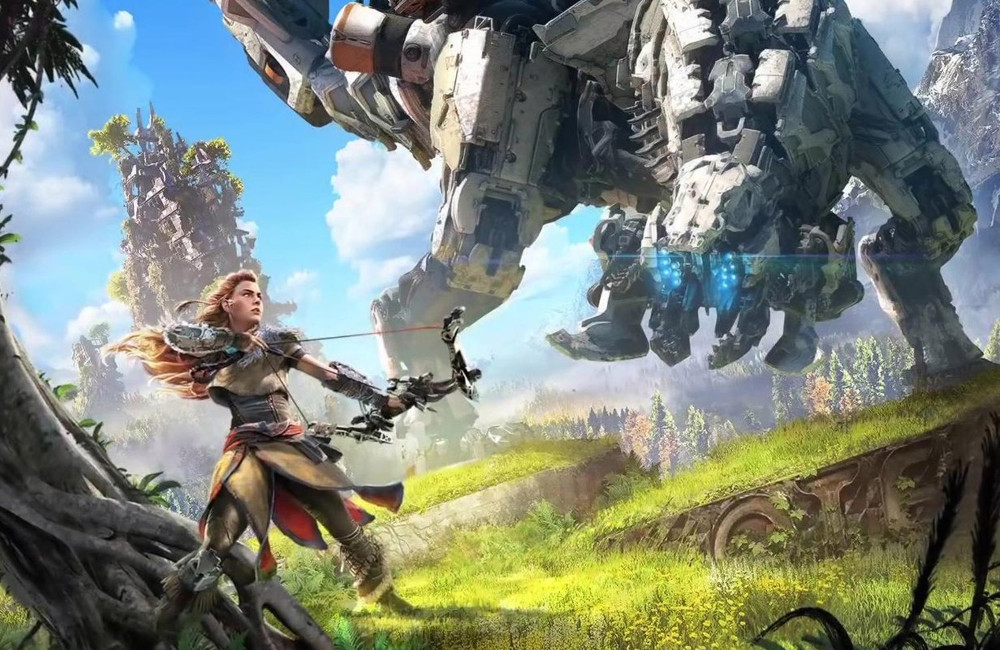 Sebelumnya PUBG juga pernah mendapat konten eksklusif PS4 bertema Uncharted dan The Last of Us.
PlayerUnknown's Battlegrounds alias PUBG tampaknya beberapa waktu belakangan sedang gencar menjalin kolaborasi dengan penerbit-penerbit lain. Belum lama kita mendapat kabar tentang kemunculan pernak-pernik bertema Resident Evil 2 di PUBG Mobile, kini sudah muncul kolaborasi baru lainnya. Bedanya, kolaborasi ini khusus hanya ada di PUBG versi PS4.
PUBG Corporation selaku perusahaan penerbit PUBG telah menjalin kerja sama dengan Guerilla Games, developer ternama yang ada di balik game Horizon Zero Dawn. Mulai tanggal 5 Maret sampai 5 April 2019, semua pemain PUBG di PS4 bisa mendapatkan konten-konten Horizon: Zero Dawn secara gratis, hanya dengan melakukan log in saja. Ini masih ditambah konten-konten lain yang bisa didapat dari menyelesaikan beberapa tantangan, serta konten kosmetik yang bisa dibeli secara langsung bila Anda berminat.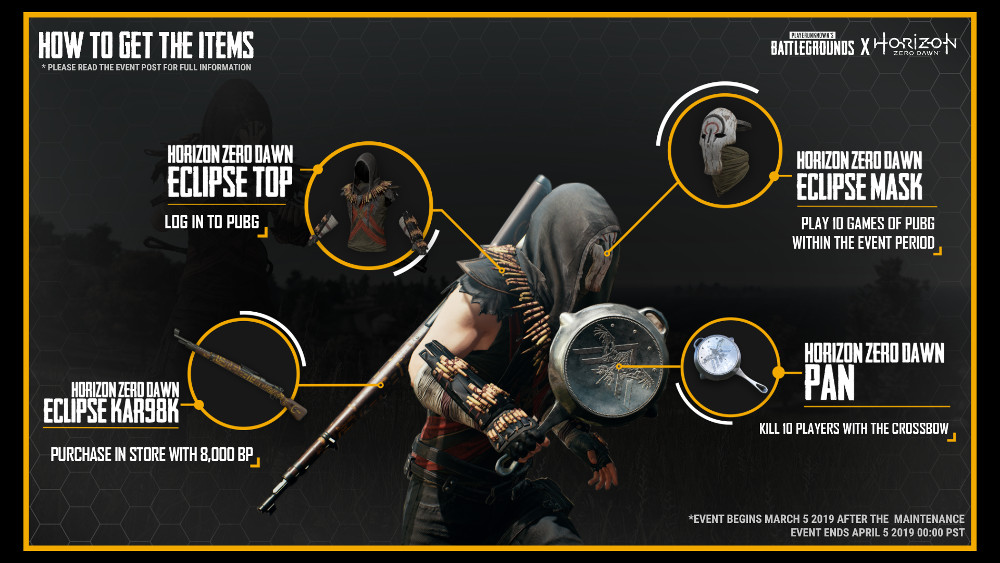 Berikut ini konten-konten Horizon Zero Dawn yang bisa Anda dapatkan, beserta cara mendapatkannya:
Horizon Zero Dawn Eclipe Mask – Mainkan 10 game PUBG selama periode event.
Horizon Zero Dawn Eclipse Top – Log in selama periode event.
Horizon Zero Dawn Eclipse Kar98k – Beli seharga 8.000 BP
Horizon Zero Dawn Pan – Bunuh 10 musuh dengan senjata crossbow selama periode event.
Mungkin pemain PUBG di platform lain akan kecewa karena tidak mendapat konten serupa, tapi sebenarnya ini wajar saja karena Horizon Zero Dawn adalah game eksklusif PS4. PUBG Corporation juga bukan pertama kalinya menjalin kolaborasi semacam ini. Sebelumnya, PUBG juga sudah mendapatkan konten atau skinbertema Uncharted dan The Last of Us, keduanya sama-sama franchise eksklusif console milik Sony.
Taehwan Noh dari PUB Corporation berkata dalam siaran pers, "Kolaborasi kami dengan Horizon Zero Dawn mengikuti jejak konten Uncharted dan The Last of Us kami sebelumnya. Untuk menyeragamkan kedua IP, PUBG Corporation dan Guerilla Games bekerja sama secara dekat dalam konsep, desain, dan elemen-elemen produksinya. Sebagai penggemar Horizon Zero Dawn, hasilnya melampaui ekspektasi kami, dan kami tak sabar melihat para pemain mengenakan berbagai item itu dalam game."
"Ketika kami pertama kali berbicara dengan tim pengembangan PlayerUnknown's Battlegrounds tentang memasukkan item bertema Horizon Zero Dawn, kami langsung terpikir tentang Eclipse. Sekte militeristik rahasia ini sangat cocok masuk dalam dunia PUBG; para anggotanya mengenakan seragam ritual yang menyeramkan, bertujuan memunculkan rasa takut dalam hati siapa pun yang menentang mereka. Natur mereka yang buas ditunjukkan dalam penggunaan selongsong peluru dari mesin-mesin perang kuno, yang mereka pakai sebagai rosario dan motif-motif ornamental lainnya, serta topeng mereka, yang mereka gunakan untuk menyembunyikan identitas," jelas Roy Postma, Art Director Guerilla Games.
Kolaborasi ini juga sekaligus menjadi perayaan ulang tahun Horizon Zero Dawn yang kedua. Game open world adventure tersebut kini telah terjual lebih dari 10 juta kopi, dan meraih beragam penghargaan, termasuk penghargaan Best Gaming Performance dalam Golden Joystick Awards 2017, Outstanding Achievement in Videogame Writing dalam Writers Guild of America Awards 2017, Outstanding Technical Achievement dalam D.I.C.E. Awards 2017, dan banyak lagi.