Esports Ecosystem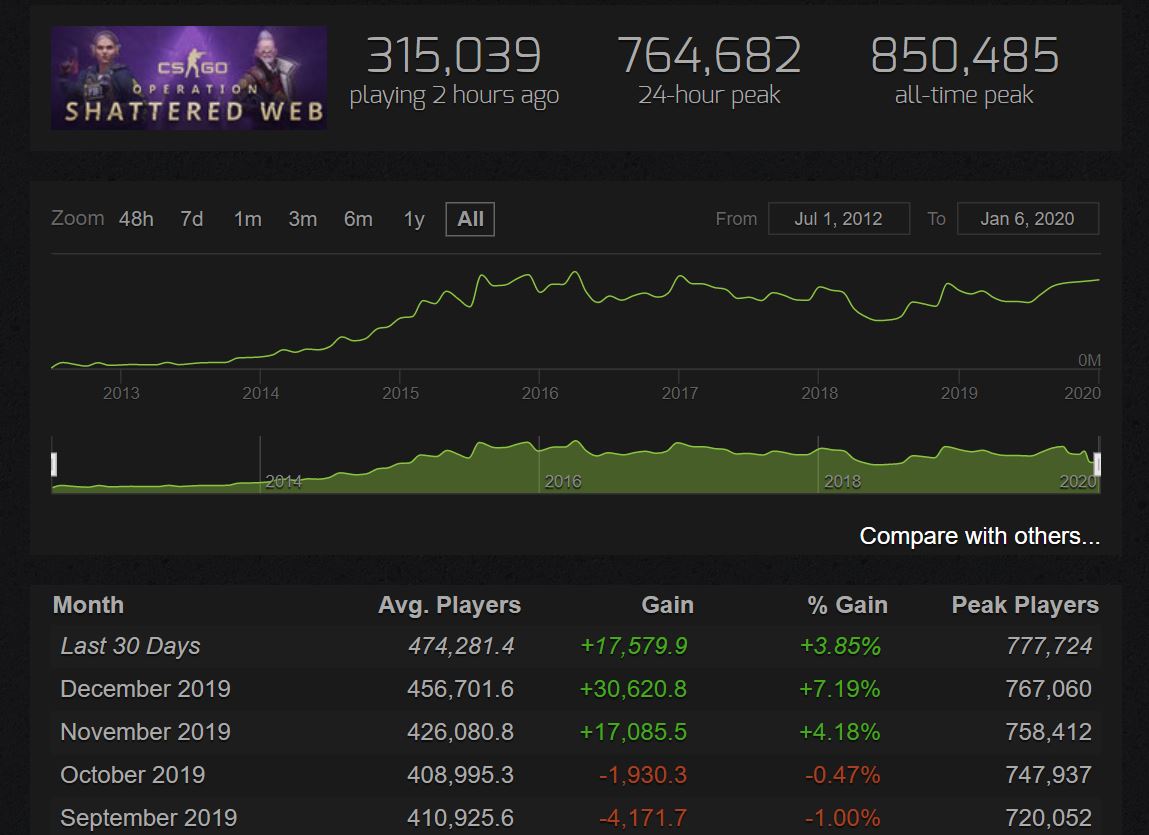 Sepanjang 2019, jumlah pemain CS:GO memang terus mengalami kenaikan
Counter-Strike: Global Offensive kini lebih populer dari Dota 2. Hal ini terlihat dari jumlah rata-rata pemain CS:GO yang telah melampaui Dota 2. Pada puncaknya, jumlah pemain CS:GO pada Desember 2019 mencapai 767 ribu orang, sementara Dota 2 hanya mencapai 628 ribu orang, lapor PC Gamer. Tak hanya bulan lalu, jumlah pemain CS:GO telah melampaui Dota 2 selama empat bulan berturut-turut.
Sejak CS:GO menjadi game gratis pada Desember 2018, jumlah pemain dari game FPS tersebut memang menunjukkan tren naik. Jumlah pemain rata-rata CS:GO pada Desember 2019 mencapai 456 ribu orang, naik dari 426 ribu pada November 2019. Kenaikan jumlah pemain CS:GO beberapa bulan belakangan bertepatan dengan diluncurkannya update baru Shattered Web. Meskipun begitu, tahun 2019 memang tahun yang baik untuk CS:GO. Sepanjang tahun, jumlah pemain rata-rata CS:GO naik 61 ribu orang. Menurut Esports Observer, ini adalah kenaikan jumlah pemain terbesar sejak 2015.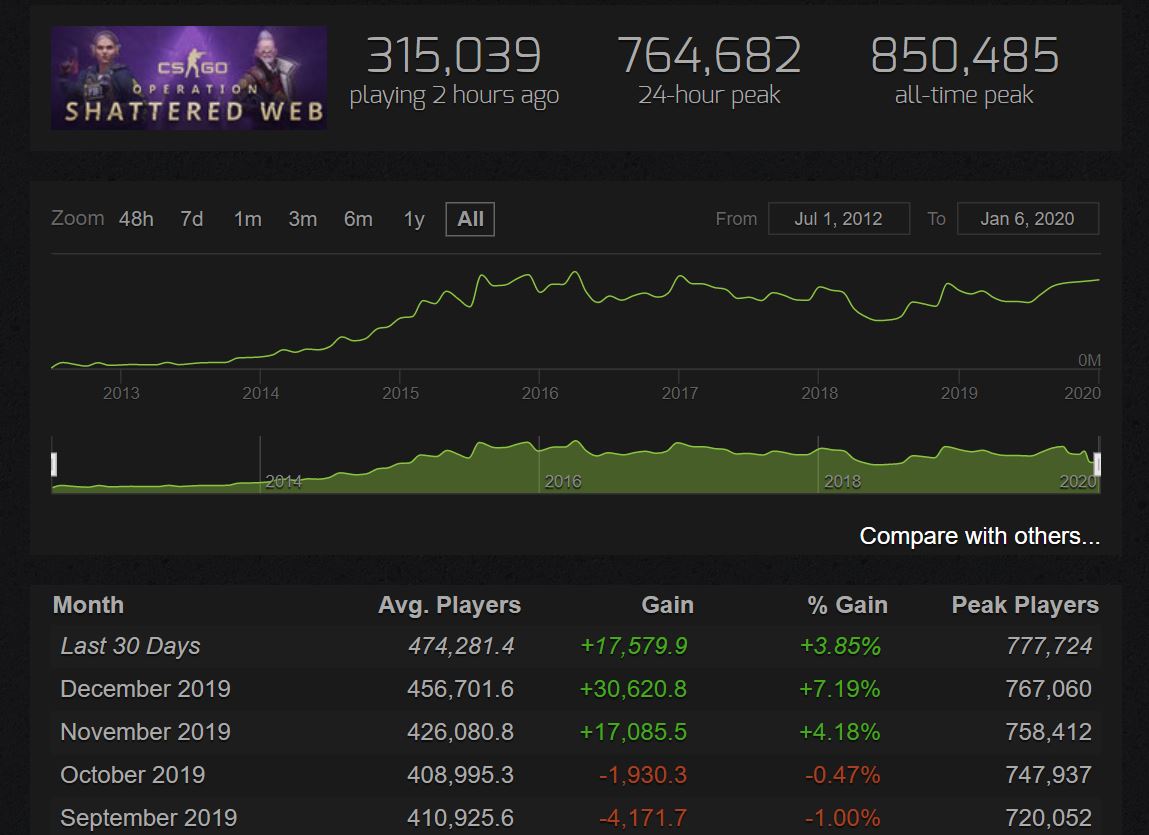 Biasanya, jumlah pemain sebuah game akan menurun seiring dengan bertambah umur game tersebut. Tentu saja, ada beberapa pengecualian, seperti jumlah pemain The Witcher yang naik setelah game tersebut diadaptasi ke seri TV. Namun, CS:GO merupakan anomali. Jumlah pemain game tersebut masih mengalami kenaikan walau ia diluncurkan pada 2014. Begitu juga dengan dua game esports lain, League of Legends dan Dota 2. Selain jumlah pemain yang naik, jumlah turnamen esports CS:GO juga terus bertambah. Tak hanya itu, semakin banyak organisasi esports yang tertarik untuk membuat tim CS:GO, seperti OG, Evil Geniuses, 100 Thieves, dan Gen.G. Team Secret juga kembali membentuk tim CS:GO setelah vakum selama 2 tahun.
Menurut laporan Esports Earnings, CS:GO merupakan game esports dengan total hadiah turnamen terbesar kedua setelah Dota 2. Total hadiah esports dari turnamen CS:GO mencapai US$90,2 juta. Sebagai perbandingan, total hadiah turnamen Dota 2 mencapai US$291,7 juta. Kedua game itu dirilis oleh Valve Corporation.
Sekarang, jumlah pemain CS:GO memang lebih banyak dari Dota 2. Namun, jumlah pemain Dota 2 sempat naik menjadi satu juta orang pada Februari 2019. Sayangnya, sejak saat itu, jumlah pemain game MOBA tersebut terus mengalami penurunan. Jumlah pemain Dota 2 turun drastis pada Desember 2019, setelah update Outlanders dirilis. Tidak heran, mengingat update itu merombak gameplay Dota 2. Dot Esports melaporkan, jumlah rata-rata pemain Dota 2 saat ini mencapai titik terendah sejak 2014, ketika game itu belum lama diluncurkan. Komunitas Dota 2 percaya, alasannya adalah karena para pemain baru biasanya mendapatkan pengalaman bermain yang buruk ketika mereka mencoba untuk bermain.
From Our Network