Esports Ecosystem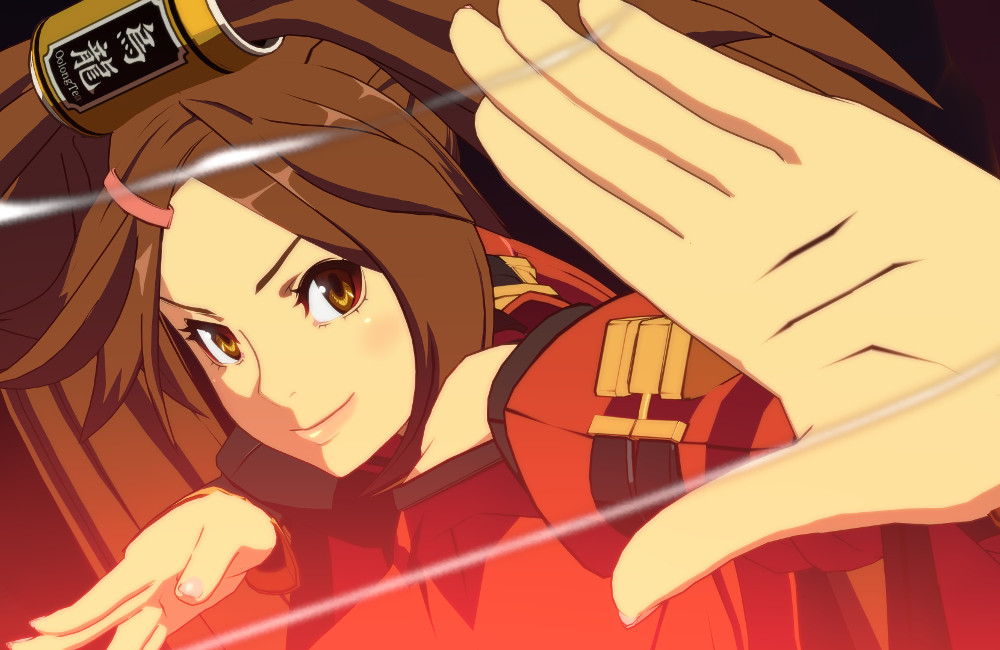 Menurut Drop The Cap, ini adalah pertama kalinya turnamen Under Night In-Birth digelar di Surabaya.
Ada hiburan menarik untuk para penggemar video game kompetitif di wilayah Surabaya sepanjang bulan Oktober ini. Akademi Esports Indonesia AEGIS telah bekerja sama dengan Level 99 IT Store Marvell City Mall Surabaya untuk mengadakan sederet lomba dengan hadiah puluhan juta rupiah. Rangkaian event yang disebut sebagai Indonesia Super Gaming League (ISGL) 2019 ini digelar setiap hari Minggu, mulai tanggal 6 Oktober.
Menu utama ISGL 2019 adalah liga Dota 2 antar universitas yang mempertemukan 8 tim terbaik dari kampus-kampus di Surabaya. Menawarkan prize pool senilai Rp25.000.000, kompetisi ini menjadi ajang seru untuk mengadu keahlian tim-tim Dota 2 amatir. Selain itu juga menjadi kesempatan untuk mencicipi fasilitas "esports arena" yang baru diluncurkan oleh Level 99 IT Store pada bulan Juli kemarin.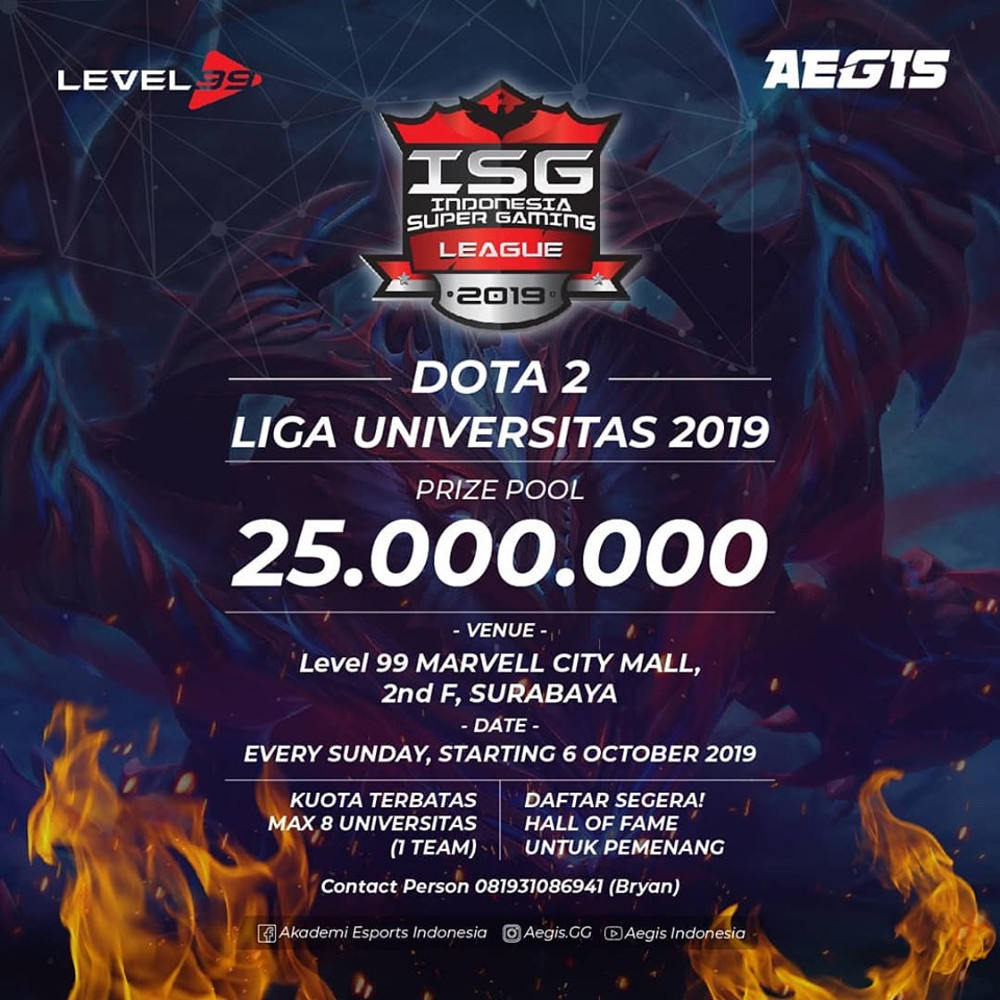 AEGIS dan Level 99 juga menggandeng komunitas fighting game Surabaya, Drop The Cap, untuk mengadakan turnamen sampingan (side tournament). Anda mungkin sudah mengenal nama Drop The Cap sebelumnya sebagai penyelenggara turnamen Tekken 7 di acara Creators Super Fest 2019 Surabaya.
Sejalan dengan acara IGSL 2019 itu yang berjalan setiap minggu, Drop The Cap pun membuka beberapa turnamen berbeda. Pertama yaitu turnamen DIVIDE! yang mengusung game Under Night In-Birth Exe: Late[st] (UNIST). Drop The Cap bekerja sama dengan komunitas Cross Gathering dalam pelaksanaannya. Menurut mereka, DIVIDE! merupakan turnamen UNIST pertama di Surabaya.
Turnamen DIVIDE! akan dilaksanakan pada hari Minggu, 20 Oktober 2019 pukul 12.00 WIB. Anda dapat melakukan pendaftaran melalui tautan berikut. Sementara untuk biaya pendaftarannya sebesar Rp20.000 dan dapat dibayarkan on the spot.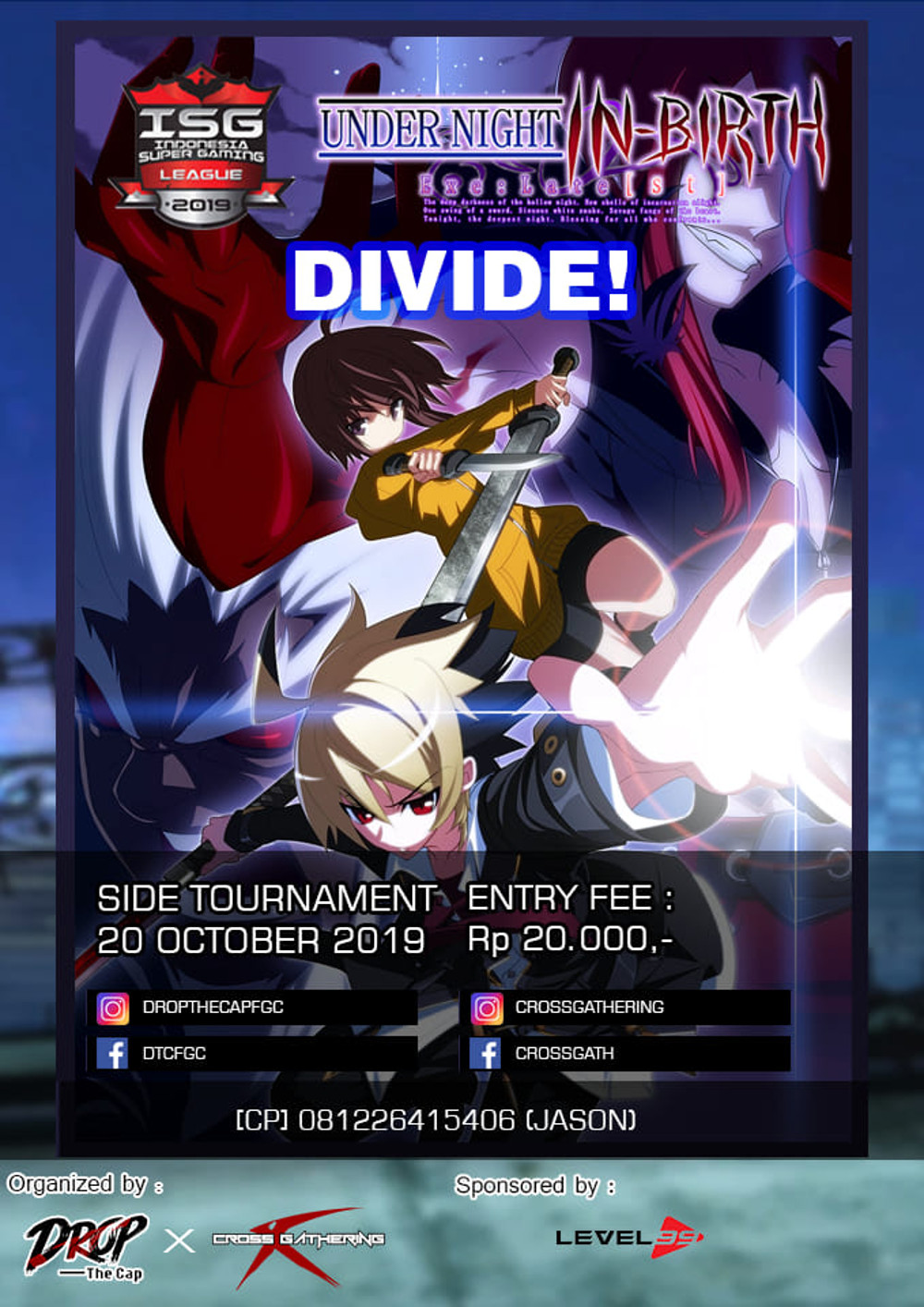 Turnamen kedua yang digelar Drop The Cap dan Cross Gathering adalah turnamen LET'S ROCK! dengan mengusung game Guilty Gear Xrd REV 2. Sama seperti DIVIDE!, turnamen ini juga memungut biaya pendaftaran sebesar Rp20.000, namun diadakan di hari berbeda yaitu pada tanggal 17 November 2019. Baik DIVIDE! maupun LET'S ROCK! sama-sama terbatas untuk 32 peserta. Anda dapat melakukan pendaftaran untuk turnamen Guilty Gear ini lewat tautan berikut.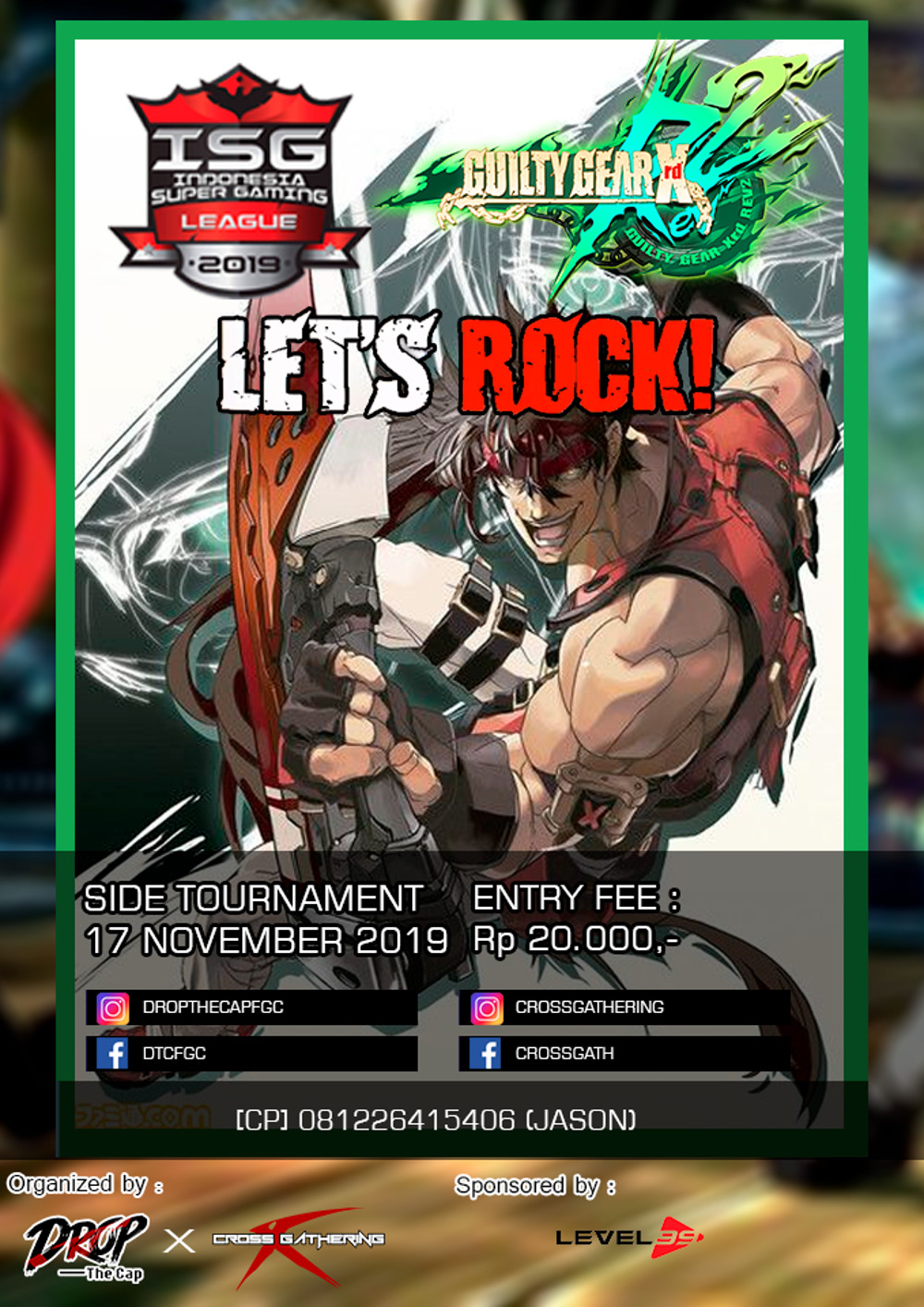 Pembukaan fasilitas esports arena di Level 99 IT Store ini merupakan sebuah bentuk dukungan mereka terhadap tim-tim di Surabaya dan sekitarnya untuk memperoleh prestasi baik di tingkat nasional maupun internasional. Geliat penggemar esports di Surabaya memang tak kalah dari keaktifan di ibukota, salah satu buktinya bisa dilihat dari antusiasme penonton yang begitu membludak ketika final MPL Season 2 digelar pada akhir tahun lalu.
Di dunia fighting game pun, Surabaya dan Malang bersama-sama telah menunjukkan gairah yang besar untuk terlibat dalam esports. Ketika ada komunitas Surabaya yang menggelar turnamen, para anggota komunitas Malang kerap turut berpartisipasi, begitu pula sebaliknya. Keseruan ekosistem wilayah ini bisa Anda lihat dari digelarnya turnamen Tekken World Tour Dojo di akhir September kemarin.
Bila Anda penggemar esports yang berdomisili di sekitar Surabaya, khususnya penggemar Dota 2 dan genre "anime fighters", jangan sampai melewatkan kompetisi Indonesia Super Gaming League 2019 ini.
Sumber: AEGIS, Drop The Cap
From Our Network