Esports Ecosystem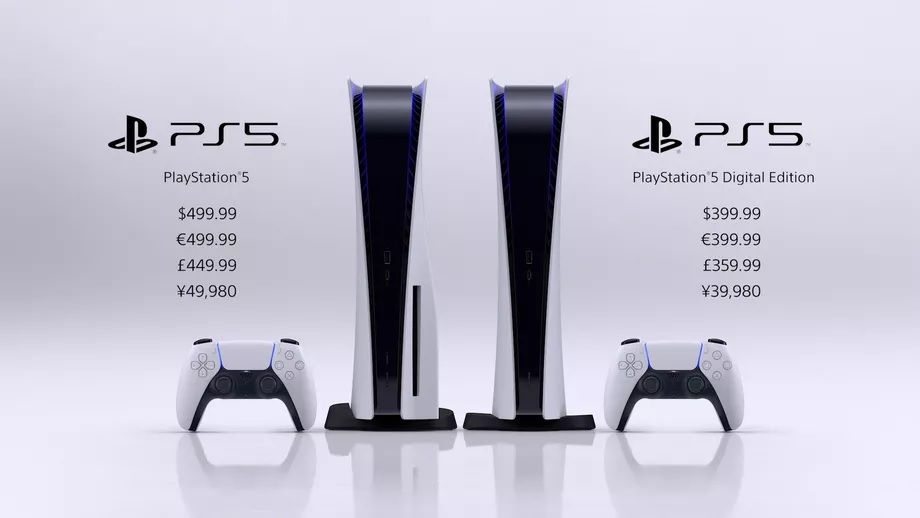 Sementara PS5 Digital akan dihargai Rp6 juta
Sony akan meluncurkan PlayStation 5 pada 12 November 2020 di Amerika Serikat, Australia, Jepang, Kanada, Meksiko, dan Selandia Baru. Konsol next-gen tersebut baru tersedia di negara-negara lainnya satu minggu kemudian, yaitu pada 19 November 2020. PS5 yang dilengkapi dengan Ultra HD Blu-ray disc drive akan dihargai US$500 (sekitar RP7,4 juta). Sementara PS5 Digital akan dihargai US$400 (sekitar Rp6 juta).
PS5 memiliki harga yang sama dengan pesaingnya, Xbox Series X. Minggu lalu, Microsoft mengumumkan, Xbox Series X akan dihargai US$500 (sekitar Rp7,4 juta) dan Xbox Series S akan dibanderol US$300 (sekitar Rp4,5 juta). Sementara jika dibandingkan dengan harga konsol Sony sebelumnya, harga PS5 memang lebih mahal.
Misalnya, saat diluncurkan, PlayStation 4 dihargai US$399 (sekitar Rp6 juta), walau sekarang, harga PS4 telah turun ke sekitar US$299 (sekitar Rp4,5 juta). Sementara harga PS4 Pro masih ada di US$399 (sekitar Rp6 juta), sama seperti saat peluncuran.
Untuk CPU dari PS5, Sony menggunakan AMD Ryzen Zen 2 yang memiliki kecepatan hingga 3,5 GHz. Sebagai perbandingan, PlayStation 4 menggunakan prosesor AMD Jaguar dengan kecepatan 1,6 GHz. Sementara untuk masalah GPU, Sony menggunakan AMD Radeon yang memiliki daya komputasi hingga 10,28 teraflops (TFLOPs). PS5 menggunakan memori GDDR6 sebesar 16GB, dua kali lipat dari memori yang ada pada konsol pendahulunya. Sony juga sudah melengkapi PS5 dengan SSD sebesar 825GB.
Selain mengumumkan harga dan waktu peluncuran PS5, Sony juga memamerkan sejumlah game yang akan tersedia untuk PS5. Beberapa game tersebut antara lain Final Fantasy XVI dari Square Enix, Hogwarts Legacy dari Warner Bros. Games, game God of War baru dari Santa Monica Studio, dan Five Nights at Freddy's Security Breach dari Steel Wool Studios dan ScottGames. Sony juga memamerkan beberapa game yang akan diluncurkan bersamaan dengan PS5, seperti Spider-Man: Miles Morales, Call of Duty Black Ops: Cold War, dan Demon's Soul.
Sony pertama kali memperkenalkan PS5 pada Juni 2020 lalu. Bahkan sebelum PS5 tersedia di pasar, analis memperkirakan konsol Sony ini akan lebih laku daripada Xbox Series X buatan Microsoft. Meskipun begitu, Gabe Newell mengungkap, dia akan lebih memilih Xbox Series X.
Sumber: PlayStation Blog, Polygon
From Our Network