Gaming News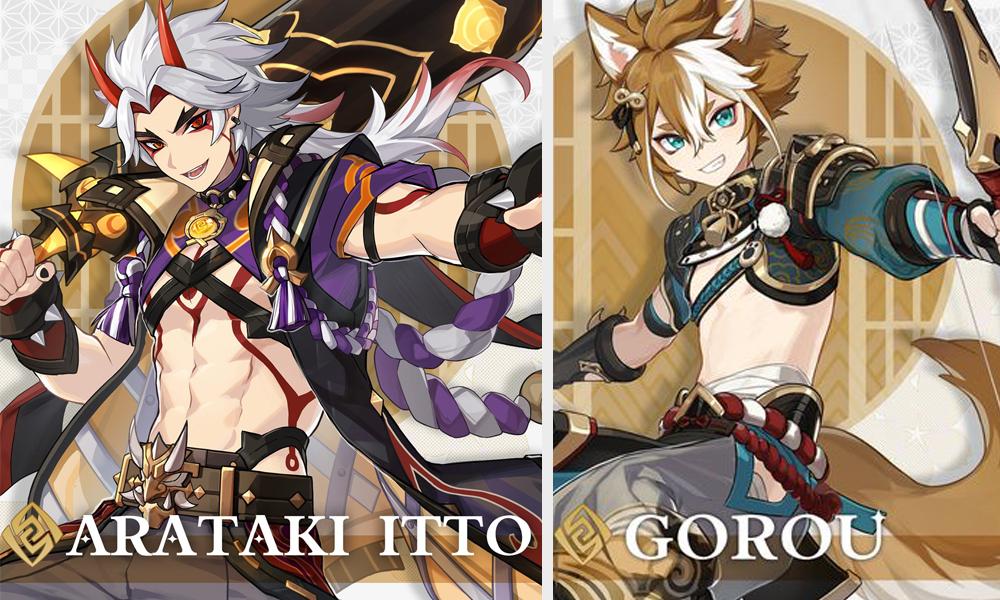 Beberapa hari sebelum versi 2.2 dimulai, miHoYo memberikan kejutan besar dengan mengumumkan Itto dan Gorou.
Genshin Impact kembali memberikan kejutan untuk para pemainnya. Beberapa hari sebelum memasuki versi 2.2 pada 13 Oktober 2021. Melalui pengumuman singkat, mereka 'membocorkan' dua karakter terbaru mereka, yaitu Arataki Itto dan Gorou.
Dua karakter tersebut merupakan karakter yang akan dirilis pada versi 2.3. Arataki Itto dan Gorou merupakan karakter Geo. Belum ada informasi resmi mengenai rarity dan tipe senjata mereka, namun sudah dapat dipastikan Gorou akan bersenjata bow. Hal ini dapat dilihat dari splash art-nya dan cerita di Genshin Impact.
Berbeda dengan Gorou, pengumuman Arataki Gorou cukup menggemparkan. Pasalnya, belum ada karakter seperti dirinya, yakni seorang laki-laki yang memiliki tubuh kekar dan juga memegang gada sebagai senjata. Itto sendiri juga belum pernah ditampilkan di cerita utama, sehingga pengumuman dirinya menarik perhatian yang sangat besar.
Beberapa jam setelah pengumuman mereka di Twitter, Arataki Itto Genshin Impact sempat menjadi trending dengan tagar #itto.
"Hello, I'm the deputy of the Arataki Gang. If you come across any inappropriate behavior on the part of our boss, Arataki Itto, please contact me immediately. " — Kuki Shinobu

◆ Arataki Itto
◆ The First and Greatest Head of the Arataki Gang
◆ Geo
◆ Taurus Iracundus pic.twitter.com/c7Nb9LKDAL

— Genshin Impact (@GenshinImpact) October 11, 2021
Genshin Impact merilis sedikit mengenai latar belakang dari Arataki Itto:
Kepala Geng Arataki Pertama dan Terhebat. Secepat angin dan sekuat petir, Itto adalah pria pemberani dengan darah Oni yang mengalir di tubuhnya. Ciri-ciri utama Itto adalah tanduk dan suara tajamnya yang tidak pernah luput dari perhatian.
Dia adalah sosok berjiwa liar dan bebas, bahkan orang yang paling pandai berimajinasi pun dapat dikejutkan oleh Itto. Kebanggaan dan semangat kepahlawanan merupakan prinsip hidup Itto. Dia selalu melewati setiap detik hidupnya dengan penuh kebahagiaan.
Apa kamu pernah mendengar tentang Geng Arataki? Tidak pernah? Tidak masalah, mulai hari ini kita sudah saling mengenal. Kami adalah Geng Arataki dari Hanamizaka, dan kamu harus dikenalkan dengan pemimpin kami yang paling terkenal: Arataki Itto!
Gorou ‧ Canine Warrior
General of the Watatsumi Army

A loyal and brave general of Watatsumi island. Born with a beast-like fighting intuition and tenacious will, he can find a way to victory even in the most critical moments.#GenshinImpactpic.twitter.com/JON3DVICEZ

— Genshin Impact (@GenshinImpact) October 12, 2021
Genshin Impact merilis sedikit mengenai latar belakang dari Gorou:
Jenderal setia dan pemberani yang berasal dari Pulau Watatsumi. Terlahir dengan intuisi bertarung seperti binatang liar dan tekad yang ulet, Gorou dapat menemukan jalan menuju kemenangan bahkan di saat paling kritis sekalipun.
Dia memimpin pasukan Watatsumi yang tidak unggul dalam persenjataan dan material untuk melawan pasukan Shogunate. Gorou berusaha untuk menjamin semua penduduk Pulau Watatsumi dapat hidup dengan damai dan tenteram.
Orang luar mungkin tidak bisa membayangkan bahwa Gorou yang bisa menghadapi ribuan musuh di medan tempur, adalah sosok yang baik hati dan sangat dekat dengan anak buahnya.
Bagi Gorou, bawahannya bukanlah hanya prajurit pemberani, tapi juga rekan-rekan tersayangnya, yang harus dijaga seperti harta berharga. Tanah di bawah kaki, rekan yang penting, serta prinsip yang mulia.
Kesetiaan dan keberanian Gorou justru ada karena orang-orang dan hal-hal berharga ini. Ada jiwa seluas dan sekokoh bumi yang tersembunyi di hati Gorou.