Gaming News
Bukukan pendapatan sebesar $393 juta dalam kurun waktu hanya dua bulan dan sabet gelar game terbaik di Android sekaligus iOS
Genshin Impact bisa dibilang merupakan fenomena gaming tahun 2020. RPG open-world garapan miHoYo tersebut baru saja menyabet dua gelar yang cukup bergengsi, yakni "iPhone Game of the Year" dan Best Game of 2020 versi Google Play. Ya, meski baru dirilis ke publik secara resmi pada tanggal 28 September lalu, Genshin Impact rupanya sudah bisa menjadi game terbaik di dua platform sekaligus.
Bukan hanya itu, Genshin Impact juga berhasil menjadi mesin uang bagi sang developer asal Tiongkok yang memulai kiprahnya di tahun 2012 tersebut. Berdasarkan estimasi data dari Sensor Tower, Genshin Impact sukses membukukan pendapatan sebesar $393 juta (± Rp5,57 triliun) dalam kurun waktu cuma dua bulan semenjak peluncurannya, dan ini hanya untuk di platform mobile saja.
Seperti yang mungkin sudah Anda ketahui, Genshin Impact merupakan game free-to-play, yang artinya seluruh pemasukan tersebut murni berasal dari microtransaction. Lebih dari separuhnya ($226 juta / 57,5%) datang dari platform iOS, sedangkan sisanya ($167 juta / 42,5%) berasal dari kantong para pengguna perangkat Android.
Angka pendapatan sebenarnya mungkin lebih tinggi daripada estimasi ini, sebab Sensor Tower tidak mengikutsertakan data dari platform Android pihak ketiga yang ada di Tiongkok maupun di sejumlah negara lain. Sebagai referensi, di bulan pertamanya Genshin Impact mencatatkan pemasukan sebesar $245 juta – sekarang memang menurun, tapi masih masuk di tiga besar game mobile dengan pemasukan terbesar secara global.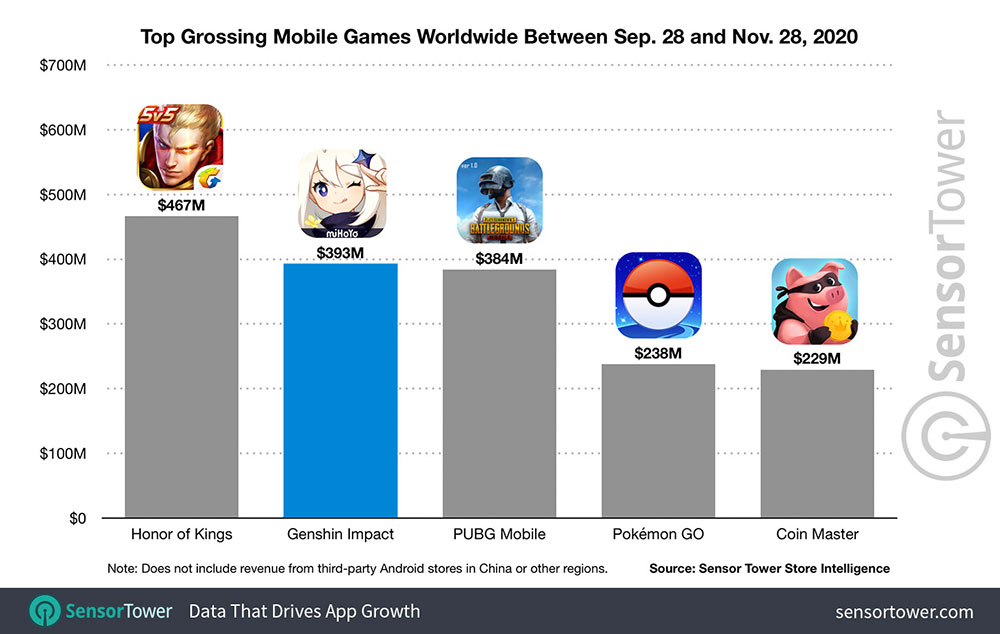 Lalu kalau dibagi berdasarkan lokasi, tanpa harus terkejut pemasukan terbesar Genshin Impact datang dari kampung halamannya sendiri: lebih dari $120 juta, atau 30,5% dari total pemasukan. Di peringkat kedua ada Jepang dengan $98 juta atau 25%, disusul oleh Amerika Serikat dengan $74 juta atau 18,8 persen. Indonesia tidak termasuk tiga besar, yang berarti kita masih rasional perihal gacha

Terakhir, pencapaian Genshin Impact ini mengesankan bukan hanya karena nominal pendapatannya saja, melainkan juga karena cakupannya yang global. Kepada VentureBeat, perwakilan Sensor Tower menjelaskan bahwa game MMO mobile biasanya cuma sukses di negara asalnya, dan ini bisa dilihat dari sederet MMO besutan Tencent yang dirilis untuk pasar Tiongkok, atau seri game Lineage di Korea Selatan.
Genshin Impact tidak demikian. Seperti yang bisa kita lihat, game ini sukses secara finansial tidak hanya di negara asalnya saja, tapi juga di Jepang dan bahkan di Amerika Serikat. Pandemi jelas berpengaruh besar terhadap kesuksesannya, tapi hal ini sebenarnya tentu juga berlaku untuk game–game lainnya, tinggal bagaimana masing-masing developer dan publisher pandai-pandai memanfaatkan kesempatannya.
Sumber: VentureBeat.