Free Fire Master League Season 4 Starts Soon: Division 1 on August 21 and Division 2 on August 18
On this season, there will be 18 semiprofessional teams competing in FFML Division 2.
Free Fire Master League (FFML) is back. Just like the previous season, FFML Season 4 will be divided into two division: Division 1 for the professional teams and Division 2 for the semiprofessional teams.
Here is the schedule for FFML Season 4:
Division 2, Regular Season: every Wednesday and Thursday, starts from August 18 until September 23, 2021
Division 2, Play-offs: September 30, 2021,
Division 1, Regular Season: every Saturday and Sunday, starts from August 21 until September 26, 2021
Division 1, Play-offs: October 2, 2021
The best six teams from FFML Season 4 Division 1 will go straight to the Grand Finals of Free Fire Indonesia Masters 2021 Fall. While the other 12 teams will have to fight in the play-off of FFML Division 1. Six teams that manage to be on the top of the play-off will also have their tickets to the play-ins of FFIM 2021 Fall.
Meanwhile, the best three teams from Division 2 will also be picked up to fight in the play-ins of FFIM 2021 Fall. For the sake of equality, Garena will also hold open qualifiers for teams that can't get into either division of FFML. From the play-ins of FFIM 2021 Fall, the top six teams will fight against the best six professional teams in the grand finals.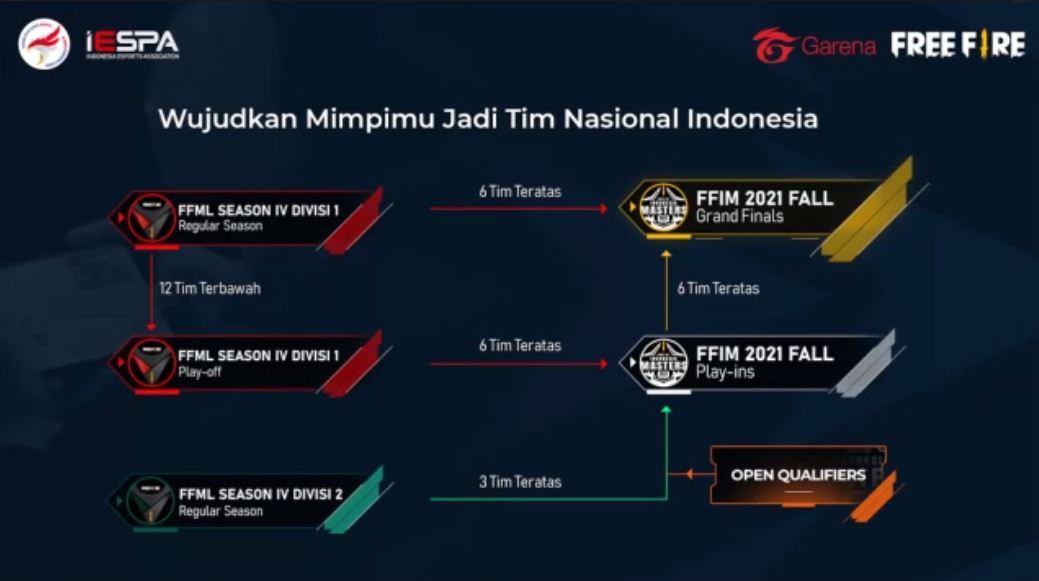 Here is the schedule for FFIM 2021 Fall:
Open qualifiers: September 19, 2021
Quarter finals: September 24, 2021
Group finals: October 3-5, 2021
Play-ins: October 16, 2021
Grand finals: October 24, 2021
FFML Season IV Division 1 has a prize pool of Rp1.2 billion. While Division 2 offers Rp300 million. As for the FFIM 2021 Fall, it will offer Rp800 million as a prize pool. In total, Garena prepares Rp2.3 billion for prize pools for the three Free Fire competitions.
In a virtual press conference, Christian Wihananto, Producer of Free Fire, Garena said that aside from holding tournaments for professional and semiprofessional teams, Garena will also offer funds for developing talents. For 18 teams, it prepares Rp8.6 billion. With this money, it hopes to help nurturing young esports talents in Indonesia.
"We do put all of our investment in the prize pool of our tournaments. We also know how important it is to nurture young talents. We hope that the funds we give will help in facilitating young Free Fire athletes to grow, both in local and international esports scenes," said Christian.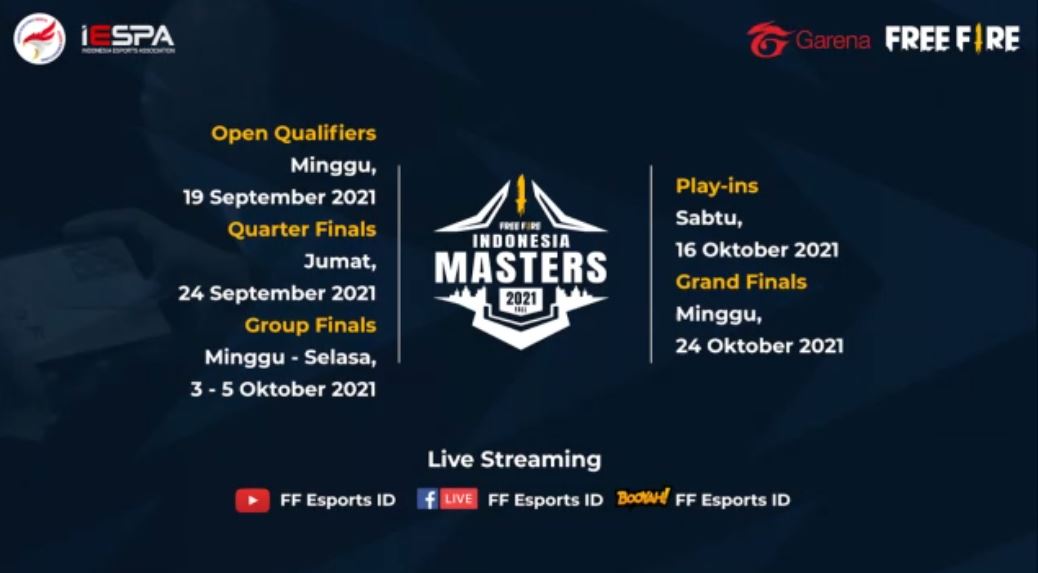 Christian explained that Garena does not only care for the professional players, but also for the amateurs and semiprofessional players. Garena even created FFML Division 2 for semiprofessional players. And on this season, Garena also adds 6 more slots from the previous 12. "We evaluated the previous season of Division 2. We noticed that there were many people who wanted to join the competition. We also got feedback from our esports community: that the hype surrounding Division 2 is still high," he said, to answer the question of why Garena added more teams to Division 2.
Teams from Division 2 will also have a chance to be promoted to Division 1. NGID, the champion of Division 2 in the previous season, was promoted to Division 1 this season. The team will fight under the banner of RANS Esports after being acquired by Raffi Ahmad.
FFML Season 4 will be held offline to uphold the integrity of the matches.  But, there will be no live audience. Christian promised that Garena will follow a strict health protocol. Before a match, every player will be tested with an antigen test. If one of the players happens to be positive COVID-19, then the player will not be allowed to compete. Garena also plans to quarantine all the players that manage to go to the grand finals before the match.