Esports Ecosystem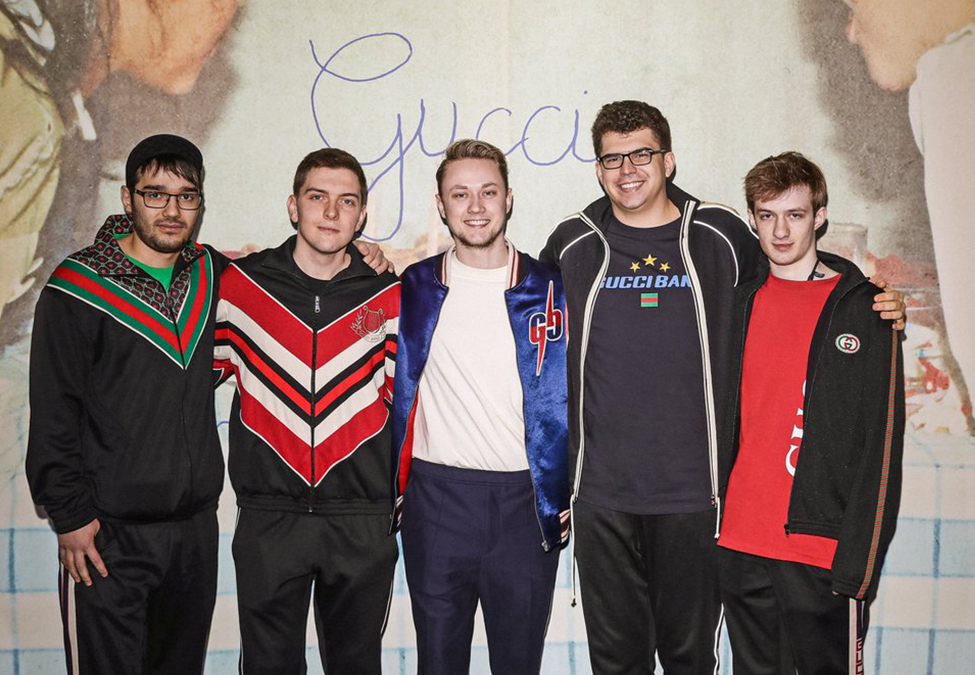 Lewat twit, kolaborasi Fnatic x Gucci diumumkan dengan menampilkan sosok pemain League of Legends. Kolaborasi ini dikabarkan akan rilis 25 Juni 2020.
Tak bisa dipungkiri bahwa Fnatic adalah salah satu brand esports terbesar di dunia. Tahta tersebut didapatkan oleh organisasi esports asal Inggris ini berkat prestasi-prestasi yang mereka dapatkan di dalam berbagai skena kompetitif. Divisi CS:GO Fnatic adalah peringkat 1 dunia menurut HLTV. Divisi Dota Fnatic bisa dibilang sebagai salah satu yang terbaik di Asia Tenggara. Divisi League of Legends Fnatic bisa dibilang empat besar di kancah Eropa, yang membuat mereka jadi tim League of Legends dengan jumlah penonton terbanyak.
Melihat hal ini, tidak heran jika berbagai brand berbondong-bondong ingin kerja sama dengan Fnatic. Yang terbaru, Fnatic mengumumkan kerja samanya dengan brand fashion kelas atas asal Italia, Gucci. Pengumuman ini dilakukan oleh Fnatic lewat sebuah twit. Twit tersebut berisi video dengan durasi 9 detik, yang menunjukkan para pemain dari divisi League of Legends menggunakan produk-produk dari Gucci.
Celebrating the spirit of gaming. A new collaboration with @gucci.

Stay tuned. pic.twitter.com/8obbE34R7D

— FNATIC (@FNATIC) June 23, 2020
Sejauh ini belum ada informasi lebih lanjut terkait kerja sama ini. Jika melihat dari toko online resmi Fnatic, Satu yang pasti adalah kolaborasi ini akan menampilkan seperangkat merchandise Fnatic x Gucci, yang akan rilis 25 Juni 2020 ini. Tak hanya itu, dalam laman tersebut, Fnatic juga mengumumkan kolaborasi lainnya. Ini termasuk kolaborasi mereka dengan brand sportswear asal Amerika Serikat, Champion, yang diinformasikan rilis 27 Juli 2020.
Ini sebenarnya bukan kali pertama Gucci melirik ekosistem esports sebagai ladang kerja sama mereka. Sebelumnya Gucci sudah sempat melakukan pendekatan dengan mengundang Fnatic mereka ke salah satu acara fashion paling ternama, Milan Fashion Week, pada Februari 2020 kemarin.
Belakangan, memang sedang banyak brand fashion yang terjun ke dalam ekosistem esports. Sebelum Gucci, ada juga brand fashion kelas atas yang terjun ke ekosistem esports. Dia adalah Louis Vuitton, yang bekerja sama dengan Riot Games, untuk menyajikan Travel Case Trofi League of Legends World Championship.
Ditambah lagi, beberapa brand esports juga punya fokus menjadikan brand mereka sebagai bagian dari gaya hidup, lewat sajian apparel miliknya. Salah satunya ada FaZe Clan yang November lalu membuka toko apparel-nya sendiri, dan menyatakan bahwa mereka ingin menjadi "SUPREME-nya" esports lewat sajian apparel yang mereka miliki. Hal ini tentunya, akan semakin menarik minat brand apparel untuk bisa bekerja sama dengan mereka, agar dapat meraih hati para penikmat skena kompetitif game.
From Our Network