Esports Ecosystem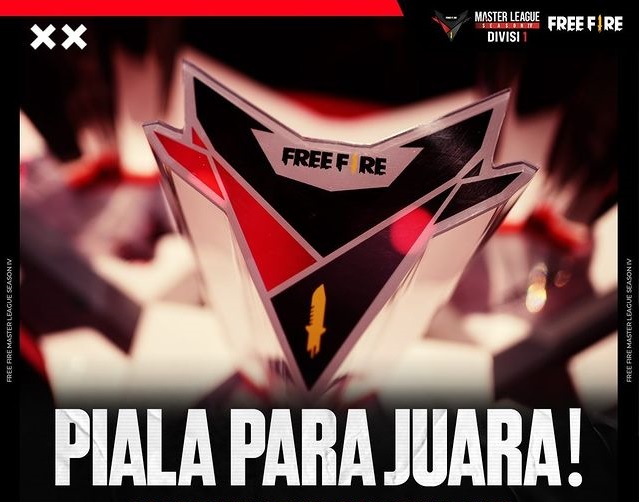 Setelah pertempuran yang cukup sengi selama 6 minggu, 3 tim masing-masing grup FFML Season 4 Divisi 1 berhasil menempati posisi puncak.
Liga Free Fire tertinggi di Indonesia yakni Free Fire Master League (FFML) Season 4 Divisi 1 akhirnya telah menemukan para juaranya. Babak yang berlangsung selama 6 minggu dan diikuti oleh 18 tim terbaik dari seluruh Indonesia akhirnya menghasilkan 3 juara. Pertandingan minggu keenam FFML Season 4 ini terjadi cukup seru dengan beberapa kejutan yang terjadi.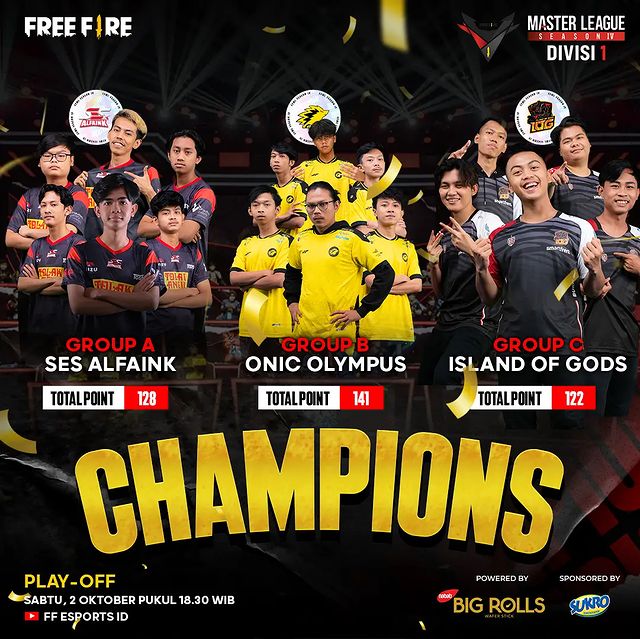 Pada matchday 11 minggu keenam, pertempuran mempertemukan antara tim grup A dan grup C. 3 tim teratas grup A yaitu SES Alfaink, BONAFIDE Esports, dan NXL Ligagame yang masih mempunyai peluang untuk juara bermain habis-habisan. Dari 6 round yang dipertandingkan di matchday 11 ini, SES Alfaink tampil cukup baik dengan mengamankan 2 Booyah. Sementara pesaingnya yakni BONAFIDE Esports berhasil mencuri 1 Booyah. Sedangkan 3 Booyah lainnya berhasil diambil oleh tim grup C yakni RRQ Hades, Island of Gods, dan ThePrime Esports.
Pada matchday 12 minggu keenam, pertempuran berlangsung antara tim grup B dan grup C. Meskipun sudah dipastikan lolos ke FFIM 2021 Falls, ONIC Olympus tampil memukau. Dari 6 round yang dipertandingkan, ONIC Olympus berhasil mendapatkan 3 Booyah. Sementara 3 Booyah lainnya berhasil diambil oleh 3 tim grup C yakni Dranix Esports, RRQ Hades, dan Island of Gods.
Pada grup A, SES Alfaink berhasil mengamankan gelar juara grup A dengan 128 poin. Sementara itu posisi kedua klasemen berhasil diambil alih NXL Ligagame meskipun tidak mendapatkan Booyah pada minggu ini, namun permainan merea selalu konsisten finis di papan atas. NXL Liga game berhasil mengumpulkan poin akhir sebesar 109. NXL Ligagame unggul 3 poin saja atas BONAFIDE Esports di posisi ketiga dengan 106 poin.
Pada grup B, Penampilan gemilang ONIC Olympus di matchday terakhir membuatnya merengkuh gelar juara grup dengan total poin sebesar 141 poin. ONIC Olympus menggeser EVOS Divine yang tampil kurang baik dan hanya mampu mengoleksi total poin sebesar 136 poin saja.
Grup C, yang sebelumnya masih mempertarungkan 5 tim untuk memperebutkan posisi 2 besar, berlangsung cukup seimbang. Namun Island of Gods lah yang berhasil menjuarai grup ini berkat penampilan bagusnya di minggu keenam ini. Island of Gods mengoleksi total poin sebesar 122 poin. Sementara posisi kedua berhasil diamankan oleh Siren GPX dengan 120 poin.
Dengan hasil ini maka 6 tim yang lolos otomatis menuju turnamen FFIM 2021 Falls sudah terjawab yakni SES Alfaink, ONIC Olympus, Island of Gods, NXL Ligagame, EVOS Divine, dan Siren GPX. Sementara itu 12 tim lainnya yang menempati posisi 3 hingga 6 masing-masing grup masih berpeluang untuk lolos menuju FFIM 2021 Falls melalui babak playoff.
From Our Network