Esports Ecosystem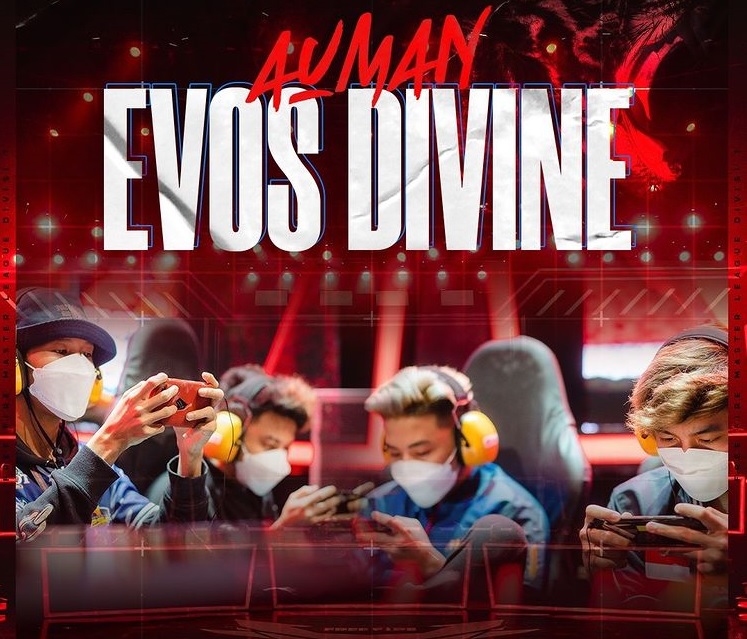 Permainan apik EVOS Divine dan ONIC Olympus di minggu kelima membuat posisi kedua tim tidak tergeser di grup B.
Turnamen Free Fire Master League (FFML) Season 4 divisi 1 akan segera memasuki penghujung musim. Minggu ini FFML Season 4 sudah menyelesaikan minggu yang kelima. Pada minggu kelima ini, beberapa tim Free Fire sudah berhasil mengamankan posisi papan atas. Posisi 2 teratas klasemen tiap grup nantinya akan lolos otomatis menuju Free Fire Indonesia Master (FFIM) Fall 2021.
View this post on Instagram
Pada matchday 9 minggu 5 pertandingan terjadi antara grup C dengan grup B. Pada pertandingan ini tensi permainan semakin tinggi. Tim papan bawah berusaha menggusur tim di atasnya. Sedangkan tim papan atas berusaha mengunci posisi mereka. Tim papan atas grup B yakni ONIC Olympus dan EVOS Divine berhasil memperoleh masing-masing 1 Booyah. Sementara tim grup C berhasil mengamankan 4 Booyah lainnya lewat RRQ Hades, Island of Gods, Kings Esports, dan Siren GPX.
View this post on Instagram
Sementara itu, matchday 10 minggu 5 mempertemukan tim dari grup A dengan grup B. Pada pertandingan ini terjadi pertempuran yang seimbang. Masing-masing grup berhasil mengantongi 3 Booyah. Di grup A ada Aura Ignite yang mengemas 2 Booyah dan NXL Ligagame 1 Booyah. Sedangkan di grup B ada Red Bull Rebellion, RIMO Arjuna, dan ONIC Olympus dengan masing-masing 1 Booyah.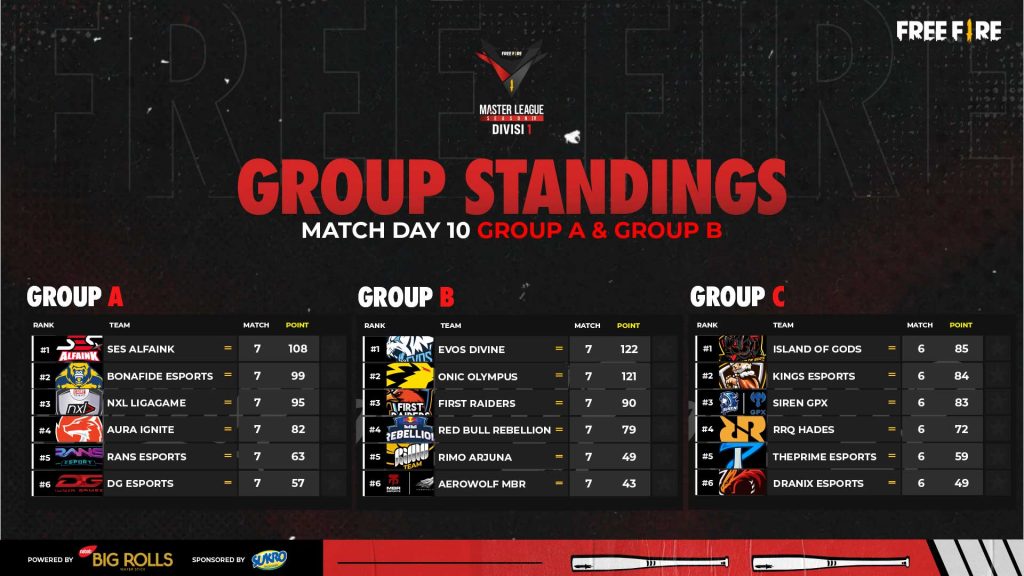 Dengan hasil ini, pertempuran di grup A menjadi semakin seru lagi. Meskipun hasil baik Aura Ignite di minggu kelima ini tidak mampu membawa tim lolos ke posisi 2 besar. Aura Ignite tertahan di posisi 4 klasemen dengan 82 poin. Sementara 3 tim di atasnya yakni SES Alfaink, BONAFIDE Esports, dan NXL Ligagame masih sengit memperebutkan posisi 2 teratas.
Selajutnya pada grup B, 2 posisi teratas klasemen sudah dikunci oleh tim EVOS Divine dan ONIC Olympus. Permainan apik kedua tim tersebut tidak mampu disaingi oleh 4 tim lainnya di grup B. EVOS Divine kokoh di puncak klasemen dengan 122 poin. Sementara ONIC Olympus membuntuti di posisi kedua dengan 121 poin. Pertandingan hanya tinggal menyisahkan 1 matchday saja pada minggu keenam besok. Karena tertinggal cukup jauh, tim di posisi ketiga yakni First Raiders tidak akan mampu mengeser posisi EVOS Divine dan ONIC Olympus.
Kemudian di grup C, 5 tim masih berpeluang memperebutkan 2 posisi teratas klasemen. Hanya Dranix Esports di dasar klasemen yang tidak akan mampu naik ke posisi kedua, apapun yang terjadi nantinya. Sementara posisi puncak klasemen sekarang menjadi milik Island of Gods dengan 85 poin. Island of Gods hanya unggul 1 poin dan 2 poin saja dari posisi kedua dan ketiga klasemen yang diduduki oleh Kings Esports dan Siren GPX.
Minggu terakhir nantinya akan mempertemukan tim dari grup A dan grup C serta grup B dan grup C. Pertandingan akan semakin seru lagi melihat masih ada banyak tim yang berpeluang lolos otomatis menuju FFIM Fall 2021 mendatang. Minggu terakhir FFML Season 4 Divisi 1 sendiri akan berlangsung pada 25 dan 26 September 2021 mendatang.
From Our Network