Esports Ecosystem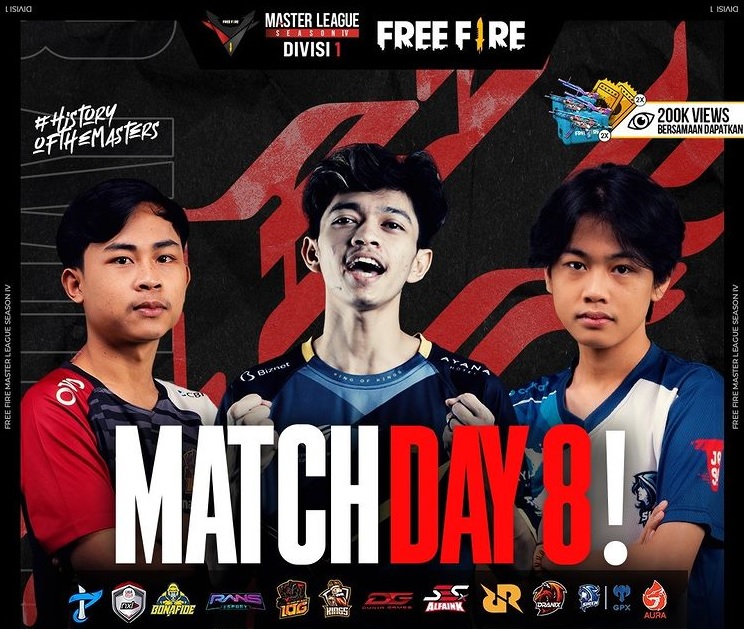 Tim dari grup B dan grup C tampil mendominasi minggu keempat FFML Season 4.
Turnamen Free Fire Master League Season (FFML) 4 Divisi 1 saat ini sudah menyelesaikan matchday 7 dan 8 di minggu keempat ini. Persaingan tim-tim Free Fire semakin sengit karena hanya menyisahkan 2 minggu lagi. Tim peserta saling susul dan kejar mengejar poin guna mendapatkan posisi teratas klasemen FFML Season 4 Divisi 1.
Pada matchday 7, pertandingan berlangsung antara tim dari grup A dan grup B. Peserta dari grup B yang diisi oleh tim-tim kuat kembali mendominasi jalannya pertandingan. Dari 6 round yang dipertandingkan, tim grup B berhasil mengamankan 5 Booyah. 5 Booyah tersebut diambil oleh Red Bull Rebellion dan EVOS Divine sebanyak 2 kali serta ONIC Olympus 1 kali. Tim grup A hanya mampu mendapatkan 1 Booyah saja dari NXL Ligagame pada round terakhir.
Pada matchday 8 yang berlangsung antara tim dari grup A dengan grup C terjadi pertarungan yang cukup sengit. Dari 6 round yang dipertandingkan, tim grup A hanya mampu mendapatkan 2 Booyah saja untuk RRQ Hades dan SES Alfaink. Sementara 4 Booyah lainnya berhasil diamankan oleh tim dari grup C yakni Island of Gods 2 kali serta ThePrime Esports dan Aura Ignite 1 kali.
Dengan hasil ini, menunjukan bahwa tim dari grup B dan grup C lebih kuat dibandingkan dengan grup A. Meskipun begitu persaingan tim-tim dalam grup terjadi cukup sengit karena bergantian mendapatkan Booyah. Selain itu mereka juga saling kejar mengejar poin sehingga persaingan menjadi semakin panas lagi.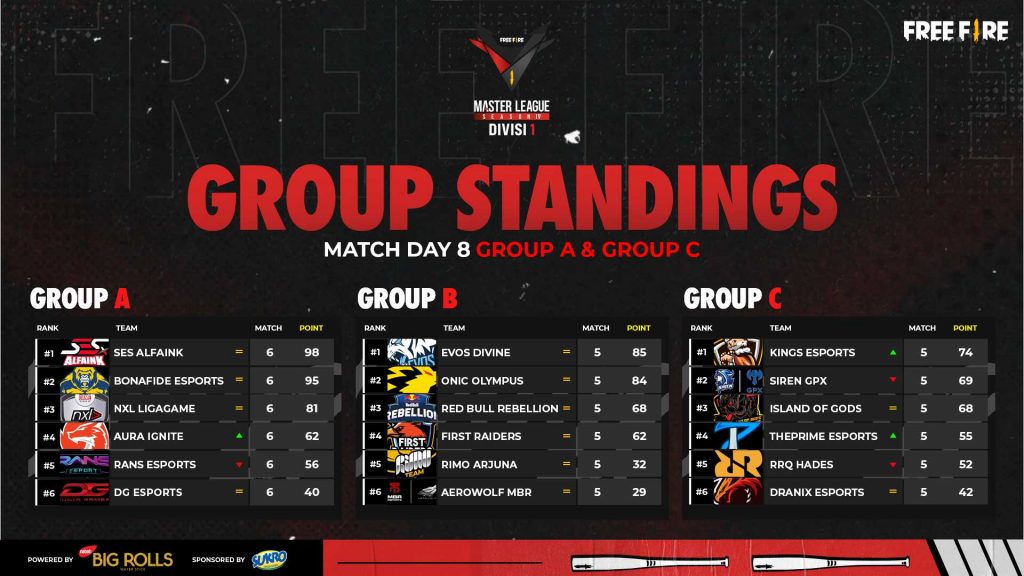 Pada grup A, SES Alfaink dan BONAFIDE Esports masih kokoh di 2 posisi teratas klasemen sementara. Sementara NXL Ligagame dan Aura Ignite di bawahnya sepertinya siap untuk merebut posisi atas apabila kedua tim di atasnya lengah.
Pada grup B, aksi saling susul terjadi dan membuat EVOS Divine naik ke peringkat pertama klasemen menggeser ONIC Olympus. Di posisi ketiga ada Red Bull Rebellion yang juga berhasil naik peringkat dengan menggeser First Raiders.
Pada grup C, Kings Esports berhasil meraih puncak klasemen sementara dengan menggeser Siren GPX yang tampil buruk di minggu keempat ini. Sementara di posisi ketiga ada Island of Gods yang memperkecil ketertinggalannya dengan 2 tim di atasnya.
Kita lihat saja bagaimana jalannya pertandingan minggu kelima pada 18 dan 19 September 2021 mendatang. Dengan menyisahkan 2 minggu dan 4 matchday tersisa, tentunya tim-tim akan semakin ngotot untuk mengeluarkan semua kemampuannya. Karena, hanya 2 tim teratas tiap grup saja yang nantinya akan lolos menuju FFIM Fall 2021.
From Our Network