Esports Ecosystem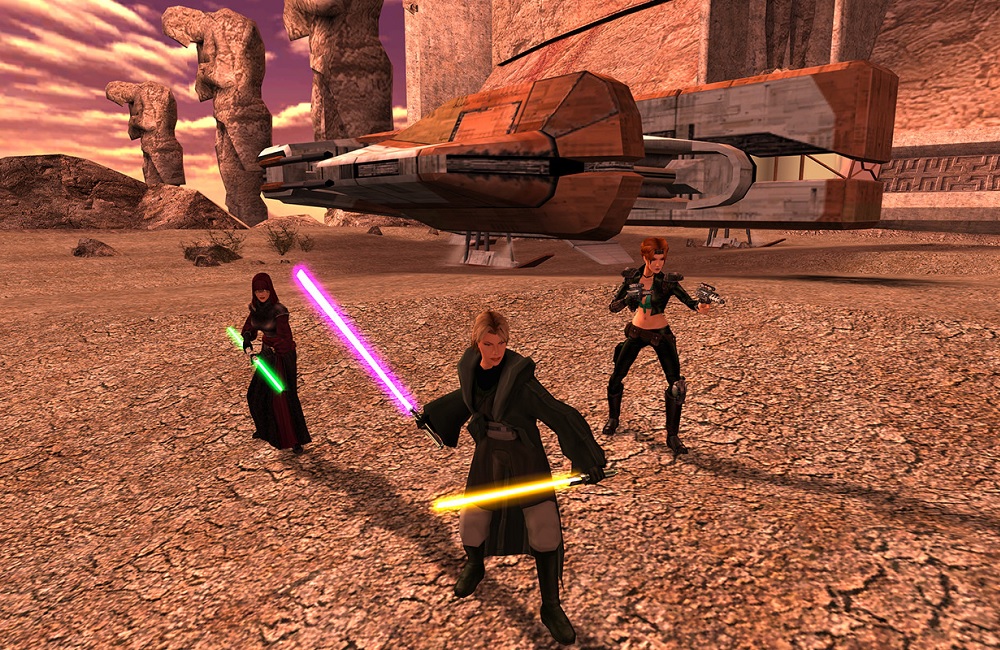 Salah satu narasumber info ini adalah individu yang melaporkan keterlibatan aktor Ewan McGregor dalam film serial Obi-Wan Kenobi di Disney+.
Banyak orang mungkin tidak puas dengan konklusi dari The Rise of Skywalker, namun fans sebetulnya bisa mengalihkan perhatiannya ke medium lain untuk memuaskan dagaha mereka terhadap Star Wars. Ada serial The Mandalorian di layanan Disney+, novel-novel brilian 'canon' seperti Lost Stars dan trilogi Thrawn, serta tentu saja permainan video dengan Jedi: Fallen Order sebagai ujung tombaknya.
Setelah perkara lootbox yang menodai peluncuran Battlefront II, Jedi: Fallen Order menjadi satu-satunya harapan bagi franchise Star Wars untuk kembali bangkit di segmen video game. Berita baiknya, Jedi: Fallen Order berhasil memuaskan banyak pemain, bahkan sukses secara komersial. Dan kini gamer berharap elemen-elemen positif di sana turut diadopsi ke permainan Star Wars selanjutnya: bebas dari lootbox, DLC berbayar dan season pass.
Terkait game Star Wars, info terkini menyebutkan bahwa Electronic Arts berencana untuk menggarap penerus seri Knights of the Old Republic. Star Wars: KotOR ialah game role-playing buatan BioWare yang dirilis LucasArts di tahun 2003. Permainan melahirkan satu sekuel dan menjadi landasan bagi pengembangan MMORPG Star Wars: The Old Republic. Knights of the Old Republic awalnya disiapkan sebagai trilogi, namun proyek game ketiganya tak pernah lepas landas.
Keberadaan permainan Knights of the Old Republic anyar dilaporkan oleh Cinelinx lewat artikel eksklusifnya. Setidaknya ada tiga narasumber independen yang membocorkan informasi ini – satu informan bilang bahwa ini merupakan proyek remake dan satu lagi mengklaimnya sebagai sekuel. Arahan remake sendiri sepertinya lebih tepat untuk game Star Wars baru tersebut terkait retcon (revisi) terhadap konten non-film (Expanded Universe, kini disebut Legends) yang dilakukan Disney di tahun 2014.
Mengembangkan Knights of the Old Republic baru sebagai remake sebetulnya memudahkan tim developer karena mereka tidak perlu menggarapnya dari nol, cukup mengadopsi dan melakukan pengembangan dari konten yang ada di dua permainan sebelumnya. Sejauh ini, ada banyak elemen di Star Wars yang tadinya tak resmi (dianggap Legends) tetapi akhirnya diangkat ke film layar lebar serta serial televisi.
Soal keabsahan info ini, salah seorang narasumber Cinelinx adalah individu yang melaporkan keterlibatan aktor Ewan McGregor dalam film serial Obi-Wan Kenobi di Disney+. Pihak Disney telah mengonfirmasi kebenaran kabar tersebut di bulan Agustus 2019 kemarin.
Sebagai perusahaan yang memegang hak publikasi game Star Wars (sampai tahun 2023), saya penasaran studio apa yang Electronic Arts percayakan buat menggarap sekuel/remake Knights of the Old Republic. Apakah BioWare yang merupakan developer aslinya atau nama lain seperti Respawn atau DICE?
Via GamesRadar.