Esports Ecosystem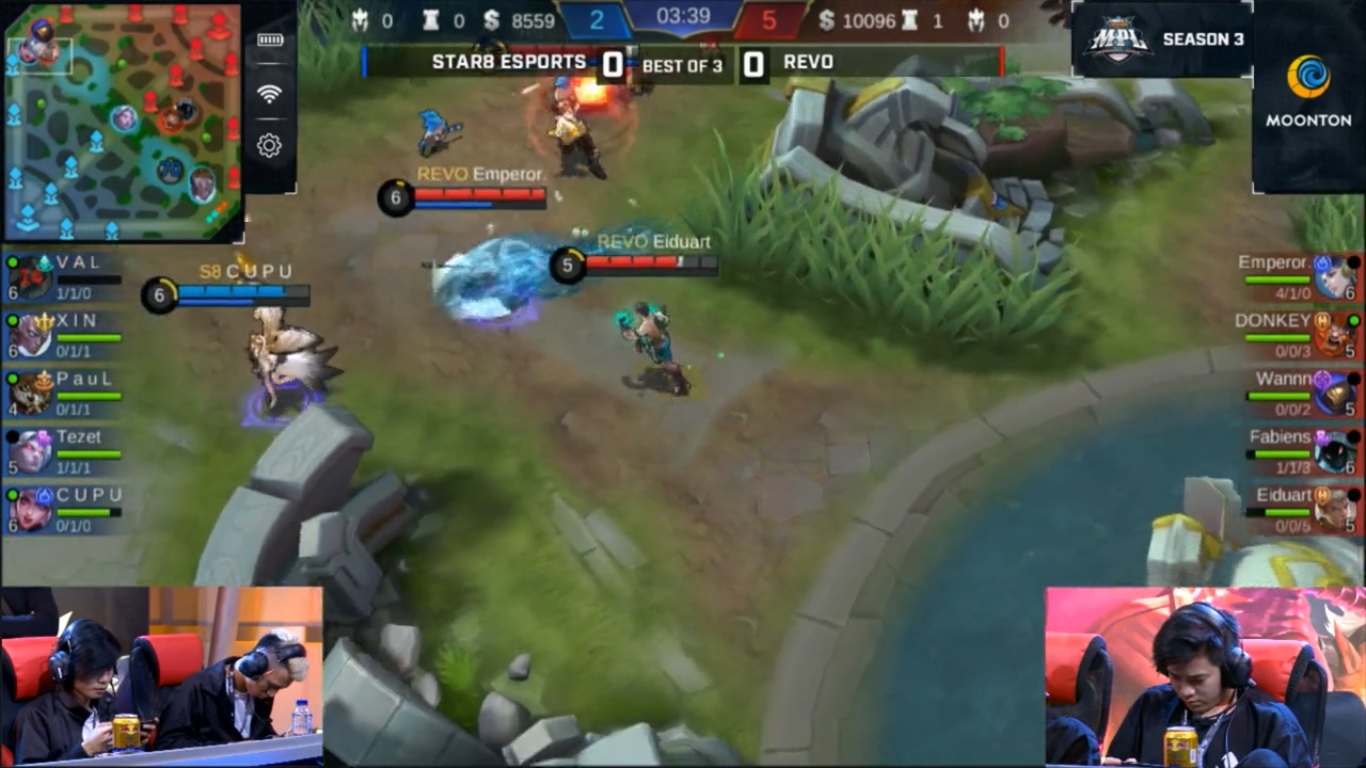 Inilah 6 tim yang lolos dari Final Qualifier MPL ID S3
Tanggal 24-27 Januari 2019 kemarin, Final Qualifier MPL ID S3 akhirnya selesai dijalankan. Menariknya, ada satu tim yang dijagokan dan paling ditakuti di kualifikasi ini justru malah gagal melaju ke Regular Season MPL ID S3, turnamen paling bergengsi untuk Mobile Legends: Bang Bang (MLBB).
Tim tersebut adalah Revo. Tim ini sebelumnya dijagokan lolos karena berisikan para pemain bintang Mobile Legends yaitu Eiduart, Fabiens, Donkey, Emperor, dan Wann. Dari 5 pemain tadi, 4 pemain (kecuali Wann) sudah merasakan panasnya kompetisi MPL ID di Season 1 dan 2. Fabiens adalah salah satu pemain MLBB paling senior dari jaman MSC 2017 yang masih eksis sampai hari ini. Sedangkan Eiduart dan Donkey juga bahkan bisa dibilang termasuk icon dari esports scene MLBB Indonesia. Emperor juga tak kalah ngetop karena sebelumnya membela tim EVOS Esports.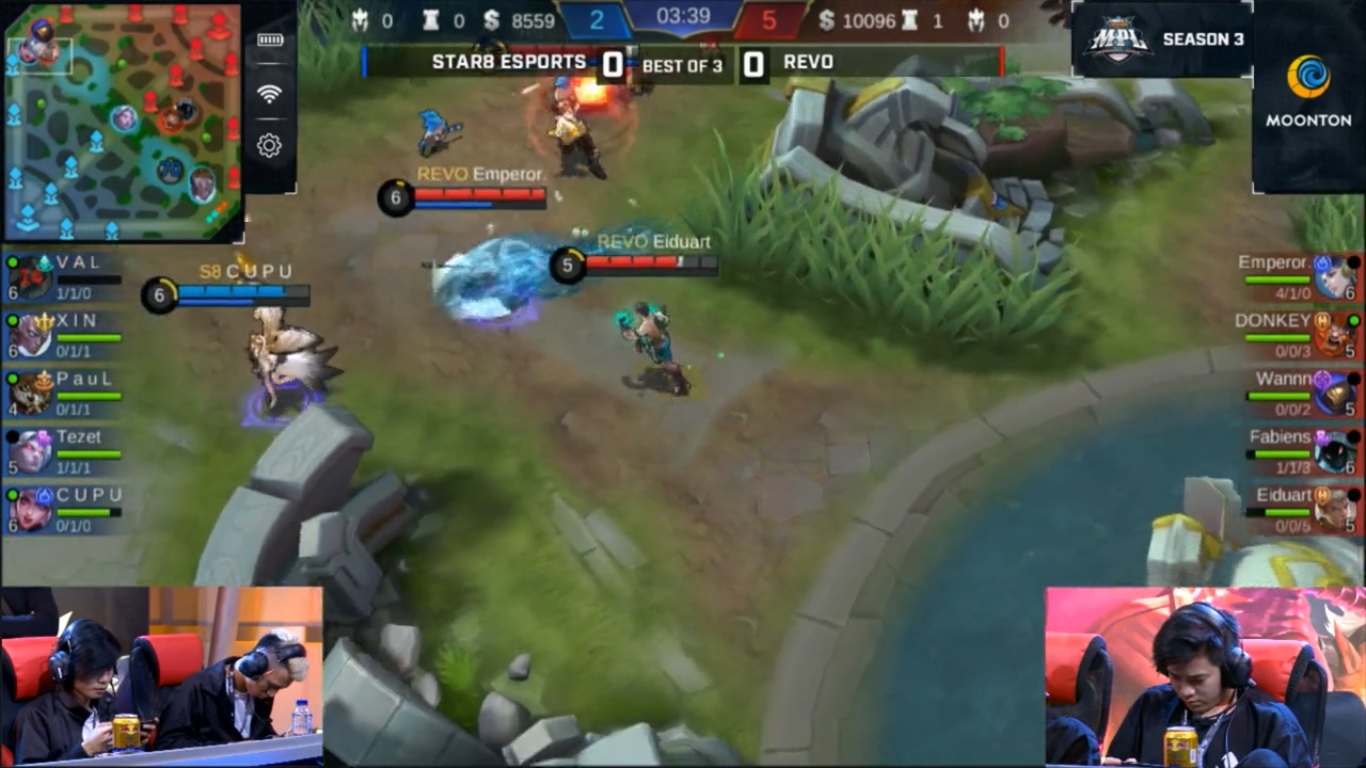 Lucunya lagi, Fabiens, Eiduart, dan Emperor bahkan satu tim saat mereka membela Bigetron Player Kill di MPL ID S3. Namun demikian sepertinya komunikasi masih jadi tantangan tersendiri untuk tim Revo.
Dari hasil Final Qualifier kemarin, ada 6 tim yang akan melaju ke Regular Season MPL ID S3 yang bisa Anda lihat di gambar di bawah: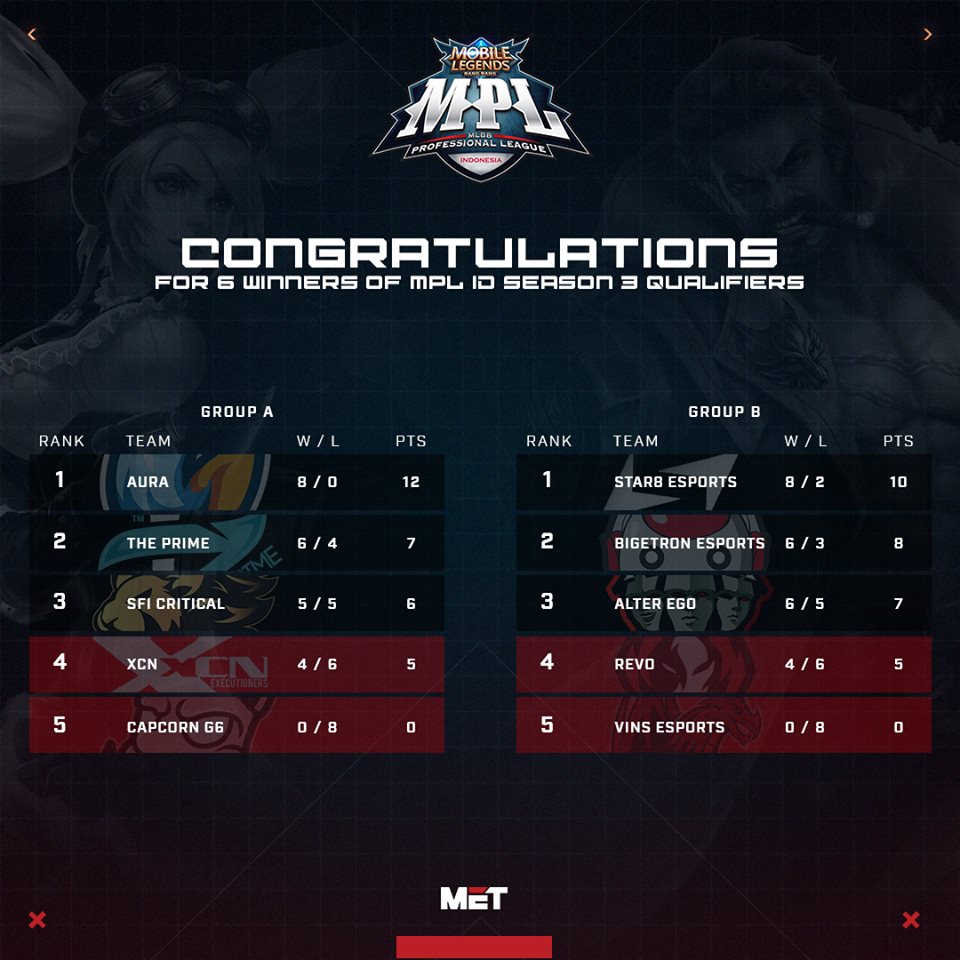 Dari semua tim yang bertanding, Aura Esports adalah tim yang paling bagus performanya saat kualifikasi tersebut. Mereka bahkan tampil tak terkalahkan dengan 8 kemenangan. Selain itu, Star8 Esports yang bahkan belum terdengar namanya sejak MPL ID S1 mampu menjuarai Grup B dengan 8 kemanangan dan 2 kekalahan.
2 tim undangan yang langsung masuk ke Final Qualifier ini karena posisi mereka di MPL ID S2, Bigetron dan SFI juga melenggang maju ke babak selanjutnya. Padahal, Bigetron Esports sendiri telah merombak total formasinya. Sedangkan SFI masih setia dengan beberapa pemain bintangnya seperti Doyok dan Ipin.
Pertarungan di Grup A pun masih seru sampai pertandingan terakhir karena SFI, XcN, The Prime mengantongi poin yang sama. Namun XcN pun akhirnya harus gugur karena ditaklukkan oleh The Prime di pertandingan terakhir dengan skor 2-1.
Hasil yang di luar dugaan ini semoga dapat terjadi lagi di Regular Season ataupun Grand Final MPL ID S3 layaknya S1 saat TEAMnxl mengalahkan EVOS Esports karena mungkin akan lebih berkesan buat para penggemar esports MLBB.
Apakah Aura Esports, Star8, The Prime, dan tim-tim yang baru kali ini masuk MPL ID bisa menghadapi gempuran tim-tim besar yang sudah lebih terbiasa merasakan panasnya persaingan di MPL seperti RRQ.O2, Aerowolf Roxy, ataupun EVOS Esports yang juga baru saja berganti formasi?
From Our Network