Esports Ecosystem
Tidak heran, mengingat hadiah The International terus naik dari tahun ke tahun
Esports kini menjadi bisnis serius. Salah satu indikasinya adalah dari hadiah turnamen yang semakin besar. Menurut laporan Esports Earnings, total hadiah dari semua turnamen esports yang pernah digelar mencapai lebih dari US$700 juta. Sayangnya, hadiah turnamen esports tidak merata. Ada game esports yang menawarkan total hadiah besar, seperti Dota 2. Namun, ada juga game esports yang total hadiahnya tidak terlalu besar, seperti Super Smash Bros.
Dari semua game esports yang ada, game esports berhadiah terbesar adalah Dota 2. Secara keseluruhan, turnamen esports dari game MOBA itu telah memberikan hadiah sebesar US$220 juta. Tidak heran, mengingat selama ini, The International memang selalu menjadi turnamen esports dengan hadiah terbesar. Tahun lalu, The International 9 menawarkan total hadiah sebesar US$34 juta. Setelah mengalahkan Team Liquid di babak final, OG keluar sebagai juara dan membawa pulang US$15 juta. Ini menjadikan tim OG sebagai tim esports dengan total hadiah kemenangan terbesar sepanjang 2019.
Menurut laporan The Hollywood Reporter, kelima anggota tim OG juga menjadi atlet esports dengan total hadiah kemenangan terbesar. Di posisi nomor satu, duduk Johan "N0tail" Sundstein. Pemain berumur 26 tahun asal Denmark ini merupakan kapten OG. Sepanjang karirnya, dia telah mengumpulkan US$6,8 juta sepanjang karirnya. Sementara posisi kedua diisi oleh Jesse "JerAx" Vainikka. Pemain asal Finlandia ini mendapatkan US$6,4 juta sepanjang karirnya. Dengan total hadiah sebesar US$6 juta, anggota OG asal Australia, Anathan "ana" Pham duduk di posisi ketiga. Posisi keempat diisi oleh pemain Prancis, Sebastian "Ceb" Debs sementara posisi kelima diduduki oleh Topias "Topson" Taavitsainen. Keduanya juga merupakan anggota tim OG.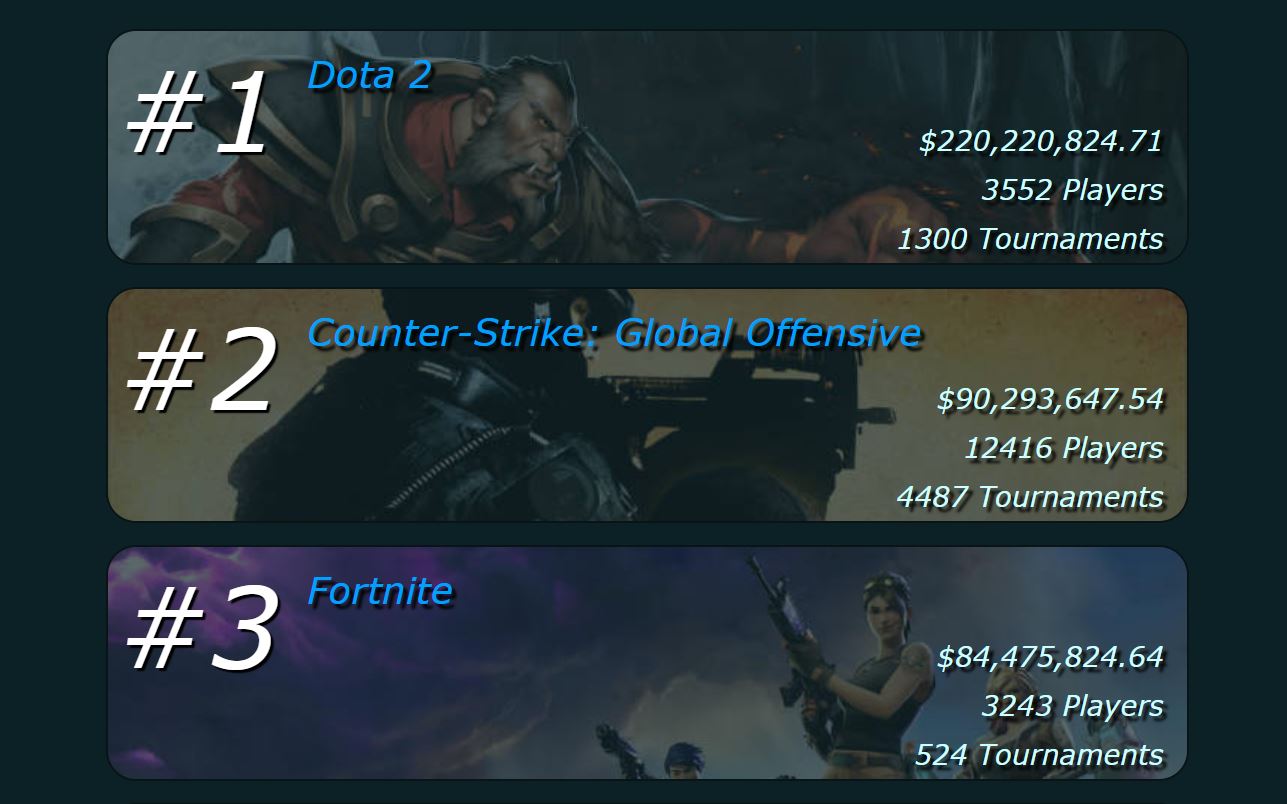 Selain Dota 2, game lain yang menawarkan total hadiah terbesar adalah Counter-Strike: Global Offensive. Sepanjang sejarah, CS:GO telah memberikan total hadiah turnamen sebesar US$87,1 juta. Fortnite dari Epic Games ada di peringkat ketiga dengan total hadiah sebesar US$84,4 juta. Dengan total hadiah sebesar US$73 juta, League of Legends menjadi game esports dengan total hadiah terbesar keempat. Posisi ke lima diisi oleh game strategi real-time buatan Blizzard, Starcraft II dengan total hadiah US$32,1 juta.
Kelima game esports dengan hadiah terbesar merupakan game PC. Berdasarkan laporan Esports Earnings, game esports mobile dengan total hadiah terbesar adalah Arena of Valor, yang secara keseluruhan telah memberikan hadiah turnamen sebesar US$11,7 juta. Game tersebut duduk di peringkat 11 dari daftar game-game esports berhadiah terbesar. Sementara Player Unknown's Battleground Mobile duduk di peringkat 31 dengan total hadiah sebesar US$2,8 juta. Di Indonesia, esports mobile memang lebih berkembang. Namun, di kancah internasional, game PC seperti Dota 2, League of Legends, dan CS:GO, masih mendominasi esports scene.
From Our Network