Esports Ecosystem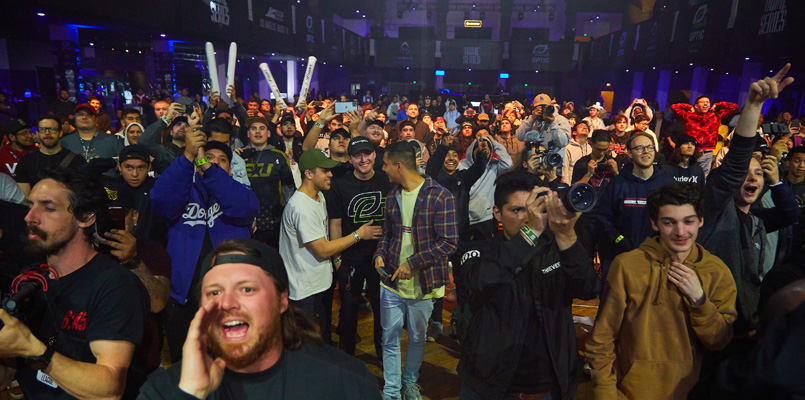 Call of Duty League sempat ditunda karena pandemik virus corona
Setelah sempat tertunda akibat pandemik virus corona, Call of Duty League (CDL) akan kembali digelar secara online pada 10-12 April 2020. Liga yang merupakan bagian dari Home Series ini akan berlangsung selama tiga hari. Pada hari pertama, akan diadakan group stage. Sementara babak knockout dan semifinal akan diadakan pada hari kedua, Sabtu, 11 April 2020. Pada hari terakhir, Minggu, 12 April 2020, akan digelar pertandingan final.
"Saya memiliki pengalaman bekerja di NFL selama bertahun-tahun. Saya tahu bagaimana olahraga bisa membuat orang-orang menjadi kembali bersemangat," kata Johanna Faries, Commissioner, Call of Duty Esports, Activision Blizzard, seperti dikutip dari GamesBeat. "Tidak ada seorang pun yang senang dengan keadaan sekarang. Tapi, inilah kondisi yang harus kita hadapi. Kami bersukur karena Call of Duty League tetap bisa diselenggarakan dan menawarkan pertandingan yang menarik bagi fans yang kini sangat memerlukan hiburan."
Activision Blizzard baru mulai mengadakan Call of Duty League pada tahun ini. Menggunakan model franchise, CDL diikuti oleh 12 tim dari 4 negara. Sama seperti Overwatch League, CDL menggunakan sistem kandang-tandang. Pada akhir pekan, sebuah tim CDL seharusnya menyelenggarakan turnamen Home Series. Kali ini, Dallas Empire seharusnya menjadi tuan rumah, lapor The Esports Observer. Namun, karena pandemik virus corona, maka Activision Blizzard memutuskan untuk mengadakan semua pertandingan CDL secara online. Mereka juga telah menyesuaikan jadwal dari CDL Home Series tahun ini.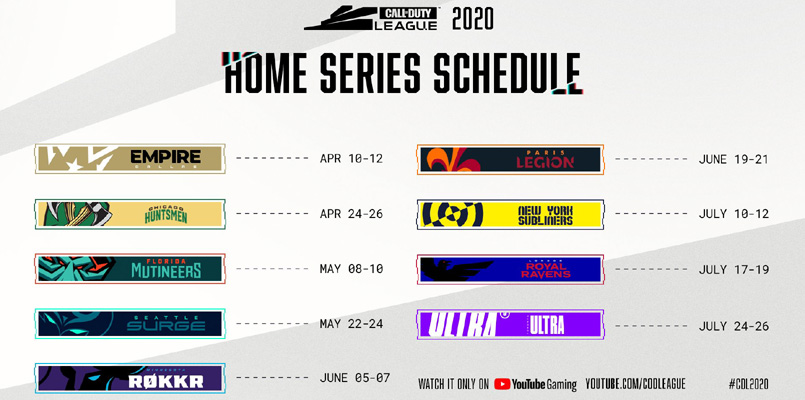 Dalam setiap turnamen Home Series, hanya 8 dari 12 tim yang akan berlaga. Kali ini, 8 tim yang ikut serta antara lain Chicago Huntsmen, Dallas Empire, Florida Mutineers, Los Angeles Guerrillas, Minnesota Rokkr, Paris Legion, Seattle Surge dan Toronto Ultra. Di setiap turnamen Home Series, semua tim akan mendapatkan poin berdasarkan performa mereka sepanjang kompetisi. Pada akhir musim, poin yang didapatkan masing-masing tim akan diakumulasikan. Poin ini akan digunakan untuk menentukan tim-tim yang lolos ke CDL Championship.
Meskipun Call of Duty League akhirnya dapat kembali diselenggarakan, ada kekhawatiran bahwa pertandingan tidak akan berjalan lancar. Salah satu masalah yang mungkin terjadi adalah latensi server atau para pemain yang terputus dari server. Masalah ini sempat terjadi dalam pertandingan eksibisi antara London Royal Ravens dan Florida Mutineers serta Paris Legion dan Los Angeles Guerrilas. Untuk mengantisipasi hal ini, Call of Duty League mengatakan bahwa mereka tengah menguji beberapa server baru di Amerika Serikat.
Selain Call of Duty League, Call of Duty Challengers dan City Circuits juga akan digelar secara online. Menurut laporan ESPN, Activision Blizzard juga berencana untuk mengadakan lima turnamen Challengers tambahan. Masing-masing dari turnamen itu akan menawarkan total hadiah sebesar US$50 ribu.
From Our Network