Esports Ecosystem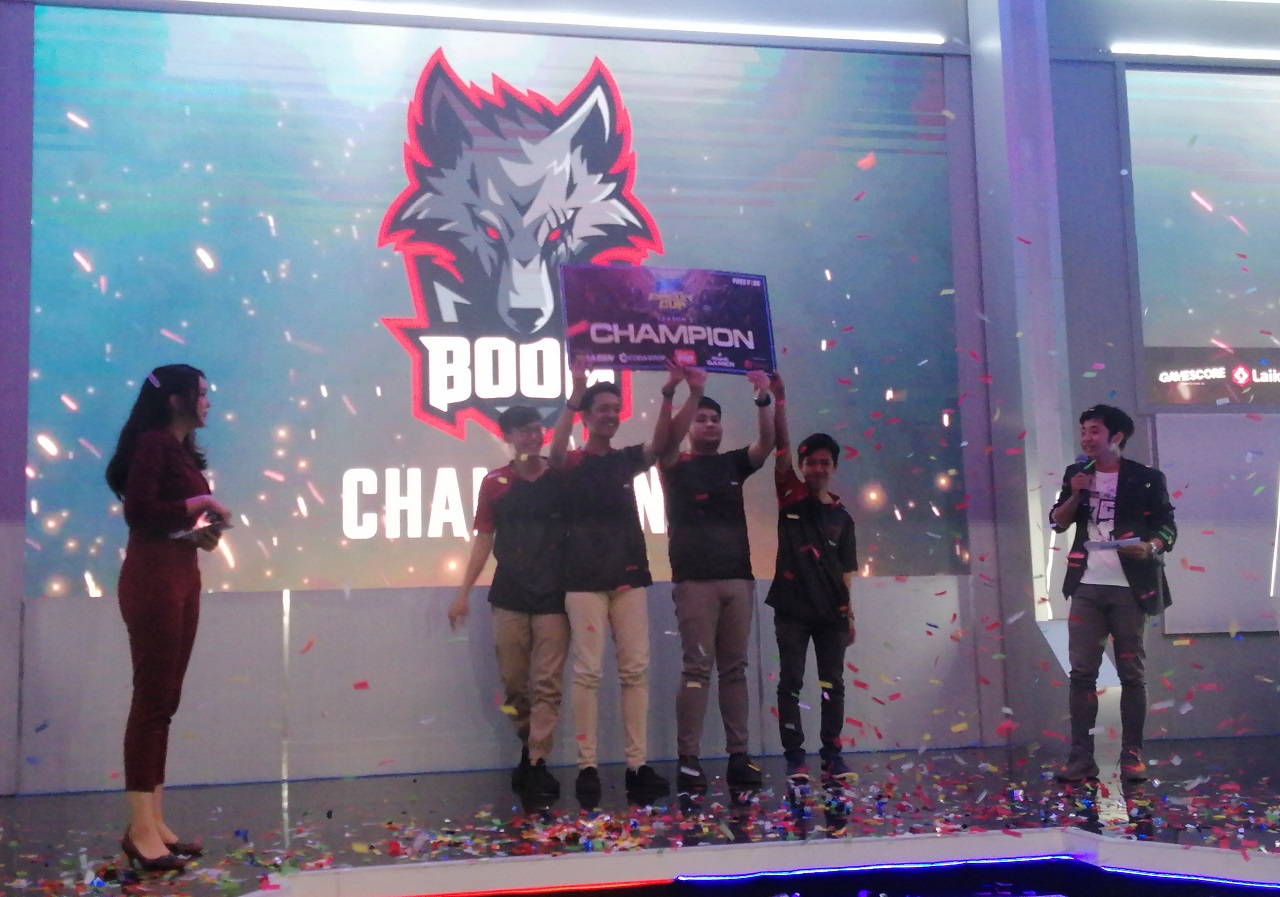 BOOM Cerberus berhasil mendapatkan Booyah dua kali dalam lima pertandingan
BOOM Cerberus keluar sebagai juara dari Metaco Circuit Cup Season 2. Pertandingan final diadakan di Ligagame Esports Arena pada Sabtu, 19 Oktober 2019. Dalam babak final, BOOM harus bertanding dengan 11 tim lain yang lolos babak kualifikasi. Metaco Circuit Cup menggunakan format terbuka, Itu artinya, semua tim — mulai dari amatir, semi-pro, sampai profesional — dapat ikut serta dalam babak kualifikasi. Dari sekitar 2000 tim yang tertarik, terpilih 192 tim untuk bertanding dalam 4 babak kualifikasi. Dalam setiap babak kualifikasi, ada tiga tim yang lolos untuk bertanding di babak final. Sehingga pada pertandingan final, akan ada 12 tim yang bertanding. Dua belas tim tersebut antara lain BOOM Cerberus, Armored Project Kraken, Team NXL, RRQ Hades, RRQ Poseidon, Onic Olympus, Onic Valhalla, BDRX Oxygen, Bigetron Ult, WAW MXM, The Prime Esports, dan Rone Maximum.
Di babak final, dua belas tim finalis harus bertanding dengan satu sama lain dalam lima ronde. Dalam pertandingan pertama, Bigetron berhasil mendominasi dan mendapatkan Booyah. Sementara BOOM harus puas dengan posisi ke-5. Tim BOOM baru berhasil mendapatkan Booyah pada ronde kedua. Pada ronde ke-3 dan ke-4, performa BOOM kembali turun. Mereka harus puas dengan posisi ke-7 dan poin 100 pada ronde ke-3. Ronde ketiga dimenangkan oleh BDRX Oxygen yang mendapatkan nilai total 360. Pada ronde ke-4, performa BOOM kembali membaik. Walau tidak mendapatkan Booyah, mereka berhasil mendapatkan skor 200. Ronde ke-4 dimenangkan oleh The Prime Esports yang mendapatkan poin 480.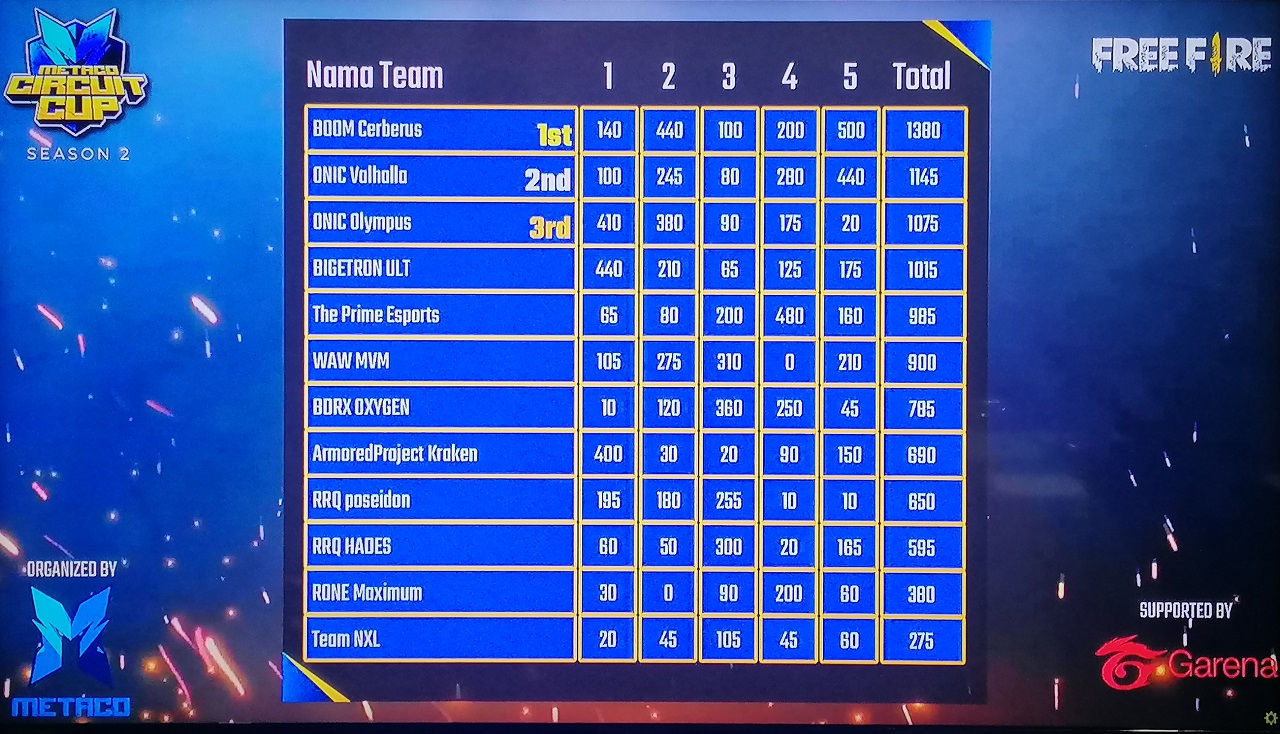 BOOM berhasil kembali menguasai pertandingan pada ronde ke-5. Mereka mendapatkan Booyah dan mendapatkan skor 500. Dengan total nilai 1380, BOOM Cerberus keluar sebagai juara dari Metaco Circuit Cup Season 2. Posisi kedua diduduki oleh Onic Valhalla dengan nilai 1145 dan posisi ketiga didapatkan oleh Onic Olympus dengan nilai 1075. Menariknya, kedua tim Onic tak pernah sekalipun mendapatkan Booyah. Meskipun begitu, selama lima ronde, kedua tim tersebut berhasil memberikan performa yang stabil, memungkinkan mereka untuk mengumpulkan skor tinggi pada akhir pertandingan.
Saat diwawancara setelah pertandingan, anggota tim BOOM Cerberus mengaku baru merasa percaya diri akan bisa memenangkan turnamen pada ronde terakhir. Mereka merasa, semua tim yang harus mereka hadapi kali ini adalah musuh berat. Karena itu, mereka memutuskan untuk tidak menargetkan tim tertentu selama pertandingan. Sebagai gantinya, mereka akan menyerang semua tim yang mereka temui. Bermain sabar dan disiplin, itu strategi yang mereka gunakan. Meskipun begitu, Mereka bercerita, emosi salah satu anggotanya, Angga "Whynot" Dwi Subadjo sempat meninggi. Untungnya, Deyo "Weezer" Satria Ariga berhasil menenangkan. Pada akhir pertandingan, Whynot bahkan dinobatkan sebagai MVP. Selain Whynot dan Weezer, Mohammad "GunZ" Juliantoro dan Akmar "Mystic" melengkapi roster BOOM Cerberus.
Saat ditanya soal persiapan menjelang turnamen, GunZ berkata, "Dua minggu, kita latihan rutin. Dari Senin sampai Jumat, dari jam dua siang sampai ponsel lowbat." Whynot menambahkan, bahwa mereka kembali berlatih pada malam hari. Sebagai bagian dari latihan, dia mengatakan, mereka berusaha untuk mencari tahu tentang kesalahan dan kekurangan dari gameplay mereka. Pada akhirnya, latihan dan kerja keras mereka berbuah manis. Selamat bagi tim BOOM Cerberus, yang berhasil menyabet gelar juara di Metaco Circuit Cup Season 2.
—
Disclosure: Hybrid adalah media partner Metaco Circuit Cup