Esports Ecosystem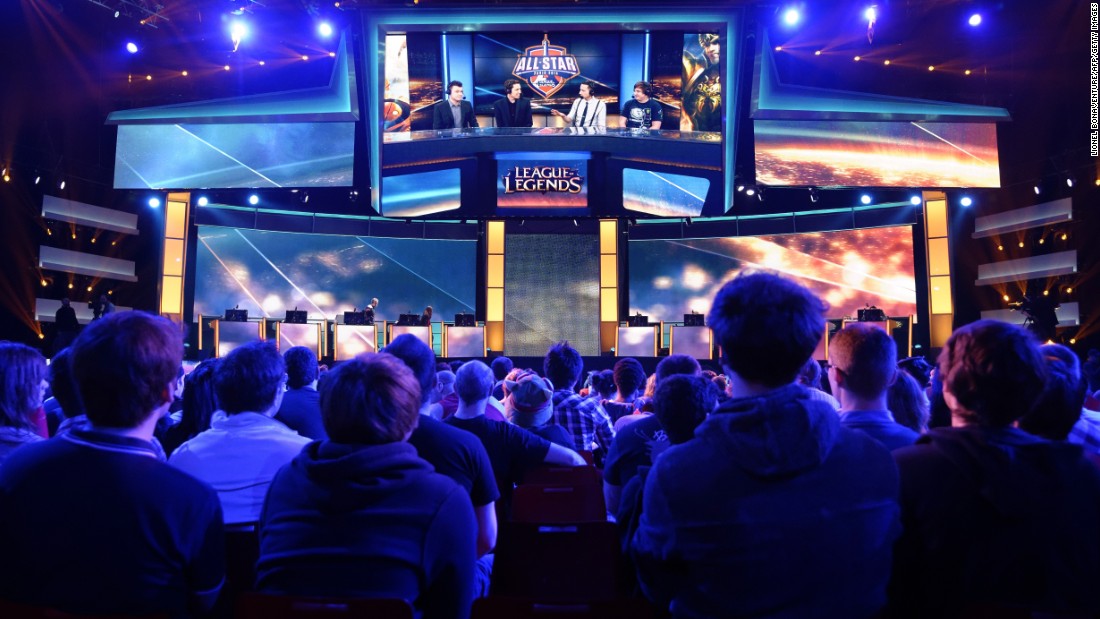 Menurut studi Esports Charts dan IDC, pandemi membuat viewership esports naik
Banyak negara melakukan karantina sejak virus corona mewabah. Kebanyakan orang-orang yang tak bisa keluar rumah menghabiskan waktunya untuk bermain game atau menonton siaran game dan esports. Menurut laporan dari Esports Charts dan IDC, jumlah hours watched di Twitch pada Mei 2020 naik dua kali lipat jika dibandingkan dengan pada Desember 2019, sebelum pandemi.
Lima belas game terpopuler di Twitch — termasuk league of Legends, Fortnite, Counter-Strike: Global Offensive, Grand Theft Auto V, dan Dota 2 — mengalami kenaikan hours watched yang signifikan. Pada Mei 2020, total durasi konten ditonton dari 15 game tersebut naik 88 persen. Sementara tiga game yang mengalami pertumbuhan hours watched paling besar adalah Call of Duty: Modern Warfare, Escape From Tarkov, dan Grand Theft Auto V. Pertumbuhan hours watched dari ketiga game itu mencapai 2,8 kali lipat.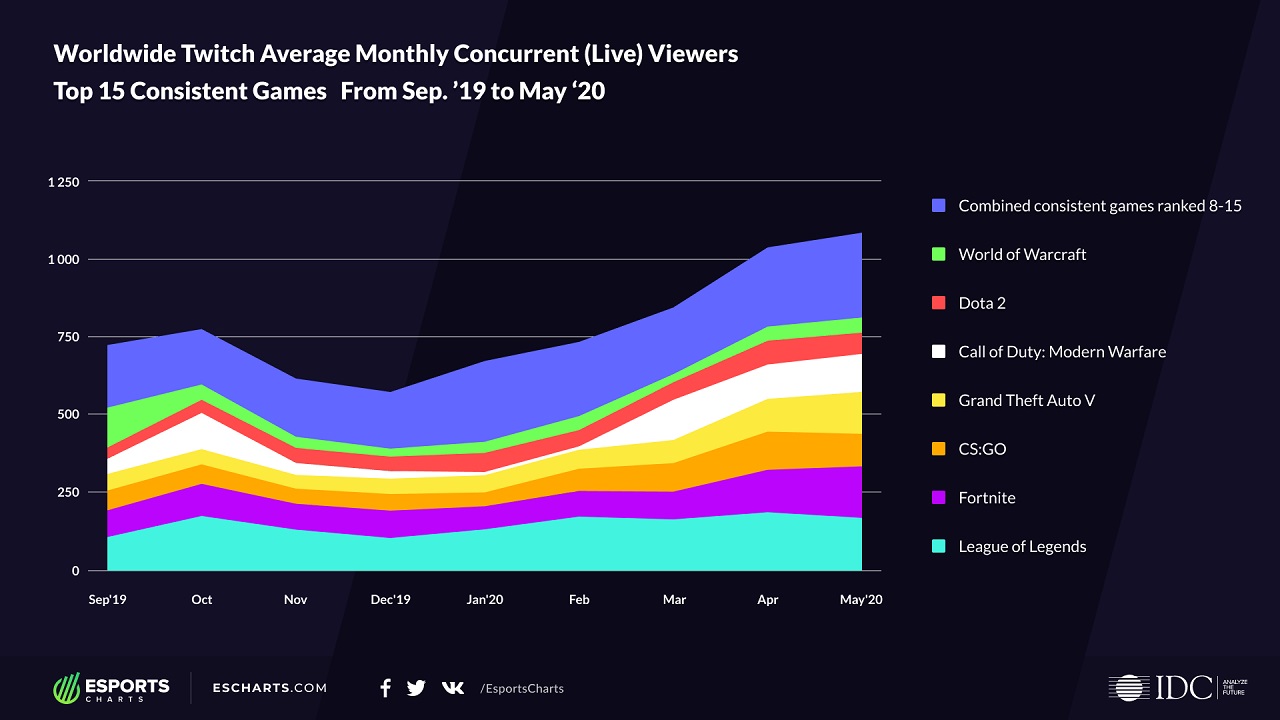 Menariknya, salah satu alasan mengapa viewership esports naik selama pandemi virus corona adalah karena para penyelenggara turnamen esports memutuskan untuk membatalkan turnamen offline atau mengganti format turnamen menjadi online.
"Setelah menganalisa dampak dari COVID-19, kami optimistis bahwa industri esports akan siap jika muncul masalah lain dengan skala sebesar pandemi ini," kata CEO Esports Charts, Artyom Odintsov, seperti dikutip dari Esports Charts. "Meskipun seelama pandemi total hours watched dari turnamen esports terus naik, masih belum diketahui bagaimana nasib dari turnamen esports offline. Seiring dengan berkembangnya industri esports dan streaming, kami ingin tahu tentang dampak jangka panjang dari COVID-19 pada industri esports dan streaming."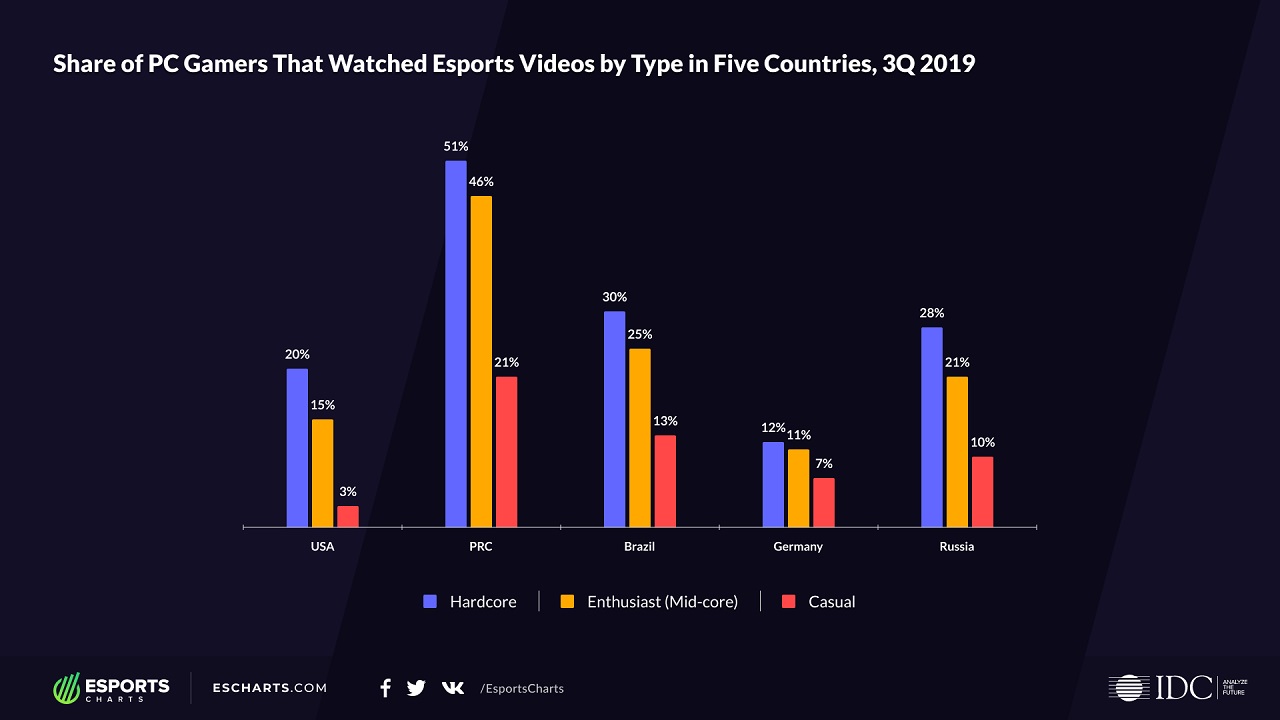 Satu hal yang pasti, dalam lima tahun belakangan, ketertarikan akan esports terus naik, menurut survei yang dilakukan oleh Esports Charts dan IDC pada Q3 2019. Di Amerika Serikat, sebanyak 30 persen responden — atau sekitar 53 juta orang — mengaku bahwa mereka pernah berpartisipasi, menghadiri, atau menonton turnamen esports dalam satu tahun terakhir.
Di AS, sebanyak 20 persen dari orang-orang yang mengaku sebagai PC gamer hardcore menonton esports. Angka ini lebih kecil jika dibandingkan dengan jumlah penonton esports di Tiongkok, Brasil, atau Rusia. Di Rusia, 28 persen PC gamer hardcore menonton esports, sementara di Brasil, angka itu naik menjadi 30 persen, dan di Tiongkok naik menjadi 51 persen.
Sumber: Esports Charts
Sumber header: CNN
From Our Network