Esports Ecosystem
Dua tim asal Indonesia, Dewa United dan ArchAngel akan berlaga di AWC 2021.
Turnamen kasta tertinggi Arena of Valor kembali diadakan di tahun 2021. Arena of Valor World Cup 2021 melanjutkan seri World Cup yang sempat dibatalkan tahun lalu karena pandemi. AWC 2021 akan berjalan dalam kurun waktu satu bulan tepatnya dari tanggal 19 Juni – 18 Juli 2021. Turnamen ini akan diikuti 16 tim dari 9 negara yang akan bersaing memperebutkan prize pool sebesar US$500 ribu.
Turnamen AWC 2021 akan dilaksanakan secara online melalui live streaming via YouTube dan Facebook. Meskipun AWC 2021 diadakan secara online, Tencent Games dan Garena akan mempersiapkan konsep tontonan virtual untuk penonton. Penggemar AOV di seluruh dunia akan disuguhkan arena virtual menggunakan teknologi real-time rendering. Teknologi ini memungkinkan penonton merasakan secara langsung tim favoritnya bertanding walaupun terpisah secara lokasi.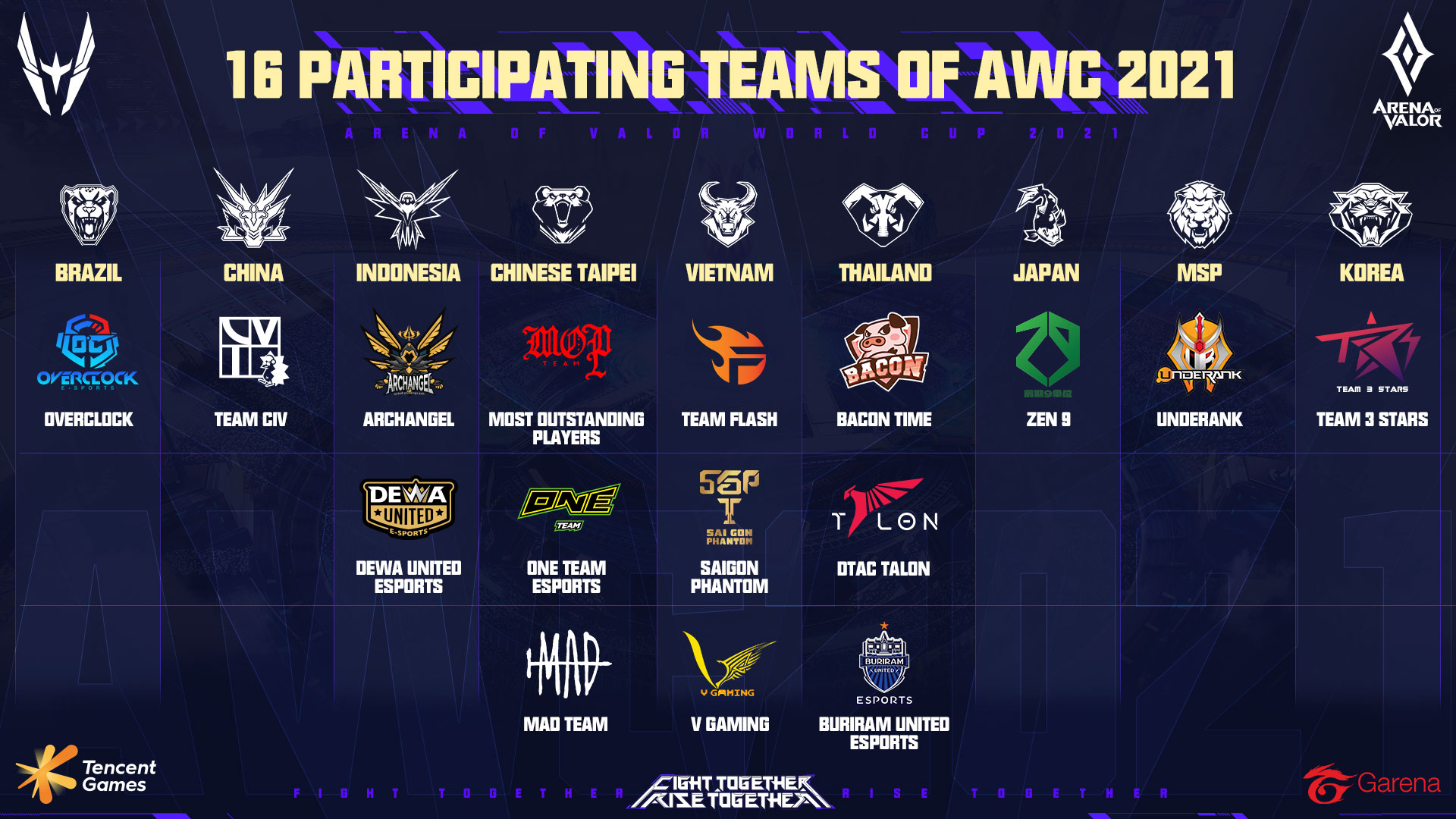 AWC 2021 akan diikuti oleh 16 tim esports yang terbagi dalam 9 negara: Brasil, Taipei, Indonesia, Jepang, Korea, Tiongkok, Thailand, Vietnam, dan MSP. Khusus Thailand, Taipei, dan Vietnam akan diwakilkan 3 tim.
Format turnamen AWC 2021 terbagi dalam empat babak penyisihan yang berlangsung selama satu bulan. Berikut pembagian setiap babak beserta jadwal pertandingannya.
Babak grup: 19 Juni – 27 Juni
Babak quarter final: 30 Juni – 4 Juli
Babak semi final: 10 Juli – 11 Juli
Babak grand final: 18 Juli.
Babak grup akan menggunakan format best-of-two yang terbagi dalam 4 grup berisikan 4 tim. Dua tim terbaik dari masing-masing grup berhak lolos ke babak quarter final. Masuk ke babak quarter final, pertandingan mulai menggunakan sistem double elimination dengan format best-of-five. Selanjutnya di babak semi final dan grand final menggunakan format best-of-seven.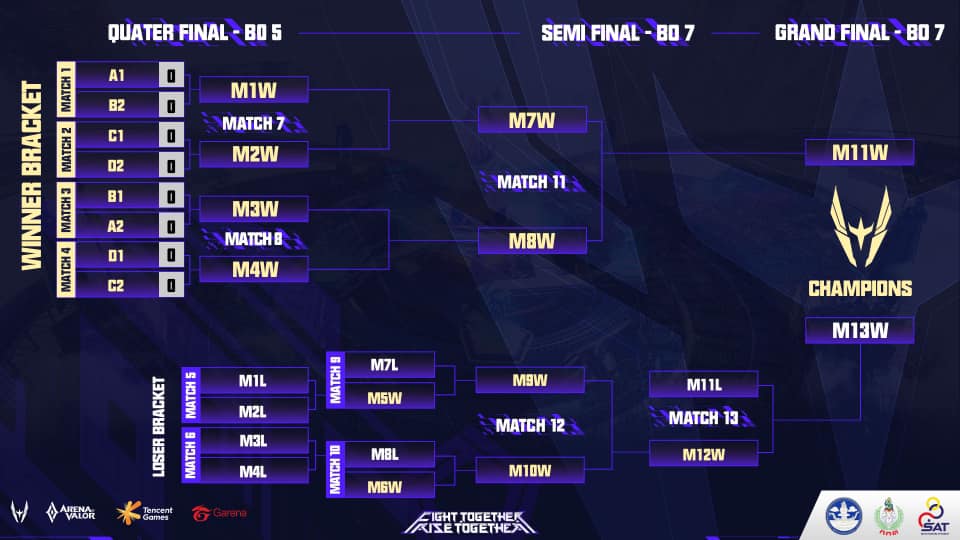 Tencent Games dan Garena selaku pengelola turnamen AWC 2021 menyediakan prize pool sebesar US$500 ribu. Dengan pembagian sebagai berikut, juara pertama akan mendapatkan US$200 ribu dan runner-up akan mendapatkan US$110 ribu. Posisi 3 dan 4 masing-masing mendapatkan US$70 ribu dan US$30 ribu. Posisi 5-8 masing-masing mendapatkan US$16 ribu. Lalu final MVP mendapatkan US$10 ribu dan lineup terbaik dari masing-masing kategori mendapatkan US$3,2 ribu. Prize pool AWC 2021 dikabarkan sebagai yang terbesar di antara turnamen kasta tertinggi gamemobile MOBA lainnya.
Dua tim asal Indonesia Dewa United dan ArchAngel, tahun ini mendapatkan kesempatan mewakili Indonesia dalam ajang AWC 2021. Kedua tim tergabung dalam grup A dan C. Dewa United mendapatkan lawan-lawan tangguh di grup A yaitu Team Flash, MAD Team, dan Buriram United esports. Ketiganya pernah menjuarai turnamen internasional AOV, bahkan Team Flash saat ini masih memegang gelar juara bertahan AWC 2019.
Grup C yang berisikan tim Indonesia ArchAngel juga mendapatkan lawan yang cukup tangguh yaitu Bacon Time (Thailand), Saigon Phantom (Vietnam), dan UndeRank (MSP).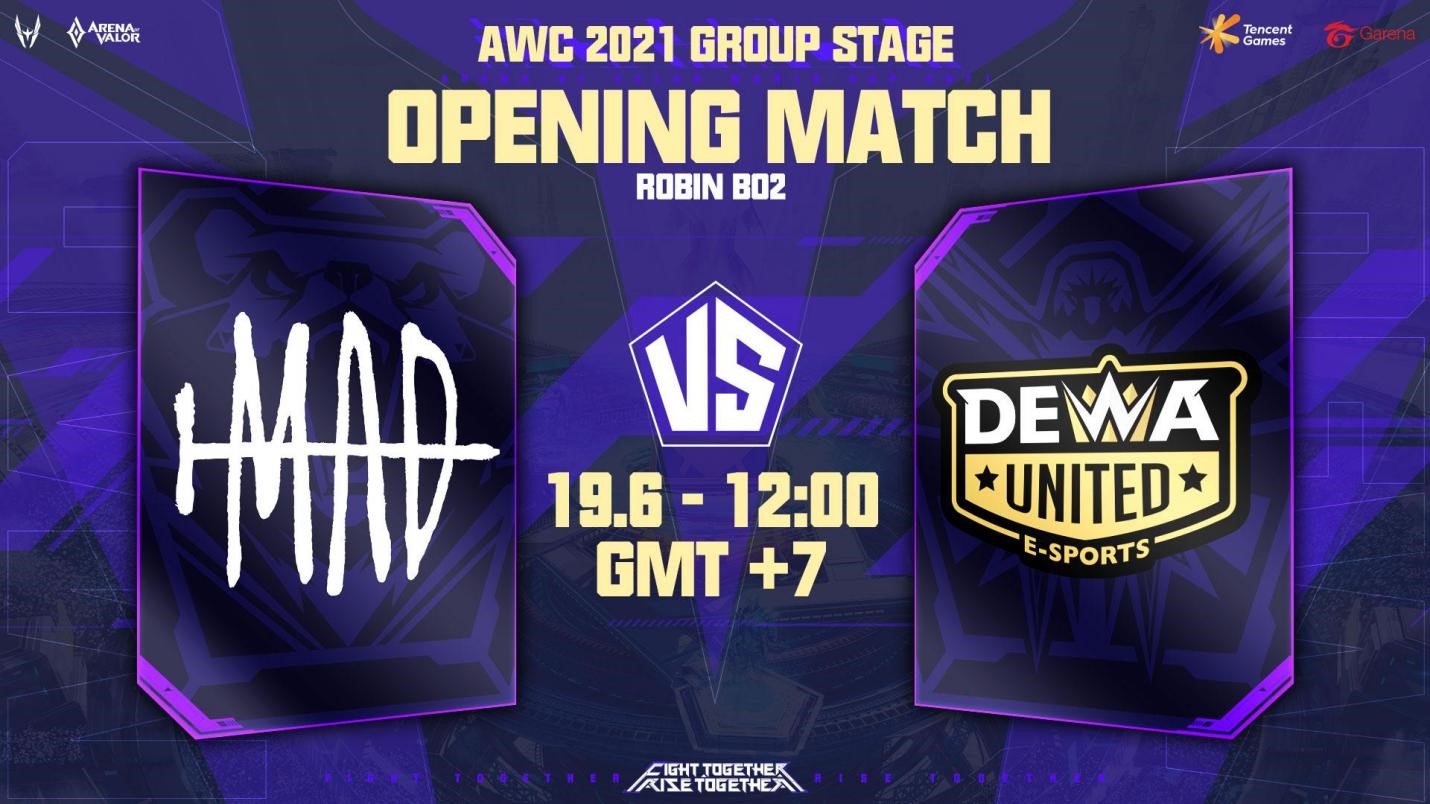 Pertandingan pembukaan AWC 2021 akan dimulai dengan pertandingan antar Dewa United melawan MAD Team yang akan disiarkan secara live streaming melalui Facebook dan YouTube. Turnamen ini akan dipandu oleh komentator lokal dengan menggunakan 5 bahasa termasuk bahasa Indonesia.
AWC 2021 mengusung tema "Fight Together, Rise Together" yang bertujuan untuk menggerakan komunitas AOV untuk saling mendukung satu sama lain dalam kondisi menantang saat ini. AOV tahun ini juga merayakan 4 tahun berdirinya esports AOV yang dimulai sejak tahun 2017. Meski demikian, perjalan esports AOV tak bisa dibilang mulus. Salah satunya adalah bubarnya EVOS AOV yang dulu mendominasi skena esports AOV di tanah air. Kami pernah membahasnya lebih lengkap di artikel ini.
From Our Network