Esports Ecosystem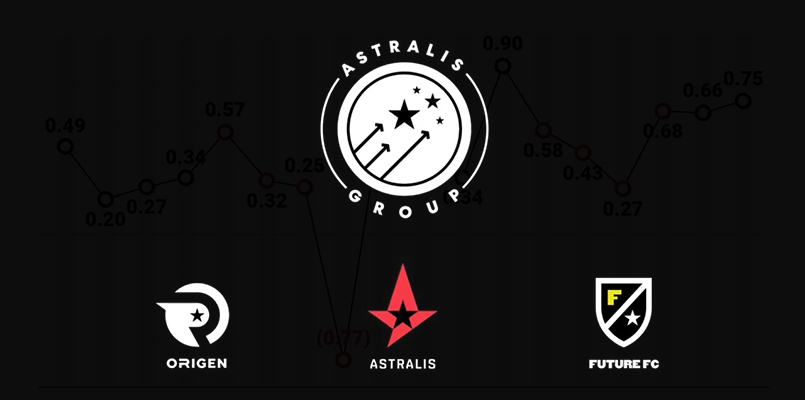 Astralis Group masih mengalami kerugian sebesar Rp71,3 miliar
Astralis Group baru saja melaporkan hasil keuangan mereka untuk semester pertama 2020. Mereka mengungkap, mereka mengalami kerugian sebesar 30,17 juta krona Denmark (sekitar Rp71,3 miliar). Jika dibandingkan dengan periode yang sama tahun lalu, kerugian Astralis sedikit naik. Pada semester pertama 2019, kerugian Astralis hanya mencapai 27,97 juta krona Denmark (sekitar Rp66,1 miliar).
Sementara itu, sepanjang semester pertama 2020, Astralis Group mendapatkan pemasukan sebesar 20,48 juta krona Denmark (sekitar Rp48,4 miliar), naik dari 17,27 juta krona Denmark (sekitar Rp40,8 miliar) pada tahun 2019. Astralis Group menyebutkan, pemasukan mereka dari sponsorship mengalami kenaikan sebesar 4,4 juta krona Denmark (sekitar Rp10,4 miliar). Selain itu, pemasukan mereka dari liga esports juga tumbuh sebesar 3,5 juta krona Denmark (sekitar Rp8,3 miliar), menurut laporan The Esports Observer.
Sayangnya, total hadiah kemenangan turnamen esports yang didapatkan oleh Astralis Group mengalami penurunan sebesar 4,3 juta krona Denmark (sekitar Rp10,2 miliar) jika dibandingkan dengan tahun lalu. Sebenarnya, hal ini tidak aneh mengingat tahun ini, ada banyak turnamen esports yang ditunda atau bahkan dibatalkan akibat pandemi COVID-19.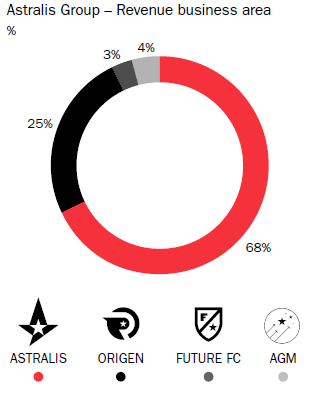 Astralis Group terdiri dari tiga tim esports yang berlaga di tiga game yang berbeda. Tim Astralis yang bertanding di Counter-Strike: Global Offensive memberikan kontribusi pemasukan paling besar. Total pemasukan mereka mencapai 14 juta krona Denmark (sekitar Rp33 miliar) atau sekitar 68,4% dari total pemasukan Astralis Group.
Sementara itu, tim League of Legends Astralis, Origen, berhasil mendapatkan pemasukan sebesar 5,2 juta krona Denmark (sekitar Rp12,3 miliar). Total pemasukan tim FIFA Astralis, Future Football Club, mencapai 600 ribu krona Denmark (sekitar Rp1,4 miliar). Terakhir, manajemen Astralis Group berhasil mendapatkan pemasukan sebesar 800 ribu krona Denmark (sekitar Rp1,9 miliar).
Astralis Group adalah organisasi esports asal Denmark. Mereka melakukan penawaran saham perdana (IPO) pada November 2019, menjadikan mereka sebagai organisasi esports pertama yang melakukan IPO. Mengingat Astralis Group baru dibentuk pada musim panas 2019, mereka menggunakan laporan keuangan internal dari mantan pemegang saham untuk membandingkan laporan keuangan mereka yang sekarang dengan tahun lalu.